Dorien Porter, Academy at Smith
My journey has been a spectacular trial-filled learning experience. The four years weren't easy; each day was laborious with challenges at every corner. Every experience also became an opportunity to learn.
My family was my biggest motivation to excel in life. My mother would remind me, "Every time you step out of this house, you are not just representing yourself, but your family." Those words burned into my mind, causing me to work hard and think before I acted. As her only son among five children, my mom would put in extra care for me. My grandfather was my male role model. "Strive for greatness," he told me.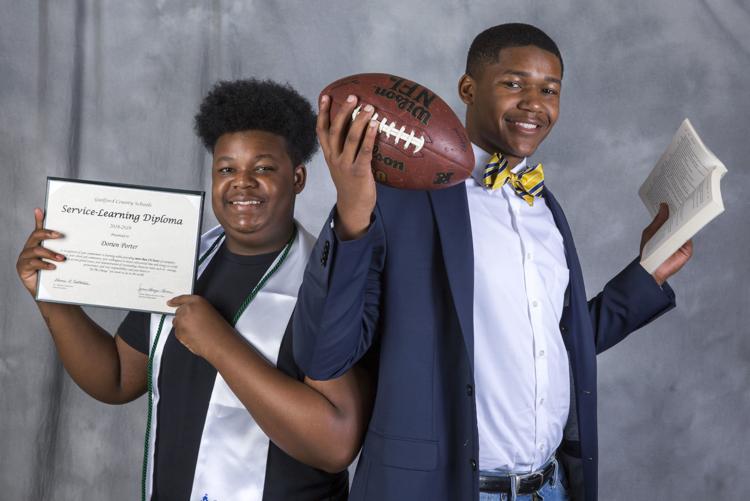 The Communities in Schools African American Male Initiative taught me a plethora of lessons that I will cherish for the rest of my life, including the importance of possessing a great work ethic, social networking and most importantly, how to be a productive citizen in society. Mr. Rashard Jones, one of the founders of the AAMI, would create opportunities for us to meet motivational speakers in order to learn from their experiences and successes. My favorite speaker was Dr. Sampson Davis, author of "The Pact." Through the AAMI, I also met my mentor, Mr. Ulysses Cozart, who introduced me to things outside of Greensboro and encouraged me to take full advantage of every opportunity I was presented with.
The teachers from the Academy at Smith also helped and watched me grow from an introvert to a funny extrovert. When my electrical trades teacher Mr. Bruce Lockwood observed me diverting from the right path, he sat me down and reminded me that greatness was the goal I set for myself. Mr. John Hensley, who was my first electrical teacher, taught me failure was just another learning experience; turn it into something positive.
I am the master of my own fate and destiny, but my success couldn't be accomplished without the combination of family, friends, teachers and mentors.
Thank you all.
Dorien – A rose from the concrete