GREENSBORO — The new neighbors have barely settled in, and they're planning to throw a weeklong bash.
They're billing it as "The Triad's Party of the Year," and they're inviting everybody. Heck, they've taken out ads for it in the newspaper, on TV and on billboards.
They expect thousands upon thousands of people to show up, to trample the pristine grass, to eat, drink and be merry.
And yet they're the kind of neighbors most folks around Sedgefield Country Club welcome with open arms.
Without fanfare, the Wyndham Championship quietly bought some real estate — two houses and a vacant lot — this year, each property near or adjacent to key spots on Sedgefield's stately Donald Ross-designed golf course.
All three will be used extensively at next week's Wyndham, the city's 80th PGA Tour event and the final tournament in golf's regular season on the Tour's revamped schedule.
Wyndham Championship officials did not disclose terms of the deals.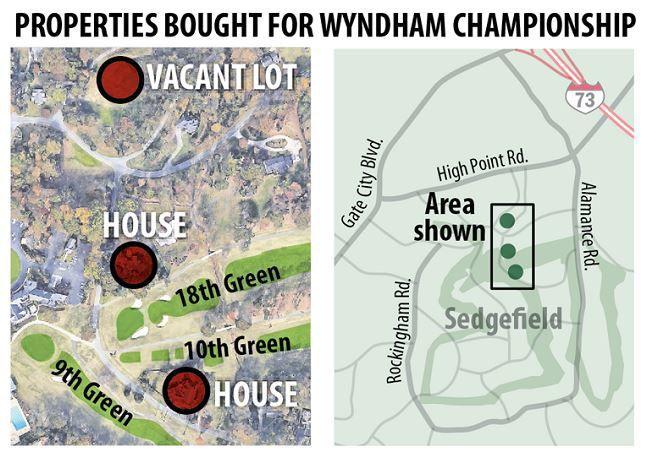 But public records searches reveal that the Piedmont Triad Charitable Foundation, which runs the Wyndham, paid more than $1.75 million for the three:
$39,000 on Jan. 10 for a 0.71-acre lot at 3011 West Sedgefield Dr., a space near the public entrance and shuttle bus dropoff area.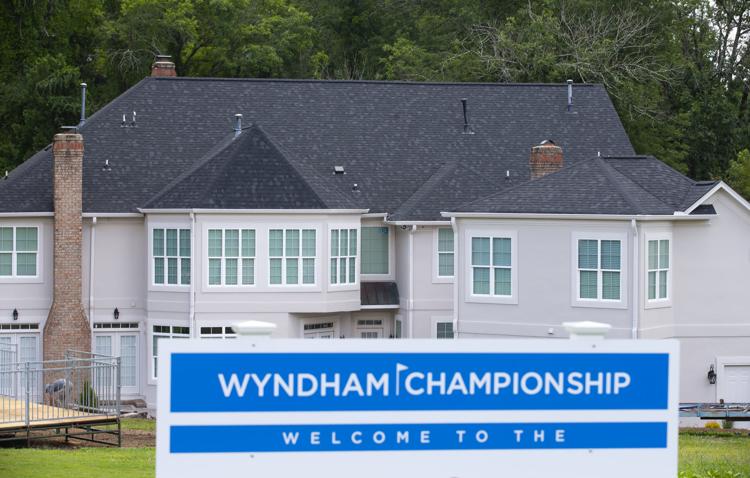 $1,045,000 on Jan. 16 for a big 6,422-square-foot, two-story house on a 1.51-acre lot at 5400 Dorchester Road. The lot occupies a triangle of land bordering Sedgefield's No. 9 fairway and No. 10 tee box.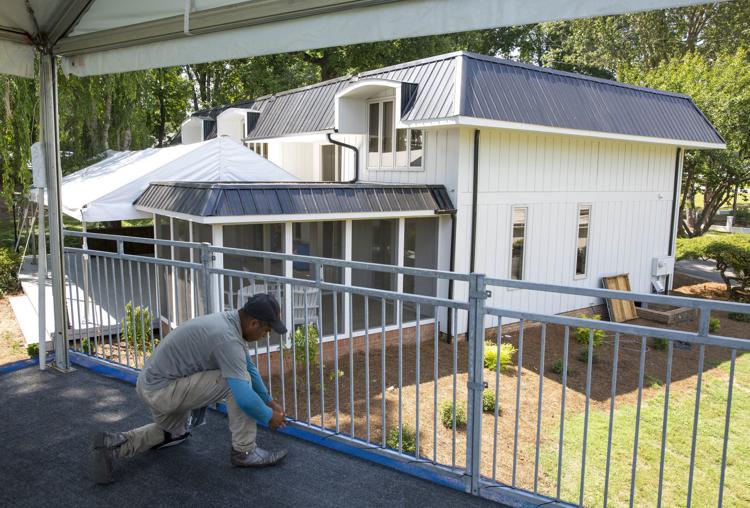 $675,000 on March 8 for a 3,294-square-foot, two-story house on a 0.9-acre lot at 5412 Dorchester Road. The house's deck and large yard borders Sedgefield's No. 18 green.
Why would a nonprofit organization be in the market for houses? The short answer is it's an investment in the golf tournament's long-term future.
Location, location, location
Of all the houses that border Sedgefield Country Club's golf course, the two that the Wyndham bought are the most valuable to the golf tournament.
"It really is all about the land," tournament director Mark Brazil says. "Both of them. They are the two closest houses to Sedgefield, for the most part. They're both new hospitality venues for us, but, really, these two are for the future."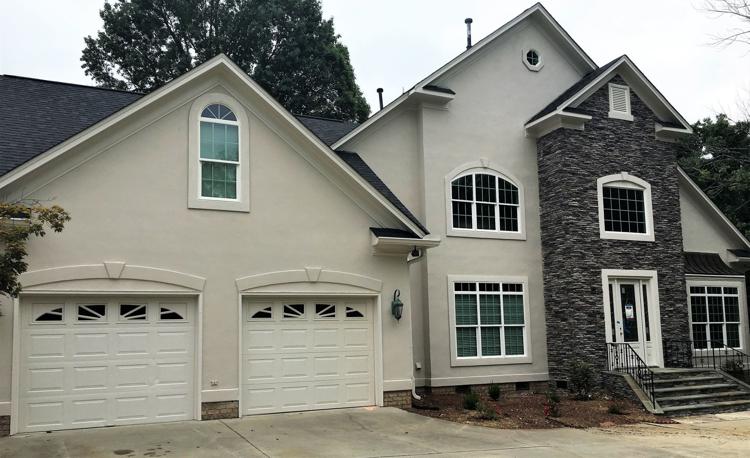 For Brazil, the single biggest challenge as the Wyndham has grown in stature is Sedgefield's small footprint.
Because Sedgefield's cozy, old-school charm can also be its weakness.
There simply isn't very much open land around the golf course to use for the money-making sponsor hospitality suites and skyboxes that fund the golf tournament's bottom line.
So when land became available, the Wyndham invested.
"What theses houses do, more than anything, is let us control our own destiny on some things," Brazil says. "Space out here is very limited and very precious. For us to have these houses, they solve some problems immediately for us.
"They give us storage space we've desperately needed. We can have some parties in them that maybe we've held in other places before. We can make some more special hospitality areas for some of our top sponsors. ... It allows our staff to stay in these two properties leading up to and through the tournament, and that's very helpful. And down the road, maybe there's a chance for us to move our (year-round) offices to the big house."
Brazil and his staff are still figuring out the long-term possibilities.
But the immediate benefits are obvious.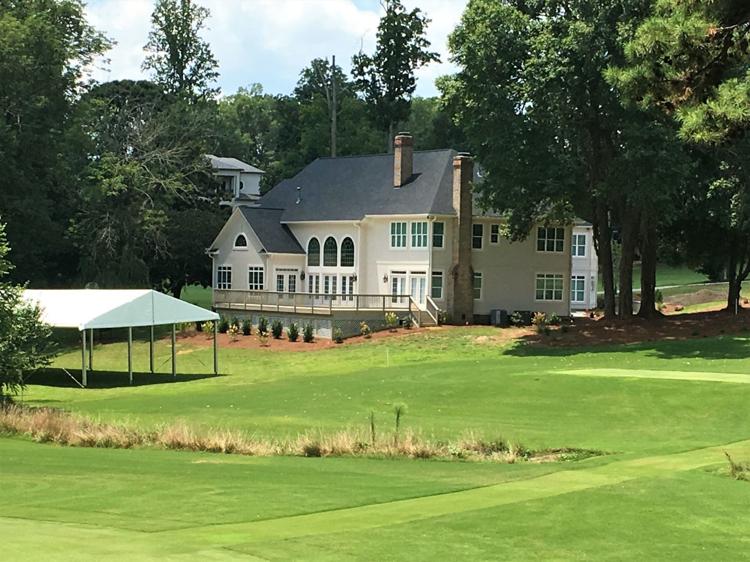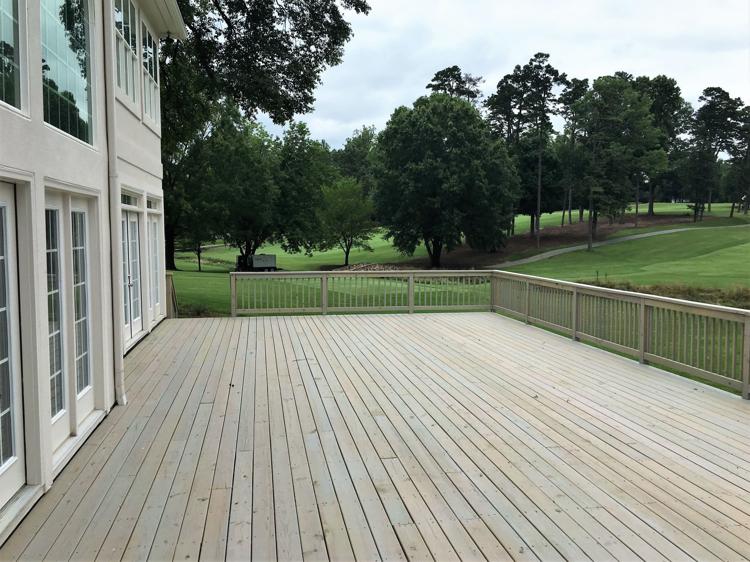 Renovation work on the bigger house includes all new windows, an outdoor garden patio and a huge new deck. The outdoor spaces both have close, tee-to-green views of Sedgefield's 10th hole.
That's a pivotal spot. It's where Patrick Reed hit the impossible 7-iron from under a tree to beat Jordan Spieth in a playoff at the 2013 Wyndham. It's where Tiger Woods chipped in for a birdie to start his first-round 64 in 2015.
The property's lower lawn is big enough for a new hospitality tent.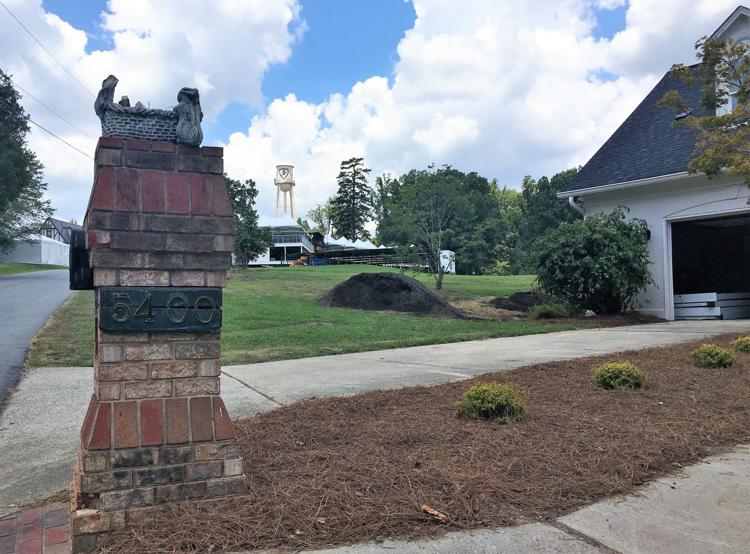 "We're excited about this, especially the new deck," Brazil says. "It's a big deck, a lot of space for hospitality. We'll put Sunbrella's stuff all over it. There's nothing in front of it, so you've got a great view of the whole 10th hole. It's turned out well.
"And inside, it'll be a Wyndham house. The downstairs is pretty open, and we've got a big portrait of Sam Snead to hang (in the great room). We've got action shots from the tournament for the walls. We'll have some functions in here (on the first floor) throughout the week, starting with a dinner party for Annika (Sorenstam) to welcome her on Monday. It's a nice place for some of our top sponsors."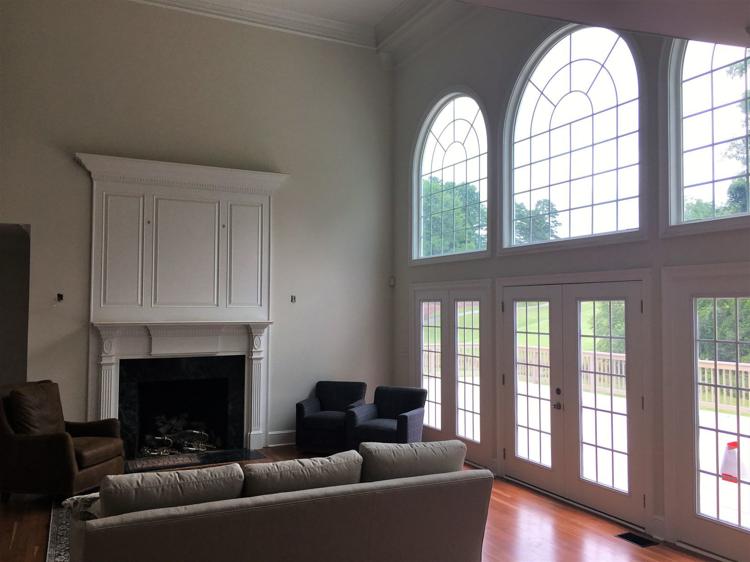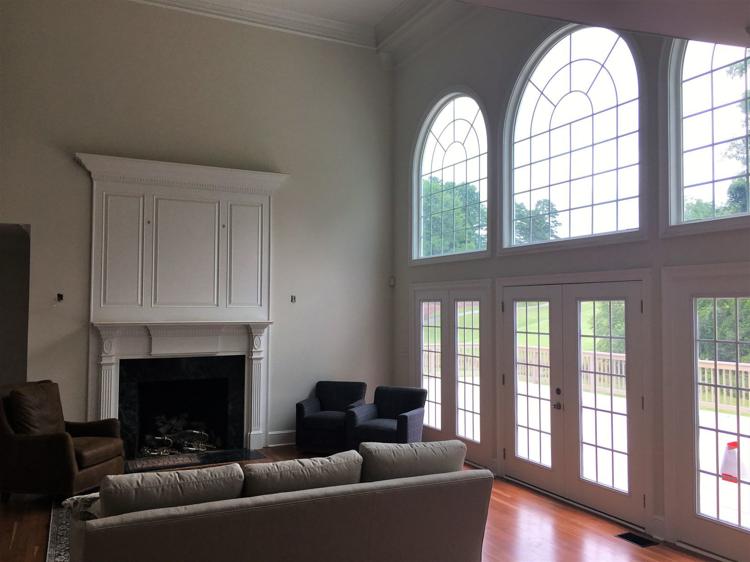 The 18th hole
The house next door to the 18th green could end up paying for itself in the not-so-distant future.
The land itself is that valuable to the golf tournament.
"We've taken down 20 to 25 trees and made room to grow on the 18th hole," Brazil says. "And let's face it: The 18th hole is our centerpiece. It's our biggest money-making hole on the golf course. Now we're going to be able to double the size (of hospitality areas) around our centerpiece. We go from 12 luxury skyboxes to 24 boxes. We're calling that 'Club 18,' and that's been big for sales. It doubles the revenue on that hole. It allows us to breathe and expand."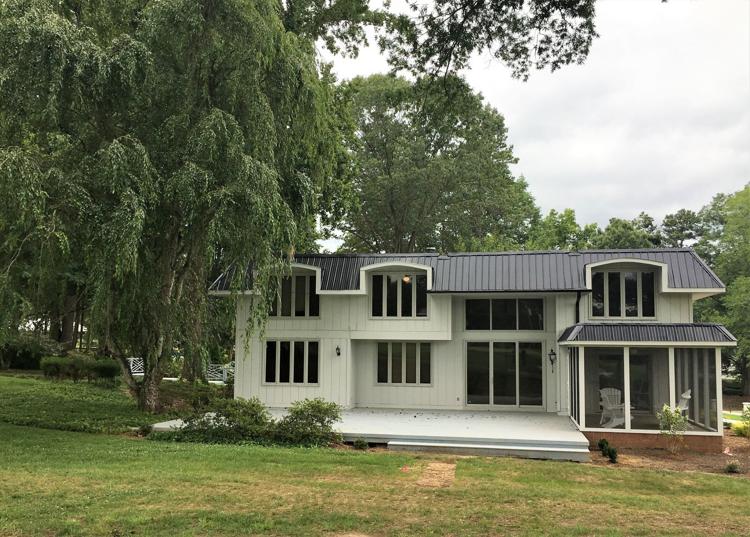 But the land wasn't clear-cut. A stand of three mature trees was left intact at the corner of the property, and a huge tree next to the cart path remains, although a low limb that jutted out over the edge of the green was removed.
Even so, opening up the land made room for an extra lucrative mobile corporate suite.
"By buying that house, we were able to add another luxury suite on the back of 18," Brazil says. "We had to stop before, to stay off that land. Well, now we can expand. We've got several groups from Raleigh together, friends of ours, and they've come in and bought that (luxury suite). Look, we've got to grow this event, and Raleigh and the Triangle makes the most sense. We're doing a lot of things with the megasite corridor and the education corridor, all the way to ECU."
What's the new space worth?
"Off the top of my head, it's probably $100,000 (revenue) a year for us," Brazil says. "… Adding another luxury suite on the back of 18, well, I never thought we'd be able to do that."
The future
Maybe the biggest question about the purchases is this: What do you do with two big, renovated homes for the 51 weeks every year when the Wyndham Championship isn't in town?
There are a number of options, Brazil says.
Rentals for High Point Furniture Market. Dorm space for the AJGA Wyndham Invitational. Rentals for events or outings at Sedgefield.
But perhaps the best option would be moving the tournament's year-round offices to the big house at 5400 Dorchester.
"We would like to do that, yes," Brazil says. "It would be ideal for our offices. But we must make sure we go through the right steps and processes. Everybody I've talked to around here has been like, 'Yeah, that would be great and it makes all the sense in the world.' We would take a wing on the top floor and make offices."
That's feasible. There is no homeowners association to contend with.
Jaree Todd, a Realtor with Yost and Little who has several listings in the neighborhood, explains.
"The homes right around the golf course, they're in the oldest part of Sedgefield and there is no HOA or restricted covenant," Todd says. "Some of those were built in the 1920s and go back to Sedgefield's beginnings."
As you move out from the center, the neighborhoods take on Roman numerals all the way up to Sedgefield XII.
"Most of the numbered neighborhoods do have restricted covenants," Todd says, "but Sedgefield proper does not."
Both houses are zoned RS-20 residential, but the case could be made that the Wyndham's offices benefit the neighborhood.
"Hypothetically, it's possible," says Oliver Bass, a Planner II with the Guilford County Planning & Development Department, "as long as the activities there are associated with benefits of the residents. It's sort of like a common area or clubhouse in a development. But depending on the lot, it could be trickier."
As in, it could require submitting a site plan and going through rezoning and a public hearing. If no rezoning is required, the plan would need to go through an administrative review through the county, Bass says, but would not require a public hearing.
"It just depends on what they're proposing and what's on the site," Bass says.
Whatever happens down the road, the party is on again for this year.
And Todd, the Realtor, says the old neighborhood has welcomed the new homeowners.
"Oh, they love what's going on around the golf course," Todd says. "The bottom line is it helps with home prices for everyone. Most of the people around there are Sedgefield members, and they're thrilled with what the Wyndham is doing. Both of those homes are right there in high-profile spots, and the Wyndham has made significant improvements. They've been good neighbors."