WASHINGTON — You want to know what kind of guy John Isner is?
Justin Gimelstob can tell you. Better yet, he can show you.
Isner's friend and part-time coach just needs a moment to scroll through the umpteen photos and video clips stored on his smartphone. Gimelstob, dapper in a tailored blue suit and white pinstriped shirt, a TV earpiece dangling from the collar, has a moment before his next live shot as an analyst on The Tennis Channel.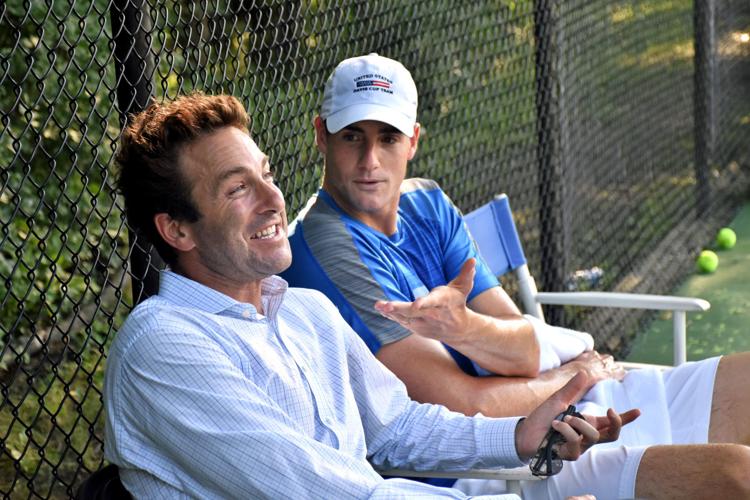 Gimelstob explains as the images roll past in a blur.
"The way he is with my son," Gimelstob says. "People know I've had a tough personal situation (divorce), and the way John is with my son means so much to me. Brandon, my son, is 4 years old, and he comes to the tournaments a lot. Anyway, those two have their own secret handshake that they always do before matches. Hold on, let me show you this …"
A video starts to play on Gimelstob's phone. A small, dark-haired boy appears on the screen, antsy, waiting.
"This was at Wimbledon," Gimelstob says. "It's the best one of them. So John loses, 26-24, in the fifth set of the semifinals of Wimbledon, right? Six hours and 36 minutes, and it's getting late. And all my son wanted to do was tell John how proud he was of how hard he worked."
The video clip plays, the faraway audio a bit tinny, and a weary Isner, still dressed in his Wimbledon whites, appears on the screen. The 6-foot-10, 238-pound man towers over the boy. Isner perks up and smiles, bending over.
"Hey, man," he says. "What's up, buddy?"
"I'm so proud of you!" the child replies. "So proud of how hard you tried."
The two do their handshake on the small screen. And Gimelstob chokes up, watching it again, his eyes watery. His broadcaster's voice wavers when he speaks again.
"So, yeah, it is personal," Gimelstob says. "You spend this very intimate time with each other in these career- and life-defining moments. How can it not be personal? Tennis is very personal. And, well, you see the way John handles relationships, how he relates with my son. He's giving of himself. I can show my son what it's like to compete and do the best you can. That's what it's really about."
With the season's final Grand Slam event, the U.S. Open, beginning Monday, Isner at age 33 finds himself in the homestretch of the best season of his pro career. He's a shoo-in for his ninth consecutive year ranked among the world's top 20 players.
The Greensboro native has come a long way since his dominant days at Page High.
The best he can
Isner has won 14 singles titles and more than $15.7 million in prize money on the ATP Tour since turning pro in 2007 after an All-America college career at Georgia.
Isner enters the U.S. Open as the No. 11 seed. He has dropped two spots to No. 11 in the ATP World Tour's singles rankings, snapping a career-best string of 18 consecutive weeks in the top 10. He peaked at a career-best No. 8 after Wimbledon, his first Grand Slam semifinal appearance.
That 6½-hour, five-set semifinal loss in England to Kevin Anderson included three tiebreakers and the epic 26-24 final set. And Isner followed it in his next start by winning the BB&T Atlanta Open for the fifth time in six years.
The Atlanta victory goes along with a doubles title at Indian Wells and a singles title at the Miami Open in March, the first Masters 1,000-point title of Isner's career.
"Winning Miami was huge for him," says Sam Duvall, Isner's agent since his first day as a pro. "A lot of people think it might be harder to win a 1,000-level tournament than a Slam. …
"We've been together from the beginning. I've seen John change a lot in terms of how professional he's been and how he's handled situations. I've been around for all the highs and lows. It's so cool now to see him reach his first Grand Slam semi and back that up with another Atlanta win. People don't realize how difficult that is, to come back and be mentally ready. He was exhausted after Wimbledon. To handle Atlanta the way he did, that was huge."
In a good place
The career renaissance at age 33 isn't an accident, Isner says.
He insists that he's always been a late bloomer and that it took him time to really grow into his big body.
His booming serve, launched hard at an extreme angle and from a great height, has been the best in the game since his first day on Tour. He has worked hard to develop his body with personal trainer and chiropractor Clint Cordial. He has honed his game with a trio of veteran coaches: Gimelstob, David Macpherson and Rene Moller.
But the real change is there on Isner's left hand, a thin gold band on the long ring finger.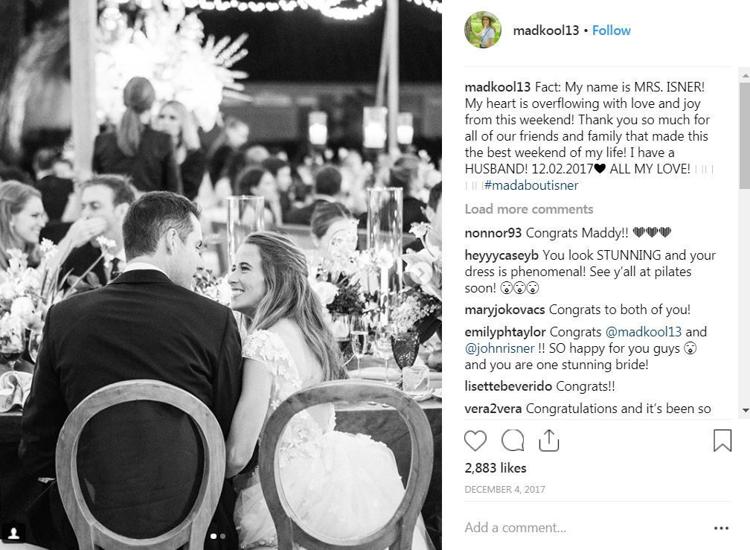 Isner and his longtime girlfriend, Madison, were married in December and are expecting a baby girl next month.
"Life's good, man. I'm in a really good place," Isner says. "I've seen it happen in other tennis players, too. My life has progressed. I got married. My wife and I are having our first kid in September. It's very cool. And being a father is something I couldn't have imagined when I was first out of college on the pro tour.
"But now that I've settled down and Maddy and I are so happy, I wouldn't trade it for anything. We've got everything going for us personally. That sense of personal calmness, well, it carries over to what I do professionally. It definitely puts perspective on things. (Tennis) isn't the most important thing I'm doing right now. The most important thing I'm going to be doing is raising my daughter come September. In a way, that takes pressure off of tennis. I'm very, very happy off the court, and that helps me perform on the court."
Duvall is a believer. He's seen a subtle change in his client and friend ever since the relationship changed from boyfriend-girlfriend to husband-wife.
"I do see a difference. He's just settled, you know?" Duvall says. "When you're together with someone and not married, you're thinking about, 'When should we get married?' or 'When's the right time to get engaged?' Things like that. But now, he's so much more comfortable and settled, being a married man. And now a future daddy."
Duvall and his wife are parents of two children, the youngest a 4-month-old boy. The agent grins at the memory of Isner holding his infant son while the two couples shared a restaurant meal in London during Wimbledon.
"I believe it makes John cherish what he's doing out here," Duvall says. "He's trying to maximize every opportunity. I've seen a big change there. He's always been a pro. But he's even more professional, week in and week out, even at the smaller events, understanding that's the process to peak at the right times at the majors. He's had a lot of consistency with that the last 18 months."
The Isners have settled in Dallas, and John's mother, Karen, helped her daughter-in-law move into a new house during her son's swing through the North American hardcourt season's stops in Atlanta, Washington, Toronto and Cincinnati.
"When I get back after Cincinnati," Isner says during a quiet moment on the first Wednesday of August, "we'll be in the new house. … And after the U.S. Open, life's going to change quite a bit. We've got the nursery all done. We've got all these little clothes on hangers. No surprise, I guess, but she's measuring in the 75th percentile for (length) and weight."
A day in the life
On this day, Isner has time to kill before his first match in one of his favorite tournaments.
It's the Citi Open in Washington, the tournament where it all began for him that summer of 2007, although it doesn't seem like 11 years ago.
At least it does to Isner on this sweltering, muggy afternoon in the northwest corner of the nation's capital.
He sprawls out in an avocado green chair straight off the set of "The Brady Bunch," his long legs stretched out before him, the bill of his baseball cap pulled low, just over his eyes.
Isner flew in the same night he won in Atlanta, his head hitting the hotel pillow around 2 a.m.
"When I've got the late match, I'll sleep as late as I can," Isner says. "I sleep very well in the hotels. As long as the rooms are cold and dark, I can sleep. That's what I need, just like any American. I love the AC, and I need it dark. I've learned how to override the hotel air conditioning. There's a governor at 65 degrees. But there's, like, a Google hack and I can get it down to 60, and I just sleep like a baby."
He's swapping stories with friends in the retro-decorated players' lounge, and in an instant he's the gangly kid fresh out of Georgia again, the NCAA All-American who rode a wild-card invitation all the way to the finals in Washington against Andy Roddick.
"I've only missed this tournament twice in my career," Isner says, "just last year and the Olympic year. Other than that, I've been here every year. This place is special. This was my first big tournament after turning pro, and I made the final."
He pauses and looks around the lounge. It's tucked away, next to the practice courts of the temporary tennis town smack in the middle of Rock Creek Park. A short walk away is the 7,500-seat stadium court, a worn and weathered structure of concrete blocks and steel beams showing some rust.
Five other courts with temporary bleachers host standing-room-only matches in the shadow of the stadium.
"There's something about this place," Isner says. "This site has an old-school feel to it. It's a little homey. Playing here, it's got to be like playing (baseball) at Fenway Park. You know what I mean? Center court is really nice. The outer courts are generally packed. It's a good atmosphere.
"Luckily, there's no rain today. This tournament, it always seems like you have to deal with rain. It's just brutal."
Epilogue
Maybe he shouldn't have said it out loud. Turns out, it was a bad omen.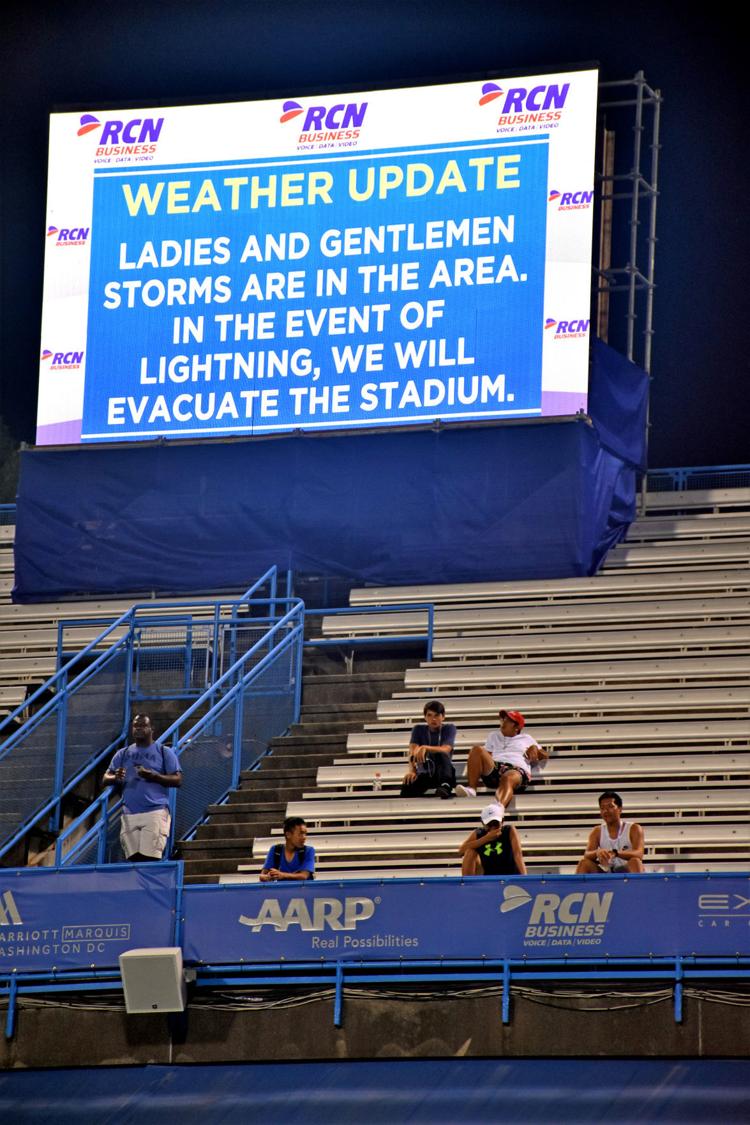 Five hours later, long after dark, his is the only match on this Wednesday washed out by a torrential thunderstorm. Isner loses the rain-delayed match to wild-card Noah Rubin the next day.
Isner is just 1-3 in matches since winning the Atlanta title.
But he's still 26-15 overall this year, and he's had nearly two weeks of rest heading into the U.S. Open.
"It only takes one week to get things rolling out here," Isner says, "and that week for me was actually those 10 days in Miami back in March. Prior to that, I was 1-6. I was struggling with confidence. I was losing close matches to players who were ranked much lower than me.
"I never imagined I could win that tournament. But I did. And that's when things started rolling. I kept playing better and better, and I've kept my foot on the gas pedal. I still believe my best tennis is ahead of me."