GREENSBORO — First things first: It's a longshot.
But Greensboro is the only city in the United States that's taking a shot at all as bidding opens for swimming's 2025 and 2027 world championships.
Seven countries have shown interest in hosting the FINA World Championships and FINA World Masters Championships — the two events come as a package deal — those two years, submitting formal letters of intent by the deadline of Nov. 26 to pursue the process further.
"It's not a bid, per se," said Hill Carrow, CEO of Sports and Properties, Inc. "It's more of an exploration for a bid."
Carrow, a former U.S. Olympic Committee executive before founding his own sports promotion business, has led several sports tourism bids for Greensboro, most notably the organizing committees that brought the 2011, 2014 and now 2020 U.S. Figure Skating Championships to the city.
And now comes this foray onto the world stage.
Greensboro, representing the United States, joins Australia (Melbourne), China (city TBA), Hungary (Budapest), Russia (Kazan), Serbia (Belgrade) and Ukraine (city TBA) in expressing interest for the FINA events.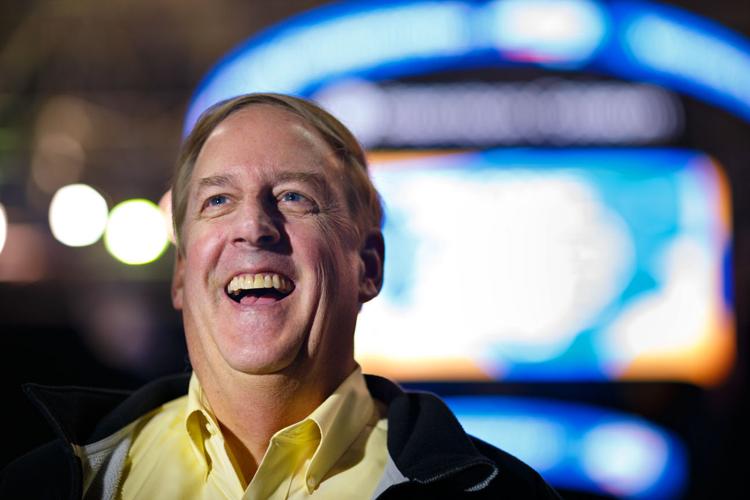 "The event has never, ever been held in the United States," Carrow said. "It's supposedly an expensive proposition, and we're going to learn more about that before seeing how it all shapes up. … It's certainly something that logistically and operationally can be done here. The question is whether the politics of it and the finances of it all would work out."
The next step for Carrow and a yet-to-be-selected group from Greensboro is to attend a one-day workshop at FINA headquarters in Lausanne, Switzerland, on Jan. 25. There they'll receive documents and information about FINA's site needs.
"It's worth exploring and learning more," Carrow said. "They'll go through the whole bid process and tell us what it will take to be a successful bidder. And it's our opportunity to ask questions."
The event itself is massive. Beyond swimming and diving, it also includes water polo, synchronized swimming and open-water swimming.
The first half typically runs for 17 days, the same length as an Olympic Games, and features the world's elite swimmers.
"It's much more spectator-oriented," Carrow said. "The last one in Hungary was televised in 62 countries."
A week later, the Masters event begins, without the high dive and open-water competitions, but with far more competitors.
"The cool thing about the Masters is you're talking as many as 13,000 or more athletes," Carrow said. "… It's much more participant-oriented, but it comes with a lot of economic impact from all those competitors staying in your hotels and eating in your restaurants."
The next three FINA World Championships and World Masters will be held in 2019 in Gwangju, South Korea; 2021 in Fukuoka, Japan; and 2023 in Doha, Qatar.
In Greensboro, the event would require Olympic-sized temporary pools in Greensboro Coliseum's main arena, in the Special Events Center and likely the Coliseum Complex parking lot, Carrow said. That's in addition to the pools and diving well of the Greensboro Aquatics Center.
"U.S. Aquatic Sports would love to have it here," Carrow said, "but it's quite a challenging proposition. There's a reason it hasn't been in the United States before."
But the wild card for a successful U.S. bid could be using the World Championships as a preview of the 2028 Summer Olympics in Los Angeles.
"If the United States is ever going to host this event, this period of bids is the time," Carrow said. "Because these are the last two opportunities before the L.A. Games in 2028. The run-up to the L.A. Games has built up a lot of excitement and momentum. Yes, it's 10 years away. But they're going to be putting a lot of dollars behind that. So there are some opportunities."
And that, Carrow said, makes it worth Greensboro's effort to bid, even if it is a longshot.