Greensboro native John Isner will return to tennis competition next week at Wimbledon. 
Isner has been recovering from a foot injury – one that turned out to be more severe than he initially thought – suffered during his loss to Roger Federer in the final of the Miami Open on March 31. 
Isner, now a Dallas resident, is famous for playing two of the three longest matches in tennis history, against Nicholas Mahut in 2010 and against Kevin Anderson last year, both at Wimbledon. But the Anderson match came in the semifinals and marked the Page High School alumnus' deepest advance in a Grand Slam tournament.
Isner, ranked No. 12 in the world and seeded No. 9 at Wimbledon, spoke by phone from England this week, where he is practicing on grass for the start of The Championships at The All England Lawn Tennis Club.
Q. Are you 100 percent recovered from your injury?
Isner: "I actually broke my foot (second metatarsal, left foot). It was a little bit more of a clean break than a stress fracture. Unfortunately, it's taken a long time to recover from that. And I do feel like my foot is finally healthy.
"But I'm definitely not where I want to be physically. The best thing I could do is just rest and let your body heal itself. So I was really handcuffed as far as what I could do to stay in shape – and especially tennis shape."
Q. What steps have you taken to try to get back into shape?
Isner: "The best thing I was able to do after a certain point was just ride the stationary bike. That's all I could do. I could get in the pool a little bit and swim, but for the most part I just stayed on the stationary bike. And after four or five weeks, as long as both of my feet were on the ground, I was able to lift weights that way without any pain or discomfort. Those two things kept me in shape. But running and getting out there on the practice court (a week ago, for the first time), which is really the best way to stay in shape, was not an option for me for so long."
Q. With limited practice, what have you had to do to get back into competition form?
Isner: "That's been tough. No grass-court tuneup. I didn't play grass-court tuneups last year, either. But that was a little bit different. I did play a pretty long clay-court season. So I definitely had a lot of matches in my system. I don't have that right now.
"But I'm trying to get better, a little bit, each and every day in practice and get more confidence in my foot. As any athlete will tell you, one of the toughest things is gaining confidence back in that injured area, so you're not compensating and being able to go for a shot without the fear of pain. It was a very difficult hurdle to overcome but I think I am getting there, slowly but surely."
Q: What did you lose in these nearly three months off, and what did you gain?
Isner: "What I did realize is really how fortunate I've been in my whole career. I've stayed very, very healthy for 12 years. So I definitely do realize that you certainly can't take your health for granted. But it's just tough just getting back into tennis shape. Once I get out and play my first match at Wimbledon, I wouldn't have played a match since that last match in Miami. So it's just a very long time.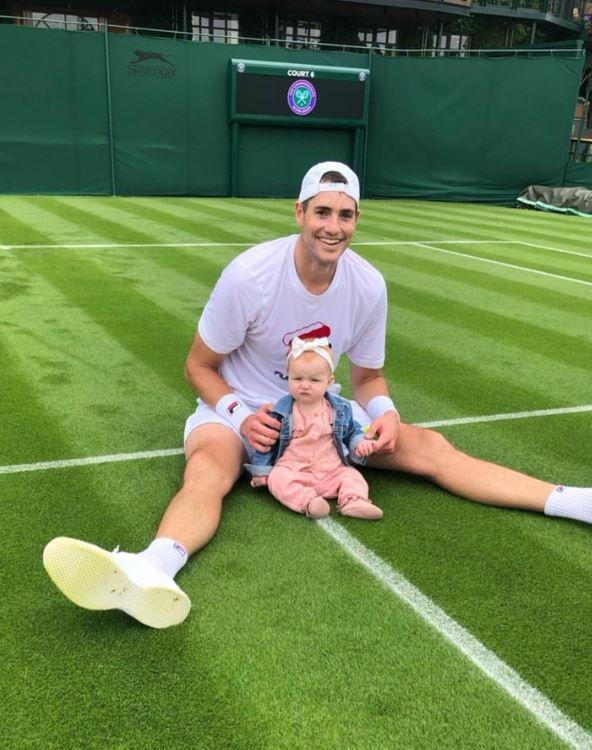 "But look, I'm just happy to be out here, back out on the court. I never dwelled on my injury at any point because, again, how lucky I've always been. And I, of course, spent as much time as I possibly could with my family, which was a lot of time. So it wasn't all bad for sure. Enjoyed my time at home, which I haven't been able to get for a long time."
Q: You're back on the grounds of the All England Club. What stands out to you the most about those two magical weeks last July?
Isner: "I didn't play warmups last year, and I had my best Wimbledon. So I can always look back at that experience. And also, at the last tournament I played, I made the finals of a Masters series event. So keeping things in perspective for me is going to be very critical.
"My first match is going to be tough to manage no matter who I play because I haven't been practicing at all. But I need to just tell myself, I was playing great before I got hurt, it's still there, it's still out there, and do my best. If it doesn't happen, it doesn't happen. I'm just happy to be back on the court healthy again."
Q. You've helped trigger a rules change – tiebreakers at Wimbledon if the score reaches 12-12 in the fifth set – after last year's long semifinal, after the Mahut match several years ago. What could you possibly have in store for us now?
Isner: "I used all of my magic tricks up, that's for sure. I don't think there's anything else I can do. So we'll see if that situation comes to fruition this year, if it gets to 12-all. And then absolutely, we'll see how it's received."