Two high school basketball programs in the Triad now have a semblance of closure.
The Winston-Salem Prep boys and Southeast Guilford girls will be among 16 co-state champions, the NCHSAA board of directors determined today. The teams in the four state classifications had earned East or West regional championships on March 7 and were set to play in state championship games before the coronavirus outbreak prompted an indefinite postponement of their games of March 14.
The NCHSAA also suspended its spring seasons, and Gov. Roy Cooper on Friday announced that school campuses would remain closed for the remainder of the academic year. That meant an end to NCHSAA competition as well.
"We actually took a vote on it and we felt that, in this crazy time we're in, that crowning an East Region and West Region (champion) would not do it justice and felt like the co-champions was the best thing we could do to honor the work that those student-athletes had put into it," said Brad Craddock, the board's president and the principal at Glenn.
Winston-Salem Prep, a No. 2 seed in the West, was scheduled to face No. 6 Henderson Collegiate in the Class 1-A championship in Raleigh. Defending Class 3-A champion Southeast Guilford would have played Fayetteville E.E. Smith in Raleigh.
Coach Andre Gould of Winston-Salem Prep had hoped for a crowning of co-champions, as Virginia's association did. His two seniors — captain Stephen Minor, a Queens University of Charlotte commit, and D'Angelo Lavalais — missed out on a final chance to claim a championship.
"It's been frustrating at times because you know you were playing your best basketball," Gould said of the weeks since the postponement. "You were ready to play for a state title against, you know, a formidable opponent. But we felt like we had gotten there for a reason, and we felt like we knew that Saturday we would be holding up a banner, ourselves. But, you know, (COVID-19) prevented that.
"I'm sure a lot of these other coaches are saying the same thing. We saw some other states doing it, so we thought that maybe the state would finally name us co-champs — and we are the co-champs."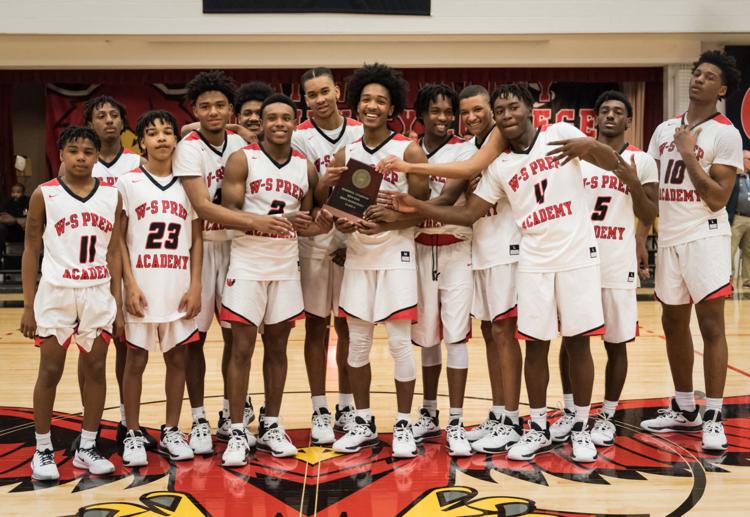 Southeast Guilford and Coach Rachel Clark also were awaiting a final verdict on the unusual end of the season.
"We've had so much time to think about it," Clark said. "Deep down, we all knew it was going to be canceled. We were just holding on to that little, tiny bit of hope.
"But, I mean, it does kind of give us some closure and brings it to a head, I guess."
East and West Region champions in football were recognized during circumstances like the 1918 flu pandemic and for a decade mostly in the 1960s.
"If you look back, historically, at what we've done, those teams that made it to the East Region championship game and the West Region championship game  — and they won those games — that was as far as they could go," said NCHSAA commissioner Que Tucker, describing regional football champions from 1961 to 1971. "That decision had already been made. … In those instances where games were not played, or not scheduled to be played, then obviously the boards at those times did not name co-champions.
"In this scenario what you have to remember is that we had an East champion and a West champion. We were three days or two days away from actually playing the games."
Anthony Sellars was just a freshman when Winston-Salem Prep claimed its last Class 1-A championship in 2018, the program's fifth title in the span of a decade. The 6-foot-6 wing said in early March that he placed that championship ring on his nightstand when the Phoenix's playoff run began this season. His half-brother Corey Rutherford, who will play at Shaw, scored eight points in the victory over Pamlico County at Reynolds Coliseum.
"I'm going to look at (a co-champions ring) different than the other one because I really played that whole season and I contributed," said Sellars, one of the team's two remaining players from 2018 with fellow junior Zaire Patterson. "It's still not going to feel the same because winning the state championship, even though I was part of that team, it felt good to win it because I was like, 'Dang.' I just saw smiles on everybody's faces.
"Now you won't be able to feel that. You won't have that memory."