Basketball state championship games and the remainder of the spring sports seasons for N.C. High School Athletic Association schools are officially canceled.
Gov. Roy Cooper this afternoon announced that North Carolina public school campuses would be closed for the remainder of the school year.
The N.C. Independent Schools Athletic Association also announced that its spring seasons are officially over.
Two Triad basketball teams were stopped at the semifinals of their state tournaments: The Southeast Guilford girls, who would have played Fayetteville E.E. Smith, and the Winston-Salem Prep boys, who were matched up against Henderson Collegiate.
Here is what athletes, coaches and athletics directors are saying about the decision:
Andre Gould, Winston-Salem Prep basketball coach
"I was prepared for this moment; I didn't feel like we were prepared to get it in from the jump. Especially with all of the major sporting events and everything being shut down. Considering the climate and the circumstances of what we're dealing with, it's a wise choice.
"You've gotta err on the side of caution, and I'm glad that our governor was responsible enough to see that and that it's bigger than giving everybody what they want because we're being impatient.
"I don't know about anybody else, but I like living right now. I've got a lot in this world to accomplish, I've got a wonderful wife, family that I want to see live. Grandkids and all of that. I want that opportunity to do all of that great stuff with my family.
"Our medical workers on the front lines, a lot of people in harm's way, and the picture is bigger than everybody getting what they want.
"Sometimes in life you have to press the reset button, and this is one of those times that we're doing that.
"It's a good time to build your relationship with your families and God, or whomever you believe in.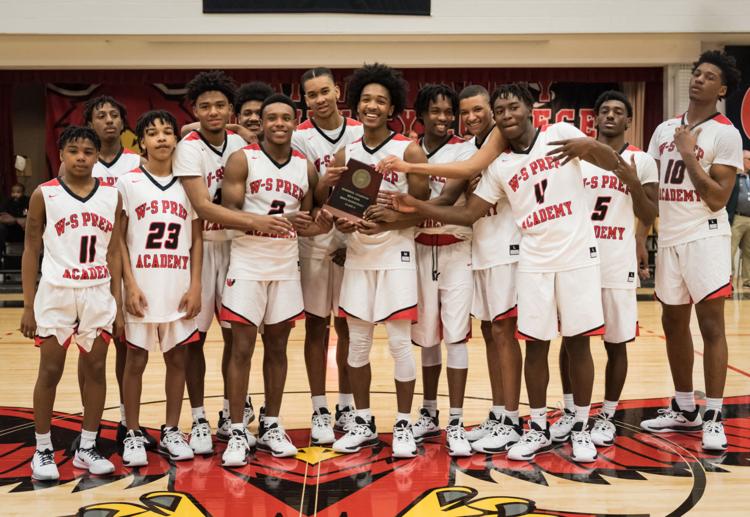 On what he will tell his players:
"I'm getting ready to call them now, try to get everybody in on a Zoom or FaceTime.
"And I'm sure they already know. As the leader and the captain, you know, you want to see your captain. And so that's what we'll do. We'll talk to them and let them know that. Life sometimes has a way of dictating what it's going to be.
"Right now, I guess reality is setting in. I just wish reality would've given us the opportunity a month and a half, five weeks or six weeks ago when it was first called.
"To hold out, I know it's important, but it's raw. I can tell you that now, but life goes on.
"We're going to be OK. I just hope they do the right thing and name co-champs at this point. That's the best we can hope for."
---
Raven Preston, Southeast Guilford basketball player
"When we first found out it was postponed, it was hard. But the whole team stayed in touch on Zoom calls, and we prepared like the game was going to be played. It's disappointing that it won't be played, but we understand that people's health and safety has to come first. That's the first priority in all of this. We get it. This (pandemic) is more important.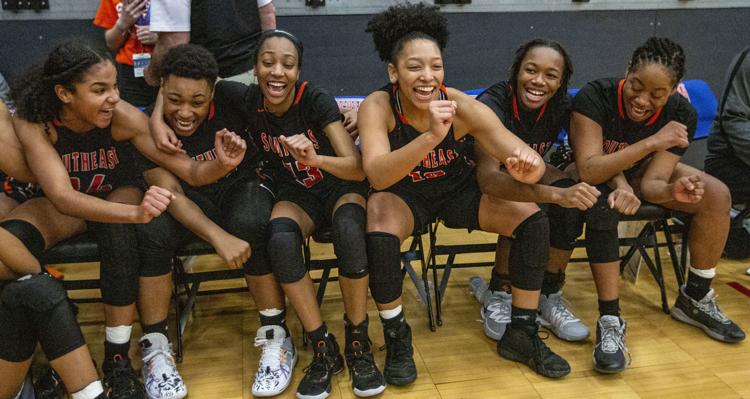 "It's been an up-and-down roller-coaster. Coach (Rachel) Clark was saying we might play the game, maybe even in August. We were on a Zoom call just yesterday (Thursday), and we were talking about how we could work out. We talked about defending our state title. We've been putting in work on our own, staying in shape, going to the track to run, staying ready to play the game. But now, even though we're not playing, we're still working. The seniors are getting ready for college, and the underclassmen are getting ready for if we can have an AAU season."
"Having won last year does help (ease the disappointment). And for me, knowing I have two more years helps. I know it's harder for the seniors. This was their last chance."
---
Rachel Clark, Southeast Guilford basketball coach
"I've only spoken to one of the kids so far. It's still setting in that this is it for us. We've had time to discuss it, but you're never really ready, you know? … We have tried to stay in touch regularly. We had a Zoom meeting yesterday (Thursday), and everybody talked about the workouts they were doing. We've had a couple of birthdays pass, and we talked about that."
"It's definitely a sense of disappointment. We had our hopes up. We were holding out that we could still play. Que Tucker gave us some motivation, and we were hoping to play the game. But now we know we're not going back."
"I'm sure it's disappointing for our two seniors, but simply the fact we were able to win a state championship last year and they were able to experience that certainly helps. It's not like they're leaving high school empty-handed. It's still disappointing, but they're both going off to play in college (Kennedi Simmons at Winston-Salem State and Shunte Bethea at Averett) with a state title."
---
Chandler Dowell, Parkland senior
"I was looking forward to running track this season, so I was kinda sad that they had to close down all the schools and cancel all the sports and things like that.
"But I understand why they had to do it because of trying to keep everybody safe and calmed down so we can go back out there, maybe next year, before seniors go to college. ...
"I kinda figured we were going to close but I didn't know for how long.
"Teachers were talking about it when we were still in school, I was thinking maybe like a week or two. I didn't think we were going to close down for the whole school year.
"Plus, since I'm a senior (will compete in track and field at Mount Olive), I had to do third quarter but I don't have to do fourth quarter. But that online work is pretty hard to do."
---
Blake Fuquay, Grimsley golfer and basketball player
"I wish it had gone a different way, but I'm not surprised they canceled today. With sports, it is a lot of people in one space. The saddest part for me is I didn't know my last day at Grimsley was going to be my last day. I would've appreciated it more. My friends and I were in the parking lot that last Friday after school. We said, 'Oh, what if today's our last day of school?' But we (decided) they wouldn't cancel. That would be crazy. Nobody knew we weren't coming back. … I've had a little bit of time to cope with that, and I'm more OK with it than I was. But it's still too soon."
---
Ethan Albright, Grimsley athletics director
"It's hard to be focused on us when there's thousands of people across the country dying from this pandemic. Everybody understands. I don't see how anybody could not understand.
"I am truly disappointed for our seniors. My senior year was the most fun I ever had in high school, and I hate that they're not going to have those memories.
"But there's bigger issues in the world. I'm not belittling sports. Sports are important in people's lives. Sports are powerful. But you have to have perspective on the big picture. ...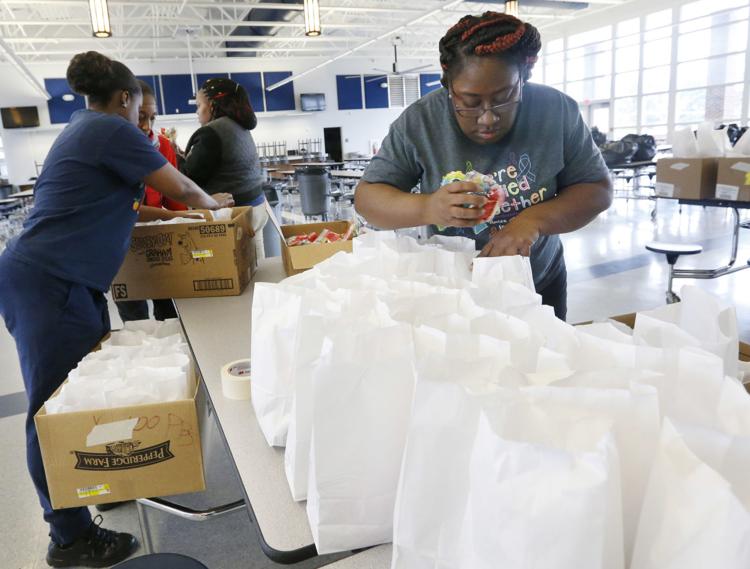 "High school sports are a little microcosm of what college sports are. Football and basketball make money. Everybody else is breaking even or losing money. … From a financial standpoint, I don't know what you do in a high school sports budget without football season. But, again, that's a sports world issue, and it doesn't compare with the seriousness of what's happening in the real world."
---
Brad Fisher, Reynolds athletics director
"It's one of those where we … the longer we've been in this, the less of a chance there was going to be a spring season.
"And so that's why a lot of schools and stuff have just been trying to do some recognition of kids, knowing that we weren't going to see them again.
"We at Reynolds, we have even started the process of getting our end-of-year athletic awards together and the seniors will pick up their cap and gowns next week, and we want to have those ready for them to pick up when they get their cap and gown.
"The writing's been on the wall. It's unfortunate, but it's … if they canceled school, there was no way they were going to let athletics continue.
"Now the focus is, and the board of directors will meet next week, but what if anything will we be allowed to do this summer and what is going to be planned for us come fall?
"You know, you listen to the conference and they're talking about changes that will happen within the school buildings, now we've gotta think about what will athletics look like?
"Will we have athletics? Will there be allowed to be spectators there? Which, with athletics I mean, everything revolves around our gate money. We've gotta have people in the stands.
"If they can't allow spectators, can we logistically even have fall seasons?
"I'm obviously not privy to all of the things that Cooper and his teams have been talking about, but what happens if they do something like staggered school days, where kids only come in for x-amount of hours and then a whole different set comes in later in the day? How could you do athletics in the afternoon if half of your student body is technically in class?
"It's one of those where now we just sit back and wait and see. We've now gotten a conclusion to the spring, maybe not what people wanted, but here it is.
"Now it's time to focus on how do we go forward with summer and fall, what will we be allowed to do?
---
Matt Harder, Page athletics director
"I've tried to share with coaches to keep perspective on this thing, to think about everyone who's battling this virus, the people who are sick or have lost loved ones. To think about workers out there on the front lines doing so much, our healthcare providers doing everything they can to keep people safe. That's where I keep my focus. But, honestly, I know it's devastating for our athletes and our schools. Our seniors who wore their Page jersey for the last time and might not have even realized it. That's tough for me to think about."
"We had some strong teams this spring who had a chance to do really well. And it just stinks for them.
"At the same time we're not selling any tickets, we're also not having to pay officials or umpire fees, we're not having to pay transportation costs. But you know what? I'd rather spend the money on those things than save it. I'd rather give our kids a chance to play … regardless of how it impacts the budget."
---
Shane Maullin, Reagan girls soccer coach
"I've heard that people can have sports without people in the stands and I just feel that those athletes are young, they've stayed home, they haven't been around people and I just think it's absolutely devastating for those seniors.
"Our baseball team had a really good chance of winning the state championship. We had a really good chance as well, had Sophie Faircloth going to Wake Forest, and it's just devastating.
"They won't get their Senior Night, they won't get to play – you know, a lot of these girls go to career center and they mix with Reynolds players and West Forsyth and East Forsyth and there's a kind of friendly competition for them and conference is a big deal for them.
"It's really, really sad. ...
"I've spoken to Scott Bilton over at West Forsyth and if – I think we're just fighting the bureaucratic stuff. I know we all want to (play).
"I've spoken to him and maybe, you know, in June having a little scrimmage with all of the conference teams and at least sending the girls off with that.
"But yeah, now finding this out, I'm going to have to get on some kind of Zoom meeting or something with the girls and I mean, what do you do? You offer your apologies and sorrows, but at the end of the day that doesn't really cut it, you know? ...
"It's going to be back to building for us, losing nine really good seniors. It's devastating. ...
"I hope my boys get to play, man, in the fall.
"I've seen so many universities dropping programs, University of Cincinnati, St. Edwards … you know, so I'm sure there's going to be a couple that follow suit and at the end of the day it's the kids that suffer and they don't really have – they haven't done anything wrong.
"So it's just tough, really tough."
---
Steven Davis, Dudley football coach
"We're just kind of in limbo right now, waiting to hear from the (NCHSAA) on what we can and can't do in the summer. I talked to one of my best friends yesterday, a coach in South Carolina, and as of right now they're looking to start football workouts on June 1. I'm not saying that will hold up, but at least it's hopeful.
"The summer is very important, especially to the new guys, those ninth-graders just coming in. They can only come when school is out, and to get those guys in and get them acclimated to what you're trying to do in your program is something that's important to every team in the state. The summer is the time you get every guy on the same page. … You put things in a little at a time, and then in August it's full steam ahead.
"I worry about the kids when I can't see them. Some guys you have to push a little harder, even when they're here, just to make sure they're doing what they're supposed to do. Some guys are self-made and will do exactly what they need without you hovering over them. They'll do pushups or situps or run in their neighborhood just to stay in shape. But all of us know guys who are lazy, guys you need to keep your thumb on and push.
"Look, I understand why we can't right now. It's safety first, man. I pray for those families who have lost someone. Hopefully, the doctors and scientists can get a hold on this virus pretty soon. We're all praying for that."
---
Leigh Hebbard, Guilford County athletics director
"In the end it won't be up to me when we open up, but I've been thinking this through. … Even in Phase 1, there's limits on gathering sizes. So when do we get to a point within the schools where we think it's safe? You look at football, and it's 50 or 75 or 100 kids, depending on what school it is. When can they get out there together? We've obviously got a lot to work through. The (NCHSAA) will provide a lot of guidance on what they expect us to do, and some of that will be making sure everyone's on the same level playing field. ...
"We'll take direction from the different health departments and listen to what their guidance is. Maybe there will be some new protocols we have to put in place. It may be a while before we're ready to start anything. I've told people that if we do anything at all before mid-June, I'd be very surprised. Very surprised. But that's just me speculating."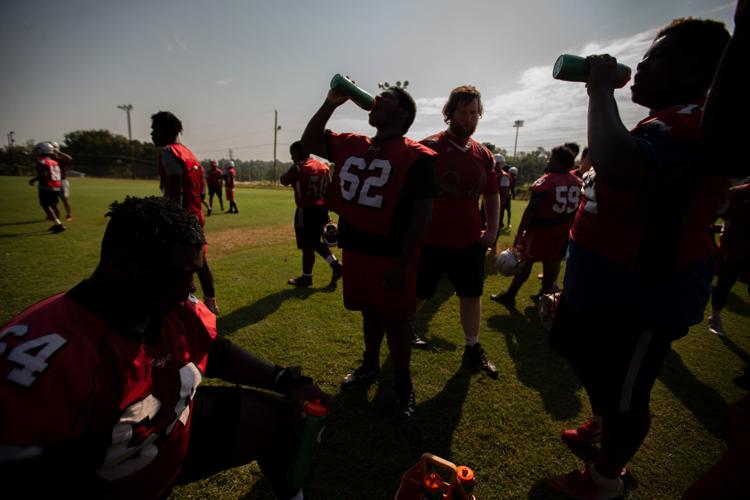 Football practice is scheduled to start Aug. 1.
"But except for the two 'dead weeks' around the Fourth of July and the coaches clinic, they're out there doing stuff all summer long. There are seven-on-seven (scrimmages) and other team activities that pretty much everybody in the state does. Those are obviously in jeopardy."
---
Sean Vestal, North Forsyth athletics director
"Honestly I'm not surprised, just with how everything has played out. There's always been talk to always side on the precaution side and I just think that all the leaders are doing what they think is best for everyone involved.
"I hate it for the seniors. I think all of us have sat back and kind of had like a little glimmer of hope that maybe we could get a few games in before they graduated. But I guess that's just part of where we are right now.
"Right now the next thing is, what are we going to do with summer stuff? Right now we're just sitting around waiting on the high school athletic association to meet next week, and I guess they'll give us more guidance probably sometime next week. ...
"I think all football coaches are probably nervous, along with volleyball coaches and men's soccer.
"With what's happened today, this puts a lot of things in question. You've got – when the NBA and the NFL and college football and all those places are trying to figure out what they're going to do, high school is kind of secondary to all of them.
"So we just have to sit back and wait and see what happens. I have no clue, no speculation whatsoever.
"I hope we can have a football season. Technically for schools like North Forsyth, I mean, we count on football to financially generate us for at least half of the year until we get into basketball season. Those two are the money-making sports.
"So we just have to sit back and see what happens and just trust in the leaders that they'll make the right decisions and we'll just follow suit and do the best we can with whatever we have to do. ...
"I hate it for all seniors in the state, whether they were going to have a good season or a bad season, it doesn't matter.
"I just hate the fact that they didn't have the opportunity to go out there and play.
"A lot of memories that I have as a former athlete were my high school senior year. That's the bus rides and the cookouts at the end of the year and all of those kinds of things, and those are things that have been taken away from them.
"So I really, really feel for the seniors in all of this because it's something that they'll never be able to get back."
---
Debbie Jones, Ragsdale athletics director
"I'm always hopeful. I was hopeful we'd get even a couple of games at the end of the spring, but that ended today. But I have to be hopeful. We all have to prepared so that when sports do come back, we're ready to go. Everyone is going to be excited. That's the one good thing about this: We all miss sports so much, but sometimes we take things for granted. I don't think anyone will do that moving forward, not for a long, long time.
"We're in unprecedented times. Everyone is aware of that. It doesn't take away from the hurt our kids are feeling, because the end was so sudden. For seniors who aren't going on to play at the next level, their careers are over. And then you have underclassmen who were excited about maybe their first season playing a varsity or JV sport. Their seasons were taken away, too. It's sad. You never know when your last game is going to be, but something like this makes it harder.
"My coaches are professionals. They understand it's safety first for their athletes. They're not going to put their kids in any kind of danger. I don't have to police them."
---
Danny Beal, senior at Reagan:
"I feel for all my teammates. It's tough knowing that all of the years, even as kids, not just in high school, but the kids that I grew up playing with up to this point, it was, 'I can't wait until senior year of high school because that baseball is going to be awesome.'
"For it to be taken away all of a sudden is kinda surreal at this point. But it's adversity that we have to get through and for all of the guys who are going to college to play baseball, like a couple of guys on the team like myself and a couple of others … we obviously wish them success in the future, and this is just a bump in the road that you'll have to get over.
"But I really feel for the guys that took baseball incredibly serious and aren't getting that chance to play in college.
"It's one of those things that you can't really prepare for it and it's just kinda out of nowhere. You think you'll have a traditional Senior Night, you'll have your last day of school, you'll have your, you know, last prom, last whatever. And then all of a sudden, no, this isn't happening.
"It's just one of those things that you can't prepare for and it's one of those things that, in your life, you've gotta deal with adversity and this is just a part of it. ...
"You always, whenever stuff like this happens, you always try to hold out hope. I've always said, 'Hope isn't a tactic,' but at the end of the day this is unprecedented and it calls for unprecedented decisions.
"So it's one of those things where you've gotta just go with the flow.
"But at the same time, I know definitely me personally and I know some of my teammates as well, we were at least hoping – ideas were being thrown that maybe like, just play conference games, just conference tournament, and then not have as big of a playoff.
"But even if that were to happen and a ring were to be won, whether it was for us or another team, whoever it was, there would be an asterisk next to it.
"It wouldn't feel the same. As nice as it would be, it wouldn't feel the same.
"It's funny because I was just texting with one of our coaches earlier today. Today we were supposed to play our rival, West Forsyth, at home on a Friday night. It's one of those things that you look back on and it's just like, dang.
"It's tough to think about and it's depressing to think about, but I've had my time to kind of compress and come to the realization that, even though it just came down today, it's one of those things where you've kind of seen it coming over the past few days, past few weeks.
"It sucks and it's just happened so quick, it's just so surreal."