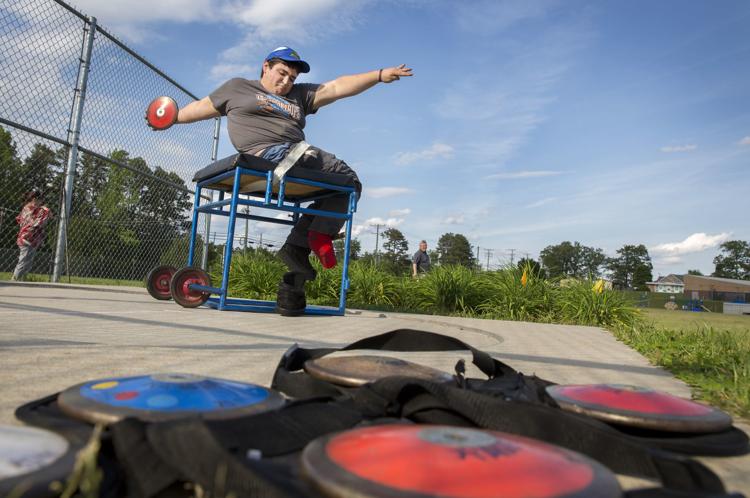 JAMESTOWN — The first thing you need to know about Christopher Coke is that he's an intense competitor who has won age-group national championships in track and field and swimming.
Another thing you need to know about Coke is that he is an Eagle Scout with interests as varied as skiing, archery and music.
You should also know that he's a senior at Ragsdale High School with plans to attend Campbell University in the fall and major in mechanical engineering.
The last thing you need to know about Chris Coke — because it's the last thing you think about after talking to him for a few minutes or talking to others about him — is that he's a wheelchair athlete.
Coke will wrap up his high school athletics career Saturday seeking more state titles at the NCHSAA Class 4-A track and field championships. But even if he doesn't add to his total, Coke already "is a true champion in every regard," Ragsdale athletics director Brian Herndon said.
'So many surgeries I've lost count'
Coke was born with spina bifida. With his form of the congenital defect, part of the spinal column was not fully formed and the spinal cord protruded through the skin, bunching up and causing paralysis below the waist. It also caused an associated condition known as hydrocephalus in which spinal fluid builds up around the brain, causing pressure that must be relieved via surgery.
Coke had his first surgery after he was barely an hour old to insert a shunt "that basically takes the fluid down to the stomach and deposits it there, doing the job of the spinal column," he said.
In the years since, Coke has "had so many surgeries I've lost count," he said. "Bladder, bowls, back, feet, head … name a part and I could probably tell you what I've had done."
He had bladder surgery last summer to install a catheter. Recently there were some complications, and about a month ago had a procedure that helped a little, "but right now they're trying to decide whether to go back in and permanently fix it."
Despite all the medical procedures and the challenges Coke's condition has presented, his parents, Carol and Larry, encouraged him from an early age to be active. Coke said he began playing Challenger baseball when he was 3 or 4 and participated in Miracle League baseball starting at age 8, but "kind of grew out of it." He also participated in Upward basketball at his church through sixth grade, competing with his able-bodied peers.
He continues to play wheelchair basketball, competing in national and regional events with coach Dave Kiley's Charlotte Rollin' Hornets program, "but that's not his passion," Larry Coke said. "Track and field is his passion."
'I had no idea what I was doing'
Coke's love affair with track and field began in seventh grade at Jamestown Middle School, when he decided he wanted to try a school sport. A brief flirtation with wrestling didn't work out, but the school's track coach encouraged him to come out for the sport in the spring.
"I had no idea what I was doing," he said. "Yeah, it's running, but I didn't really know the specifics of all that went into it."
He quickly learned and competed in the 800 meters and the shot put in seventh and eighth grade.
"I was getting pretty good and I enjoyed myself," he said, "made some good friends."
When he enrolled at Ragsdale, athletics director Brian Herndon told Coke, "I want you to come out for track." He competed in the 55 and the shot put indoors, then was introduced to the discus in outdoor season by throwing coach Rodney Stewart.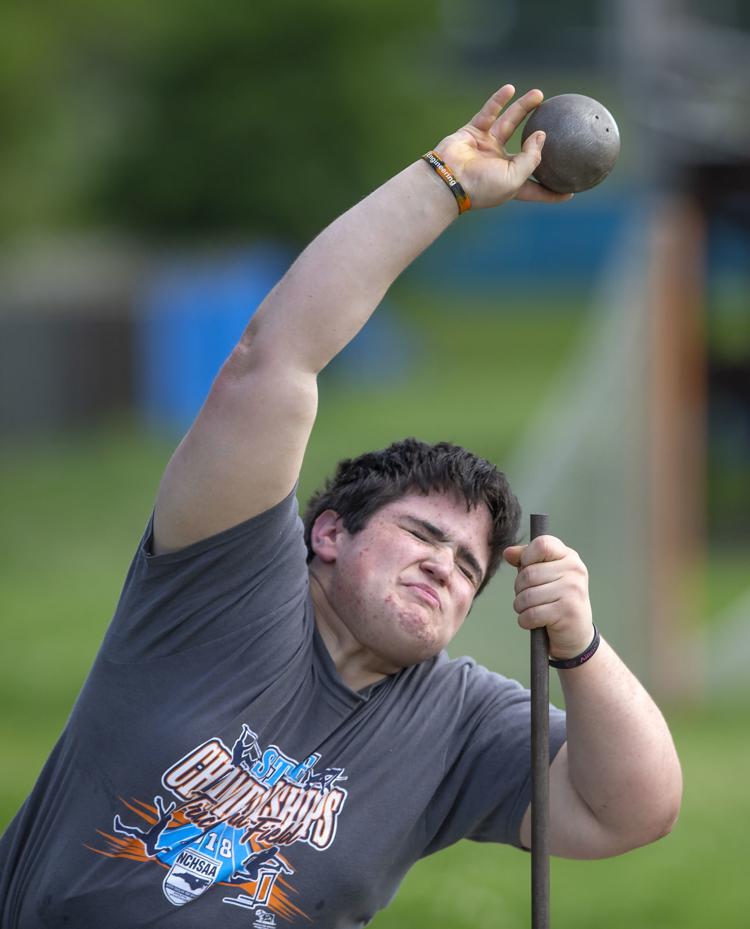 "I was kind of unsure of it at first," Coke said. "The first thing Coach did was teach us the fundamentals of the discus. Then the first thing he said to me was, 'I don't care how far you throw it, just throw it over my flowers,' " referring to a row of lilies planted a couple of feet in front of the ring. "I was able to just barely make it to the other side and I thought, that's a start. I made progress."
Coke competed in the 200 and 400, along with shot and discus. He qualified for states indoors and was second to Omar Sanchez of Raleigh Broughton in the 55 and shot. Outdoors, he qualified for states in all four of his events, and competed against Sanchez and Miles Hill of Northern Durham in the throws and the 200. But he was the only wheelchair competitor in the 400 and won his first NCHSAA state championship.
"I did it by myself, but I still felt that accomplishment," Coke said. "I still had that state title, and that was an incredible feeling for me."
In addition to his state champion medal, Coke received a plaque from the NCHSAA and was honored at the Ragsdale spring sports awards banquet.
"It helped me realize that I'm a high school athlete now, and that was cool," he said.
Paying the price to compete nationally
Coke isn't just a high school athlete. He has competed nationally and won age-group championships for T54 and T55 athletes (those who are functional from the waist up) in US Paralympic sports, including track and field, swimming, archery and shooting.
When Chris started competing, "We found out that he's really good for his disability," Larry Coke said. "He's won six or seven national titles in different events in age groups. He's won shot put, discus, javelin, swimming — breaststroke, back and free at the 50-meter mark. He's also done well competing in archery and air rifle."
Coke's summers have been spent competing on the national Paralympic circuit. Charlotte-based Abilities Unlimited of the Carolinas has helped with fundraising to help defray the cost of hotel rooms, but his dad estimates the family has spent "$10,000 to $15,000" annually.
"That's not hotels," Larry Coke said. "That's not the equipment. That's not paying to be in the NWBA. That's not paying entry fees."
Equipment adds another layer of expense, even with organizations and individuals such as Randy Chiavaroli of Florida loaning Chris a racing chair to use as long as he's competing.
"If we had to buy the equipment, a basic racing chair — not top of the line — is going to run you about $3,500," Larry Coke said. "Top of the line is triple that, and if you go carbon fiber you're talking $20,000. Same thing with throwing chairs. They're $2,000 to $3,000. I built the one he's got and that cost me about $180 for the steel. A basketball chair costs $3,000 to $4,000, and that's not to mention his everyday wheelchair, which is $3,000 to $4,000.
"It kind of scares me to even think about it."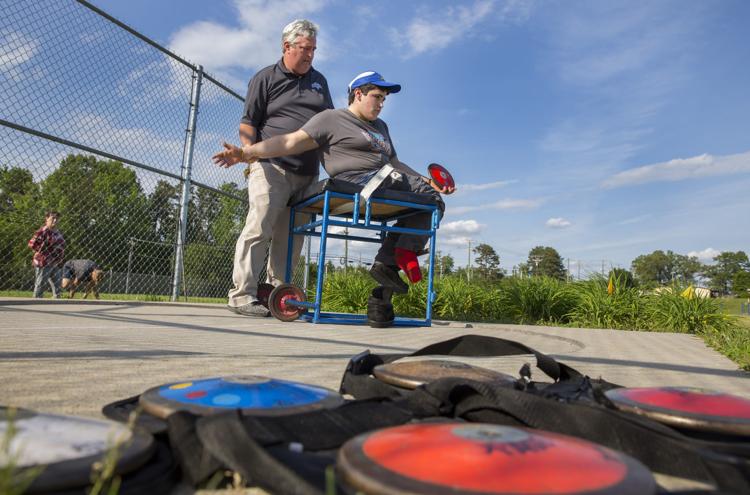 But it's an investment in Chris' future that his parents, both Guilford County Schools teachers, gladly make.
"I want him to have a healthy lifestyle, to find something he can do outside of (throwing), whether it's lifting, pushing his chair racing … playing basketball," Larry said. "Even if you're not that good, there's practice and games."
Chris doesn't plan to compete as a freshman at Campbell, where he will enroll in the fall, but he has been invited to join the Camels as a preferred walk-on. Campbell throwing coach Jeff Klaves saw Coke while scouting another Ragsdale athlete and planted the seed of attending the school.
"Up until then I didn't know where it was," Coke said. "I'd never heard of it or Buies Creek. I just knew (Durham Hillside Paralympic athlete) Desmond Jackson was there."
One of Coke's goals as a mechanical engineering major at Campbell is to design more durable and less expensive chairs for wheelchair athletes.
"I've had plenty of experience with chairs that don't work, aren't built right or aren't built to last and still cost $900," he said. "It's like if the U.S. government had to supply new aircraft to the military every few years. Build something that lasts!"
Ultra marathoner
Whatever the sport, Chris Coke is up for the challenge. But sometimes it takes a little bit of convincing.
His godfather, Steve Kasputis of Snellville, Ga., called Chris about a year ago with a proposition. He said, "Hey, they're having this ultra marathon in Tennessee in March and I want you to do it with me,' " Chris said. "I was like, 'OK, sure.' "
Back in December it hit him that he was facing a 50K (31 miles). "I asked him, 'Have you met me? This is not going to work. I'm not that active,' " Coke said.
But his godfather told him to start training and added, "If I have to push you the whole way, I'll do it, but you're coming out here and we're going to do this race."
The race was The Pistol Ultra Run in Alcoa, Tenn., near Knoxville.
The event includes a 50K, a 50-miler, a 100K and a 100-miler. The event had more than 600 competitors, so, as Coke put it, his godfather "isn't the only one."
It took 9 hours, 43 minutes, including two breaks of about 30 minutes each, but Kasputis and Coke both completed the three 10.3-mile loops that comprised the course, including an uphill finish. Coke received a medal as the second-place finisher in his age group.
"I felt good," Coke said of finishing, "but I didn't feel good at the same time."
'You can see him light up'
One thing Coke feels good about is competing at the high school level, even though the shot and discus he throws at that level for Ragsdale are heavier than those used in Paralympic competition.
"I get the most enjoyment out of going to states or regionals for track, just being around other athletes," he said. "I really enjoy the home meets and the support I get and being around my teammates, but going to states and regionals for high school and regional and national levels for basketball or travel track at those higher levels I kind of feed off the energy."
Stewart, the Ragsdale assistant who coaches the throwers, has seen it.
"The best part of coaching Chris is seeing his progress and his enthusiasm, and that spark when something happens," Stewart said. "You can just see him light up. It's happened a couple of times lately."
Coke will get one more chance to light up when he competes in the 100, 200, discus and shot put Saturday at the NCHSAA Class 4-A championships.
"It's definitely hard to think about the fact that this is my last go round. My goal every meet is to surprise myself, and usually in a good way. … The thing that I'll miss most about high school is being out here at this track and competing."