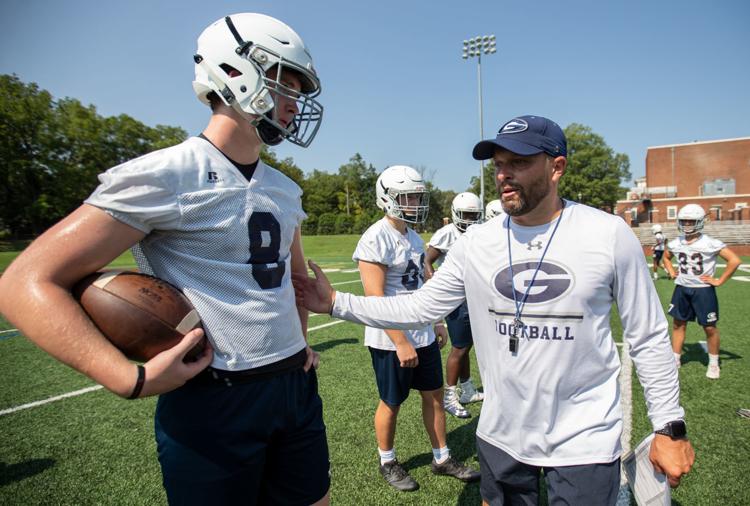 GREENSBORO — When it came time for Lawson Albright to decide where to play college football, the sport that earned him more than 15 Power Five scholarship offers wasn't the deciding factor. Life after football was.
That's why the rising senior at Grimsley chose Northwestern, whose Kellogg School of Management is rated one of the top three business schools in the country by U.S. News & World Report.
"It was the best place for me, competing at such a high level of football in the Big Ten and at the same time getting such a good education and them developing me outside of football," Albright said in announcing his college choice today.
Albright, who stands 6 feet 5 and weighs 225 pounds, is a consensus three-star recruit who 247Sports ranks as the No. 35 tight end in the class of 2021. His other finalists were Boston College, Illinois, Louisville and N.C. State.
After making his decision, he reached out to longtime Northwestern assistant Bob Heffner, who coaches the Wildcats' "superbacks," which includes tight ends, H-backs and fullbacks. Heffner told head coach Pat Fitzgerald, who FaceTimed with Albright.
"They were super-excited," he said. "Coach Fitzgerald was pumped. It was fun to watch."
Then, Albright called the coaches of each of his other finalists to tell them he wouldn't be attending their school.
It took "a few hours," Albright said. "It was hard because I'd developed such a good relationship with these coaches. It's probably one of the hardest things I've had to do, because I could have seen myself at any of those five schools, but they were really professional about it, really cool."
The COVID-19 pandemic has prevented Albright from taking an official visit to Northwestern, but he intends to travel to Evanston, Ill., to check out his future home as soon as it's possible.
Make a decision without making that trip "wasn't ideal," he said, "but I didn't want to pass up an opportunity just because I hadn't officially seen it. I had seen a lot of the virtual stuff."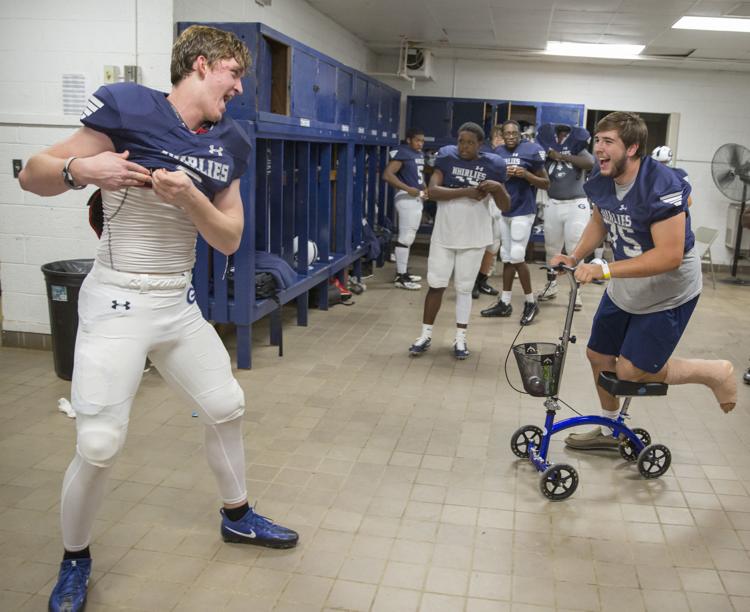 With a growing number of football players in the class of 2021 announcing decisions in recent weeks because of uncertainties surrounding the coronavirus, the process accelerated for Albright.
"I wouldn't say I felt pressure," he said, "but there have definitely been a ton more commits lately and I knew spots were going to start filling up, so I didn't want other people's decisions to affect my decision."
Albright says he doesn't plan to take any other visits and is "100 percent" bound for Northwestern.
"Their biggest thing was you get to play Big Ten football and you get to play for one of the best coaching staffs, with Coach Fitzgerald and his guys," he said. "They've had a period of time where they had no assistant coaching changes, and they're going to work really hard to develop you as a person."
That emphasis on life beyond and after football was something Albright's parents, Kathy and Ethan, have always emphasized even though Ethan spent 16 years in the NFL as a long-snapper — a skill Lawson also has developed.
"That really helped me pick Northwestern," said the straight-A's student, "because I know that whenever I'm done playing football, whether that's right after college or if I'm lucky enough to make it to the NFL — which is my dream — when that's over I'll have good connections, a good education and a good degree."
He said his father told him that "football's going to come to an end, even if you play five or 10 years in the NFL, and you have to be ready for that."
Ethan Albright, who played at Grimsley and North Carolina and has been Grimsley's athletics director since March 2019, was heavily recruited as a high school senior. But the process has changed since he graduated in 1989.
"I was shocked about the access to information," the elder Albright said. "They pulled out their playbooks for him, and he got to be in position meetings with players when they did Zoom meetings."
One thing that hadn't changed in recruiting, Ethan said, was the hyperbole.
"When I heard coaches compare him to Jason Witten of the Cowboys and some of the far-fetched stuff," he said, "I did help him filter that out. I had to make sure his head didn't blow up with that kind of stuff and remind him that once you commit you're going to be low man on the totem pole."
But Ethan also appreciated the opportunity his son had to be recruited by so many schools.
"I felt like we had honest people who cared about my son and spent time with him," he said.
Lawson, who also plays basketball and baseball at Grimsley, doesn't plan to graduate early and enroll at Northwestern in January. He still has a lot he wants to accomplish on the football field with the Whirlies, whose 12-2 season in 2019 ended with a 21-20 loss to eventual Class 4-A state champion East Forsyth in the West Regional final.
"We have really high goals and we're disappointed at the way the season ended," he said. "Our goal is the same as it was last year, to win a state championship."