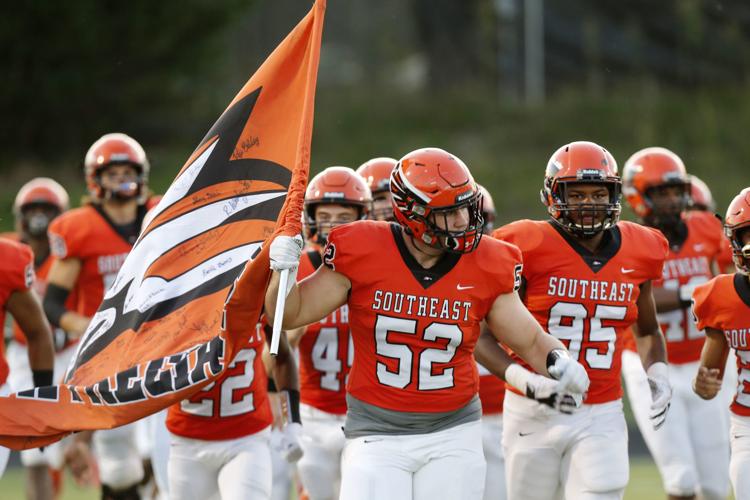 GREENSBORO — The Southeast Guilford Falcons know what it's like to be the football team everyone is talking about, the team on a roll.
After dropping an overtime decision to Northwest Guilford in Week 3 of the 2018 season, Southeast won 12 straight to reach the NCHSAA Class 3-AA championship game. Through four weeks of this football season, the team people are talking about is Grimsley, and that's who the Falcons face Friday night.
Fourth-ranked Southeast (2-1) will take what it learned last year into a marquee matchup with the top-ranked Whirlies (3-0) at Jamieson Stadium.
"It's been a challenge for us because there have been a lot of people trying to take what they think is theirs from us," said senior linebacker-defensive back Justin Fleming. "They say we're not going to be good this year, that we don't have enough leaders this year. We're going to show them Southeast football."
The Falcons didn't play Southeast football in their opener this year, losing 27-3 at 2018 Class 4-A runner-up Scotland.
"We started off slowly, but we're picking it up," said senior receiver-defensive back Adam Akins.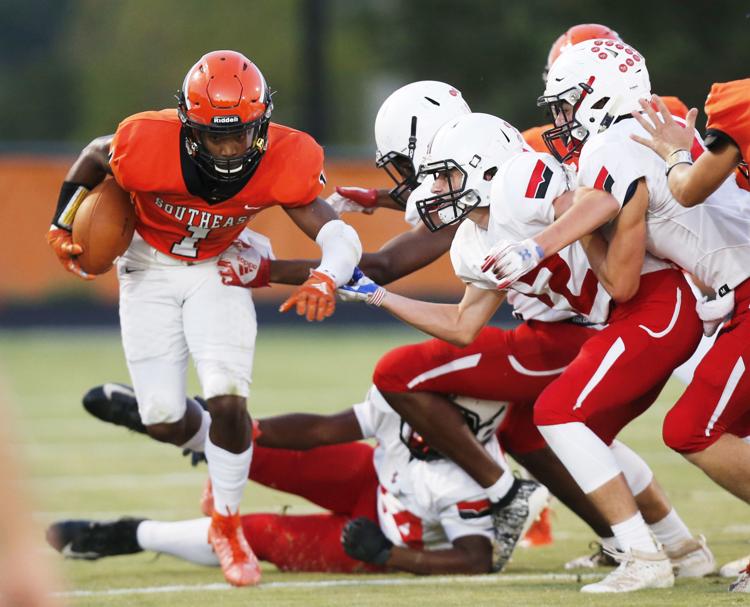 "We know we need to get back on track to where we've been," Fleming added. "We responded in the way we needed to from that game."
The Falcons' response was wins over Oxford Webb (33-6) and Northwest Guilford (38-28).
"This is a work in progress," said third-year coach Kennedy Tinsley. "It can be a really, really good football team. As far as attacking all of our challenges every day, we haven't gotten there yet. … We're going to work until it happens."
That's what Grimsley is doing, too. The Whirlies opened their season with a 34-0 win over a Northern Guilford program they'd never beaten before and have followed up with convincing victories at Asheboro and against Eastern Guilford.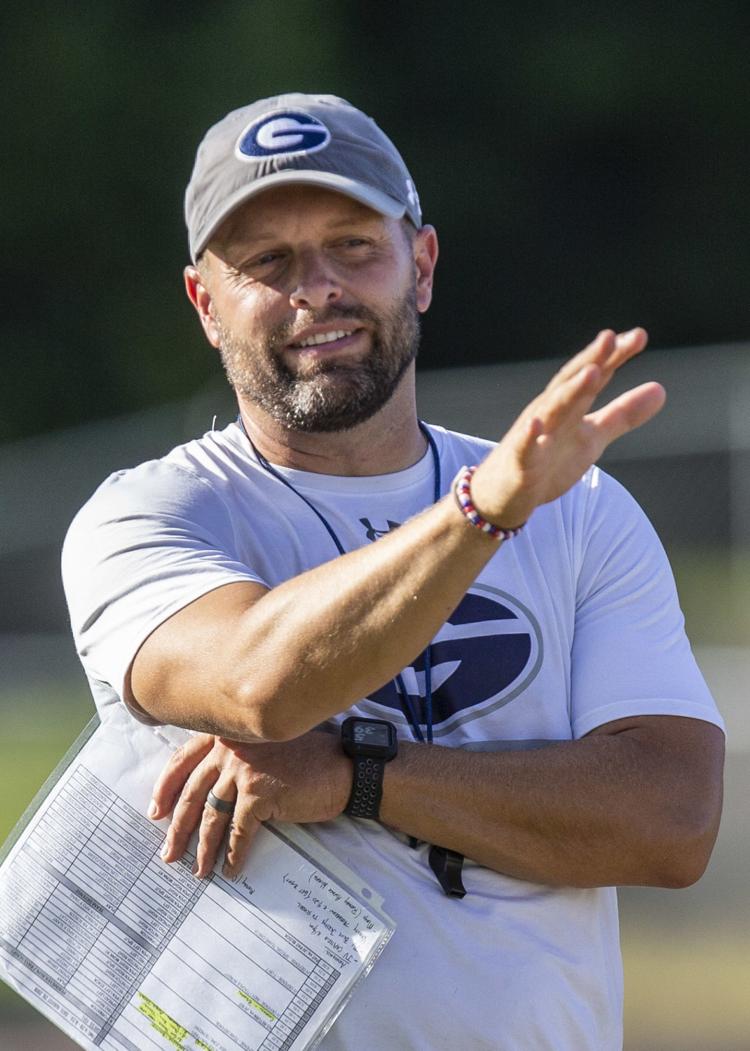 Grimsley hasn't beaten Southeast in coach Darryl Brown's previous three seasons as coach, and the Falcons hold a 58-6 scoring margin the last two years.
"It's been a really tough game for us the last couple of years," Brown said. "More than anything, they've just been more physical than us the last couple of years. I feel like our kids have gotten stronger and tougher throughout the process of the last couple of years. We have to make sure we match their physicality and play extremely tough and hard for four quarters. If we do those things we've got some guys who can make some plays for us."
Tinsley is impressed with the Whirlies' playmakers and what Grimsley has done in its best start since the 2007 team finished 11-2.
"That's not a typical Grimsley team," Southeast's coach said. "It's definitely different. It's a little bit scary as far as how explosive they are. Darryl's always had a good scheme, it just wasn't well executed because they didn't have the personnel. This year they've been really good, and especially defensively."
What changed with Tinsley's Falcons last season?
"Number one, they know they can win every game," he said. "They have the confidence now. You're not trying to build the confidence to compete. We're just trying to get to the stage where you hunt and attack every week so that you're not being hunted or maybe because you are being hunted. When you have that target on your back, you have to attack everybody and everything you do because people are constantly watching and constantly comparing and people are going to give you their best. We're still trying to understand that, but they know they can win every game."
What will the Falcons have to do to knock off the Whirlies? First, they'll have to deal with a big-game environment at Jamieson Stadium. That's something they learned how to do last year during their playoff run.
"It's a different atmosphere and you have to be mentally prepared," said Southeast senior lineman Jonathan King. "You have to play the game hard every day, but it's a different feeling in a game like this. You have to be locked in and focused on every play."
Tinsley believes his Falcons are ready for the challenge, and he wants their fans to be ready, too.
"It's a great opportunity," he said. "I hope our Southeast community is a part of that environment. … We've built a good football program, and when we go places we need to look like a good football program and they're aware that we're there, too, and there's support for our guys."