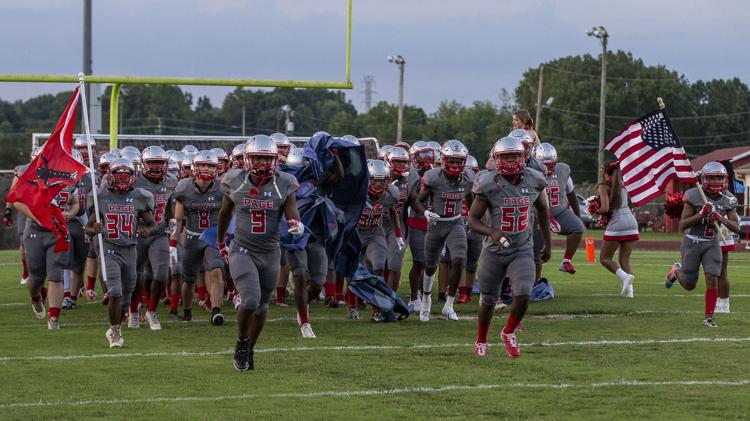 GREENSBORO — Why is Page playing a football game Friday night against a team that will travel 205 miles to Marion Kirby Stadium? It's complicated, but there are a number of factors that led to the Pirates' matchup with the Highland Springs (Va.) Springers and a return game next year.
When the N.C. High School Athletic Association created a five-school Metro 4-A Conference for this alignment cycle, which began with the 2017 season, officials at Page and the other four Metro schools expressed concerns about scheduling issues that might arise. Those concerns were well-founded.
"A lot of the teams in our conference run into the same issue we do with only four conference football games," said Matt Harder, Page's athletics director. "That makes the non-conference schedule challenging. … It puts a burden on some of the teams in smaller conferences to do more traveling."
With all of the state's other conferences that include 4-A teams having at least six and as many as eight members, most of those leagues begin conference play this week. The only exceptions are the Metro, the Northern 4-A and the Central Piedmont 4-A, which already has a scheduling arrangement with the Metro and some of whose members have commitments to play other schools in Forsyth County.
The Northern 4-A in the Raleigh area provided a scheduling solution for Grimsley, which travels to Knightdale on Friday night, but with only four other home games on its schedule Page needed a team to come to Greensboro. With three Class 3-A schools in Guilford County already on the Pirates' schedule, there were concerns that playing another would hurt their strength of schedule when it came to playoff seeding, so Page wanted a 4-A opponent.
Highland Springs was having trouble scheduling non-conference opponents in Virginia because of the Springers' success in recent years and opened this season against Wheaton (Md.) Avalon High. They had "conversations with schools in California, Florida, New Jersey," said Rick Lilly, the school's director of student activities.
"It was a combination of not being able to find appropriate competition locally and schools either not having an opening in their schedule or the dates didn't work out," Lilly said. "With our recent success, there's a limited supply of schools that see this as a good fit for them."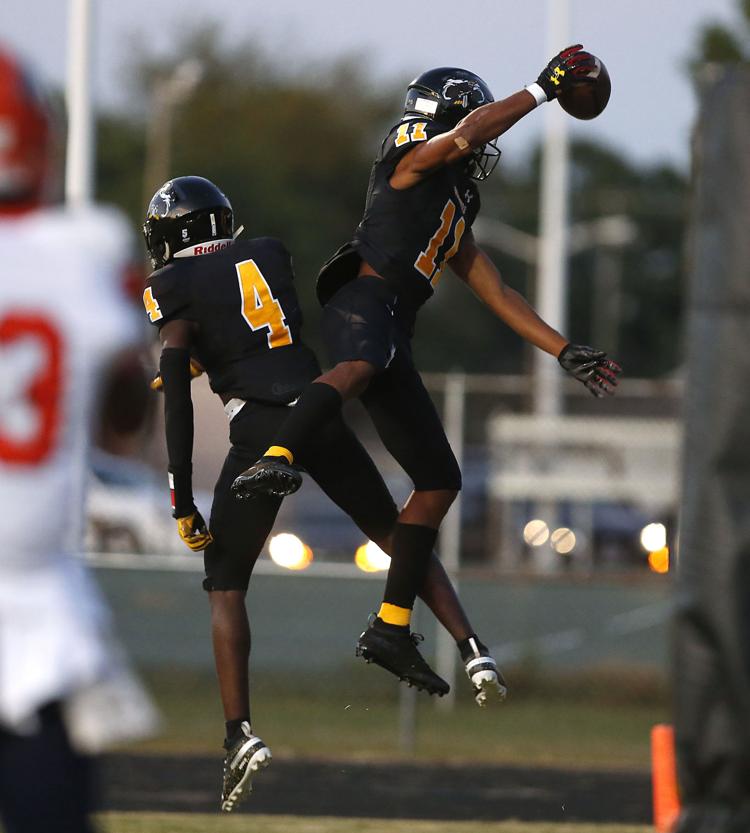 With most of the other options exhausted for both schools, Page coach Jared Rolfes connected with Highland Springs coach Loren Johnson through the FootballScoop.com website's message board for teams seeking games. After they discussed the details, Harder and Lilly finalized the deal.
The Pirates certainly didn't schedule Highland Springs because they were looking for an easy game. The Springers have won the last four Virginia Group 5-A championships and have only lost three games in four years. They go into this year's game ranked No. 1 in Virginia by MaxPreps.
"The tradition here is that we try to play a tough schedule every year," Harder said when the series was initially announced. "Highland Springs just adds to that and is a storied program. We're excited about it. It definitely will be a challenge, but it should be a great experience for our students, our coaches and our school."
The experience will come at a cost for both schools. While Harder said Page won't be able to calculate its travel expenses for the return game until early in 2020, Lilly said Highland Springs would spend $7,500 to $8,500 on chartered buses, meals and other expenses to make the trip. By comparison, Grimsley AD Ethan Albright said it will cost his school $1,500 to $1,600 for its trip to Knightdale on Friday.
Each school will keep the gate receipts for its home game, and "we're going to provide food for them after the game, and they'll do the same for us next year," Harder said.
"We're paying ($4,500) for the buses out of the athletics budget," Lilly said of today's trip to Greensboro, "and Coach Johnson has gotten donations to take care of the pregame meal and other expenses."
Highland Springs also will bring its cheerleaders and band, and the band will stay overnight in Greensboro before heading to Durham early Saturday for the Block It Up Battle of the Bands at N.C. Central.
"It will be bands from all over and exhibition performances from some HBCUs," Lilly said. "It will be a pretty neat deal for the band to come down, and when I pitched this to our band director, he said, 'I love it!' "
The traveling party will leave about 10 a.m. and miss some classes, and Lilly said he is aware there will be a "loss of instructional time when we go on the road." Harder said Page's players will attend at least their first two classes and possibly their third on the Friday they travel to Highland Springs.
The Pirates will make that trip to Virginia next year to face the Springers, but the game will not be played at Highland Springs. The high school is being replaced by a new building that will be constructed on the current site of the Springers' football stadium. That will displace the team for at least the 2020 season, which means the Page game likely will be played at nearby Varina High or Henrico High, Lilly said.
Rolfes and Harder have discussed the possibility of having the Pirates stay overnight in the Richmond area and tour some college campuses after next year's game. The additional expenses "would be handled though fundraising," Harder said.
"It's still something we're very much interested in doing," he said. "I think it would be a great enrichment experience for our kids.
"Ideally, we'd like to take everybody. It would be great for the school, for our band and cheerleaders. That's something we'll figure out in the winter."