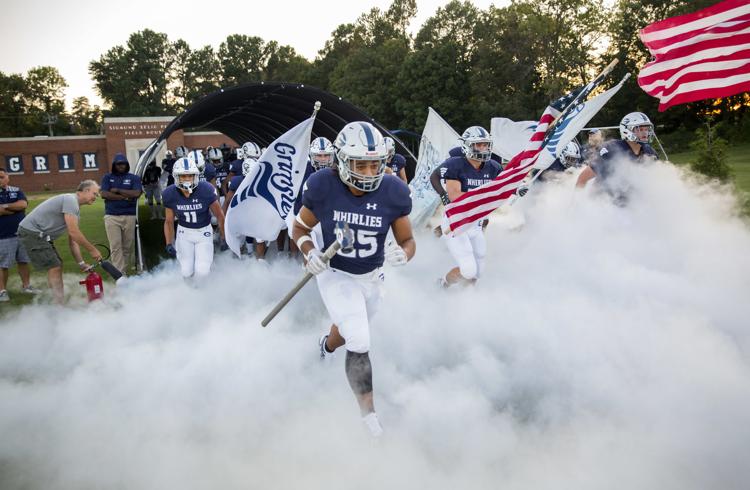 EAST FORSYTH (5-0) at NO. 1 GRIMSLEY (6-0)
Where: Jamieson Stadium, Grimsley HS.
Tickets: $6 at the gate. Visiting fans are asked to enter through the North Gate behind the scoreboard. Once inside the stadium, fans must remain on their side of the field. There is no re-entry.
PLAYERS TO WATCH
East Forsyth: QB Ty Lyles (47-of-86, 768 yards, 6 TDs and 6 INTs passing, 154 yards and 5 TDs rushing), RB Ahmani Marshall (68 carries, 536 yards, 6 TDs rushing, 114 yards receiving, TD), WR Jamison Warren (10 catches, 281 yards, 2 TDs), LB Javon Cobbs (46 tackles, 11 TFLs, 2 sacks, blocked punt), DE Torrian Jackson (8 TFLs, 5 sacks), DB Javon McAllister (4 INTs).
Grimsley: QB Christofer Zellous (41-of-75, 571 yards, 13 TDs, 1 INT passing, 74 carries, 625 yards, 7 TDs rushing), RB Quan Nora (118 carries, 768 yards, 10 TDs), TE Lawson Albright (15 receptions, 219 yards, 8 TDs), LB Sincere Burnette (12 TFLs, 4 fumble recoveries, 2 sacks, 2 INTs, forced fumble), LB Quentin Williamson (47 tackles, 7 TFLs), DT Travis Shaw (4 sacks, 5 forced fumbles).
WHAT'S AT STAKE
The winner has the upper hand when it comes to seeding the NCHSAA Class 4-A playoffs. East Forsyth still has to play two unbeatens, West Forsyth next Friday and Reagan Oct. 25, and Grimsley finishes the regular season at Page, but this is a game that will set the tone for the rest of both teams' season.
KNOW YOUR OPPONENT
Some area coaches whose teams have faced East Forsyth and/or Grimsley were granted anonymity to talk about the teams. Here are their thoughts:
When East Forsyth has the ball: "They're going to run the football. You have to be ready for it; here they come. They've got enough ability on the outside and at quarterback to make you pay if you focus on the run game. It's pick your poison. ... (For Grimsley) everyone wants to look at the (Travis) Shaw kid, and he is very good, but as a whole they have very good defensive players. ... It was their two outside linebackers, (Sincere) Burnette and (Quentin) Williamson, that were the difference. … They were flying all over the place. Their secondary played well, too."
When Grimsley has the ball: "What completes them this year is having the (Lawson) Albright kid at tight end. ... The quarterback, (Christofer) Zellous, does a terrific job of managing the offense and making big plays when he needs to. Obviously with the (Quan) Nora kid, once you have those two pieces working together and the Nora kid running downhill it's a complete team. They also have some guys on the outside who can catch the ball. ... They have some very talented offensive linemen. That was the first thing I noticed, that they were big, physical and technically sound. ... (East Forsyth will) make you drive the football; they don't allow big plays. That's the sign of a good team. ... If you have opportunities, you'd better take advantage of them."
Overall: East Forsyth — "I don't know if they have (a weakness), honestly. They're good in all phases." Grimsley — "They've got 11 kids on both sides of the football at all times who can make plays for them. That's what separates them from everybody else this year. ... They're physical, fast and just solid all around. They just look like a big powerhouse 4-A team."
FROM THE PRESS BOX
Grimsley has been impressive in its first 6-0 start since 2007, when a Todd Shuping-coached team finished 11-2. This game should tell us whether this Whirlies team is simply very good or special. East Forsyth has been in big games for years and won all of them last season on its way to a NCHSAA Class 4-A championship. The Eagles will present a stiff test for a Whirlies offense that will be without senior T Chris Lyle (ankle). Grimsley's defense is the best East Forsyth has faced this season. The Eagles' depth and diversity of skills at running back could be the difference if this is a ball-control game.
PREDICTIONS
Joe Sirera – East Forsyth, 27-23. Spencer Turkin – East Forsyth, 30-14.