Grimsley, the last unbeaten football team in Guilford County, takes on 2018 NCHSAA Class 4-A champion East Forsyth, which also happens to be unbeaten, tonight at Jamieson Stadium. The News & Record's Spencer Turkin and Joe Sirera offer three reasons to believe each team can win the game:
Spencer Turkin's three reasons to believe East Forsyth will win ...
1. East Forsyth lives for the big game. Coming off a 2018 NCSHAA Class 4-A championship, the Eagles have played in high-pressure situations. That experience will be invaluable in what should be a hostile environment at Jamieson Stadium
2. The Eagles' defense is for real. Through five games, East Forsyth has 19 sacks and 12 interceptions, and those numbers correlate. Defensive coordinator Aaron Beal will dial up pressure in calculated situations, but he gets enough of a rush in a base set that he can drop four or five Eagles into coverage and cause fits for quarterbacks. The unit is allowing an average of just 11.8 ppg.
3. East's offensive line is huge and can move. Doug Lakis is back coaching the big guys up front and it shows. The Eagles are averaging 7.4 yards per carry and have recorded 26 pancake blocks. They'll have their hands full with Grimsley DT Travis Shaw and LBs Sincere Burnette and Quentin Williamson, but this group will find a way to clear a hole and keep the clock ticking.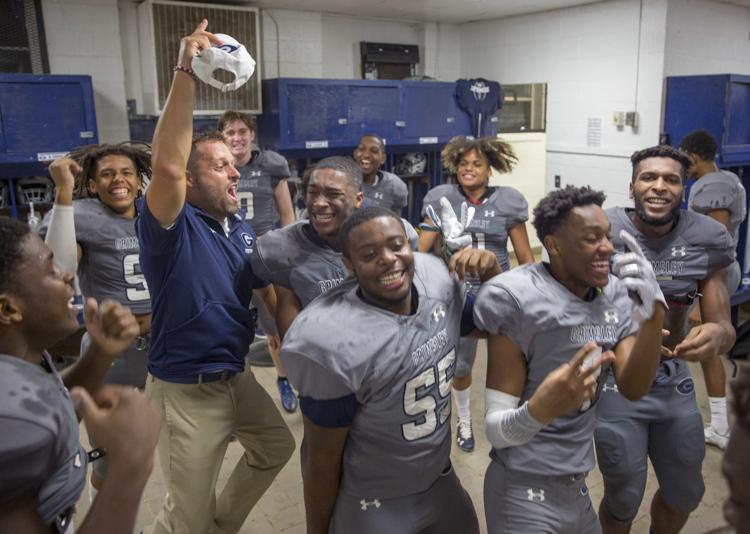 Joe Sirera's three reasons to believe Grimsley will win ...
1. The Whirlies' defense is stout against the run. No, Grimsley hasn't seen an offensive line as good as the one East Forsyth will throw at the Whirlies tonight. But the Eagles haven't seen a DT who can dominate a game as Travis Shaw can or an LB duo that is as fast and dynamic as Sincere Burnette and Quentin Williamson.
2. Grimsley takes care of the football. QB Chris Zellous has thrown only one interception, while his East Forsyth counterpart, Ty Lyles, has tossed six and the Eagles have lost six fumbles. As long as the Whirlies aren't playing from behind, they've shown the ability to manage the game.
3. The Whirlies are ready to make a statement. It's taken coach Darryl Brown and his staff nearly four years to build this Grimsley program, and the players have put in too much work to lay an egg in a big game in front of a big crowd at Jamieson Stadium.