What
NCHSAA Class 4-A West semifinal
Where
Jamieson Stadium, Greensboro
Why the Whirlies won
Quan Nora continued to run for big yardage in big games. The senior running back finished with 265 yards on 31 carries and scored all three of Grimsley's offensive touchdowns, even with the Glenn defense geared to stop him. The Whirlies' defense also did what it has done for much of the season, shutting out the Bobcats in the second half and holding them to minus-10 yards in the final two quarters.
Why the Bobcats lost
Glenn was incapable of running the football against Grimsley, especially with junior RB Monterious Godfrey slowed by an ankle injury and limited to three carries. The Bobcats finished the game with minus-6 yards on 17 carries. Their quick passing game worked in the first half, but only produced 1 yard after intermission. "Our game plan was to not give up anything behind us," said Whirlies coach Darryl Brown. "It's hard for people to throw 5-yard outs and hitches all night long and beat you. We were OK with giving that stuff up."
The Whirlies set the tone for the final 24 minutes when junior LB Cam Allison jumped an out route on Glenn's third play of the second half and took it 45 yards for a touchdown. "The pick-six took the life out of us," said Glenn coach Antwon Stevenson.
Stars
Glenn — QB Camden Coleman 21-of-34 passing, 136 yards, TD; WR Aronson Cook 7 catches, 79 yards, TD.
Grimsley — RB Quan Nora 31 carries, 265 yards, 3 TDs; QB Christofer Zellous 11 carries, 61 yards, 5-of-11 passing, 60 yards; LB Cam Allison interception-return TD.
The big plays
On Grimsley's third possession of a then-scoreless game, Nora took a handoff, broke off right tackle and outraced the Glenn defense for a 68-yard touchdown. On the Whirlies' final possession of the half, he did it again, this time for 79 yards and a TD.
Worth noting
Grimsley was penalized nine times for 75 yards in the first half, but only once for 5 yards in the second half. "It's nothing that worries me," Brown said. "It wasn't like we were out there doing crazy stuff and taking silly penalties. … Obviously, we don't want to have a lot of penalties, but as long as they're playing hard and doing the kinds of things we want to do we'll be OK."
Three things we learned
1. The Whirlies' Quan Nora is an all-state caliber running back. Unofficially, the senior has 1,990 yards and 25 touchdowns rushing. He even made some plays tonight as a situational linebacker. "I say the same thing I say about him all the time: He's a warrior," Brown said. "He's tough. He's going to bang it in there and get you 3, bang it in there and get you 3 over and over and then when he sees a crease he has the speed to go 70. He's been a workhorse for us for three years. Chris (Zellous) complements him really well with some of the stuff we do. They play the way want to play."
2. Grimsley has to do a better job in the red zone. The Whirlies were stopped at the Glenn 18-yard line on their first possession of the third quarter and at the Bobcats' 17 on their second possession of the half. "The first time we had a bad snap that ended that drive, and (Coit Slack) hasn't had many all year," Brown said. "Those things happen, and I thought our guys handled it well. But Glenn's a good defense and I'm really pleased with what our offense was able to do against them."
3. Glenn has a lot to look forward to next season. The Bobcats have only three senior starters – two on defense and one on offense. "We'll be fine," Stevenson said. "I told them, 'We finally tasted a little blood.' "
What they're saying
"We felt like it would be hard for them to drive the football on us and we didn't want to give up any big plays. … Coming into the East Forsyth game (a 21-20 loss Oct. 4), our kids definitely felt they could play with them. That says a lot about East Forsyth and the program they have, because that's the standard we want to be at. That's what we've been working to get to. Our guys left that game thinking, 'OK, we can play with anybody in the state.' We know we have to play well and we can't make mistakes. They're a really well-coached football team." — Darryl Brown, Grimsley coach
"We wanted to throw it early to open up the run, but with Monterious being banged up … he just couldn't do it. If he says he can't go, he's hurt. Hats off to Grimsley. We had a couple of opportunities in the red zone that we squandered. We were down there three times and only came away with eight points. Against a good team, that can't happen." — Antwon Stevenson, Glenn coach
Records
Up next
Grimsley: The Whirlies get a rematch with the only team to beat them this season, East Forsyth (11-2), in the regional final Dec. 6 at Jamieson Stadium.
Scoring summary
Glenn                0   8   0   0   —     8
Grimsley           8   8   8   8   —   32
Grimsley – Quan Nora 68 run (Sincere Burnette pass from Christofer Zellous), 1st, 2:52
Grimsley – Nora 79 run (Lawson Albright pass from Zellous), 2nd, 2:52
Glenn – Aronson Cook 10 pass from Camden Coleman (Daniel Napper run), 2nd, :30
Grimsley – Cam Allison 45 interception return (Zellous run), 3rd, 11:01
Grimsley – Nora 15 run (Nora run), 4th, 9:17
20191130g_spt_hsfbgrimsley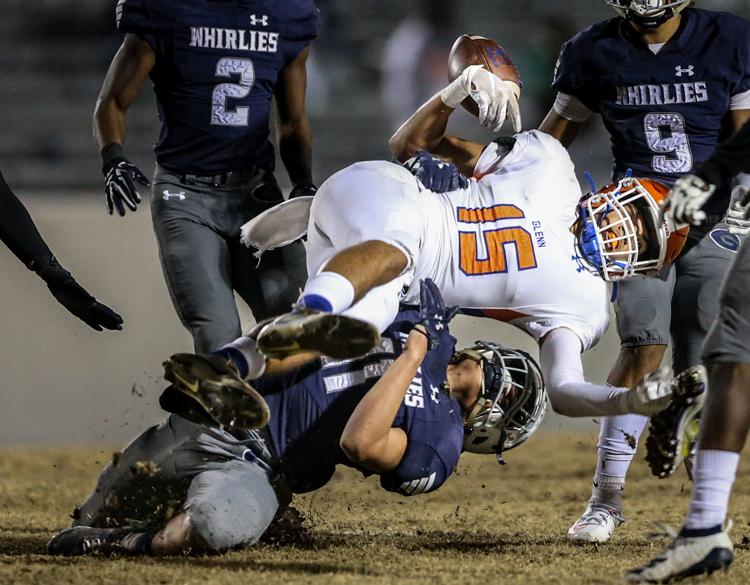 20191130g_spt_hsfbgrimsley
20191130g_spt_hsfbgrimsley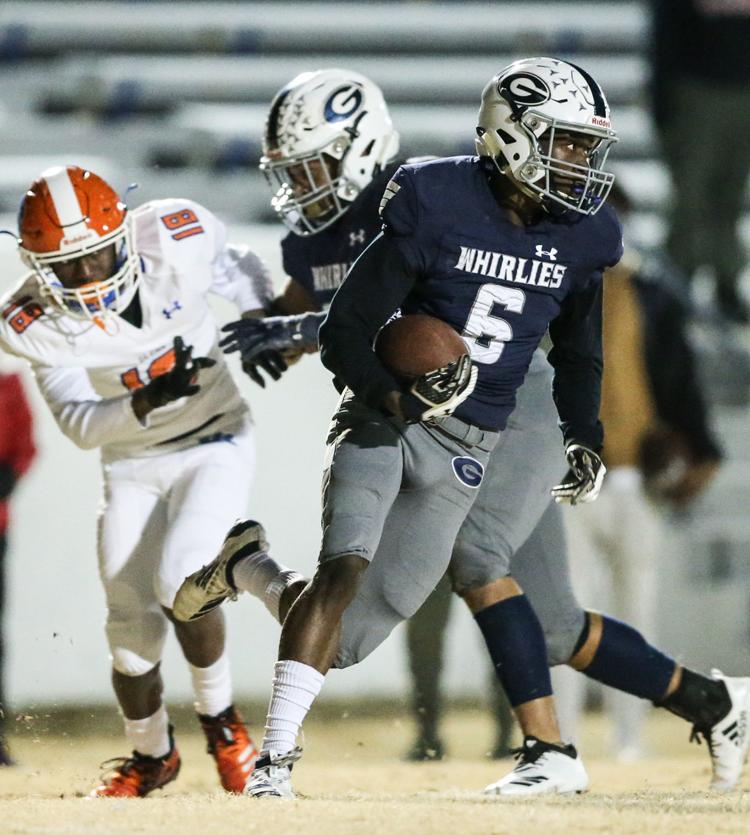 20191130g_spt_hsfbgrimsley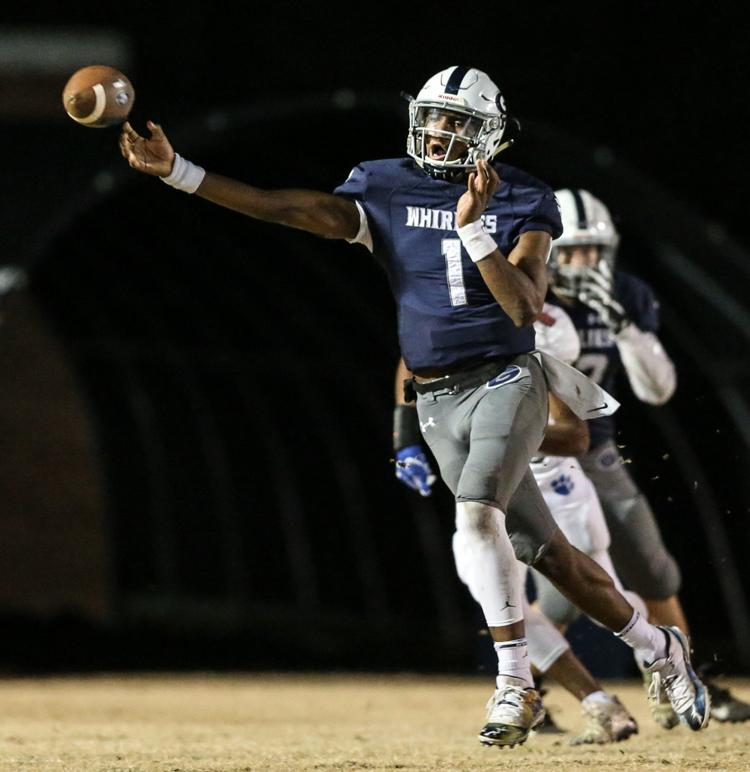 20191130g_spt_hsfbgrimsley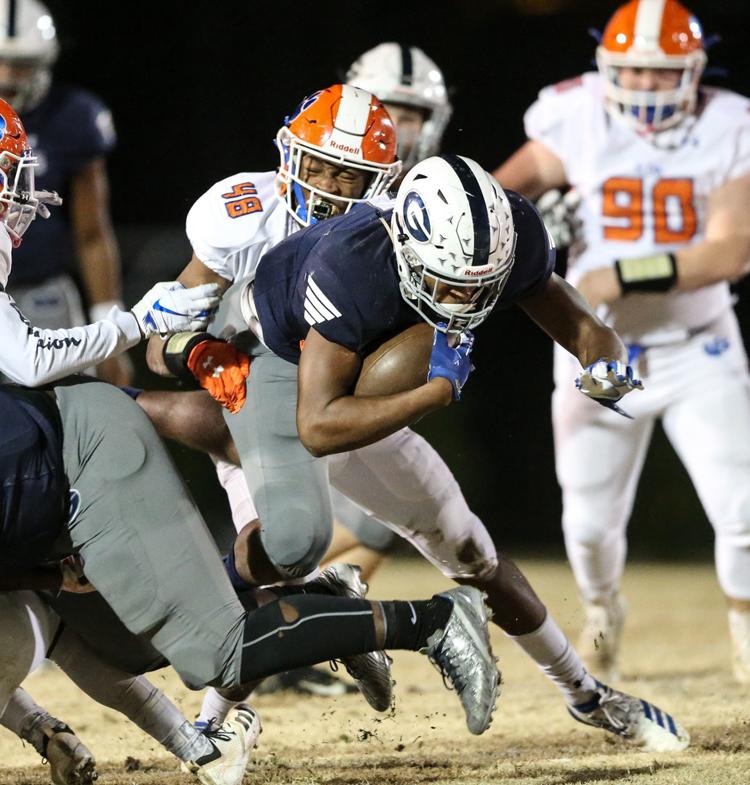 20191130g_spt_hsfbgrimsley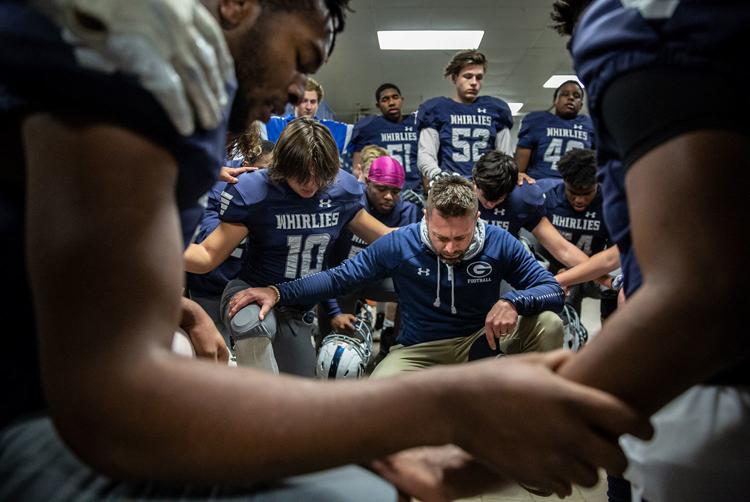 20191130g_spt_hsfbgrimsley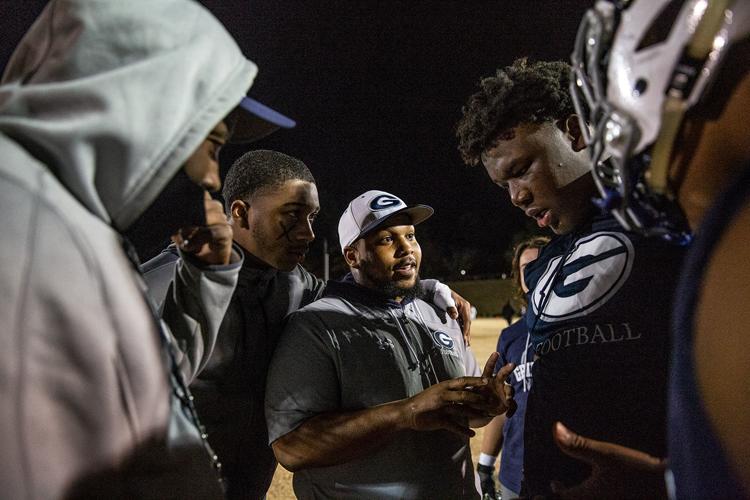 20191130g_spt_hsfbgrimsley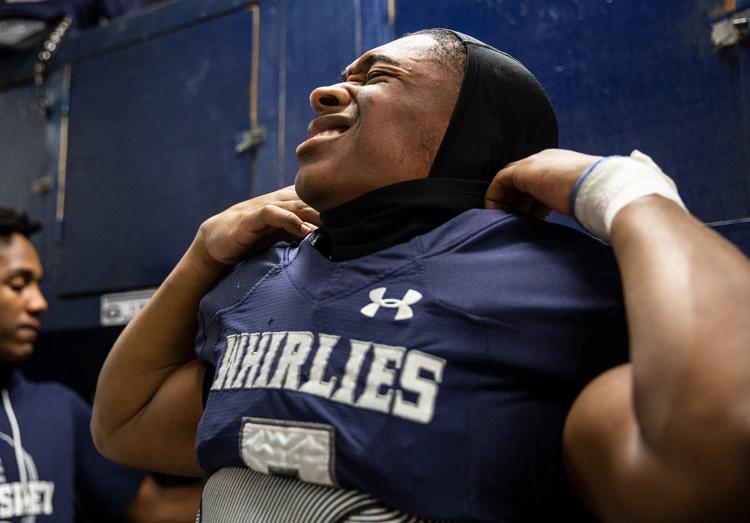 20191130g_spt_hsfbgrimsley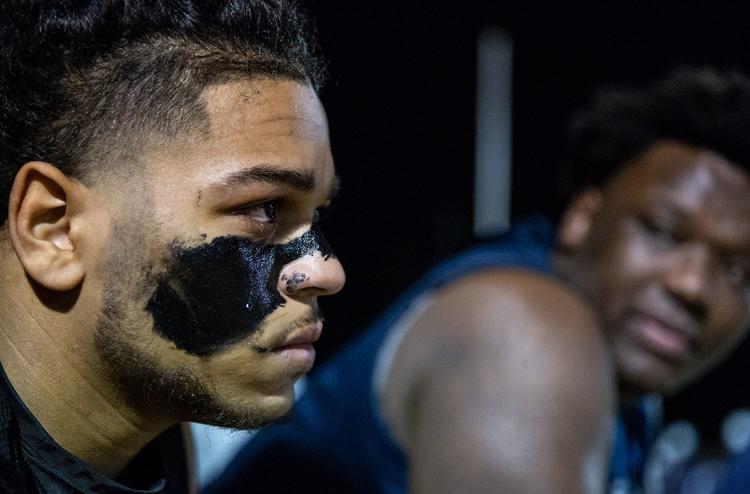 20191130g_spt_hsfbgrimsley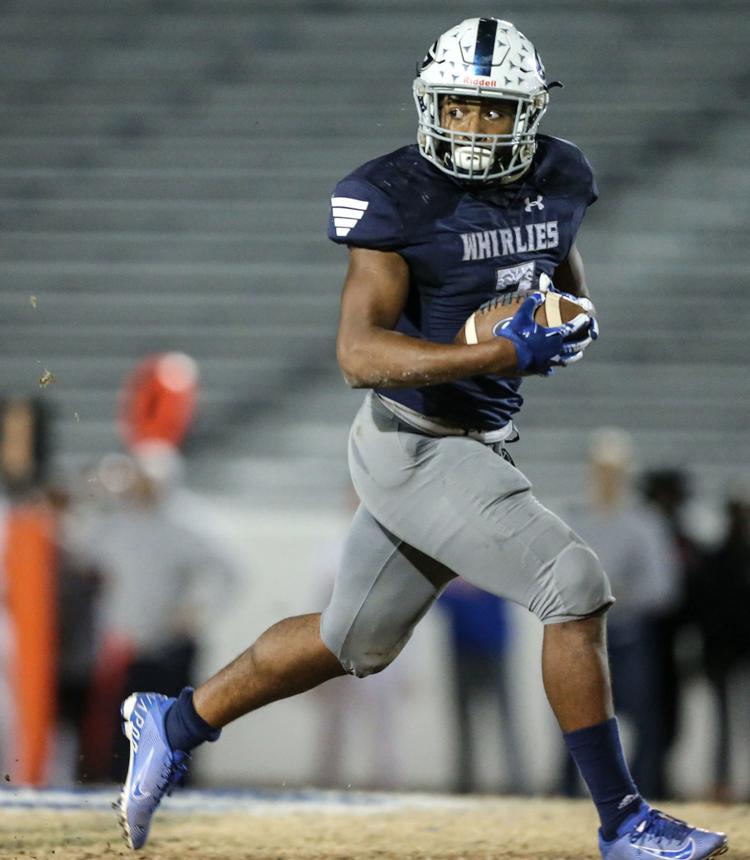 20191130g_spt_hsfbgrimsley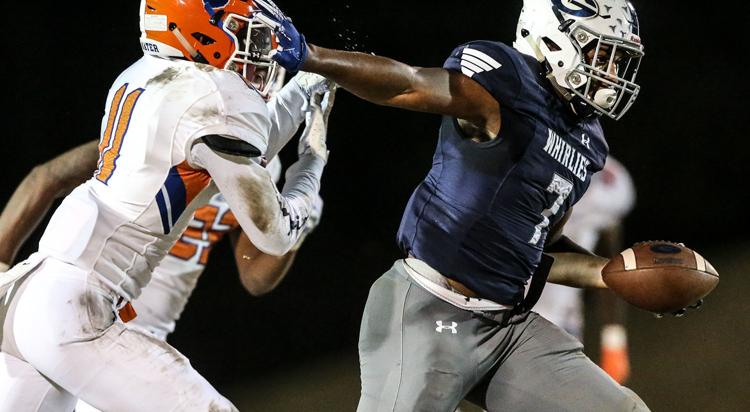 20191130g_spt_hsfbgrimsley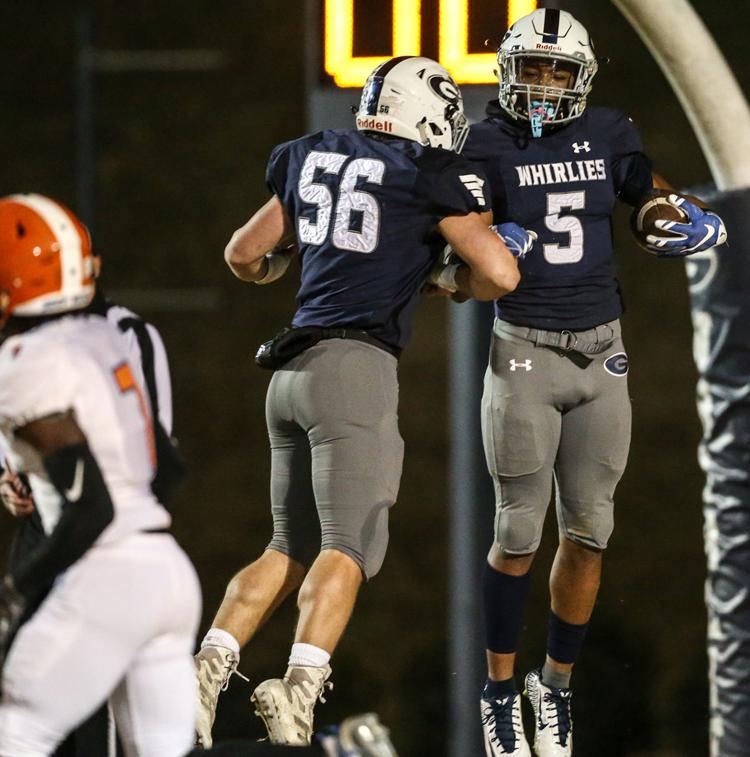 20191130g_spt_hsfbgrimsley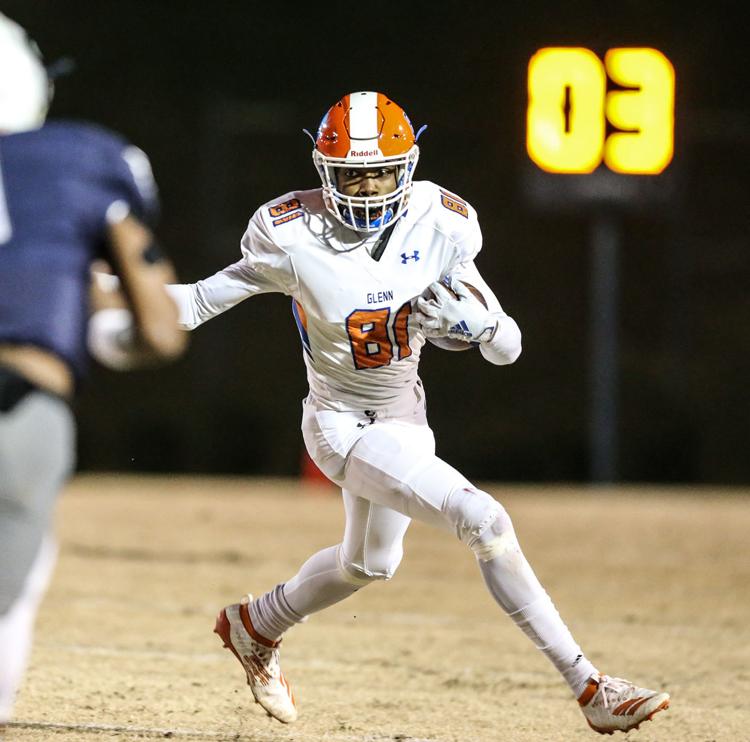 20191130g_spt_hsfbgrimsley
20191130g_spt_hsfbgrimsley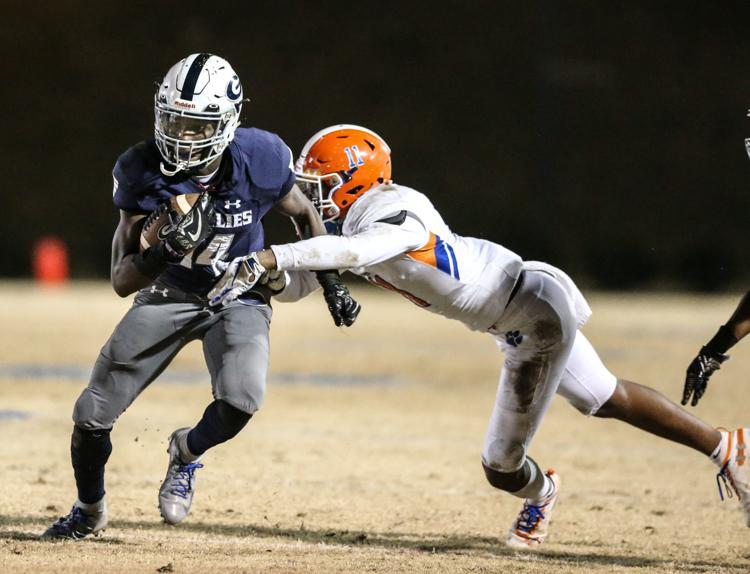 20191130g_spt_hsfbgrimsley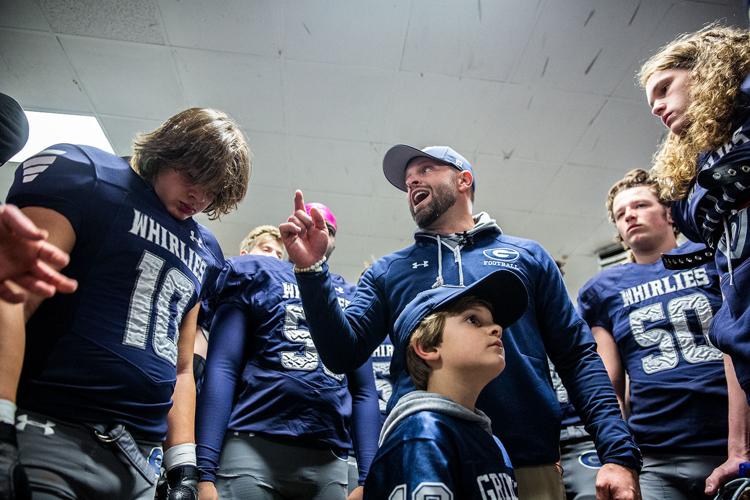 20191130g_spt_hsfbgrimsley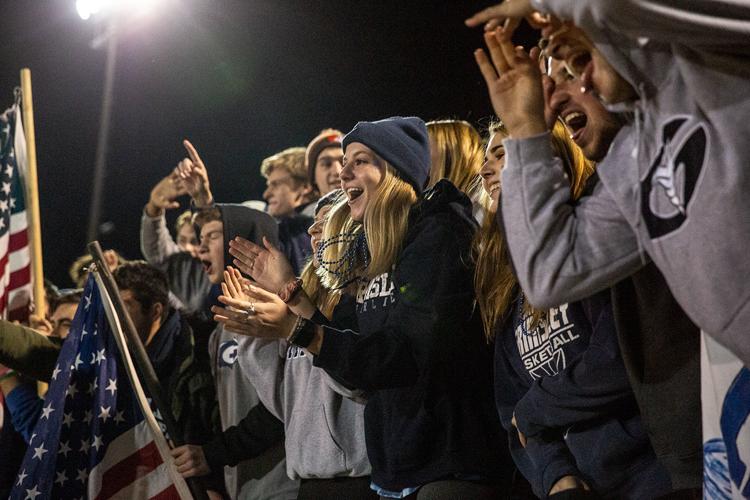 20191130g_spt_hsfbgrimsley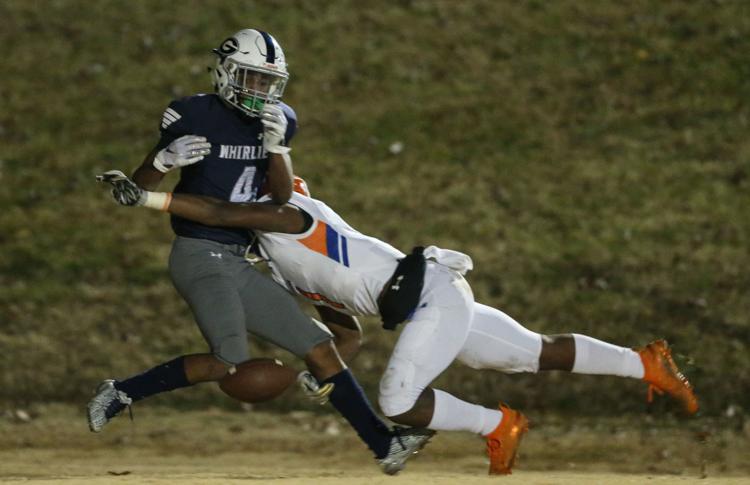 20191130g_spt_hsfbgrimsley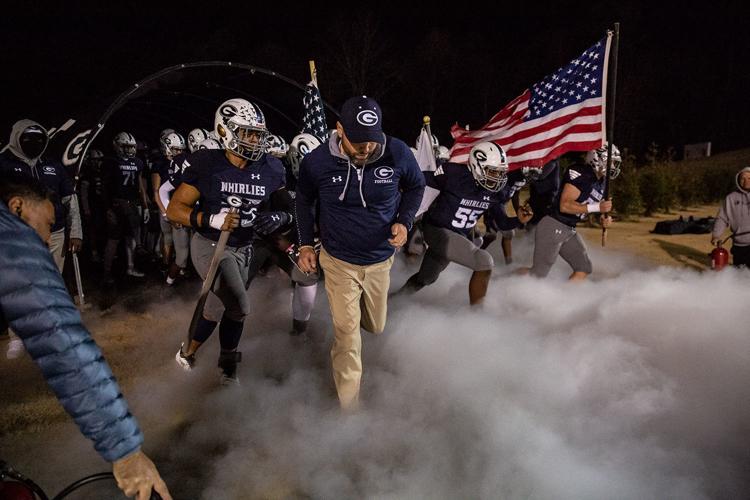 ---- hide gallery titles ---
--- hide gallery titles ---