Site
J.A. Tarpley Stadium, Greensboro
Why the Panthers won
Dudley shut down Southwest Guilford's running game, holding the Cowboys to minus-34 yards on 19 carries once sacks were factored into the totals. The Cowboys were able to throw the ball with some success, but the Panthers kept them off the scoreboard from late in the first quarter until the final 1:14 of the game. "When we came out, we wanted to pull and trap and run right at them, that was our goal," Southwest coach Chuck Doak said. "But that defensive line is so big and they're so fast that we just said the heck with it and went back to our original game plan of throwing quick passes and trying to get the ball in space."
Why the Cowboys lost
Southwest Guilford became one-dimensional very early in the game when the Cowboys were unable to run the football. They did a solid job against Dudley's powerful ground attack for much of the game (52 carries, 148 yards) and had five sacks when they forced the Panthers to throw, but their defense simply wore down in the fourth quarter.
Stars
Southwest Guilford — QB Matt Jones 14-of-34 passing, 240 yards, 3 TDs, INT; WR Caleb Curtain 7 catches, 158 yards, 2 TDs.
Dudley — QB Jahmier Slade 5-of-12 passing, 100 yards, TD, 2 INTs; WR Mekhi Wall 3 catches, 71 yards, TD; RB/LB Milan Summers rushing TD, sack, forced fumble; DB Kyree Hamlett pick-six; DL Jahiem Pittman 2 sacks.
The big play
Leading 18-14 late in the first half, Dudley took over at its 47-yard line after a Southwest Guilford punt. On the next play, Panthers receiver Mekhi Wall broke free down the left sideline and quarterback Jahmier Slade laid the ball up for the all-state hurdler. Wall ran under the perfectly arched pass for a 53-yard touchdown. "We saw their safety cheat down any time we ran the ball and we saw they had a smaller corner on Mekhi," coach Steven Davis said, "so we took a chance and it worked out."
Three things we learned
1. Dudley has some work to do. Familiar issues such as shaky kick coverage, poor snaps on their kicks and penalties returned at inopportune times for the Panthers. The worst example was a delay-of-game penalty when they were trying to run out the clock with 1:13 to play. Dudley overcame those issues, but the margin for error gets slimmer as the playoffs progress. "There were a lot of mistakes, from not blocking the right guy to not covering the right guy," coach Steven Davis said. "There were just a lot of mistakes on both sides of the football."
2. The Class 3-AA West bracket is the Piedmont 3-A Conference tournament for the Panthers. After beating fourth-place finisher Southwest Guilford tonight, Dudley faces one of the teams with which it shared the league title, Southwest Guilford, in the second round. The Panthers would like nothing better than to avenge a 21-20 loss at Mount Tabor during the regular season.
3. Southwest Guilford's Caleb Curtain is a big-time receiver. The 6-foot-1, 170-pound junior provided most of the Cowboys' offense, with seven catches for 158 yards and two touchdowns. "This is when Caleb excels," coach Chuck Doak said. "Caleb is the kind of kid you want in this situation. That's who he is, a big-time, big-game player. He doesn't get rattled. He doesn't get upset. He just does what he does."
What they said
"We got a little momentum there in the second quarter (when the Panthers outscored Southwest 20-0). We ran the ball, hit a couple of passes. We got uptempo and the guys really got going. … But they took momentum back and made it closer than it should have been. … We did a good job against their run game over there two weeks ago, but we also did a better job when they passed. Tonight we didn't do as well and they hit some big passes on us. … We have to clean up mistakes across the board — offense, defense, long snapping." — Steven Davis, Dudley coach
"We made the first round of the playoffs and played Dudley to a 29-21 game. I'm happy with where we are, but not with the overall result. If we don't win them all I'm not happy. I'm pleased with the way our young men played tonight. They finally showed the talent I knew they had. That makes me feel good going into next season." — Chuck Doak, Southwest Guilford coach
Records
Up next
Southwest Guilford: Season is over.
Dudley: No. 6 seed Mount Tabor in second round of NCHSAA Class 3-A West playoffs, Nov. 22.
Scoring summary
Southwest Guilford              14    0   0   7   –   21
Dudley                                     6  20  0   3   –   29
Du – Kyree Hamlett 45 interception return (kick failed), 1st, 8:20
SW – Caleb Curtain 72 pass from Matt Jones (Nick Schwerther kick), 1st, 6:21
SW – Quantez Poche 11 pass from Jones (Schwerther kick), 1st, 2:00
Du – Milan Summers 4 run (run failed), 2nd, 9:27
Du – Nashon Wilhite 11 run (run failed), 2nd, 7:30
Du – Mekhi Wall 53 pass from Jahmier Slade (Michael Wyman pass from Slade), 2nd, 2:48
Du – FG Boateng Woodson 27, 4th, 6:18
SW – Curtain 10 pass from Jones (Schwerther kick), 4th, 1:14
20191116g_spt_hsfbdudley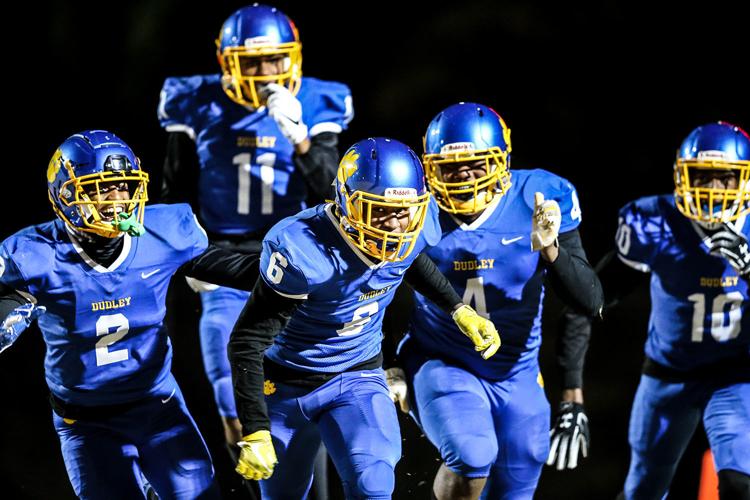 20191116g_spt_hsfbdudley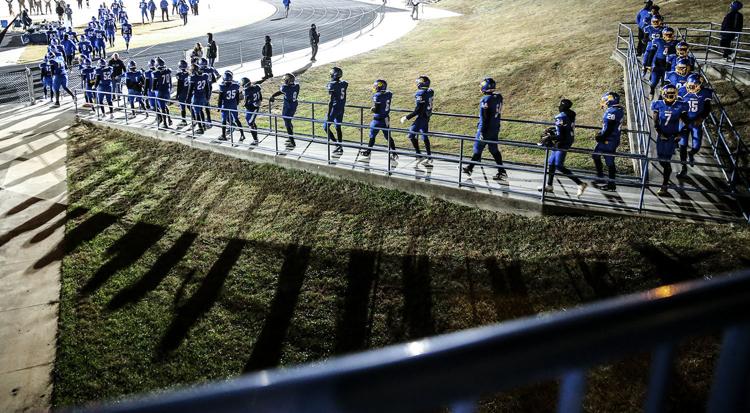 20191116g_spt_hsfbdudley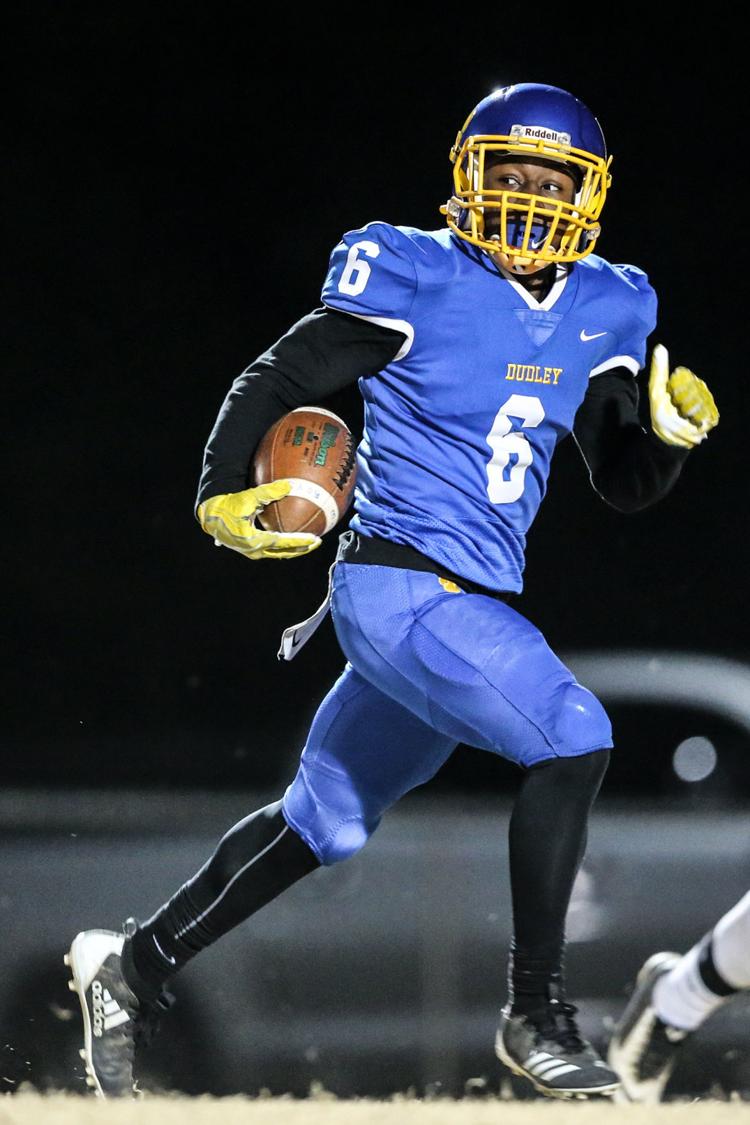 20191116g_spt_hsfbdudley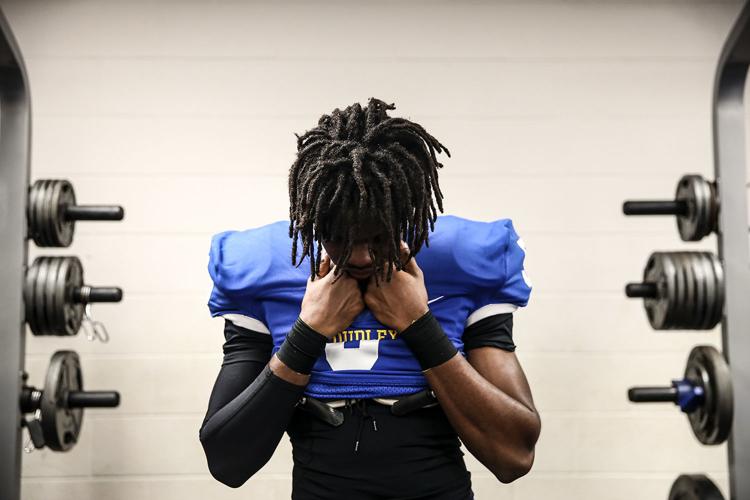 20191116g_spt_hsfbdudley
20191116g_spt_hsfbdudley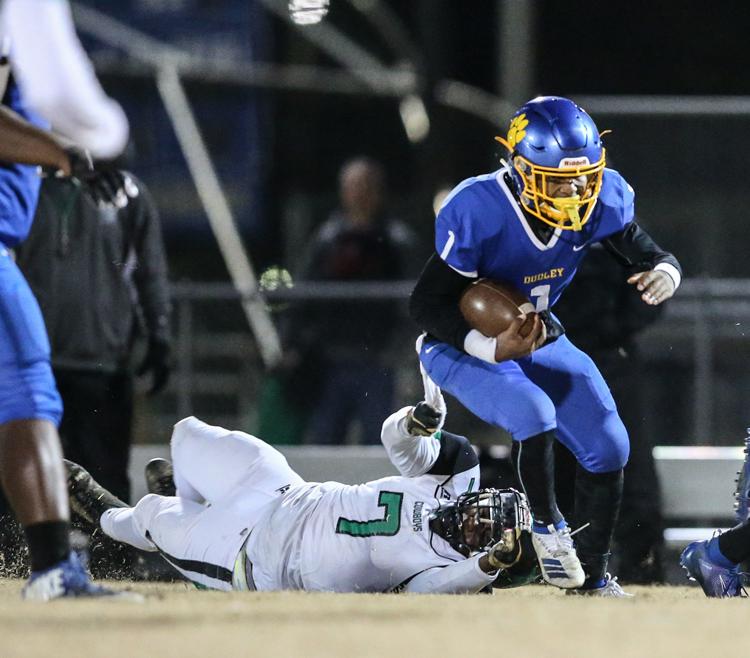 20191116g_spt_hsfbdudley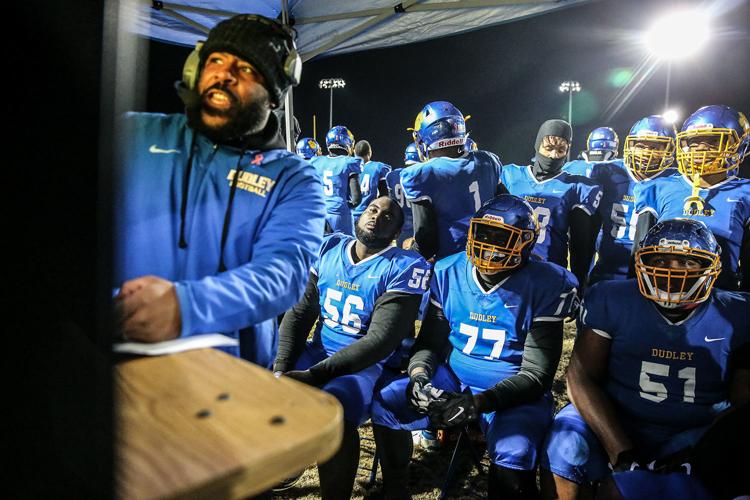 20191116g_spt_hsfbdudley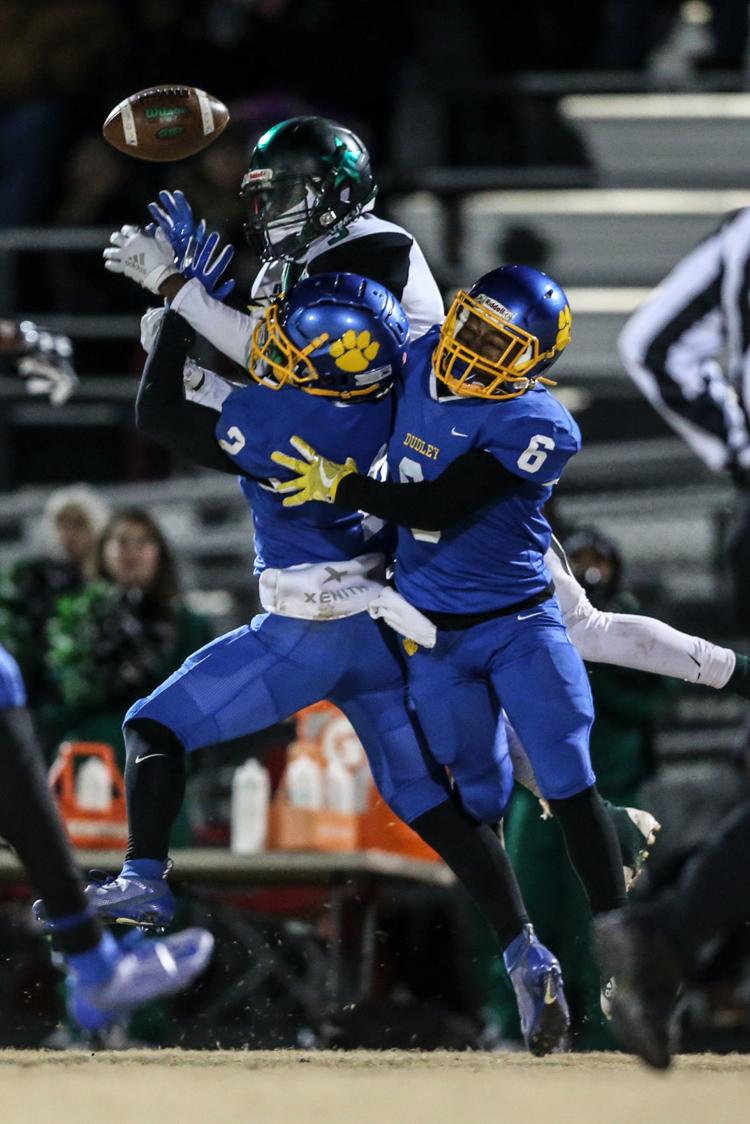 20191116g_spt_hsfbdudley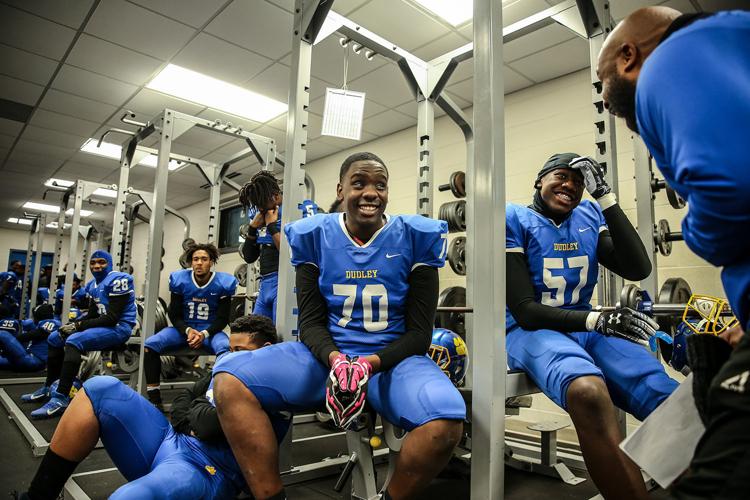 20191116g_spt_hsfbdudley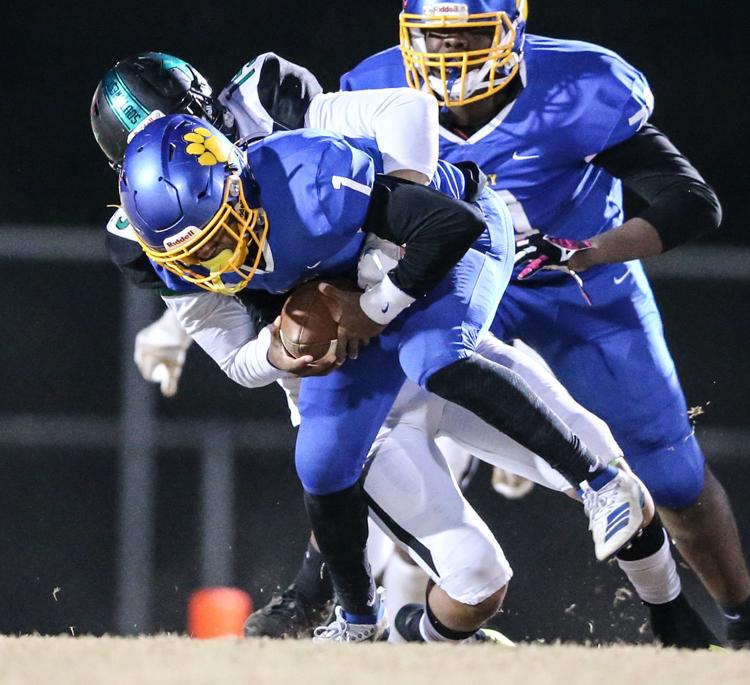 20191116g_spt_hsfbdudley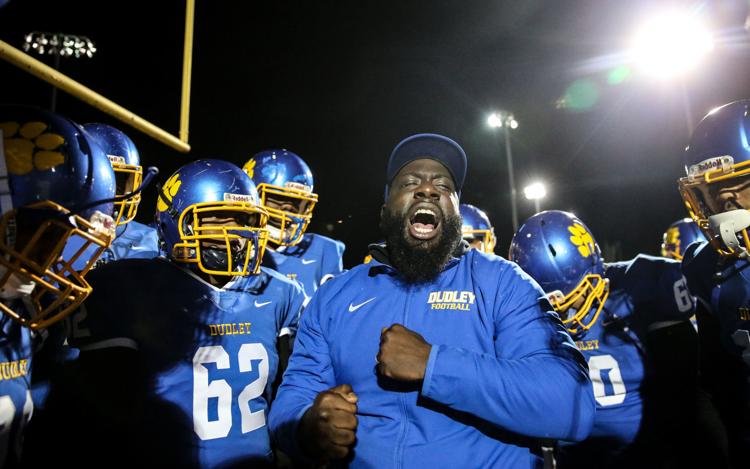 20191116g_spt_hsfbdudley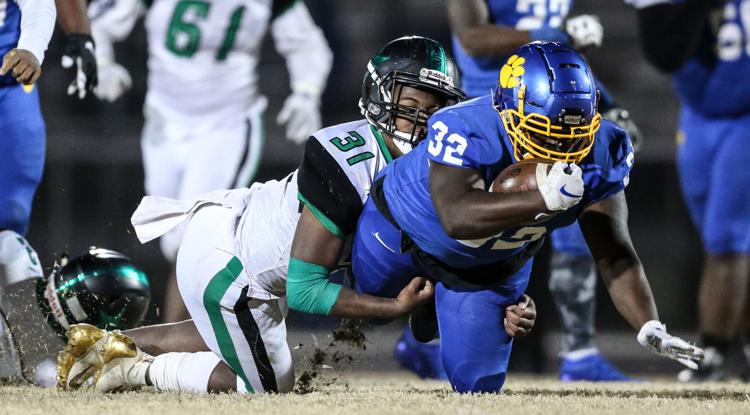 20191116g_spt_hsfbdudley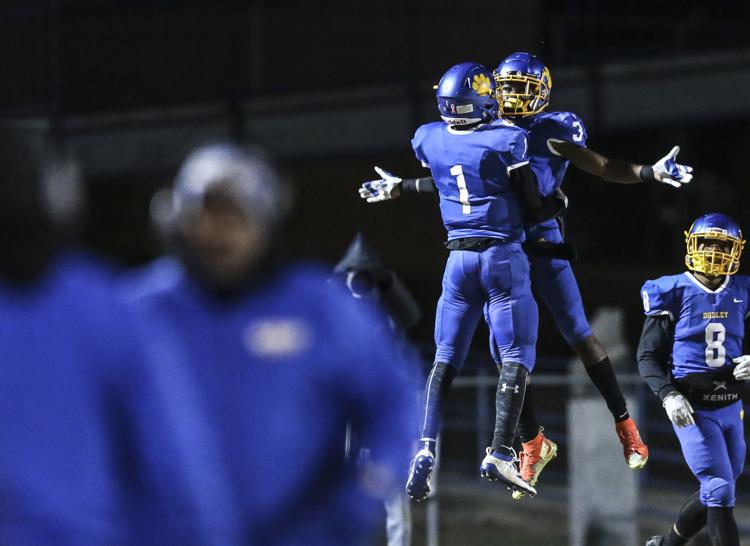 20191116g_spt_hsfbdudley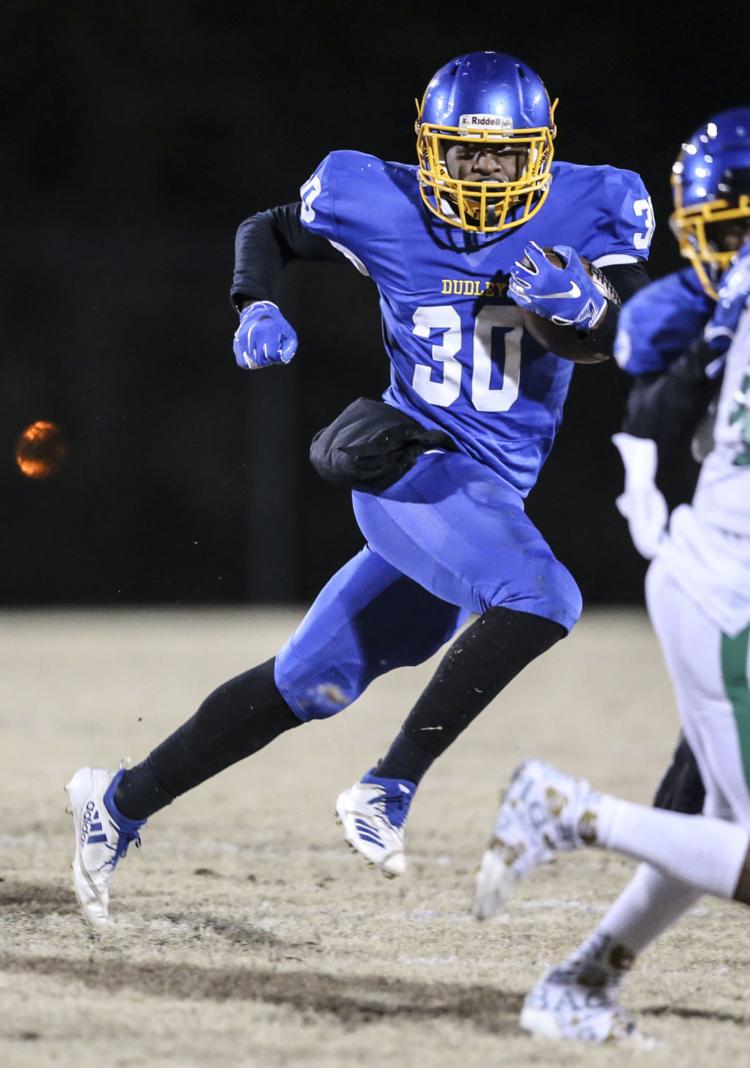 XX HIDE VERTICAL GALLERY ASSET TITLES –