GREENSBORO — Grimsley and Page renew their football rivalry Friday night at Marion Kirby Stadium with a lot on the line for both teams.
For Grimsley (9-1, 3-0), it's a chance to end 12 years of futility against Page and to wrap up the Metro 4-A Conference championship and likely clinch a No. 1 seed in the NCHSAA Class 4-A West playoffs with a victory.
For Page (3-7, 2-1), it's an opportunity to close a frustrating regular season by beating an old rival and keeping a streak of 14 straight playoff bids alive with a share of the Metro 4-A title.
Grimsley coach Darryl Brown and Page coach Jared Rolfes took time out from their game preparation to talk about Friday's matchup.
GRIMSLEY'S DARRYL BROWN
On the importance of this game to the Whirlies:
"We're playing for the conference championship, so it's a big game. This is what we work for every year, to have an opportunity at the end of the season to play for a championship. The fact that we're doing it makes this a huge game."
On what he sees from Page:
"I know they've been hurt by injuries at several position, because when we watch film we see different guys. But they've got a lot of really good athletes who do a lot of good things. Coach Rolfes does a good job, so they're well-coached. ... They've got some explosive guys who can big-play you at any time. Defensively, they seem to be putting a lot of pressure on teams now as far as bringing pressure with their linebackers. We'll have our work cut out for us."
On Pirates QBs Javondre Paige and Alonza Barnett:
"Paige we've seen the last couple of years and he's a really good football player who's had an outstanding career there. He's a really good runner, a big back. When he gets going he's tough to bring down. You definitely have to rally to him. When Barnett comes in they're a little bit different, although they do some of the same stuff. They put it in the air a little bit more. He has a quick release and is pretty accurate. The future is extremely bright for him. They both provide things that worry us a little bit on the defensive side."
On what his Whirlies have to do:
"Nothing different than any other week. Offensively, take care of the football. Don't turn it over, and we've done a good of that for the most part this year. We don't want to beat ourselves with penalties and put ourselves in third-and-longs because that's not really our game. Defensively, we have to be sound and eliminate big plays. We can't let them get behind us in the secondary and have to keep things in front of us. We have to do a good job of tackling and let our front guys get after them a little bit."
PAGE'S JARED ROLFES
On the importance of this game to the Pirates:
"It's important to both teams. We have the longstanding run of wins in this series and, obviously, Grimsley has had a great year and (Darryl Brown) has done a great job with their program. We're battling through a lot of youth and injuries, and record-wise we're not where we want to be, but we still feel like we match up very well with them. Our kids have been locked in this week on the task at hand and knowing this is a big deal for them, the people who played here before them and for the community as well. We're excited about the fact that it's home, which is a big deal for us."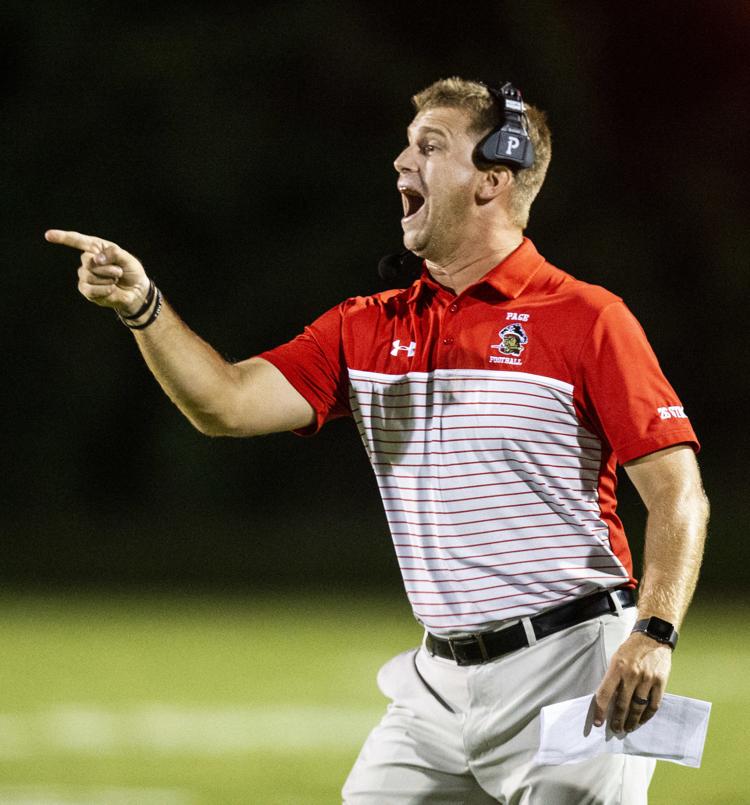 On this game essentially being the first round of the playoffs for Page:
"It has to be for us because there's a chance we wouldn't be in (the playoffs) if we don't win. That's been our mentality all week in practice, especially the seniors and the guys who've been with us for a year or two. They've really locked into that and said, 'We know what we have to do.' "
On what he sees from Grimsley:
"Obviously they're stronger than they've been and they're very consistent in what they do. They have a couple of elite players in (defensive tackle Travis Shaw and tight end Lawson Albright), and the quarterback (Christofer Zellous) and running back (Quan Nora) fit very well in their system. We feel like we've matched up against the running game against some good teams really well. ... Unfortunately, we've given up some plays on the back end, plays down the field, that have really hurt us. That's the trademark of a young team that's battered and bruised as well."
On what his Pirates have to do:
"The key for us is going to be coming out knowing that in this game it starts 0-0 and a lot's at stake for both teams. They're probably at a point where they expect to win because of where they're at and where we're at, but that doesn't change that our kids expect to win because they've won and they've won every time they've played in this game. ... It's important for us to come out and be physical, and the line of scrimmage is where this game is going to be won. The skill players will negate each other, but if we can tackle better and match them up front we'll be OK."