Greensboro's D.J. Reader wore orange in college, and he's about to see more of it.
The Cincinnati Bengals are expected to sign the Grimsley High School and Clemson alumnus to a four-year deal worth $53 million, according to the Houston Chronicle's Aaron Wilson. Teams can officially begin signing players at 4 p.m. EDT Wednesday.
D.J. Reader @Djread98 on going to Bengals as highest paid nose tackle in NFL: "I'm super excited, just really excited to get out there. They've got good things going. They had a rough year. Hopefully, I can be one of those pieces for them'

— Aaron Wilson (@AaronWilson_NFL) March 17, 2020
D.J. Reader @Djread98 on leaving the Texans for Cincinnati: 'It's a really tough push-pull. You make friends. You've got to make the best decision for you. It's a business.'

— Aaron Wilson (@AaronWilson_NFL) March 17, 2020
D.J. Reader on previous talks with Texans before joining Bengals: 'I thought it would work out. Sometimes, things don't work out and that's OK. They're doing their best for their organization'

— Aaron Wilson (@AaronWilson_NFL) March 17, 2020
D.J. Reader @Djread98 a past Walter Payton Man of the Year nominee on saying goodbye to Texans fans: 'I thank them for bringing in a kid who never thought anything like this was possible coming out of Clemson. They gave me confidence. As an organization, they helped me so much'

— Aaron Wilson (@AaronWilson_NFL) March 17, 2020
Reader earned the nomination of his previous team, the Houston Texans, for NFL Man of the Year for his work with the Texans NFL Play 60 campaign and support of the National Kidney Foundation.
Reader starred at Clemson, helping the Tigers finish 14-1 during the 2015 season and reach the national championship game, and he was a fifth-round draft pick by the Texans. He missed the first six games of his final college season, though, taking a break from the sport after his father, David, had died of kidney failure on June 30, 2014, at age 51.
On the Tuesday before Thanksgiving, Reader spent an off day during the week of a game against the six-time Super Bowl champion Patriots delivering turkeys, an estimated 1,500 of them, to families in four locations around Houston, according to the Chronicle.
"You find those pockets of time and those places around you where you can make a difference, and you do it," Reader said.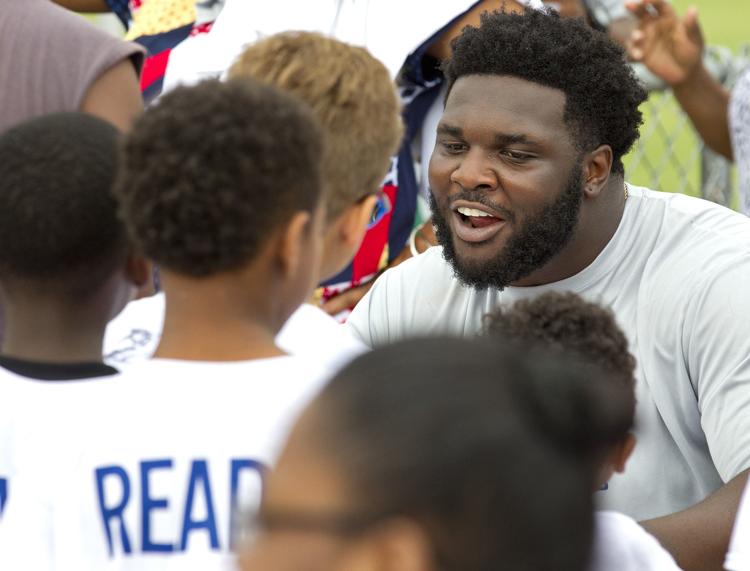 Reader told the Chronicle's Jenny Dial Creech that he often volunteered with his father in Greensboro.
"We'd do everything," Reader said. "Work concession stands at local sporting events, sell those chocolate bars to raise money for local causes. Work at different events, like fun runs and things."
Reader had 80 tackles and eight sacks during his senior year at Grimsley, also rushing for 600 yards as a fullback and earning three-star ratings from the recruiting sites.
He also starred on the Whirlies' baseball team, both at the plate and as a pitcher with a fastball that topped out at 92 mph.