GREENSBORO — HSXtra.com All-Area defensive lineman Myles Murphy committed to North Carolina today in Dudley High School's media center.
Murphy, a rising senior who is 6 feet 4 and 280 pounds, is a consensus four-star recruit. He is the No. 96-ranked player in the nation, No. 5 strong-side defensive end and No. 4 player in North Carolina in the Class of 2020, according to 247 Sports. Murphy made 18 tackles for losses and registered 10 sacks as a junior at Southwest Guilford before transferring to Dudley.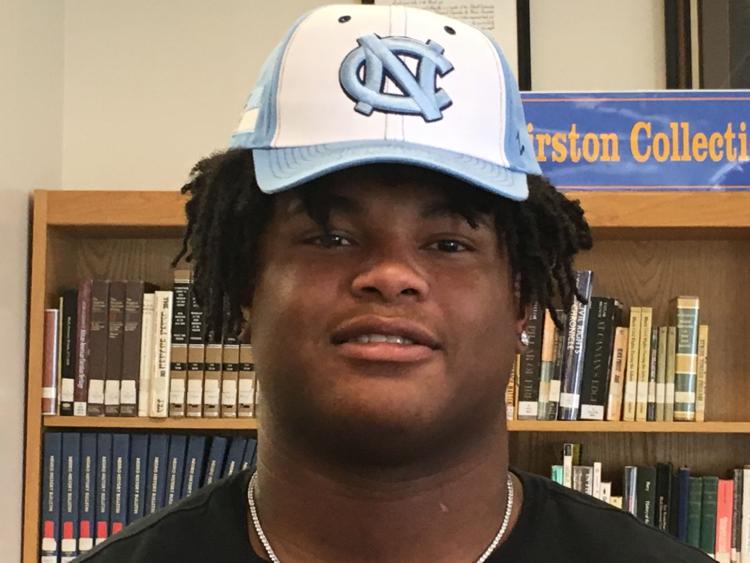 His other finalists were Alabama, Florida and South Carolina.
Here's what you need to know about Murphy's commitment and his future:
Why he chose North Carolina: "I had a good relationship with all the coaches. It was a good vibe down there. I met Greg Ellis and Vonnie Holliday and some of their other former NFL defensive lineman, guys who are from Carolina, and I thought, 'That could be me.' ... The history they've had there is great. ... I love coach Tim Cross at UNC. He's one of the best defensive coaches I've met. He kept it real with me. And (head coach Mack Brown), that's my man right there. ... It was very important (to stay in state) because my family is important to me."
When he made the decision: "USC was leading until I took my official (visit) to UNC (on June 21), and that's the most love I've ever felt. It was hard, but I had to do what was best for me and find the right fit for the next four years."
On ending the recruiting process: "It was important to get this over with before the season started so I won't feel any pressure."
On trying to flip Dudley WR Michael Wyman's commitment from South Carolina to North Carolina: "We're gonna get him."
On playing alongside talented defensive linemen Payton Page and Christian Lane at Dudley: "Shout out to (former Southwest Guilford teammate) John Oxce, but those guys are great, and we're going to get Payton, too."
What he wants to accomplish as a senior at Dudley: "We're going to win states."
Dudley coach Steven Davis on what UNC is getting and his expectations for Murphy as a senior: "They're getting a great talent, a kid who has the size, speed and strength to play on that level. Once he gets there and understands the level he's at, I can see him going beyond that. ... I want him, along with a couple of other guys, to play up to their potential. If they'll do that night in and night out, that's all I can ask for. Don't be a guy who thinks, 'I've got this already.' Lead by example and give 100 percent."