WASHINGTON — In rural upstate New York, about 10 miles from the Canadian border, snow has already fallen on the grounds of Bare Hill Correctional Facility. There, Joel Simpson works as a filing clerk while serving a five-year-maximum sentence. He attends school in pursuit of an associate degree and calls those closest to him most nights at 7 p.m.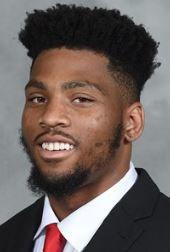 Simpson shares a TV room with about 60 inmates. A three-person committee of sorts - one man who speaks Spanish, another who likes sports and a third who prefers movies - sets a firm schedule of which channel the TV will turn to at any given time. But regardless of what the compromise says, one event overrides all else: Maryland football.
Javon Leake, the Terrapins' leading rusher and kickoff return maestro, is Simpson's son.
"Everyone understands," Simpson said in a telephone interview. "They all show support."
Once Simpson went to prison in 2016, just before Leake's senior year at Page High School in Greensboro, N.C., he's clung to the occasional windows that let him peer into his son's life and football career. Each rushing yard and all 19 touchdowns at Maryland, Leake's dad has celebrated from afar and through postgame phone calls.
Simpson isn't Leake's biological father, but he filled that role through the running back's childhood, building what Simpson calls the "best relationship I've ever had with another human being." The two have held onto the bond, despite the distance and the circumstances, but Leake's dad has yet to watch his son play football in person. With an early release date expected in May, next season's opener will likely be the first time he watches his son from the stands.