JOHN FRED "FREDDY" JOHNSON JR.
Family: Wife, Mary Marr Dillard; daughter, Katherine Johnson Willingham (married to Davis Willingham); son, Robert Johnson (married to McKinley Mann Johnson); grandson, Cross Johnson (son of McKinley and Robert).
High school: Grimsley, Class of 1972.
College: B.S., Greensboro College, 1977; M.S., N.C. A&T, 1984.
Playing career: Grimsley JV team, Greensboro College varsity.
Coaching career: Assistant coach, Greensboro Day, 1976-77; head coach, Greensboro Day, 1977-present. Also coached girls tennis (winning NCISAA state championships in 1998 and 1999) and boys soccer and has been athletics director since 1978.
9 — NCISAA state championships.
15 —  HAECO (Little Four) Invitational championships.
25 —  Years since one of his Greensboro Day teams finished with a losing record (1991-92 season).
57 —  Players he coached who went on to play college basketball.
HSXtra.com's Joe Sirera sat down with Greensboro Day boys basketball coach Freddy Johnson to talk about his career.
Q: When did you know this was what you wanted to do with your life?
A: When I was a sophomore in high school. (Page coach) Mac Morris was nice enough to me when I was in college to allow me to come over to his house and go to his practices. After being around him, I knew I wanted to be a basketball coach. I actually coached my own team my freshman year of high school at the Y.
Q: What was it about being around Mac Morris that made you want to coach?
A: He was such a good person. He basically took the time to keep my interest up and help me through my early career coaching. He was my role model, my mentor.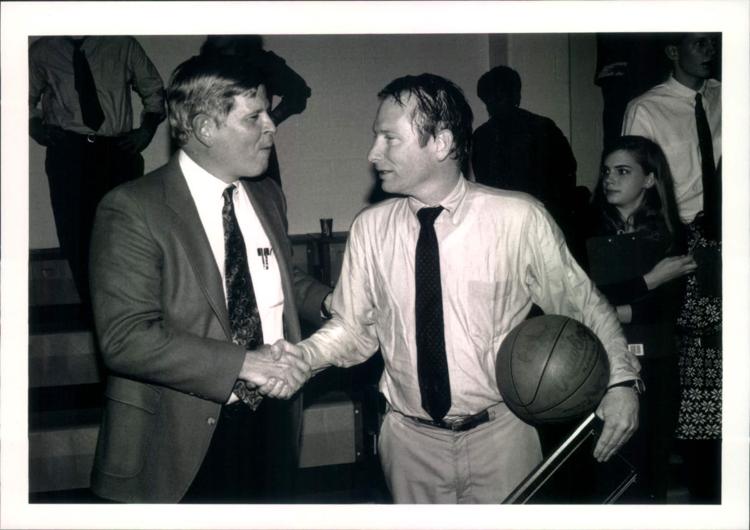 Q: Who were some of your other mentors?
A: A guy named Chuck Whitehurst who used to be the general manager at Channel 2), he coached me at the Y. He got me going and helped me out. He had a love for it and, of course, Mac Morris. I was fortunate enough to know some local college coaches and got to know them really well, and I got to go to a lot of practices at Carolina and Duke. When you learn from the best, you can't beat it.
Q: How does that happen? How do you get to go to practices at North Carolina and Duke?
A: Bascially, my brother-in-law, John Cohen, was a manager at Carolina for Dean Smith. That's how my relationship started down there, and I was taking a hundred kids to camp at Duke every year. By doing that I got to know Bill Foster really well and then Coach K really well. They were all so nice to me. … And working with the ACC during the ACC Tournament practices was a great opportunity they gave me, and I'm thankful for that. It helped me broaden my scope of basketball, being there to watch all those teams practice. … One thing I realized is you either change with the times or you fall so far behind that you have to get out. I think I've done a good job of changing and my program has evolved over the decades. We're not the same as we were in the '80s and '90s, we're a different brand. My former players tell me I'm way too easy now.
Q: What's your coaching philosophy?
A: I hope you'd say I'm a player's coach who also believes in discipline. I believe in playing the game the way I think it should be played. Sportsmanship is probably the most important thing to me in basketball. If you see us play, whether we lose or win, my kids are still good sports. They stand there, they watch the awards, they do the right thing. My philosophy there is to get them ready for the rest of life. It's not so much winning basketball games, I want them prepared for life. … Basketball philosophy, we're going to play 100 percent. My kids are going to go after loose balls, they're going to give their best effort and when they lose or win they're going to be good sports.
Q: Are you hard to play for?
A: When a kid comes to play for us here, they accept that we're going to play as a team first. That is different in today's game. That has really changed. Ten years ago it wasn't like that, but now it really is. They know that if they cannot play defense they will not play. If they do not share the basketball they won't play. That's something that separates us from a lot of programs. The kids aren't coming here if they don't believe in that philosophy of basketball. When somebody visits the school, my kids will tell them that number one you'd better study, because Coach is checking on your grades every week. If you don't have your grades he'll leave you home or he'll make you come out here on Sunday and you'll study together for three or four hours. I've always kept that pretty consistent: Grades and family are first, then the basketball.
Q: You weren't an outstanding player, didn't check the boxes physically. Do you think having to work harder as a player has made you a better coach?
A: Since I knew I wanted to coach, I was looking at the game differently than the kids I played with and was what I would call more of a "playmaker-coach on the floor." I was at the Greensboro College-Guilford game the other night and one of my former teammates (Clarence Caldwell) told me, "I need to tell your players how well you passed the ball." I was smart enough to give them the ball. That's the only reason I played.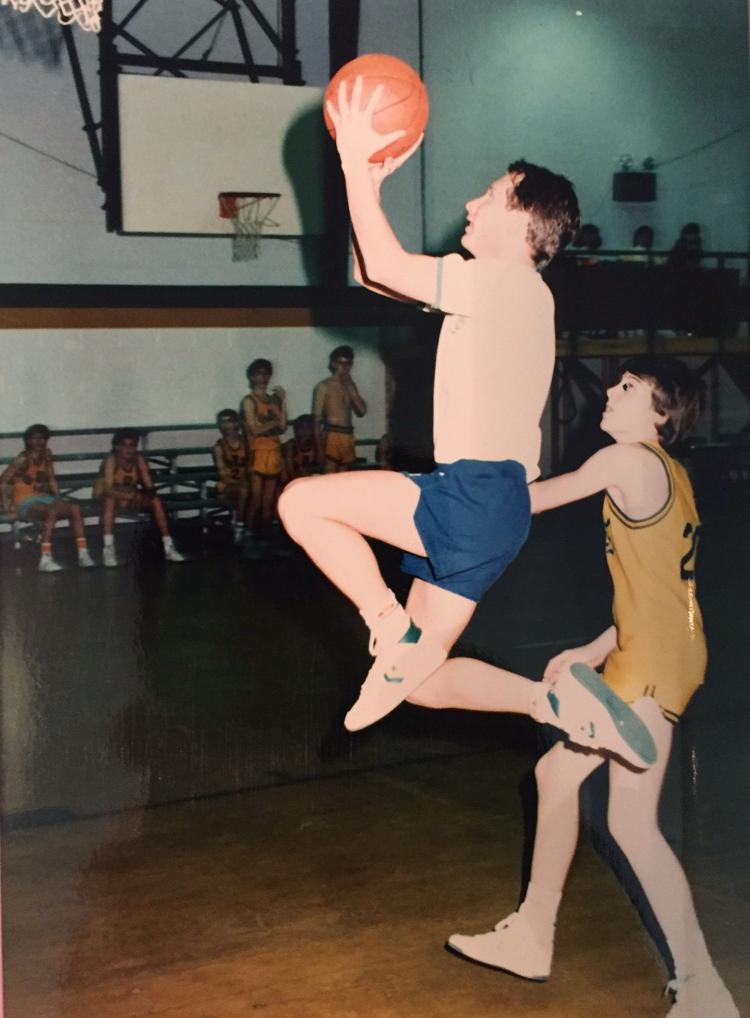 I studied the game, looked at everything. When I'd go to college or high school games I'd watch the benches. I started going to the (N.C. Coaches' Association) clinic here when I was 20 years old. … Rick Barnes and I became good friends because we worked camps together. Bob McKillop and Jeff Bzdelik were my roommates at camp at Davidson. I had a lot of connections in the coaching world that I could rely on has references and to get better and ask questions. I always tell those guys I have the best job. They might get paid more, but I have the best job.
Q: How many opportunities did you have over the years to coach somewhere else?
A: A couple. The only one that I really considered was Greensboro College. I did consider that a couple of times, but thank God I did not do it because this is where I should've stayed. Somebody was looking after me in that area, making sure I made the right decision. I also had a couple of assistant-type things in college, but I've always felt like I was at home coming out here, so I couldn't do it.
Q: You founded and were very involved with the Greensboro Gaters AAU program, but stepped away. Was it because of the time demands?
A: When I started the Gaters in '77, we had one team and Robert Kent and I went down and played each other at Chowan (for the state championship). I got home that night and they called me at 10 o'clock and told me I needed to send a $2,000 check to go to nationals. I was like, "What? I didn't even know we had nationals." I said, "No thanks, I can't do that." Then it evolved and got to the point where it was bigger than I could spend the time doing. I was lucky enough that some other people wanted to do it and I could step away. Those were some of the greatest times of my life, because back then it was a lot different than it is now. You fundraised for your kids and got to know the families. I still see a lot of those kids and they call me. It was a different experience. It widened my experience and I got to know different people that I never would have known.
Q: There's definitely a dark side to travel, but do you think it's gotten a bad rap over the years?
A: The bad thing is that it only takes one person to ruin a program. That's what happens; you do have bad people out there. But you have 90 percent good people out there. With the Gaters we did a pretty good job of selecting our coaches and doing the right thing. Now you have a lot of things going on — and I don't even understand them — but I know as a high school basketball coach it's important that I know the AAU coach and I have to know who's running that program. I have to know who my kid's training with – is he working out with some individual coach? Where's he lifting weight? Back in '70s, '80s and '90s you never thought about that stuff. I don't think you can coach today without knowing that. I'm lucky. I have a great staff. Jeff Smith helps me a ton with that stuff, making sure we know who's who. Between his connections and my connections with colleges, I feel like we know about 80 percent of the coaches on the East Coast.
Q: Was there a moment when you felt like you'd arrived as a coach?
A: I don't ever think I thought I could be really good at it. What I think is that I was very fortunate that we were all successful — the players, the assistants and myself — and I had really good kids who bought in to what we were doing. To think I would win 1,000 games or coach 40 years, I didn't think that. I just kind of feel like I'm on a ride and, fortunately, I haven't gotten off yet. My wife and I talk about it and it's like, "Would you have thought back in 1980 when I was getting my butt kicked by 30 points I'd still be coaching now?" Think about it. Mac Morris is retired. There's not a coach around who coached when I was coaching. I've got a whole different group that I coach against now. Playing in the HAECO is the biggest thing that's helped our program because it gave us instant PR.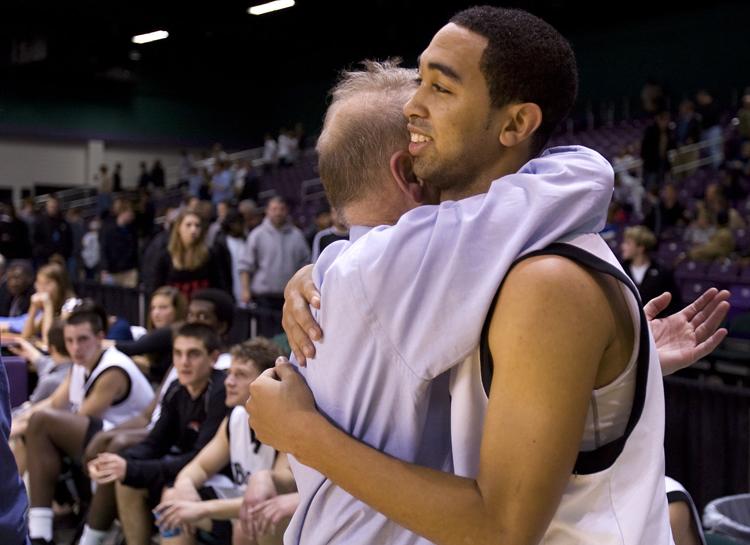 People saw us. Thomas Roberts, if there was one player who really changed Day School basketball, it was him because he brought us credibility. It was like, wow, they're good.
Q: What are you most proud of as a coach?
A: That my kids graduate, they go to college and they turn out to be such good fathers. That is my most important thing. It's not the wins and losses … it's what I'm doing for my kids to prepare them for the next level of life, not just basketball.
Q: Is there anything you wish you could change about your time at Greensboro Day?
A: That's a tough question. If I could've done a better job of helping more young coaches in the area … If you ask any young coaches, if they call me I'll let them come to my practices. I wish I could've helped more of those young guys get into the profession and been a better role model, like Coach Morris was for me. Evan Fancourt at Southern Guilford and Josh Thompson at Bishop (McGuinness) would tell you I'm an open book, but I wish I'd been more involved in early on. But I was teaching five classes, coaching and being the AD and coaching three varsity teams. It was different back then.
I do wish I'd spent more time with my two when they were playing travel soccer and travel basketball. One time I flew to Dallas to watch soccer, then flew back here on a red eye to watch Robert play basketball. They grow up so fast.
Q: How much have you had to give up with your family because of all the time you've spent coaching?
A: You see coaches all the time now giving up their jobs to spend more time with their family. I've had a great wife who did everything and I was really lucky there. It's a sacrifice.
Q: What's the best part of the job?
A: Being with the kids. I hate August and the end of July when I don't see them. I hate it! I live for the interaction with them. It keeps me going. I don't like Senior Night because then they're gone. That's one of my saddest times.
Q: What's the toughest part of the job?
A: Trying to be fair and being as consistent as you can be. In this day and time you have so many different situations with kids. It's not like the old school. Old school a kid would never quit. The parents wouldn't let them. Now you have kids who drop off. You try to guide them and I give them the same attention as someone who's playing. I'm always trying to find a way to keep a kid involved in the program. I have not cut in a long time. … The difficult thing is to stay fair and balanced, because parents today are so overboard. They don't get it. They just don't understand, and my parents are nothing like what some guys have to listen to. … The thing I have the most trouble with is adapting to social media. I'm lucky to have people to help me with that.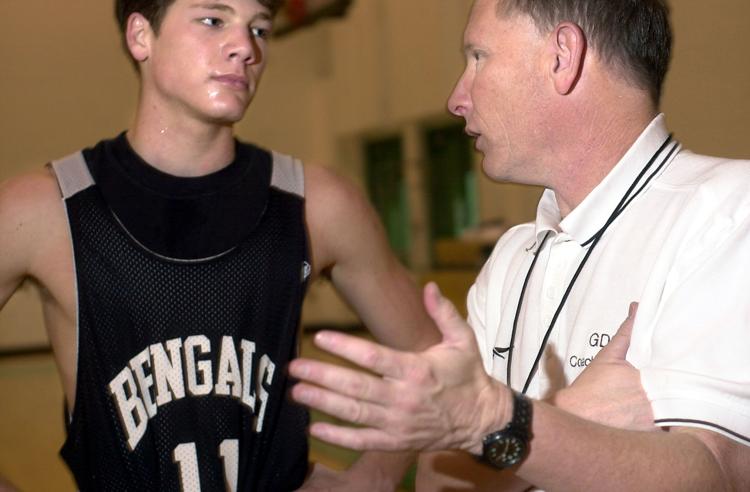 Q: How hard was it to coach your son, Robert?
A: Oh, God, that was hard. I was so hard on him, which I deeply regret. It was difficult. The worst thing that ever happened was I came home one night and I'm talking to him and he goes, "Are you talking to me as my father or my coach?" I could've died then. Every move you make is under a microscope. To this day we talk about how hard it was. It was really difficult. … It's a bond you make, and Robert and I would go to camp, then come right back over here and shoot. The worst moment of my life in coaching was when we lost the last game during his senior year and the next day we had to come here and get the stuff out of his locker. You can imagine how that was. My wife tells me I should have been more emotional when he was playing instead of now when I talk about it.
Q: How do you this job for so long physically?
A: I try to stay in shape. I walk 20,000 steps a day. I was at my heart rehab class this morning — I had a heart stent put in in 2013 — and I religiously go there and I have (Greensboro Day athletics trainer) John Schner, who's great. I've worked for three great headmasters, so I've had total support.
Q: How hard has it been on your family?
A: My wife is good. She is a really good basketball wife. She has bought in. As the kids got older, she went to the games and scouted with me. The funny thing is we're at a game and I look over and she's writing stuff down. I said, "What are you doing?" She said, "I thought I'd help a little.' She knew quite a bit. I called Robert that night and said, 'Your mother was writing stuff down." He said, "She's seen a thousand games, so she knows what she's doing." It might have been more difficult if they weren't at the Day School and I wasn't so involved. I was able to schedule Katherine's soccer games and Robert's tennis matches at Charlotte Latin close together and could travel with them as AD. Katherine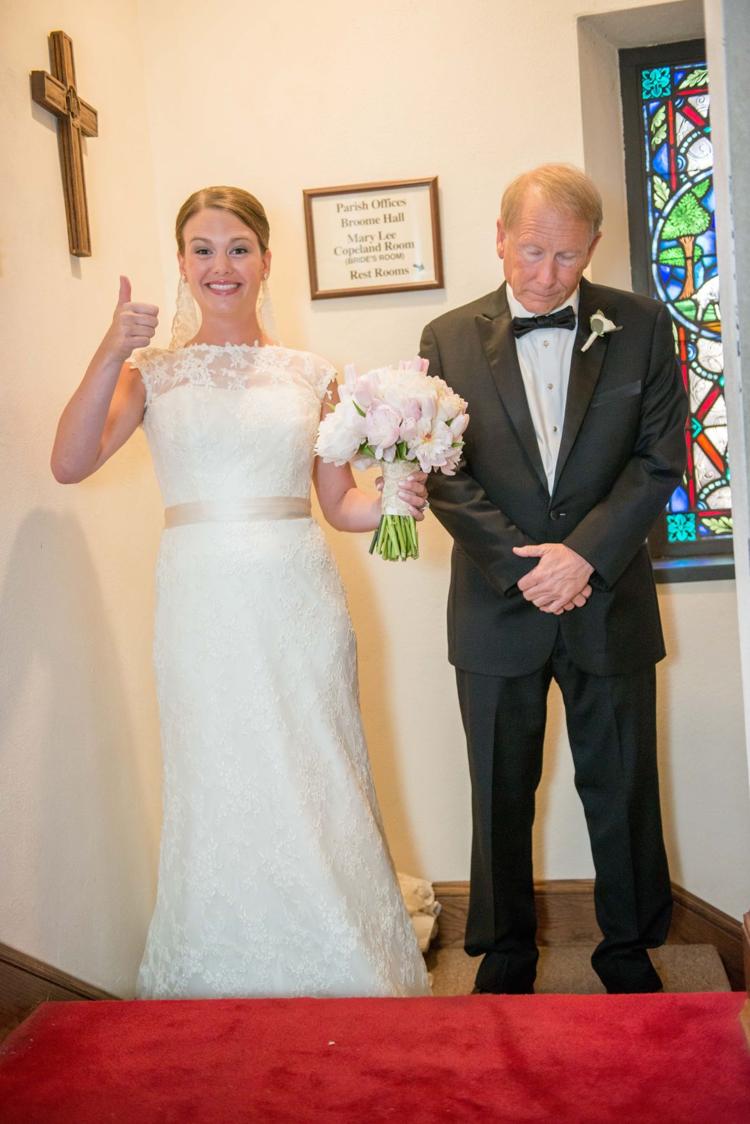 cheered. Katherine's most difficult moment was when she called me and wanted to go to dinner with her and she'd just got her learner's permit. We start driving and I'm scared to death because she can't drive. She's driving down the road and she turns to me and says, "Dad, I'm going to cheer and not play basketball." I said, "Look at the road! Look at the road!" So she became a cheerleader and that was even better because then she was with us. Those two years when Robert was there, Katherine was there and Mary Marr was there in the same place, I was really lucky.
Q: How big a part of your life has Greensboro Day School been?
A: It is my life, if you think about it. All these guys tell me, "Freddy, you need to retire."… I go, "What do you do every day?" He says, "Every day is a Saturday." I told him, "Here's what I do on Saturdays. I get up, come to the gym at 6:30 or 7. I walk. I sit down and I do basketball stuff. On Sundays, I go to church, then I come out and walk with Mary Marr. Then I come back in the afternoon and do AD stuff." If I'm in Greensboro, I'll bet there haven't been 10 days in this school year that I have not been at the school. … It's my life.
Q: How much of it do you consider work and how much of it is just "what you do"?
A: Probably 99 percent "what I do" and 1 percent work. The work is having to deal with a situation with another Day School team or having to sit down with another parent and talk to them about that team. I've gotten better at that over the years, but that's changed. You almost need to be brutally honest now. You're talking about their child, and sometimes you just have to flat tell them.
Q: Do you ever think about what might have been if you'd taken a different path?
A: I was lucky. Mary Marr graduated from here — and we weren't dating then, just to make that clear — so I knew about the Day School and that got me connected. This is where I started and I never really wanted to leave. I never thought about what would've happened if I'd done something different. I didn't play basketball my last year at Greensboro College and ended up here coaching that year. There were times that year when I wished I was playing, but it was the best decision I ever made. I've never regretted it. There's not another job I would want. I did call Grimsley back when Robert Link left and I didn't even get a call back. I thought I'd coach here and go to Grimsley, but it never happened and, boy, am I glad it didn't.
Q: Could you have had the same degree of success at a public school?
A: No, because I think that being here I got to know kids from fifth grade up. … We do have kids transfer in, no doubt, but until this year I'd never had more than two. We had four come in this year. It helps me that I know all of them. I can't imagine teaching or coaching at a public school now. I couldn't be (Page athletics director) Rusty Lee. I can't imagine how hard his job is or (Northwest Guilford AD) John Hughes' job is.
Q: What goals haven't you accomplished yet?
A: I don't really set state championship goals or those kinds of goals I always re-evaluate my situation each year. My goal is to continue to coach as long as I can. I don't want to set a number of years. I'd love to be teaching and the AD out here when my grandson (Cross) comes here. That's a goal.
Q: How do you want it to end?
A: I'd like for it to end where I'm able to pick and select the person who's going to take my place and be able to train them for a year but stay out of the way. That's what I envision my ending being, and then gone after that year. I don't want to be around. That's not fair to him. I don't like to think about it. I sure don't want it to end where I can't continue to coach. I want to be able to make that choice.