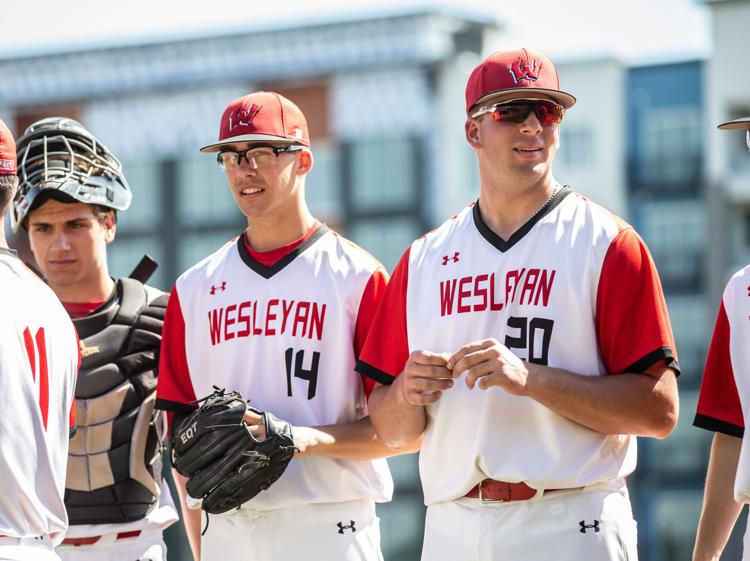 GREENSBORO — Craig Cozart has two of the top high school baseball recruits in the state not only in his back yard but living under his own roof. Neither will play baseball for him at High Point University, and the Panthers' head coach is OK with their decisions.
Wesleyan senior Caleb Cozart has signed with North Carolina, and his sophomore brother Jacob is committed to N.C. State.
"It was a family decision," said Craig, who will be watching Caleb and Jacob play for Wesleyan this week in the Farm Bureau Invitational at First National Bank Field. "When Caleb started going through the recruiting process two summers ago, we sat down as a family and said, 'We're just going to see how this thing develops.' Yes, we actively recruited my sons, both of them, but what we said was, 'We want you to legitimately go through the process. We want you to evaluate the situations and communicate with us in an educated way on ultimately what you want to do.' I didn't want them to feel like they had to play for me."
The Cozart brothers are not unique in their decision to play for a college coach other than their dad. UNCG head coach Link Jarrett's son, former Northern Guilford standout J.T., plays shortstop for N.C. State. Jerry Edwards, Jarrett's pitching coach for the Spartans, sent his son, former Southwest Guilford standout Jacob, to UNC-Asheville.
"I'd done a lot of talking to people," Craig said. "Of the Division I coaches I talked to who coached their sons, the vast majority said it was great. But of the sons who played for their fathers … 50 percent said it was nice, and 50 percent said it was horrible, that it was the worst experience of their lives and that their relationship with their father was still fractured. That kind of led us to say that if they decided it was in their best interests to play for me, great. But if they had other desires, we raised them to be young men who make decisions based on rational thought and on faith."
Caleb and Jacob said it was hard to say no to Dad, but everyone in the family is at peace with their decisions.
"He's built my swing. He's built my arm," said Caleb, a 6-foot-4, 240-pound power-hitting first baseman who is also expected to pitch at UNC. "Having to say no to him and tell him I was going to a different college was the hardest thing about the decision."
But for the elder Cozart son, the opportunity to attend UNC's highly rated Kenan-Flagler Business School while playing ACC baseball was too much to pass up.
"I love my dad and I'm going to make him proud in whatever I do at UNC," he said.
The decision wasn't any easier for Jacob, a 6-2, 185-pound sophomore who catches, pitches and plays third base for Wesleyan.
"It was really hard to not play for High Point," he said, "because Dad taught me everything I know about baseball and how to catch, how to hit. It came down to the school itself and the sports management program at State."
Craig Cozart knew from the time his sons were youngsters traveling to High Point road games with their mother, Michelle, and younger brother, Samuel, that they would have to decide one day where they would play college baseball.
"Literally from the time they could stand up and hold a bat we've been on a daily basis doing something baseball-related," he said. "I can remember throwing them a balloon or a big foam ball in the house, going on the back porch and throwing golfball-sized Wiffle balls at them when we were in the middle of a rainstorm because they wanted to continue to hit and throw and play."
As Caleb and Jacob matured, they were batboys, bullpen catchers and even took batting practice with their father's High Point teams. But Craig Cozart has never coached a team with his sons as players.
"I just wanted to have a little bit of separation," he said. "It's their career, their job to communicate with their coaches. Once they're between the lines my job is done. I don't want them relying on me for information. They need to rely on themselves for information at that point."
Both sons have done extremely well in that area. Their coach at Wesleyan, Scott Davis, says it's been a pleasure working with Caleb and Jacob, and he appreciates the fact that their father has been "totally hands-off."
"When they made the decision to come to Wesleyan there was pressure because you want to try to develop them as best you can, understanding that this is high school baseball and not college baseball," Davis said. "With Coach Cozart being a Division I coach, his kids are exposed to a lot more than most kids are. He's been phenomenal, very supportive of our program and our team. The kids make it easy, too."
Caleb and Jacob both say the experience of playing alongside their brother has been special, although it will come to an end after this season.
"It's awesome having my brother on the team," Caleb said. "We have a chemistry that builds together. It's also having somebody behind me who can protect me in the lineup and having somebody in the family in the dugout."
"I have someone to look up to, because he's been a great example for this program," added Jacob, who homered once and drove in Caleb twice in a 10-0 win over Watauga today. "It's fun because I got to catch him when he pitched. Now I get to throw across the diamond when I play third and he's at first."
There's another Cozart son coming up through the baseball ranks, 13-year-old Samuel, who is already 6-3 and nearly 200 pounds. Craig said his youngest has the potential to go directly from high school baseball to the minor leagues, but if he chooses college ball, he has a couple of great examples to follow in Caleb and Jacob.
"I'm very happy with the way both of them went about their business and the way they evaluated what they were looking for most," Craig said. "Yes, it was a family decision, but it was also Michelle and I giving them the freedom to go out and figure out ultimately what it is they want in an academic experience and an athletics experience and find the university that fits best for them. … I'm at peace with it. I'm excited for them and I'm very proud of them."