GREENSBORO — First things first: Our city won't lose baseball.
The cold, hard facts that the modern game's analytics gurus love add up to the Greensboro Grasshoppers weathering the storm brewing between Major League Baseball and Minor League Baseball.
The Hoppers draw well. They play in a newer, well-maintained ballpark built to  Class AA specifications. Their home city is a desirable spot on baseball's map.
But even so, the next Professional Baseball Agreement between the majors and minors figures to affect everyone below The Show in some way.
An early proposal from MLB calls for eliminating 42 of the 160 affiliated Minor League Baseball teams and reshuffling the rest, getting rid of all short-season Class A and most Rookie leagues.
Depth and "uncanny accuracy," according to Jeff Lantz, Minor League Baseball's senior director of communications.
Lantz figures he's gotten more calls at his office today than in the last month or two combined, callers asking about MLB's scorched-earth opening salvo of negotiations outlined in the Baseball America piece.
Among the proposals put forth by MLB is adding a new "Mid-Atlantic League" and shrinking the South Atlantic League from its current 14 teams down to just six.
Greensboro has been home to a Sally League team ever since the league reformed in 1980, and the Hoppers have been a coveted franchise ever since their move into the downtown ballpark in 2005.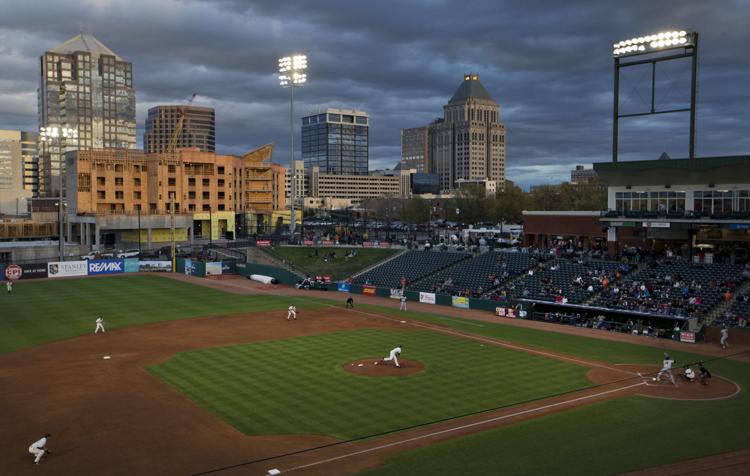 Donald Moore, the Hoppers president and general manager, referred all questions to Lantz.
"We're not really addressing any specific teams or leagues," Lantz said. "There's a lot of time left, a lot of negotiating to do. But our goal is to save as many of the 160 (existing MiLB teams) as we can."
The current Professional Baseball Agreement between the majors and minors expires Sept. 15, 2020.
"It's important for everybody to keep in mind that this is a very early proposal in a very lengthy negotiation," Lantz said. "We'd like to think both sides would try hard to make it work. We're trying to keep things as close as possible to how they are now. And Major League Baseball sees things they want to change."
MLB's chief concerns boil down to facilities and geography. There's some merit there. Some minor-league teams' ballparks and living conditions are, frankly, awful. And the travel in some leagues — expenses borne by each minor-league franchise — can be brutal, as budgets vary from team to team.
The Sally League's geography doesn't make sense. Greensboro is in a good spot, smack in the center. But the far-flung outposts of Lakewood, N.J., Lexington, Ky., and Charleston, S.C. require some serious all-night bus rides.
"It's probably likely there will be some sort of realignment," Lantz said. "I don't know how deep it will go, whether it's from Triple-A all the way down to Rookie League, or whether it will end up being far less dramatic. … We understand there are issues with the current alignment of some leagues, and that has an impact on the players. We understand that. And we're not naïve enough to think some realignment couldn't help. We've moved teams in the past when it made sense."
Another MLB proposal is moving its amateur draft from June, after high school baseball ends, to July or August, after the College World Series.
That move would almost certainly kill MiLB's short-season leagues. Teams in those leagues are traditionally stocked with new draftees, and 70-game seasons run from June through August.
"The draft is an MLB deal," Lantz said. "We don't have anything to do with the draft. It's their prerogative, although we obviously like it the way it is now."
Some of the teams in those short-season leagues have the same advantages as Greensboro. They play to good crowds in spiffy new ballparks in prime locations. And so they would be candidates for realignment, bumping existing franchises in less desirable places into oblivion.
Bottom line? Greensboro won't lose baseball.
But change is coming, and it's likely to affect every Minor League Baseball franchise in some way.