GREENSBORO — The uniform was uncomfortable, soaked in sweat and Gatorade on a hot afternoon. The fabric stuck to Mason Martin's skin. It felt icky.
But it didn't matter. Not one bit.
Martin had just won a ballgame for the Greensboro Grasshoppers with the first walk-off hit of his young life, a three-run home run to right field off the under-construction building across Eugene Street, 411 feet away.
It lifted the Hoppers to an 8-7 victory over the Lakewood BlueClaws in the first game of a doubleheader on Sunday afternoon at First National Bank Field.
Surely, Martin thought, it can't get better than this.
Martin hit another game-winning three-run home run in the second game, this time with two outs, lifting the Hoppers to a 6-5 victory. This one landed on the roof of the groundskeeper's building beyond the center field fence, 448 feet away.
"It's the coolest thing I've ever done on a baseball field," Martin said this afternoon. "I couldn't believe the first one, and then the second one happened. I was just blown away. I'm still blown away."
The Hoppers' 19-year-old first baseman finished the big day 3-for-7 with a walk and seven RBIs. He leads the South Atlantic League with 38 RBIs and is tied for second with teammate Roberto Castro with 11 home runs.
But what are the odds of the same player hitting walk-off, three-run home runs in both games of a doubleheader? Let's just say they're astronomical.
A study of game-winning home runs in Major League Baseball from 1973 to 2015 came up with odds of 43-to-1 (2.3 percent) for any game to end on a home run. Good luck figuring out both games of a doubleheader by the same guy.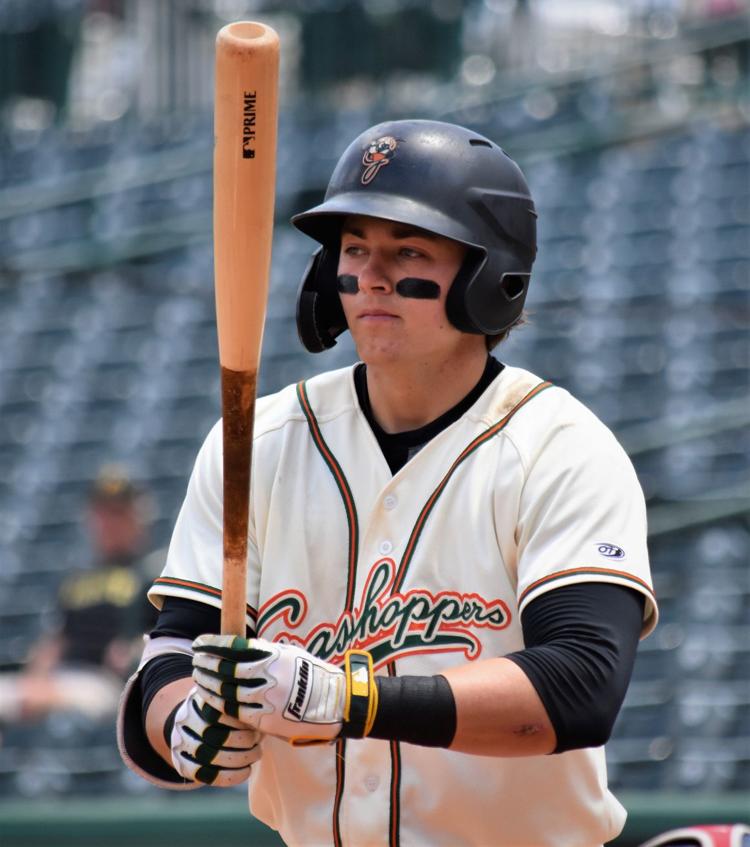 "The game is never over until the last out," Hoppers manager Miguel Pérez said. "We saw that yesterday. … I've never seen that before. Ever. I'm so happy I was here and part of that, to see (Martin) do that, because I don't know when the next time we'll see that again. Maybe never."
The Hoppers and BlueClaws played the doubleheader to make up a game rained out last week in Lakewood, N.J.
In the first game, Lakewood led 7-4 and the Hoppers rallied for four runs off reliever Robinson Martinez to win it. Fabricio Macías hit an RBI single. He was at first and Lolo Sánchez at third when Martin came to bat with nobody out.
"I knew the situation, but I wasn't trying to win it. You know?" Martin said. "I wasn't trying to do too much. I was trying to get a pitch I could hit hard and do some damage, maybe a double or single or whatever. I got a pitch … and luckily I hit it hard and got it in the air."
Martin's teammates mobbed him at home plate and doused him.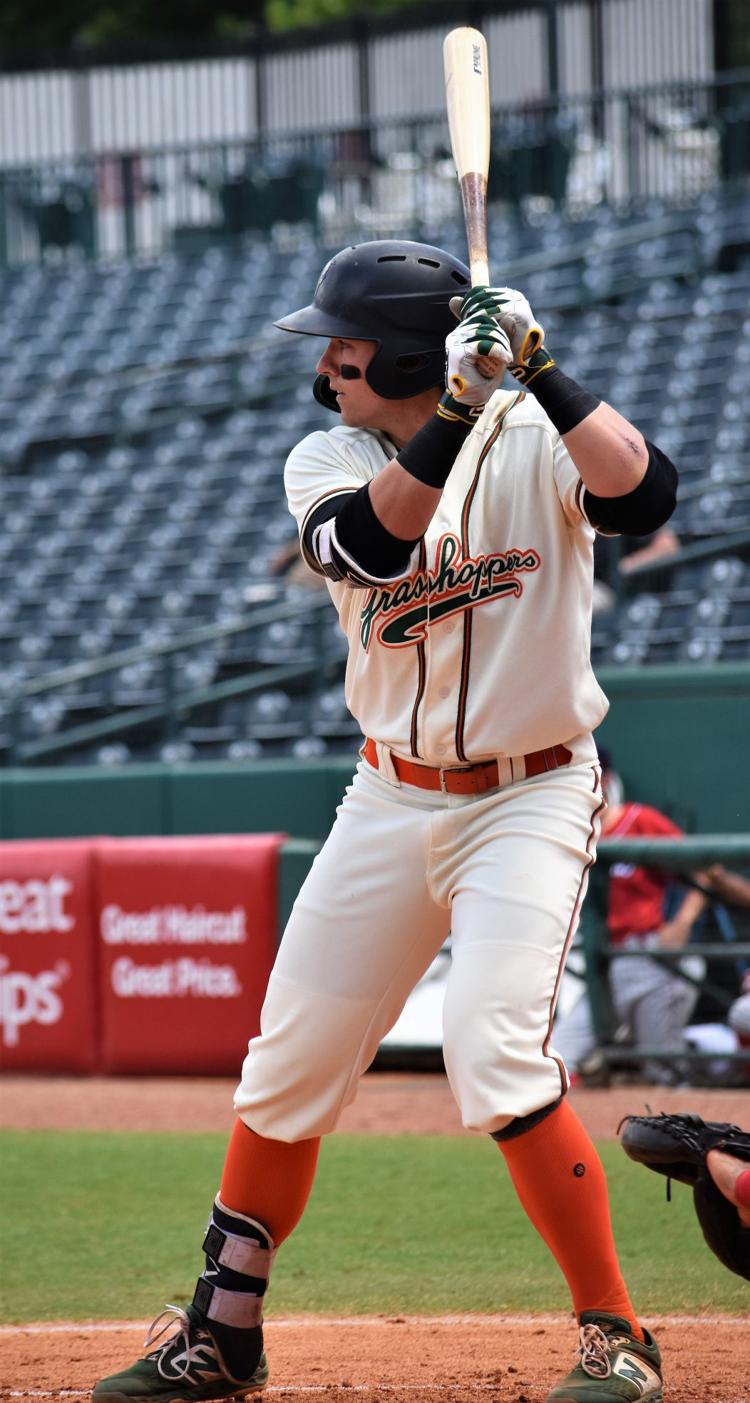 "The celebration was awesome, and then we had to turn around in 20 minutes and play again," Martin said. "My jersey was soaked because I got a little Gatorade bath. I was soaked and sticky going into that second game. We wore the same uniforms. I was trying to get them to change the uniforms, but now I'm glad we didn't."
The Gatorade didn't wash out the luck. The Hoppers trailed 5-3 when Sánchez singled with two outs. Lakewood reliever Blake Bennett hit Kyle Mottice with a pitch.
And then it was Martin's turn to bat.
"I knew it was on the table. I knew the situation, saw it all unfold on deck," Martin said. "You could just tell there was some energy in the air. I started to hear some snickers in the crowd. Rodolfo Castro was the next batter, and he came up to me in the on-deck circle and started smiling at me. I was like, 'Stop! Stop it!' But I couldn't help but smile back at him."
Martin drove a two-strike pitch a long, long way. He knew the ball was gone off the bat and doesn't remember the home run trot, a carbon copy of the first one except he held up two fingers on each upraised hand as he neared the plate.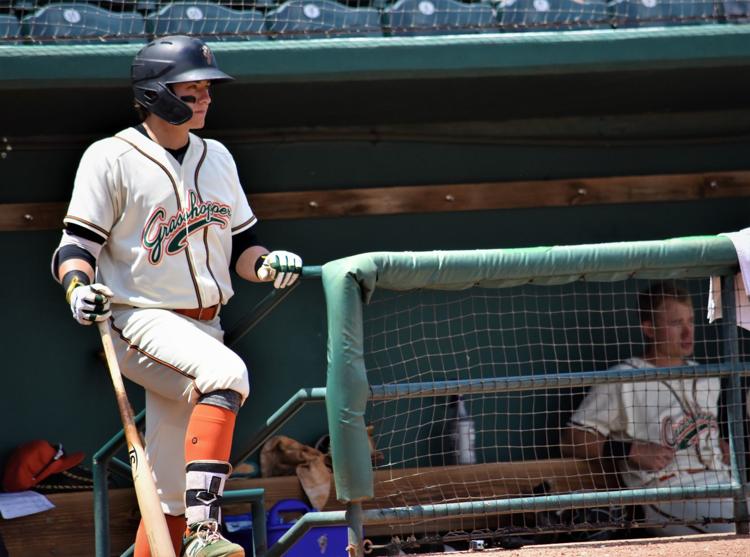 "I can't explain the feeling, man," Martin said. "It was awesome, especially with teammates like these. Every guy on this team celebrates when other people have success. I think that's why we're such a good ballclub. Nobody is selfish. If someone were to pass Lolo for the highest batting average, Lolo's going to just shake his hand and say, 'Heck of a job.' Me and Castro have been going back and forth on the home run leaderboard, and we're hyping each other up, cheering each other on. The team chemistry on this baseball team is off the charts."
The Hoppers finished a five-game series sweep this afternoon. They've won 22 of their last 28 games.
During that stretch, Martin has batted .283 with 10 home runs and 35 RBIs.