WINSTON-SALEM _ This is one series Wake Forest will be glad to move away from.
Utah State, a geographic nightmare from Salt Lake City, flew into town and almost ruined the Deacons' season opener.
It took a dramatic interception by Wake linebacker Justin Strnad to preserve a 38-35 win that left fans exhausted and wondering why in the world they were playing Utah State again.
But the short and simple truth is that the Aggies might be the best team Wake will play until it goes to Clemson in November.
The win left the Deacs exhausted too, and now they face a long trip to Rice this week in another Friday night game that makes no sense.
"We hung in there," Wake coach Dave Clawson said. "We're very fortunate. In a lot of ways I thought Utah State outplayed us. That's a very good football team."
Wake scored on a fourth-down pass from Jamie Newman to Kendall Hinton with 1:08 to play, the last of nine lead changes in a wild game that saw the teams combine for 1,175 yards in offense.
Utah State rolled up 596 yards in offense including 416 yards passing by quarterback Jordan Love, probably the best quarterback Wake will see until it goes to Clemson.
Love completed 33-of-48 passes for three touchdowns, but it was three interceptions that doomed Love and his team.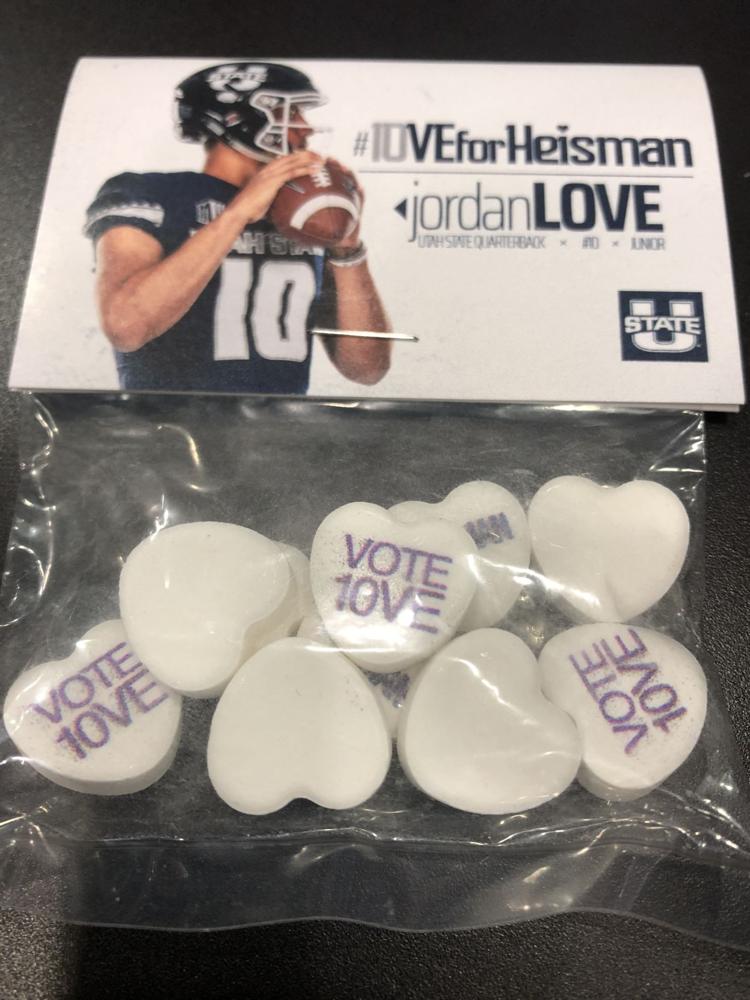 Before the game, Utah State school officials passed out Valentine's hearts with the words VOTE 10VE as a part of the school's Heisman Trophy campaign for the quarterback.
Clawson said this week NFL scouts told him that No. 10 would be one of the first three quarterbacks in next year's draft.
And while he lived up to the hype, the interceptions will likely be more decisive than the candy for Heisman voters, several of whom were in the press box.
Wake has certainly seen enough of him.
And barring a bizarre turn of events, the Deacs have likely seen the end of the brief rivalry that never was.
It's one of the strangest series in the country, the result of conversation between the schools as far back as 2011.
Utah State needed a home game, and then athletics director Scott Barnes called his good friend Ron Wellman, the former Wake AD.
Utah State, as the Deacs found out, was a legitimate program on the rise, and the only ties the schools had was former coach Chuck Mills, who left Utah State to come to Wake in 1973 for the worst stretch of football in school history.
Barnes wouldn't give up, calling Wellman again and basically begging and offering anything he could to make it happen. Wellman eventually said he would play Utah State in 2014 if the Aggies agreed to come to Winston-Salem twice.
Thus the odd three-game series between schools 1,700 miles apart came to an end on a Friday night, years after its inception with Wake going 2-1 in three games played as a favor between friends.
The Deacs will remember this one all season. And anyone who was there will remember it longer than that, especially if Love goes on to have a great career in the NFL.
It was as good a game as you'll ever see in an opener.
And it was especially pleasing for Clawson and the Deacs to wash their hands of Utah State.
Wake's odd schedule will continue now with a trip to Rice and then a home game against Carolina that will not be a conference game but like the first two, it will also be on a Friday night.
None of it makes perfect sense. But after an exciting season opener that was less than perfect, you get the sense that Wake will breathe a sigh of relief and get ready for the next Friday night oddity.