PINEHURST - The Battle Hymn of the Republic was wafting through the longleaf pines Saturday when Payne Stewart lined up the final shot of the day. The birds were singing, and a soft breeze was blowing, and Stewart's knickers were flapping, and all of golf stood at attention to watch.
The bells were ringing when Tiger Woods and Phil Mickelson and David Duval walked up the final fairway. Pine needles fell from the trees without making a sound, falling onto soft, green lawns in a perfect Southern setting.
The third round of the U.S. Open came with a soundtrack, a warring psalm that suggested a night of rest before a battle for the ages. Saturday was the calm before a Sunday storm.
For those of us who were there, 20 years ago this week, we will never forget it. The mystical 1999 U.S. Open at Pinehurst was more than a golf tournament, more than a sporting event. It was a moment in time.
Now 20 years after the remarkable four days in the Sandhills, it feels like time still stands in a bronze fist pump with the carillons echoing through the pines.
The tournament endures, not just this week year after year, but as a timeless testament to a place and a man and a sport.
It wasn't just one of the greatest golf tournaments ever played. It was one of the greatest events in sports history, a tournament that first appeared as a dream then happened like a four-act reality play and finally ended in a tragedy that shook the sporting world.
Even now, 20 years after the events occurred, it seems hard to fathom that it happened here. And despite the passing of time, you still can't overstate what we witnessed, from the birth of a child to the death of a champion.
The place
The 99th U.S. Open was never supposed to be played in Pinehurst. The USGA had long avoided playing its premier event in the South for reasons ranging from excessive heat to course conditions in mid-June.
In fact, the only time a U.S. Open had ever been played in the South, 1976 at the Atlanta Athletic Club, it was widely considered a disaster. Trying to save the parched earth for four days in the sun, the club botched simple tasks such as grass-cutting and watering greens, and drew the wrath of players from Tom Weiskopf to Arnold Palmer, both of whom stormed off the 18th green blasting the course and the club.
"I have nothing to say, and that's not for quote!" Weiskopf was quoted as saying after his first round.
"The golf course was overdone," said Palmer, then 46, with close ties to Charlotte and among those who warned against holding a U.S. Open in the South. "The fairways were not mowed, and I found casual water on the landing area at No. 18, and I knew as sure as hell it didn't rain."
It was assumed that the 1976 U.S. Open doomed the South from ever hosting another.
But then came a bid from Pinehurst. Time had passed, and a test tournament had passed its exam in 1994 when the USGA brought the U.S. Senior Open to No. 2. So against advice from a lot of people and concerns from everyone else, the club was awarded the 1999 Open.
Everyone held his breath and waited for the heat.
Day one dawned cool and breezy.
Venerable old Pinehurst, with its ghostly shadows giving way to misty mornings, provided perfect conditions for an event for the ages. The club, which had endured a long and tangled history, reaffirmed itself. And the No. 2 course, the Donald Ross masterpiece, became hallowed ground for golf.
The man
Payne Stewart wasn't an easy study. He could be surly and abrasive, a competitive enigma known equally for losing at big moments as winning. His reputation now, 20 years after his death, is nothing like his reputation in 1999.
He could be funny and engaging. And he could be mean as a snake. Stewart didn't necessarily enjoy his experiences in North Carolina, most of which occurred at Forest Oaks Country Club, where the old GGO was played from 1977 to 2007.
Stewart hated Forest Oaks, and he took merciless jabs at the course and surrounding neighborhood. Greensboro, thus, was no friend of Payne Stewart.
Pinehurst, however, embraced the 42-year-old two-time majors winner. That week in the mist was his finest hour, holding off Phil Mickelson, Tiger Woods, Vijay Singh, David Duval and a field that included 11 past Open champions.
After former winners Jack Nicklaus, Curtis Strange, Hale Irwin and Ernie Els missed the cut, the leaderboard was still considered one of the strongest in the history of the majors.
Stewart would hold off Mickelson in the end, making a miraculous putt at 16, a birdie and 17 and then the famous 15-footer at the 18th hole.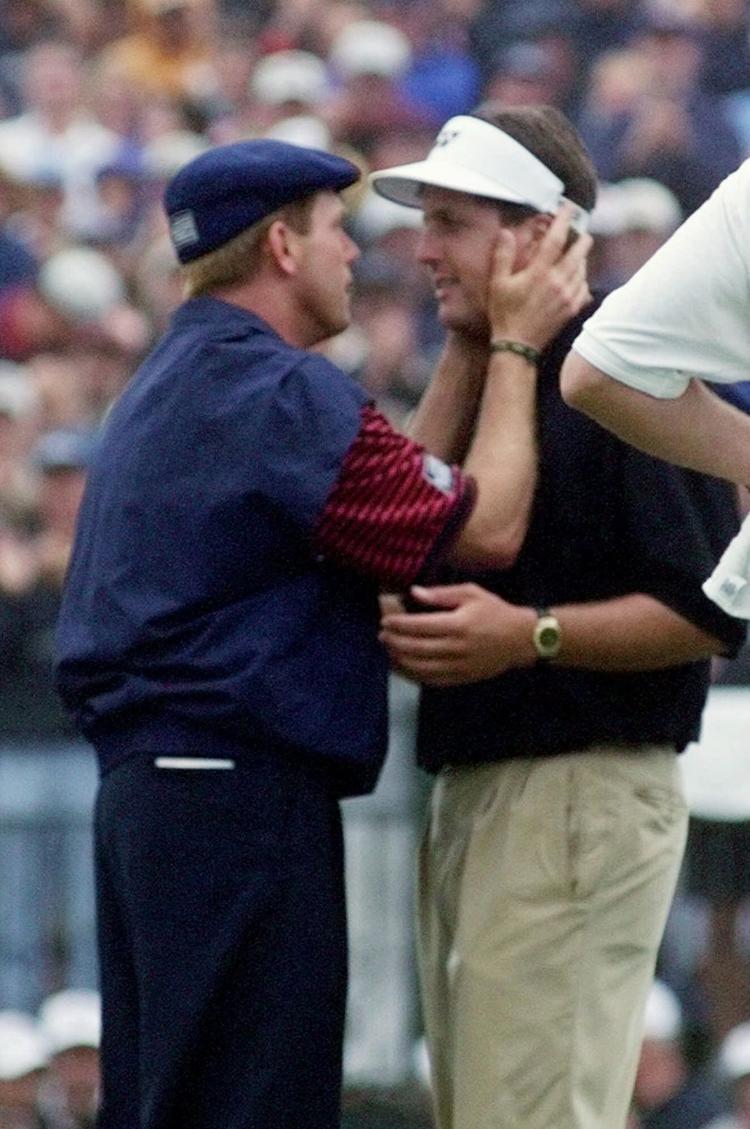 Afterward, he seemed to change before our eyes, talking lovingly about his father and their complicated relationship, about finding God and taking advice from his mother and wife.
We saw him leap into the arms of his caddie, Mebane's Mike Hicks, and we saw him grab Mickelson by the face and tell him how lucky he was. "You're going to be a father!" he exclaimed.
And then we saw something we'd never seen before. We saw Payne Stewart cry.
The sport
The game of golf had changed before that week in Pinehurst, but the arrival of Woods was in the process of ushering in something no one expected.
A huge influx of attention and money showered the sport of golf. But more than that, the players were exposed, their personalities revealed through the advent of the internet and later social media.
The impact of Stewart's win was overshadowed by the impact of his death four months later in a bizarre plane crash followed on live televison by most everyone in the country.
Golf suffered painfully and publicly, maybe for the first time.
The game now, 20 years later, seems more human. We know way too much about the failures and the frailties of the players, their personal lives and their strengths and their weaknesses.
Golf is a brutal game, and our memory of that week is clouded in mist and myth. There was no fairy-tale ending. And there was not going to be. Had he missed that last putt, there would've been no Monday playoff between Stewart and Mickelson.
"Yeah, I would have left," Mickelson said when he returned to Pinehust in 2005 for the second of now three U.S. Opens held at the No. 2 course.
He would've gone home to be with his wife, Amy, who it turned out had indeed broken water that Sunday about noon, Sandhills time.
And while we remember that day like time stopped, it was actually moving on quicker than we realized.
The game now isn't about sweet swings and pure contact but more about brute strength and technological advances in equipment. The clubs were being engineered for individuals. The very bodies of the golfers themselves becoming more athletic.
Payne Stewart was one of the last of his breed.
We honored him that morning in 2005 with a haunting bagpipe ceremony. It was the middle of June again, yet somehow the fog had returned.
Aftermath
Mickelson turned 35 on the Thursday of the 2005 Open. He'd brought his family this time, and one of the first places he went was behind the 18th green, where a statue stands. Stewart is forever enshrined there, on one foot, a fist-pump for the ages captured in bronze.
"When I arrived here and I saw the statue of Payne, and when I drove by the house that I stayed at (in 1999), a lot of memories came back," Mickelson said.
"Having my kids come to town this week is going to be something that I'm going to enjoy because we tell the story to our daughter, Amanda, about her birth and how it all took place. It'll be fun for her to be at the place that we've been talking about all these years."
We've seen him up close for 20 years now, seen him rise and fall on and off the golf course, just as we've seen Woods rise and fall, their lives on a stage among modern athletes who seem different now than they did a generation ago.
The truth in 1999 was hidden in a shroud. The sport had already changed, and the mist would eventually rise, revealing not a fairy tale but a different game played by different players, men not myths.
In a way, we're not stuck in 1999 but we're still chasing it. It was the great sporting event of our era and our state. Those of us who were there remember it as it was. But like a lot of other people, we also remember it as the way we were.
The forecast for Pinehurst this weekend? Sweltering.