The countryside in rural Virginia is anything but quiet this week. The national championships have come to VIR.
An entire sport of weekend warriors, sports car and road racing enthusiasts from all over the world have converged on Virginia International Raceway for the Sports Car Club of America season-ending National Championship Runoffs.
The annual event has attracted more than 600 drivers competing in 28 classifications in what Greensboro's Bill Black calls "a spectacle."
Black, 71, is racing on Sunday along with his son and few others from in and around the Triad on the final day of the weeklong event. He's been waiting for more than a year since it was announced that the Runoffs would finally come to his home track. But like a lot of other sports car folks from around here, he's really been waiting all his life. Or at least since the crazy idea hit him.
"My driving school was back in 1988," Black said. "Got my competition license after that and have been doing it ever since. My son Stewart started about 20 years ago, right after VIR opened again, and we've been racing ever since."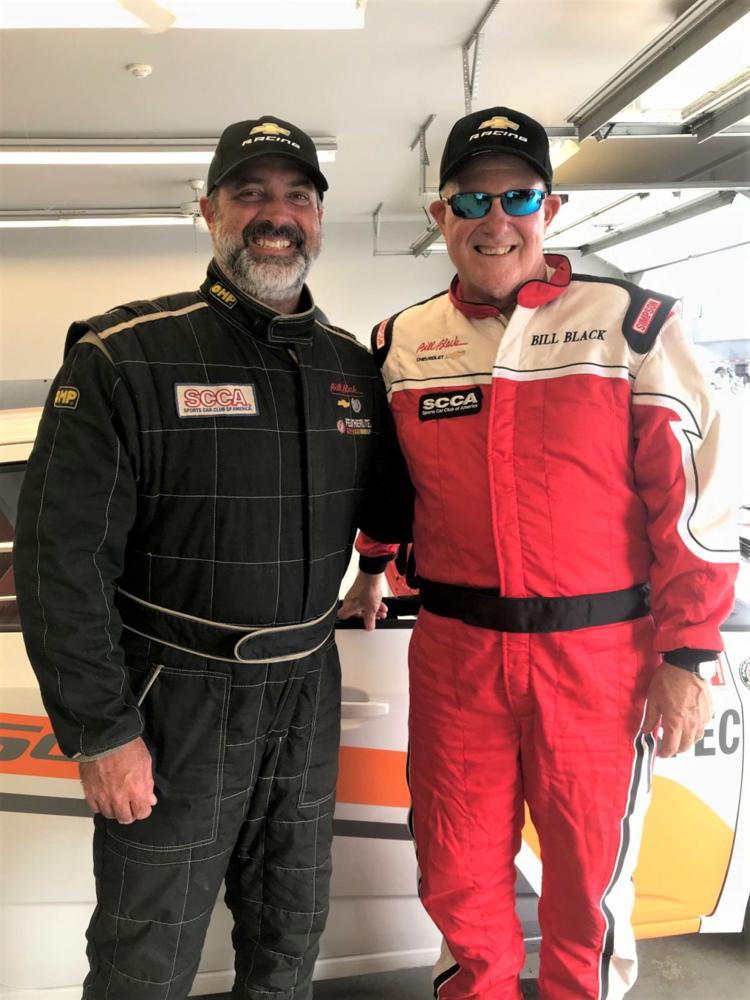 The sport has taken them all over the country, to tracks from here to California, and while Black is getting up there in age, at least for a race-car driver, he's not looking to slow down anytime soon.
"I'm old enough to know better," he said. "But I'm not the only one. Paul Newman made it past 80. I'll keep doing it until they take my keys. As long as it's still fun."
The Runoffs are the crown jewel of the SCCA season, a club that started in 1944 and is still a thriving road racing tour for amateur racers. More than 7,000 people are competing members of SCCA in various forms of road racing, rallies and race programs designed for "part-time" racers.
That would be Black, who owns well-known car dealerships in Greensboro. Ever since VIR re-opened in 2000 after sitting fallow for 25 years, Black has been taking cars about an hour up the road to the track in the middle of nowhere, just to drive fast.
"We're kind of spoiled," he said. "Sometimes, we just take a car right off the lot and go up and test it."
Sunday, he will test himself against 27 other drivers in the B Spec class, basically a showroom stock class for sedans, cars right off the lot, so to speak. Drivers compete in cars such as the Ford Fiesta and Mini Cooper, Toyota Yaris and Black's car of choice, the Chevy Sonic.
"It's the econo box class," he said. "It's a growing class, no engine modifications, just throw a roll cage on it and add some safety modifications, and you're good to go."
"Fifteen laps or 40 minutes," Black said. "Winner take all. Win the race, and win the national championship."
NASCAR should take notice.
Since the Runoffs have never been there, and since rain hampered the event when the tour stopped at VIR last spring, a lot of the drivers had never raced on the sprawling layout, which can be altered according to cars and drivers. It's some 4.2 miles long with 28 turns in its "grand design," and the corners and curves have names like "Horse Shoe" and "Snake," "Spiral" and "NASCAR Bend," the latter from back in the days when the old Trans Am series would go to VIR with drivers such as Richard Petty and Danville legend Wendell Scott.
Some of the corners have nicknames not suitable for print.
There are no big names there this week. SCCA isn't a star-studded industry but an outlet for men who will forever be boys. And a few women, too. A lot of them are from around here, maybe a dozen from Greensboro and Winston-Salem and surrounding areas.
VIR is a busy place, and the scene this week has been wild with the Runoffs here after such a long wait and all the racing fans and curious onlookers from the region.
"It's just beautiful up here," said Jim Llewellyn, an SCCA official. "Blue skies and light clouds, cars and spectators on the hillsides, paddocks filled with entries, tons of motion, tons of color and every kind of car you can imagine."
There will be one race after another this weekend, a constant blur of action and noise.
"Everywhere you look," Llewellyn said. "Corvettes, Porches, MGs, formula cars, everything except a Tesla. There's lots of color, lots to eat, lots of people to talk to. This is a great event."
Bill Black will be right in the middle of it, 71 years old and still chasing a dream strapped into a Chevy Sonic that he could easily be back on Bessemer Avenue trying to sell. Racing it, he said, is a whole lot more fun.
And he has no plans to slow down.