CHARLOTTE — Most of the workouts were held behind closed doors, only players and coaches allowed inside the Charlotte Hornets' practice gym at the Spectrum Center.
But it was clear Francis Alonso gave it everything he had.
The blood from a small cut on the inside of his lower lip, right below a sharp incisor tooth, was a dead giveaway. The 22-year-old Spaniard, who graduated as UNCG's No. 2 all-time scorer, had indeed played hard.
As if there were any doubt.
"Whereever they want me to be, whatever they want me to do," Alsonso said, "I'll be there giving my best."
Alonso was among six players invited to a workout in Charlotte this morning, as the Hornets continue scouting in the run-up to the NBA Draft. The buzz among those who watched the workout was that the 6-foot-3 Alonso held his own against 6-9 Kansas alum Dedric Lawson in spirited three-on-three scrimmages.
"This is something to add to the resumé," Alonso said. "In the business, that's always something that will help down the line. But I really want to put more emphasis on the personal experience and how great this could be for me as a player, just to be in this environment getting some extra knowledge from NBA guys."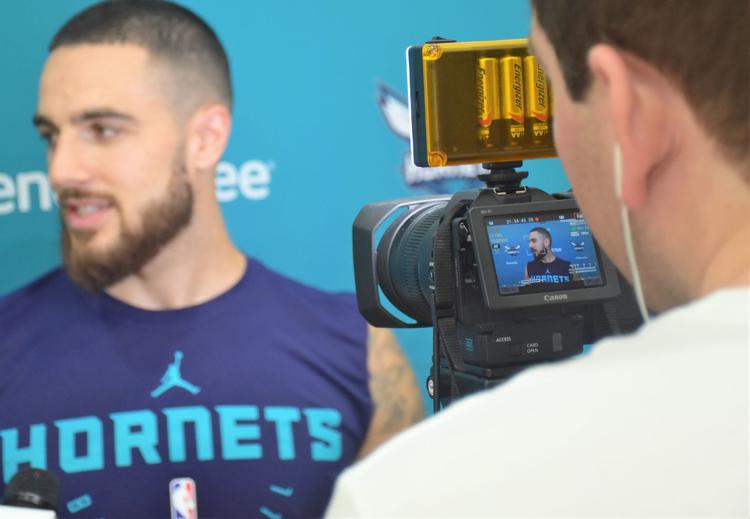 It was the first NBA workout for Alonso, who signed with BDA Sports Management after his final season at UNCG ended with a loss to Lipscomb in the NIT.
Alonso moved to Santa Barbara, Calif., to train at P3 Peak Performance. It's not far from his apartment to the Pacific coast, and it reminds him a little of his Málaga home on Spain's Costa del Sol, where he grew up the youngest son of pro basketball coach Paco Alonso.
He had to miss UNCG's graduation ceremony May 10 to chase the basketball career he's dreamed for as long as he can remember.
"As soon as I figured out the schedule this month of May, I knew it was crazy," Alonso said. "I immediately went to Santa Barbara and starting competing and working, getting ready for this month. I'm having my pro day with BDA on the 28th at UCLA. I have some other possible workouts and some other training camps. I've been getting ready for that, too."
Alonso will play professionally. That's a given. The only question is where. Will an NBA team take a chance on him? Or will he return to his European roots?
He has a marketable skill: an accurate jump shot with NBA range and a quick release.
Alonso shattered UNCG's career three-point shooting record, making 396 in four seasons and shooting 40.5 percent from beyond the arc. He's the best free-throw shooter in school history, the all-time leader in games played and starts.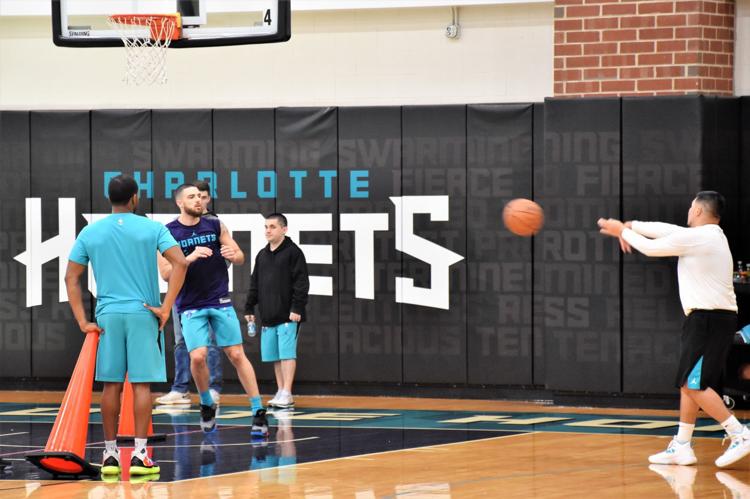 "Over the past four years, I've showed that whatever position you want me to play, I'll do my best," Alonso said. "If you want me to be a sharpshooter coming off screens, I can do that. If you want me with the ball, reading and making decisions like I did in Spain, I can do that. If you want me to be a guy to lead the charge … I'll do that as well. That's why this summer for me is a big one."
This summer should answer some scouts' questions. Is he quick enough to play in the NBA? Can he guard an NBA opponent? Will an NBA team take a chance on him?
"At the end of the day, it's not up to me," Alonso said. "It's going to be up to someone else. But I can show my work ethic and do whatever the top guys want me to do.
"I don't know. I really don't. But just give me an opportunity to go out there and prove myself, and I will give you the best I've got. I came out here today with the right attitude. I'm a player who focuses on making the team better, making my teammates better. As long as I keep coming to work with this type of attitude, I know things are going to go well for me."
For now, at least, Alonso is chasing NBA dreams. He's built his summer around trying to impress The League, hoping for more workouts. The next big date is the BDA Pro Day at UCLA on May 28. And then …
"The list hasn't come out yet, but there's also NBA Global Camp in Monaco on the 29th," Alonso said. "After that, I might have a (NBA) training camp. The feedback from the coaches is really valuable, just to see where you are at so you can keep working. This summer is all about getting ready — no matter what comes next."