The game ended, and the team walked off the floor dejected and mad. Randy Tuggle watched them as they walked down the stairs to the locker room. Then he pulled out his cell phone.
Tuggle followed his players downstairs, saw them limping, some bleeding, but not one player for the Greensboro College women's basketball team had her head down.
"We just don't do that," senior Katie Lewis said.
This has been a long season for the Pride, which plays in the USA South Tournament next week in what could be the end of the year for Tuggle and his team.
But it's just the beginning of a long fight ahead for the coach.
Tuggle has pancreatic cancer, a deadly form of the disease that killed 45,000 of the 57,000 people diagnosed with it last year. The only treatments are chemo, radiation and surgery, though there are clinical trials and experimental drugs and procedures both in the U.S. and abroad.
Tuggle, who was diagnosed last February, said he's willing to try anything and everything.
"I'm not slowing down," he said. "We're going to fight and never stop fighting."
'It's been a blessing for me'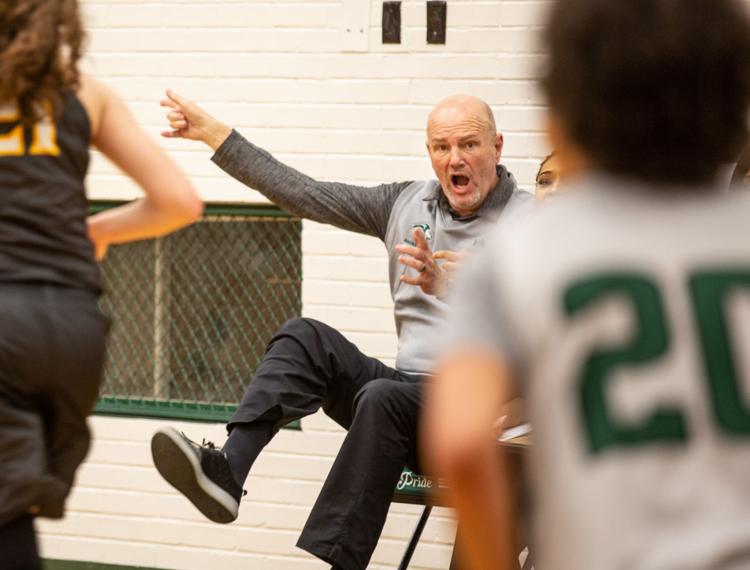 His team is close, closer than most basketball teams. Several of his players from basketball and women's golf at Greensboro College were actually with him when he got the news last year.
Since then, the days and nights have been a struggle for the coach, his family and his team. And if he's learned anything from all of this it's that they're all one and the same.
"I've said this a number of times, but as much as I don't want cancer, it's been a blessing for me," Tuggle, 61, said. "God has shown me that what I've done in my life has made an impact and people still want to be around me. They tell me 'Keep going,' and I know if I don't keep going, these people are going to kick my butt."
The Pride has had a good season. Despite having to juggle chemo and basketball, Tuggle has missed only one game. His team is 14-9 overall, 10-5 in the USA South going into its regular-season finale Saturday at William Peace. And while there have been bad days and bad nights, Tuggle has continued to coach without complaint, without putting his head down.
"We don't do that," he said.
Pancreatic cancer is an insidious disease, a quiet and aggressive form of cancer that often isn't diagnosed until too late. Dr. Boris Pasche, the director of the Comprehensive Cancer Center at Wake Forest Baptist Hospital in Winston-Salem, said there is no known cause for the majority of cases.
"Pancreatic cancer is an increasingly common type of tumor," he said. "The only known risk factors are smoking, obesity, chronic irritation of the pancreas (chronic pancreatitis) and certain genes that predispose someone to the development of pancreatic cancer. The symptoms are not specific and include weight loss, abdominal pain, new onset of diabetes and jaundice. Treatment options include surgery, radiation therapy and chemotherapy. Life expectancy depends on the disease stage at diagnosis. The smaller the tumor at diagnosis, the better the outcome."
Tuggle said he just had stomach pain that wouldn't go away.
"One of the things about pancreatic cancer, people hear it and they're like 'Oh no,' because you don't find out about pancreatic cancer until it's stage three, or more times stage four because there's nothing that tells you or even the doctor to check it," Tuggle said. "I was lucky because I was having some stomach pain. And they went in and found a clot, and they put a stint in and found a tumor on my pancreas. So that was a year ago, and here we are."
True to his word
Tuggle is careful to express himself in ways people won't take the wrong way, but he believes God has a purpose for him that somehow involves this fight.
"The Lord's with me. I really believe that, and I trust him," he said. "Just like I tell the doctors, I trust them, whatever they think is best for me, we just go with it. And along the way, I've kept trying my best to be the coach all the time, because that keeps me from thinking about something else."
Lewis, a senior guard from Pleasant Garden, said Tuggle has been an inspiration for the players, who in turn have tried to inspire him.
"We have a great guy for a coach," she said. "I've got a lot of respect for him. With all he's got going on in his life, he stays true to his word, coming to practice and games and supporting us even though we all know he's going through tough times. We try to help him out, to keep his mind off of things."
Sophomore guard Nichelle Jeffries, from Greensboro, said Tuggle has turned the team into a family and has made his own family part of the program.
"We really are a family," she said. "When one person gets down, the others are there to pick her up. If you drop your head, the rest of the team makes sure you get it up. We can tell when he's down. He can tell when we're down. And that's what this team is all about. With all he's going through, we're just trying to lift everybody up together and to make sure he's here for us, and we're here for him."
Tuggle has more chemo scheduled for sometime after basketball ends. And then there's the unknown. Surgery is not an option. The disease has spread, and that has Tuggle, his family and his doctors considering other alternatives.
Pasche said there's "a promising new drug for advanced pancreatic cancer" that is currently being tested in clinical trials at Wake.
"I'll keep battling," Tuggle said. "We're willing to do anything to, worst case, prolong it as long as we can. I've got a beautiful wife of 38 years, a son, a daughter, and two grandchildren, Ella and Kennedy, and I want to be around for them."
Win the games, win the battle
And people around him want Tuggle to be here for them, too.
"I have kids who are always coming around checking on me, former players, former coaches, former managers," he said. "They'll show up for our games and our practices. They'll even come by the office and say 'Hey Coach, what are you doing for lunch?' And I'll say 'I don't know, but you're buying.'
"I felt my family was pretty tight, but oh man. And you think you have friends – I had no idea. We woke up one Saturday morning and heard something outside, so I went out to see what was happening and there were 10 families from our church out there blowing the leaves off my lawn. Then some of them came in with breakfast for us. They inspired me. I could sit back and lay in bed all day, and they'd do everything for me. But that's not what I do."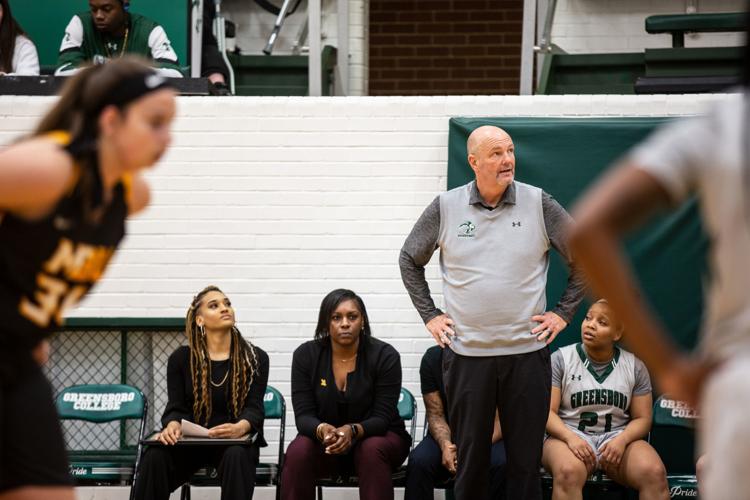 Tuggle's team has grown this season, and a Greensboro College women's game is like a reunion sometimes. He's surrounded by people who genuinely care.
And while his larger goal is to beat cancer and be there for his grandkids, his immediate goal is to win basketball games. His family is part of that, too.
His wife, Susan, battled breast cancer eight years ago and beat it.
"She's my rock," Tuggle said. "I get a text from her every 30 minutes. 'How are you feeling? Be honest with me, Randy. Be honest. Tell me how's it going. Are you really feeling good, or are you just telling me that?'"
His daughter, Lauren, is the one asking about basketball.
"She's usually the one texting her during the games," Tuggle said. "I have to keep the phone on silent, but as soon as the game ends, I have messages from her asking 'Why did you play that? Why didn't you play this?'"
He's heard from former teammates from his days at UNCG, from former business associates from when he worked in real estate and mortgage loans, from childhood friends and fellow coaches. He's heard from people he doesn't even know, people who just want to reach out and make sure he's doing OK and not question why he went zone against Mary Baldwin.
"He's a great man," Lewis said. "He's our inspiration and our rock. And we'll do anything for him because he's been there for us, no matter what."
They don't complain at Greensboro College. They don't whine. They don't admit to aches and pains. They play hard for their coach and they never look down.