GREENSBORO — Right now, Will Jones is a real coach in a virtual world.
Jones has been N.C. A&T basketball's interim head coach since late December, taking over when Jay Joyner was suspended for reasons no one at the university will discuss other than to call it "an ongoing personnel matter."
Under Jones, the Aggies went 14-5, finished second in the MEAC (12-4) and saw their season abruptly cut short by the coronavirus pandemic after a quarterfinal victory in the MEAC Tournament.
Jones was voted the MEAC's coach of the year.
But he still has an interim tag.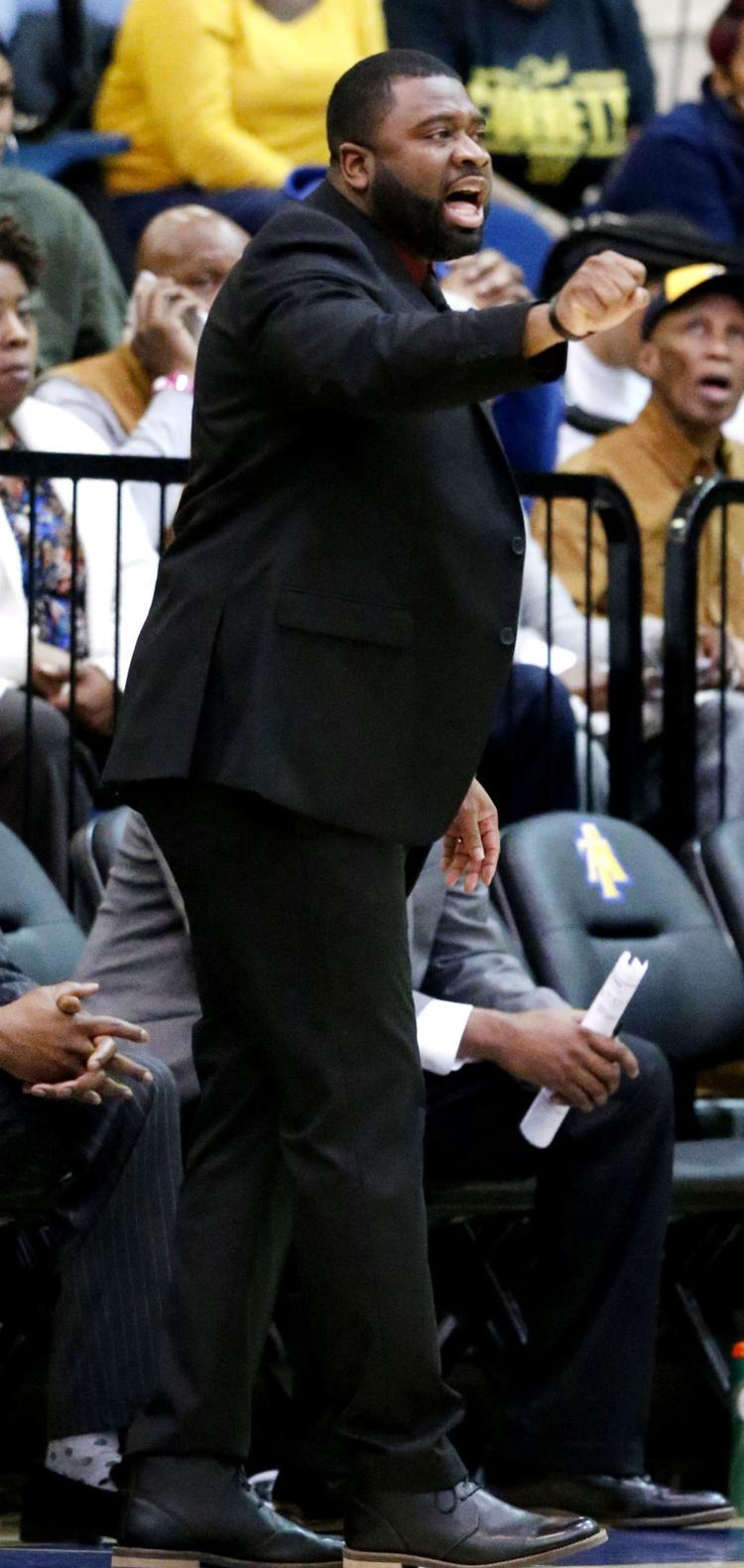 You'd think that would make recruiting difficult, even before the pandemic. Yet this week, A&T has been announcing a five-player recruiting class one piece at a time on social media.
"I haven't had any issues with the interim tag, man," Jones said by phone from his home. "One of the things that's a testament to what we've done since December is we haven't had anybody want to leave the program. We haven't had a bunch of guys in the transfer portal. From the outside looking in, you can see we ended on a strong note and there's no issues around the program.
"Because a lot of times when you have an interim coach, there's something lacking. Either you didn't win a lot of games, or the program's not in a good place, or the players are unhappy. You have questions from the outside. But with our situation, guys are looking in at it and seeing how fun things were, see our record, see success."
True. A&T was back in the MEAC semifinals when the season stopped, and the Aggies landed both point guard Kam Langley and forward Ron Jackson on the All-MEAC first team.
The Aggies also led the league in home attendance by a wide margin.
All that has helped Jones recruit.
"The virus has definitely put some schools behind," Jones said. "We were blessed to already be on some (recruits) before everything shut down. Once things shut down, if you're trying to establish relationships with kids that you've never had dealings with before, then it's really tough. What we've been doing is a lot of Zoom meetings, and those turn into virtual official visits. We try to let (recruits) meet people through Zoom, whether it be our academic people or our athletics director. We try to give them a snapshot of what campus looks like. You give them as much information as possible."
In the end, Jones said, it comes down to trust.
Recruits aren't able to visit campus. But Jones and his coaches aren't able spend time with those recruits on those canceled visits, either.
"It comes down to relationships," Jones said. "… I tell them, 'I'm trusting you, trusting your character.' And the player is trusting me, that I have his best interests at heart. So it ends up being a trade-off. And trust, for me, is the biggest thing we're talking about with our recruits. 'Hey, man, listen. I've seen enough of the basketball and talked to as many people as I can around your circle. They all say you're a good person. I want to invite you into our program because you're a good person.' That's the basis of what we've been doing as a staff."
The result has been a class led by point guard Blake Harris, a transfer from N.C. State who arrives with two years of eligibility remaining. The 6-foot-3 Harris sat out last season after playing 30 games off the bench as a sophomore for the Wolfpack in 2018-19.
A&T also adds 6-3 combo guard Milton Matthews, a high school player from the Washington D.C. suburbs, and two junior college players, 6-8 power forward Quentin Jones and 6-5 small forward Jeremy Robinson. Tyler Jones, a 6-8 shot blocker from Md.-Eastern Shore, will sit out this year as a transfer.
"We addressed some needs, and we may not quite be done at this point," Jones said. "… Character is what it's all about. If you have a bunch of talented players, but they don't care for each other, they just think it's all about them and don't have the mindset that we're all in this together, man, it's not going to work. You might win some games. But you're not going to reach your full potential. Because when things get hard, they're not going to bind together as one."
And so Will Jones moves ahead, the interim tag still there, as A&T sorts out its basketball future.
"From my perspective, everything's a go," Jones said. "That's how I address the day every day. Earl (Hilton, A&T's athletics director) told me to take control of the program, and that's what I do. He hasn't limited me from doing anything, from scheduling, from recruiting, from academics. Until they tell me otherwise, I'm in charge."