NORFOLK, Va. — A&T's football team established itself as environmentally friendly today.
The Aggies scored on one-play drives covering 67, 68, 68 and 28 yards and had a two-play 36-yard possession for a touchdown and one of 51 yards in five plays in their 58-19 win at Norfolk State.
"I don't like those," said Aggies coach Sam Washington. "I prefer to eat up the clock in the process of scoring. But I'll take a one-play score over no score."
Jah-Maine Martin made two long-distance end zone calls. He scored on a 68-yard run, leaving two defenders in his wake, and a 67-yard run, juking Norfolk State's Nhyre' Quinerly on the Spartans 30. Martin also ran 34 yards to the 2, then stepped into the end zone on the next play.
"I take pride in that," Martin said of outrunning defensive backs in the open field. "I can't get caught from behind."
How fast is he? Martin said he had never run the 40-yard dash against the clock, the metric used to evaluate football speed.
"I was always injured when it was time to run it," he said.
Martin, who leads the MEAC in rushing with 742 yards in five games, finished with 199 yards in only 10 carries Saturday. He carried only once in the second half. His yardage led that of a group of eight A&T ball carriers who amassed 410 yards on the ground.
"I was expecting to be able to tackle Jah-Maine Martin at least once; we didn't get that done," said Norfolk State coach Latrell Scott after A&T had scored more points in a game against the Spartans than ever in their history in the MEAC together.
The impact of the one-play drives was clear. After Norfolk State (0-2 MEAC, 1-5 overall) scored twice to open the third quarter, shortening the A&T (2-0, 4-1) lead to 37-16, Kylil Carter found Zachary Leslie open for a 68-yard score to restore order.
"Everybody gets excited, feeding off the energy," Martin said. "(The defense) thinks they can hang with you, but one play can crush your dreams."
The game also featured yet another Elijah Bell receiving record. His 6-yard catch six minutes into the game was his 173rd with the Aggies, separating himself from a three-way tie with Herbert Harrison (1983-86) and Wallace Miles (2008-11) for the school record. Bell added two more catches and finished with 65 yards. He already owns the school yardage record, which he stretched to 2,513 yards.
"It means a lot," Bell said. "When you commit to a school, you want to come in and be able to make something happen for your team. Being able to do it for four years means a lot to me."
When A&T raced out to a 37-9 halftime lead, Washington's concerns were quelled.
"I didn't foresee 58 points," the coach said. "I thought we could score. I felt pretty good about us scoring on them. The question mark was them scoring on us.
"When our offense is going well, it's going well. When it's not, it's not."
His concerns were thwarted by an Aggies defense that held Norfolk State to 101 rushing yards, though Spartan quarterback Juwan Carter did throw for 252 yards. He also threw three interceptions, one of which set up Martin's first touchdown and another of which was picked off by Alex Fumbah on the A&T goal line when the issue was still in doubt.
Washington's primary concern in the wake of the big win was seven penalties, costing 71 yards. On one third-quarter play, Norfolk State's Carter was sacked for a 10-yard loss, back to the Aggies 45. But A&T's Jacob Roberts was assessed an unsportsmanlike conduct penalty for ripping a helmet off an opponent's head, and the Spartans continued their march to touchdown.
The Aggies will be off next weekend, and Washington said time in practice would be spent correcting on-field discipline issues.
In the end, "it was a big statement game," said A&T's Bell. "Our offense was being questioned before the MEAC (season began). We've scored about 100 points in the last two games (actually 95 in wins over Norfolk State and Delaware State). That's a big statement for us."
---
NORFOLK, Va. — Jah-Maine Martin rushed for 199 yards, including scoring runs of 67 and 68 yards, on just 10 carries, and the A&T football team routed Norfolk State 58-19 this afternoon.
A&T, which moves to 2-0 in the Mid-Eastern Athletic Conference and 4-1 overall, will have an open date on Saturday. A&T is ranked No. 15 in the STATS FCS poll and No. 16 in the FCS Coaches Poll.
Martin has rushed for 742 yards in A&T's five games, an average of 148.4 per game. In accumulating his total on 80 carries, Martin is averaging 9.3 yards per carry.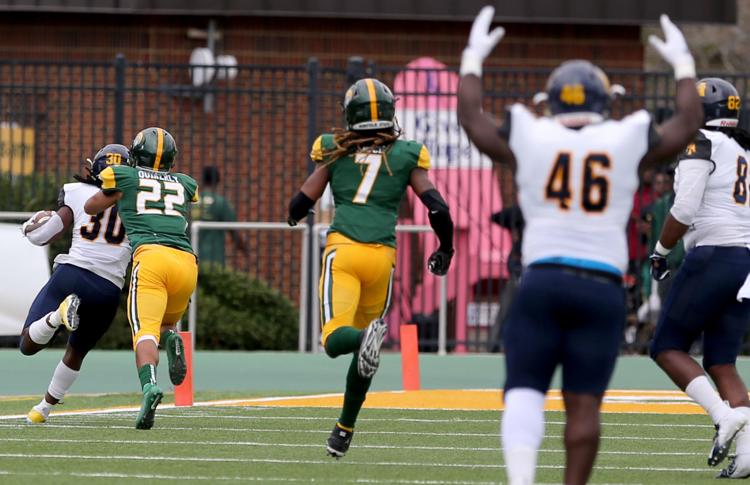 Martin entered the game ranked No. 5 in rushing yards in FCS. Martin led the nation with eight touchdowns and added three more today, also scoring on a 2-yarder for A&T's first points less than three minutes into the game.
Martin, a redshirt junior from Conway, S.C., now has five touchdown runs of 65 yards or more in 2019. He had TD runs of 66 yards against Duke and of 84 and 76 yards against Charleston Southern. Martin's three TDs against Delaware State came on runs 24, 28 and 33 yards.
Senior receiver Elijah Bell became the school's all-time leading receiver in number of catches. He entered the game with 172, tied with Herbert Harbison (1983-86) and Wallace Miles (2008-11), and Bell made three catches against Norfolk State for 65 yards.
A&T finished the game with 594 total yards, including 410 rushing. A&T ran for 281 yards in the first half against the Spartans and led 37-9 at the break.
Reserve running back Kashon Baker carried 14 times for 99 yards and a touchdown.
Quarterback Kylil Carter threw for 176 yards and rushed for 66 more.