GREENSBORO — Take a good, long look. Better yet, DVR the game on Saturday and make sure there's space to keep it.
Because, win or lose, this could be the best senior class we've seen in the N.C. A&T football program.
The No. 11 Aggies (9-2) play Alcorn State (9-3) in the fourth annual Celebration Bowl in Atlanta at noon Saturday. The game on ABC, a matchup of MEAC and SWAC champions, crowns an HBCU national champion and kicks off college football's bowl season.
It's a game these A&T seniors know well. They played on teams that won two of the first three.
They've also been to the FCS playoffs once, losing at Richmond in 2016 when injuries to key players short-circuited their stretch run.
That makes this is the fourth consecutive postseason game for these seniors, a first in A&T's football history.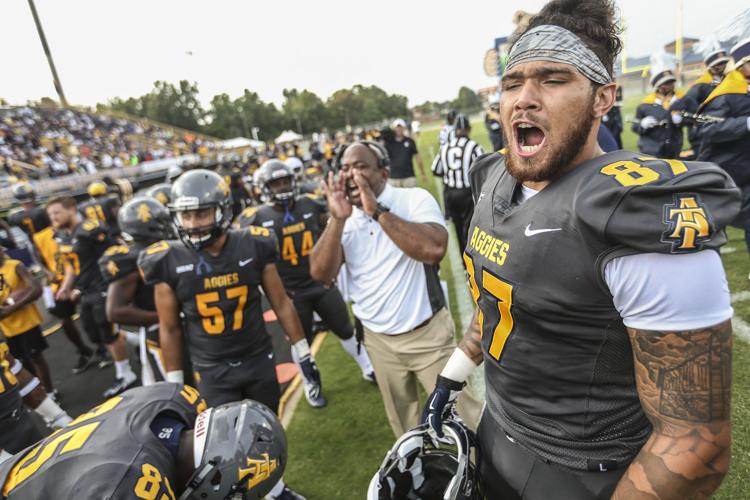 "Some people never get to go to a postseason game. We're going to our fourth," senior defensive end Sam Blue says. "We've won 40 games in four years. That says a lot about how hard we work, about a legacy, about the standard we're trying to set here. It's not just this senior class, but everybody on this team has bought in. We want people coming in to know how things are done here and for them to keep it going once we're gone."
Accolades
These seniors, 21 of them, have set a high standard.
They're 40-7 overall, and one more victory would pass last season's 40-win senior class for the most in school history. They're 3-2 in so-called "guarantee games," money-makers played at higher-division FBS teams, winning at Kent State, UNC-Charlotte and East Carolina.
They've been ranked nationally in the FCS Coaches' Poll for 48 consecutive weeks.
And they've won championships. Three MEAC titles — one shared, two outright — and two black college national titles, with a third on the line Saturday.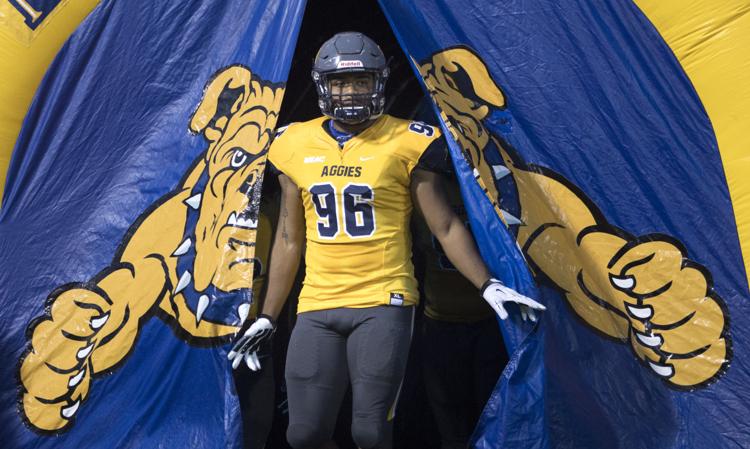 "I've got four rings now and one on order," Blue says, one gaudy ring covering the fourth finger of his right hand from knuckle to joint. "I'm counting it already as five, and I want that sixth. It shows a lot about the winning tradition here. We're able to get after it year in and year out. It shows what we're building, what we're headed toward."
It's a program built on players.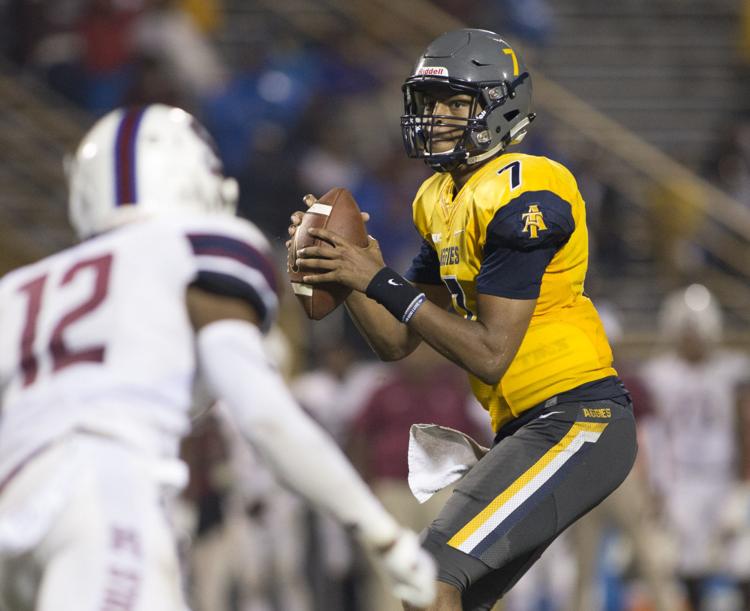 The seniors on the roster include quarterback Lamar Raynard, last year's MEAC player of the year; left guard Micah Shaw, this year's MEAC offensive lineman of the year; and running back Marquell Cartwright, a two-time 1,000-yard rusher and last year's Celebration Bowl MVP.
"The way we carry ourselves means something," says Cartwright, the power runner from High Point, "and this whole senior class carried ourselves with a modus to be successful. We've matured together, and learned to be successful on the football field and in life."
On the other side of the ball, All-MEAC seniors include cornerback Timadre Abram, defensive tackle Julian McKnight and kick returner Malik Wilson.
Shaw, Wilson and linebacker Deion Jones were all freshman starters in the first Celebration Bowl. All three remain starters as seniors.
"This time does feel kind of different, simply because it's our last season," says Wilson, the speedy senior from Burlington who has TD kick returns of 98, 99 and 100 yards this year. "We want to go out with a bang. We owe it to ourselves to go out victorious. We were looking forward to another undefeated season, but some things fall short. Coming into this last game, we don't want to fall short at this. We're here to win."
Promises kept
That's something recruiters promised these A&T seniors back when they were high school seniors.
A&T had turned a corner under Coach Rod Broadway, but the Aggies weren't great yet. It was a good program, an improving team when this season's seniors were being recruited.
Sam Washington was the defensive coordinator and associate coach then. Now he's wrapping up his first season as the head coach with players he helped recruit.
"There were a few of them we were surprised to get as recruits," Washington says. "You start with Lamar Raynard and Marquell Cartwright. I was shocked those two guys were still available. Same thing with (safety) Jamaal Darden, because, man, that kid can play. We were tickled pink a lot of those guys were even available. They bought in and believed in what we were doing. Look where they are now."
They're a family now, Wilson says, something he never imagined when he arrived on campus.
"We've come together as one, bonded as brothers," Wilson says. "None of us takes it for granted. The majority of this senior class, we didn't have many (scholarship) offers. A&T stuck their neck out for us and gave us an opportunity to keep playing the game we love. We've established ourselves, and we want to leave our mark on this program."
A&T has a knack for finding players others miss, a reputation that started during Broadway's tenure with an undersized running back named Tarik Cohen and a skinny offensive tackle named Brandon Parker.
For both of those NFL-caliber players, the Aggies gave them their only scholarship offers. It's the same with several of this year's seniors.
"In high school, pretty much every football player coming up wants to go to a big-time school, dreams of playing in the ACC or SEC," Cartwright says. "But that doesn't work for everyone, and you've got to realize a smaller school can be a blessing. N.C. A&T was perfect for me. I felt so comfortable here from the first day I was on campus. I looked around and I believed in the future this team will be a great team. … And they wanted me. They gave me a scholarship to pay for my education. That's a great thing."
And in the end, that's the point.
"(Recruiting) some of them was tough, and some of them were not as tough to get here," Washington says. "One thing we did tell them all: 'If you come and you buy in, you will win.' There's two things we promised every one of them. You'll win, and you'll leave here with a degree. We kept our word."
That's true: 13 of the 21 seniors on A&T's roster already hold undergraduate degrees. Eight graduated last spring, and five more walked one week before the bowl game.
The rest, Washington says, are on pace to graduate in May.
"The one thing I'm most proud of is they all graduated. You see what I'm saying? That's the legacy," Washington says. "They graduated. And I'm talking early for a lot of them. Eight of them already had a degree when the season started, and more of them just graduated Saturday. That's very rewarding for me. Very rewarding. And it's a testament to who they are."