GREENSBORO — The workload has increased, and that's just fine with Jah-Maine Martin.
Martin rushed for 299 yards and two touchdowns on 25 carries in No. 17 N.C. A&T's 27-21 victory at Charleston Southern on Saturday, a big night that earned him national honors as the STATS FCS offensive player of the week.
It's the third-most rushing yards in a single game in the 95 years A&T has played football, and the most since Tarik Cohen (now with the Chicago Bears) ran 22 times for 295 yards and three TDs in the 2015 Celebration Bowl.
Maurice Hicks, another A&T tailback who like Cohen went on to the NFL, holds the top two spots on the Aggies' all-time list. Hicks rushed for an FBS-record 437 yards on 34 carries at Morgan State in 2001, and he rolled up 353 yards against South Carolina State in 2000.
"The running back," Martin said moments after the game, "has to be the spark plug of the offense."
Martin has done that this season for A&T (2-1), which has an open date this week. The Aggies are off until Sept. 26, a made-for-TV Thursday night game at home against Delaware State.
Martin leads the nation with 435 rushing yards on 56 carries, and his 7.77 yards-per-carry average ranks third in FCS.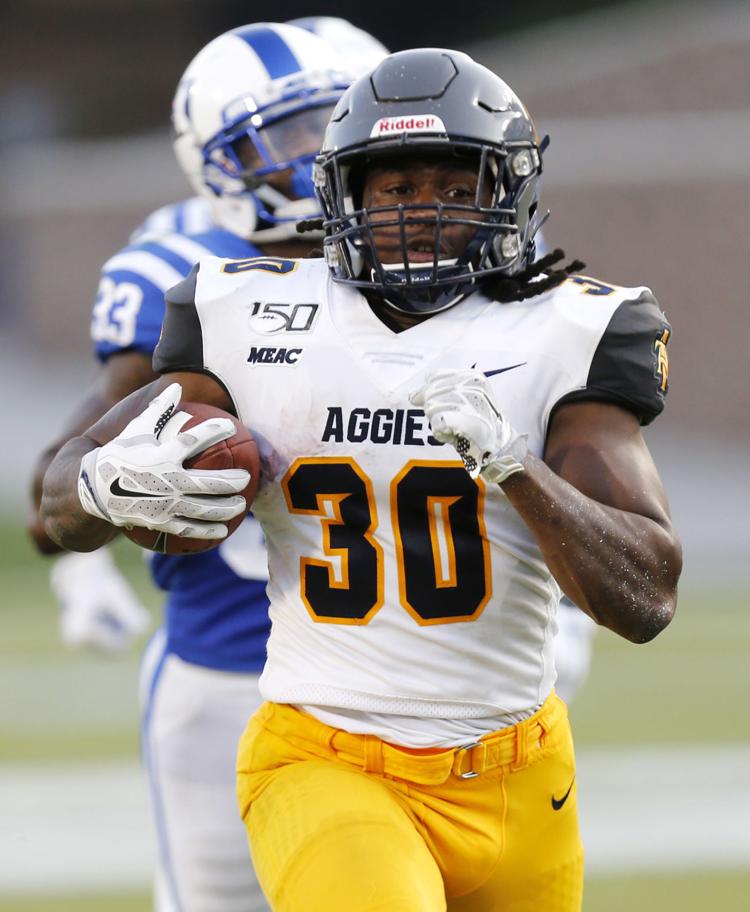 He has scored four touchdowns on inside runs of 1 (vs. Elon), 66 (at Duke), 84 and 76 yards. The last two were game-changers at Charleston Southern.
And both were on similar counter plays, with quarterback Kylil Carter and Martin alone in the backfield. Both times, Martin took handoffs and followed his left guard, De'Jour Simpson, who pulled around to the right and put crushing blocks on All-Big South linebacker J.D. Sosebee.
"They're some big, strong guys on our O-line," Martin said. "I enjoy playing behind those guys. You get in front of them, they're going to put their hands on you, and you're going to get knocked away."
Once through the line and past Sosebee, Martin outran free safety Cody Cline, the Buccaneers' leading tackler.
The first long TD run, with 14:06 left in the game, allowed A&T to tie the score at 14 when Carter hit Elijah Bell for a two-point conversion.
The second TD run was even more impressive, as Martin eluded five tacklers on his way to the end zone, either slipping arm-tackle attempts or making them miss altogether. It pushed A&T's lead to 27-14 with 5:27 left.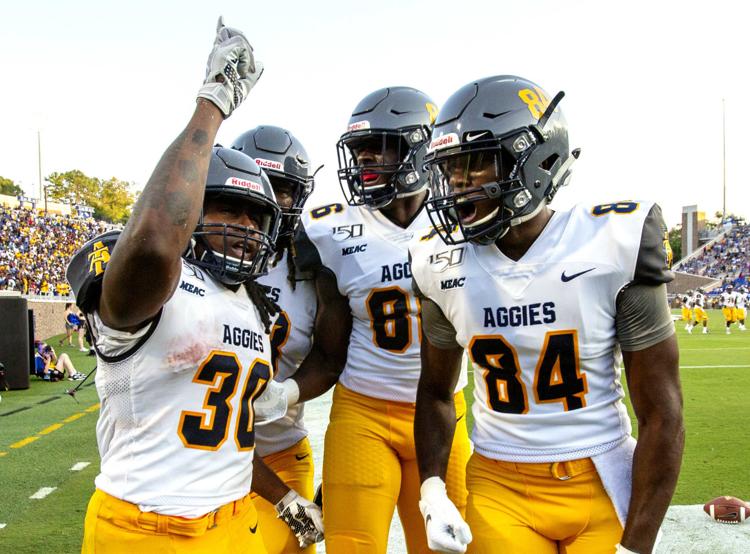 Martin was the change-of-pace running back in last year's offense, a backup to power-running Marquell Cartwright.
Cartwright was an All-MEAC first-team pick. But Martin, who averaged just 8.1 carries per game, was the All-MEAC third-team running back. His 6.7 yards per carry gave a glimpse of what was to come this season.
"It's definitely a difference (being the starter)," Martin said. "There are more carries. I'm grateful. I asked for this. I like this role."
Martin has averaged 20 touches per game, and he's on pace to give A&T a 1,000-yard rusher for the seventh consecutive season.
Running backs have been the bedrock of A&T's offense forever, with nine players in the program's history accounting for 20 games of 200-plus rushing yards.
Now that list includes the 5-foot-10, 203-pound Martin.
"We've got so much talent at receiver, running back, quarterback, the O-line," Martin said. "All we've got to do is get everyone on the same page … and there ain't no telling what we could do."