GREENSBORO — Basketball practice starts today for the N.C. A&T men's team, which reinvents itself for the third year in a row.
This time last year, the Aggies needed to replace four of their top five scorers from the previous season's 20-win team. This year, they must replace their top four off last season's 19-13 MEAC runner-up team.
But as a new season begins, there is plenty of optimism around the Aggies based on deep recruiting class and two NCAA Division I transfers.
Here are five things to know about A&T.
They're gone
Everyone who averaged 8.0 points or more per game last season is gone. So, too, are four of the five players who started more than 10 games.
Maybe the hardest to replace is big man Ibrahim Sylla, a true center who averaged 8.2 points but more importantly was A&T's top rebounder and shot-blocker.
The other key losses are guards. Terry Harris was A&T's top three-point shooter, and Qua Copeland its leading scorer. Malik Gantz was a slasher who provided instant offense, and Aaren Edmead played a key role in the program's turnaround.
The Aggies will miss the leadership of Amari Hamilton, who spent five years in the program, the ultimate role player who was there for the brutal 3-29 season and the turnaround to 20- and 19-win seasons.
They're back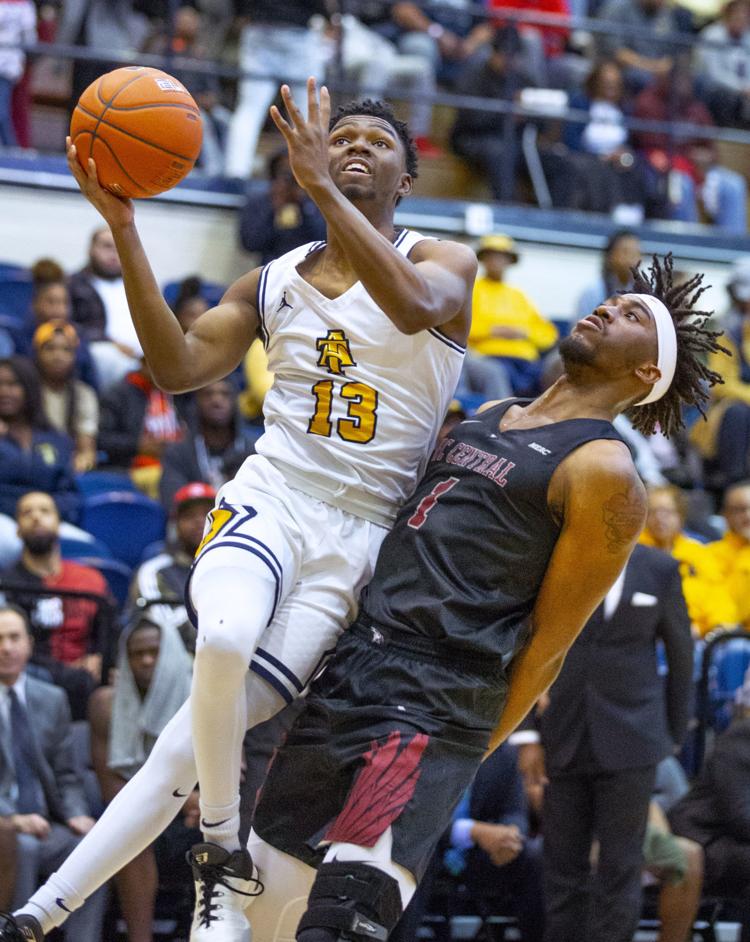 Junior point guard Kam Langley is the key to everything A&T does. The 6-foot-2 playmaker averaged just 7.1 points, but his value goes beyond scoring. He makes the players around him better. Langley averaged a MEAC-best 6.5 assists last season, setting an A&T school record with 208. He also led the team with 49 steals.
Ron Jackson, a 6-foot-8 senior forward, emerged as a scorer and rebounder down the stretch last season, averaging a team-best 9.5 points in conference games.
Senior guard Andre Jackson and 6-6 sophomore forward Tyrone Lyons were key contributors, combining to average 7.0 points in 20 minutes off the bench.
They're new
Transfer Kwe Parker figures to make an immediate impact. A 6-foot junior guard who starred at High Point Wesleyan with Harry Giles, Parker chose Tennessee out of high school. The fit was wrong, and he struggled to get playing time.
Another transfer, 6-2 guard Tyler Maye, averaged 1.4 points in 7.4 minutes off the bench in one season at VCU. He was a first-team All-State player at Farmville as a high school senior, averaging 36.0 points his senior year.
Five freshmen in this year's recruiting class include some intriguing prospects, none bigger than 6-foot-11 Harry Morrice of Scotland, who was a high school player in West Virginia at Beckley Prep.
Good games
The non-conference schedule features a highly anticipated opener Nov. 5 against UNCG at the Greensboro Coliseum, as the crosstown schools renew a good rivalry. The home opener at Club Corbett comes three nights later against Charleston Southern.
Eleven of A&T's non-conference games are on the road, most of them money-making guarantee games including stops at Wake Forest, at Illinois and at Bradley in December. The Aggies play in two tournaments, at the Jamaica Classic and at Texas-El Paso.
"When you're putting together a non-conference schedule you always have the conference schedule in mind," A&T coach Jay Joyner said. "Who are the competitive teams across the country with styles that are going to get us ready for conference play? My staff did a great job of finding teams who are going to test us and get us prepared to do well in the MEAC."
The Aggies are 23-2 at the Corbett Center the last two seasons. They've won 10 in a row at home, one of 14 NCAA Division I teams with an active winning streak of 10 or more games.
Coaching
Joyner begins his fourth full season at A&T after taking over for his college coach, Cy Alexander, in January 2016. The program has evolved since then, suffering through a 3-29 season his first full year to one of the biggest one-year turnarounds in NCAA history with a 20-15 second season.
Last year's 19-win team went 13-3 in conference games and finished second in the MEAC.
The quick successes of the last two seasons were fueled by one-year transfers. But Joyner has quietly and steadily added younger players to build around, starting with Langley and continuing through this year's recruits.