GREENSBORO — Both football teams are perfect since the start of league play.
But only one of them is in the running for a MEAC championship.
No. 11 N.C. A&T plays Florida A&M at Bragg Stadium in Tallahassee at Saturday in a matchup of two of the MEAC's three remaining unbeatens.
It's a critical game for the Aggies (2-0 MEAC, 4-1 overall), while the host Rattlers (3-0, 5-1) are playing for little more than bragging rights.
"It's very important that you perform well in games six, seven and eight," A&T coach Sam Washington said. "Those are the games we look at as championship football games. Those are the most critical games on your schedule. …
"Generally, those games are the pivotal moment in the season. Because someone has to lose. Right now, there's three undefeated teams out here. (Bethune-Cookman is the other). After game eight, there should only be one. We look at it from that perspective, and we want to be that team."
If Florida A&M is that team, it wouldn't matter.
The Rattlers play a full schedule this season, and their games count in the league standings. But they are not eligible for a MEAC championship nor any postseason play.
In May, Florida A&M was cited for a lack of institutional control, and the university is in the first of five years of NCAA probation after self-reporting a slew of violations that occurred from 2010-2017. During that period, 93 athletes were improperly certified in 12 sports.
Among the penalties are postseason bans for the football, men's and women's basketball, baseball, volleyball and men's track & field teams this school year.
All the infractions occurred before current athletics director John Eason and football coach Willie Simmons were hired.
But the postseason ban could make FAMU the most dangerous team on A&T's schedule this year.
Because with no chance of a Celebration Bowl berth, a spot in the FCS Playoffs or a MEAC ring, the only thing the Rattlers have left to play for is the regular season.
"They're a good football team, a lot like us," A&T senior defensive tackle Justin Cates said. "They've got athletes, just like we do. They play hard, just like we do. They run to the ball on defense, just like we do. …
"You live for games like this one. It's not like a boring game against a bad team. We're all looking forward to this game. We want it bad."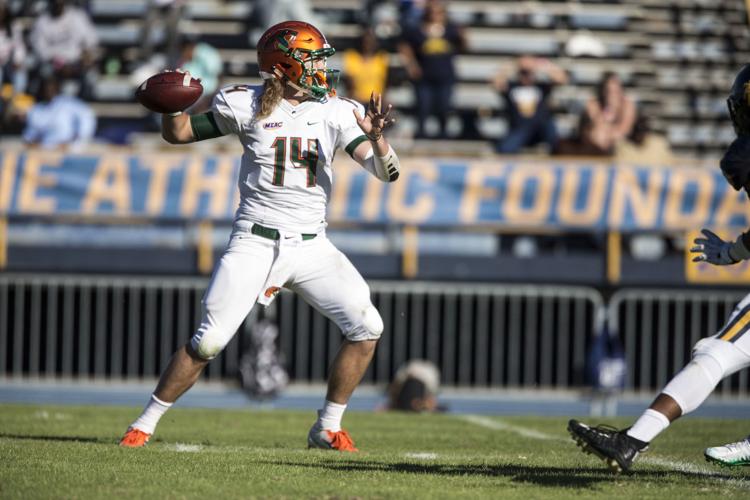 Rattlers' key
Senior quarterback Ryan Stanley makes Florida A&M go.
A four-year starter, Stanley leads the MEAC and ranks 17th in the nation with 1,708 passing yards — and eight of the QBs ahead of him have played seven games while Stanley has played just six.
"Ryan, he's a winner," Washington said. "He knows where the football should go. You can tell he's spent a lot of time in the film room studying. So we've got to do a very good job of disguising coverages and giving him some obstacles he hasn't seen."
In three starts against the Aggies, Stanley has completed 61 of 111 passes (55 percent) for 691 yards, three touchdowns and three interceptions. He's been sacked just three times.
"I've been playing against Ryan for a couple of years now. Ryan's pretty good," A&T defensive tackle Cates said. "He's a good passer, so you've got to get him off his spot and make him move. If you make him throw the ball when he's not comfortable, you can rattle him a little bit. But you definitely have to respect that guy."
Stanley threw for 313 yards in last year's 22-21 comeback victory in Greensboro, leading the game-winning drive in the fourth quarter that ended with Yahia Aly's field goal with four seconds left.
"Ryan was doing a good job getting the ball out quick, so we didn't have much time to get to him. It just wasn't a good day for us," Cates said. "… That definitely sticks with you. I've been thinking about that game for a long, long time. Give up a field goal to win. Man, you definitely don't want to lose like that. We could've easily won the game, but we didn't. We made mistakes and we lost. This year, we've got to capitalize off their mistakes."
This year's Rattlers have won three games by scoring on their final drives.
Aggies' key
Junior running back Jah-Maine Martin ranks second in the nation with 742 rushing yards, 68 behind VMI's Alex Ramsey.
But Martin, who leads the nation with an astounding 9.28 yards per carry average, has rolled up his yardage in two fewer games and 78 fewer carries than Ramsey.
"It starts with the O-linemen," A&T quarterback Kylil Carter said. "They do a great job every week, especially getting Jah-Maine to the second level. Once he gets to the second level, it's all on him, and he does a great job. And we've got big (receivers) on the outside blocking, too."
A&T ranks 12th in the nation in rushing offense, but Martin has scored on so many big plays that the Aggies are only 38th in time of possession. Florida A&M, with its controlled passing offense, ranks ninth in the nation.
"Time of possession is critical. It was critical last year," Washington said. "In the second half of that game, we only had three possessions. They kept the ball away from our offense. So defensively, we must get off the field. Third-down conversions are going to be humongous. We must win third down. And you do that by getting them in third-and-long situations, which means winning first down."
A&T's defense leads the MEAC in stopping third-down conversions (68.5 percent). Florida A&M's offense is the best in the league at converting on third down (48 percent).