It's been a natural article the past two seasons to assign mid-term grades to position groups, because Wake Forest's off week fell smack-dab in the middle of the season.
Six games, off week, six games.
Well, here we are in the double-off-week oddity of this season, with the Deacons off for the first of two weeks in October. Wake Forest will play home games against Louisville (Oct. 12) and Florida State (Oct. 19), and then have another off week before a five-game grind in November. 
So we'll mix up things a bit.
Here are the top 10 players through five games — all wins — this season for Wake Forest:
1. Jamie Newman, QB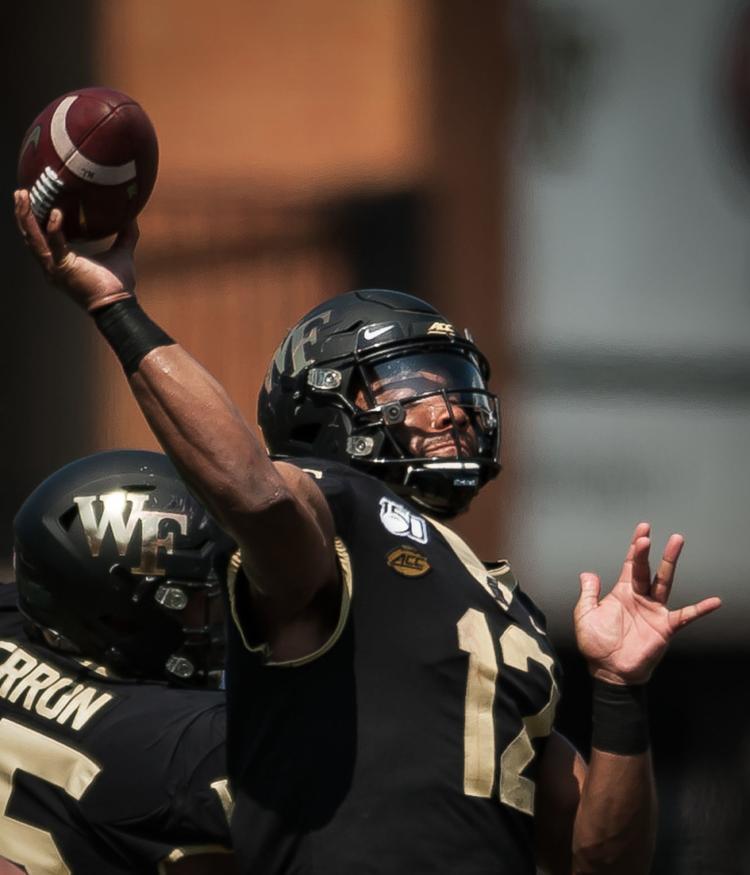 It's not hard to identify that the early season leader for ACC player of the year has been Wake Forest's best player.
Newman ranks in the top 10 nationally for total offense per game (356.6 total yards, seventh), touchdown passes (14, tied-seventh), passing yards (1,521, fourth) and points responsible for (102, tied-fifth). He's already put another game-winning touchdown on his résumé with the touchdown pass to Kendall Hinton in the season opener, he became the third player in program history to throw five touchdowns in a game and he's cut down on making dangerous throws.
Not to be forgotten, Newman has 262 rushing yards and three touchdowns. His 102-yard performance at Boston College was the first 100-yard game of his career.
In short: Newman is playing better than nearly every player in the country — and doesn't seem to be caught up in any of the numbers that accompany that.
"I don't worry about any national attention. Any attention I get, it's just credit to the guys around me," Newman said last week. "The only thing that I would like to be noticed for is winning."
2. Justin Strnad, LB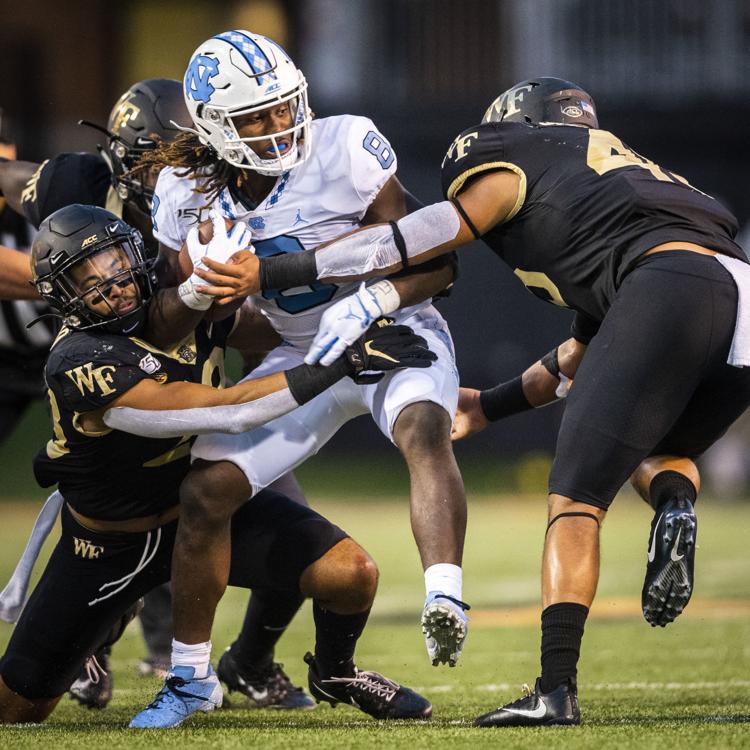 This was as easy as picking Newman at No. 1.
Strnad flies around the field for the Deacons' defense and is a valuable asset in whatever capacity he's put in — whether it's as a pass-rusher, as a run-stopper or in pass coverage. He leads the ACC with 53 tackles, including 30 unassisted tackles. Only one Deacon has more than half of Strnad's unassisted tackle total — Nasir Greer has 17.
It's really just been a continuation of sorts for Strnad, who elevated his performance in the second half of last season — his first as a starter.
In the past 12 games, Strnad has 124 tackles, 11½ tackles for loss, two sacks and eight pass break-ups.
3. Sage Surratt, WR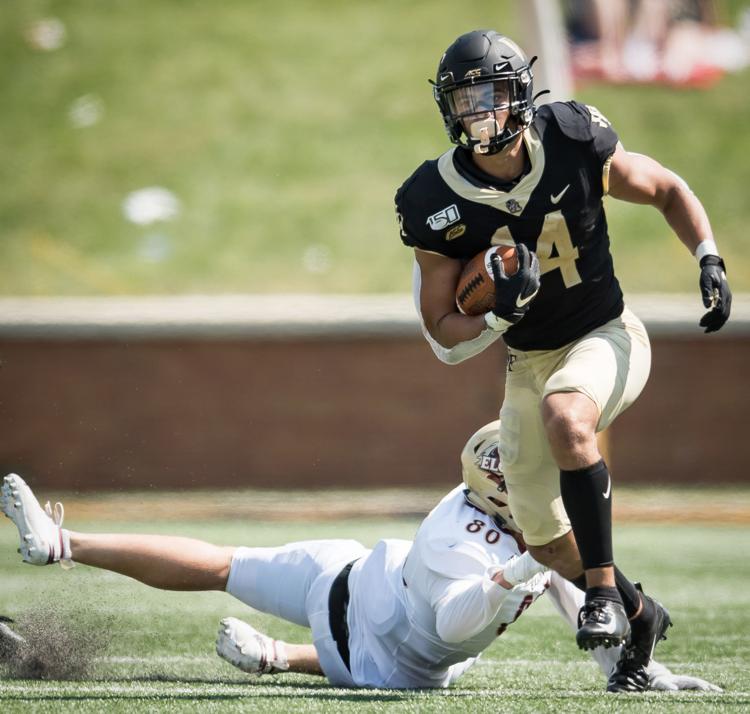 Surratt and Clemson's Tee Higgins are the only receivers in the ACC averaging more than 100 yards per game. Wake Forest's redshirt sophomore has emerged as one-half of the Deacons' potent wide receiver combo.
Surratt's physicality works twofold, and has been on display often in the first five games. First, the 6-3, 215-pounder can fend off defensive backs and make contested catches, at times while being interfered with. And then it works after the catch, when he can break arm-tackle attempts and pick up extra yards.
He leads the ACC with 515 receiving yards and is second with 34 catches; last year he had 581 yards and 41 catches. Surratt has had a touchdown in every game — his streak of seven straight is a program record and mirrors Wake Forest's seven-game winning streak.
4. Boogie Basham, DE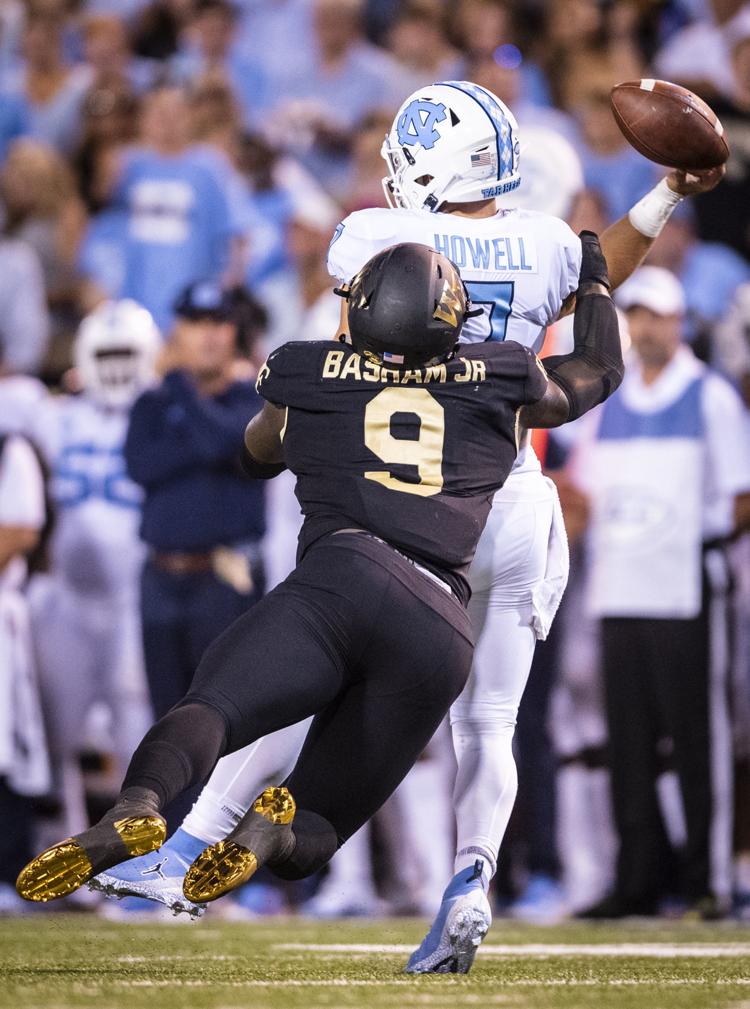 Don't let back-to-back games without a sack from Basham make you think he's played poorly in those games.
Basham's disruptiveness in the Deacons' first three games means he's been — and will continue to be — a focal point of opposing teams' pass-protection schemes. Boston College repeatedly double-teamed the 6-5, 275-pounder and, if he's double-teamed, the Deacons' other pass-rushers have more space to win one-on-one matchups.
In the first three games, Basham had 4½ sacks. He has 22 tackles, 6½ tackles for loss and six quarterback hurries.
5. Nasir Greer, S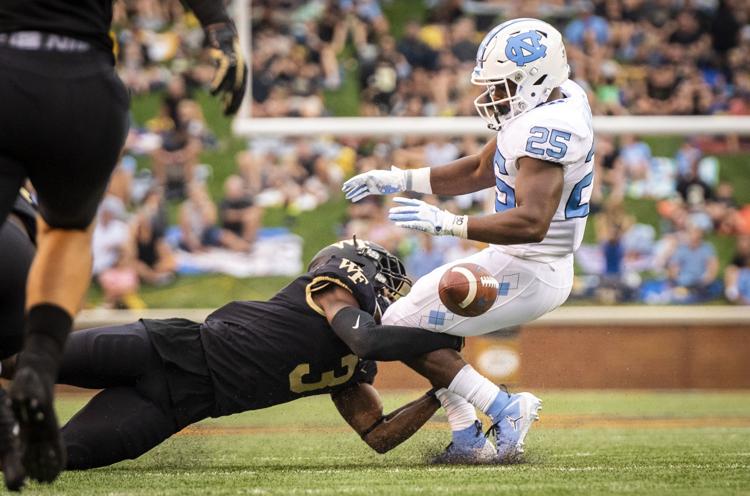 If touchdown-saving tackles were a tracked stat, Wake Forest would have a clear leader.
Greer stepped into an unenviable position in replacing Cameron Glenn at strong safety, and he's blossoming into a stalwart of Wake Forest's defense. He's a hard-hitter who has had 10 tackles in two of the last three games.
"I thought Nasir Greer played incredible, he's really growing up in front of our eyes," Coach Dave Clawson said after the win against North Carolina. "Which is funny, it's No. 3 again at safety, because we were so used to that number playing so well before at safety (with Jessie Bates III), and slot receiver (last year with Greg Dortch)."
6. Scotty Washington, WR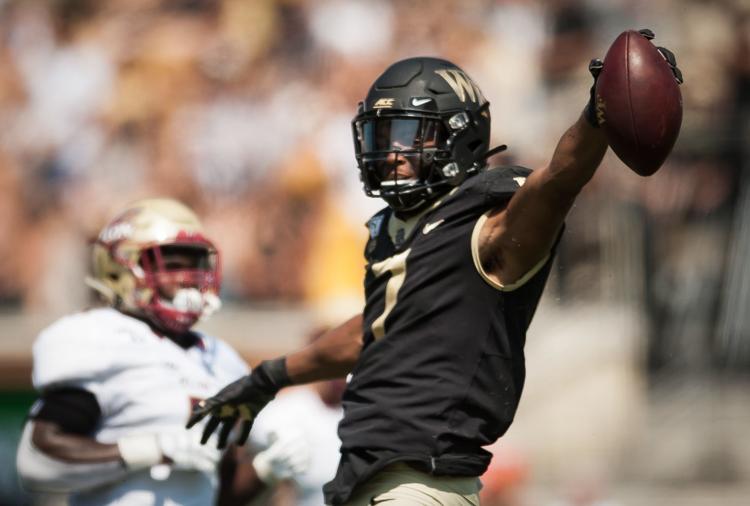 And here's the other half of the wide receiver combo.
Washington is tied with Surratt in leading the ACC in touchdown catches, with six each. He's leading Surratt in their friendly game of who can have more receiving yards in each game, 3-2, with massive games against Rice (seven catches for 158 yards and two touchdowns) and Elon (nine for 141 and two touchdowns), and another five catches for 94 yards and a touchdown this past weekend.
Washington has struggled, to an extent, with drops this season. He's also leading the country, according to Pro Football Focus, with 11 contested catches this season.
7. Justin Herron, LT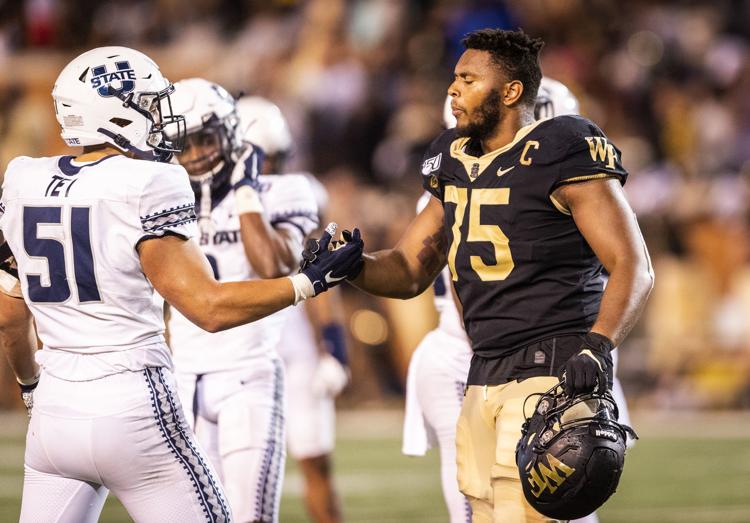 The way that the Beef Boys, and Herron, operate is such that this could probably just be listed as the entire offensive line.
But in looking at individual players, Wake Forest's sixth-year left tackle stands out.
Herron has landed on Pro Football Focus' ACC team of the week three times this season. He's clearly recovered from the torn ACL that cut his season short a year ago — and it seems he's playing better than he was before the injury.
The Beef Boys as a whole, though, have stood out. Wake Forest has allowed six sacks, tied for the fourth-fewest in the ACC, while rushing for 202.4 yards per game — the fourth-best in the ACC.
8. Luke Masterson, rover
We're going deeper than stats on this one.
Masterson represents the biggest schematic shift in Wake Forest's defense from last year to this year, as the rover has become more of a third safety rather than the hybrid position of a safety and linebacker of years past.
It's Masterson's versatility, though, that has made him so valuable to the Deacons this season. He starts at rover, has occasionally moved back to safety (started the Rice game when Greer was suspended for the first half) and is able to make an impact as a pass-rusher when needed or in run support.
Wake Forest has the ninth-best third-down defense in the country, allowing conversions 25.7% of the time, and Masterson's versatility plays a factor.
9. Rondell Bothroyd, DT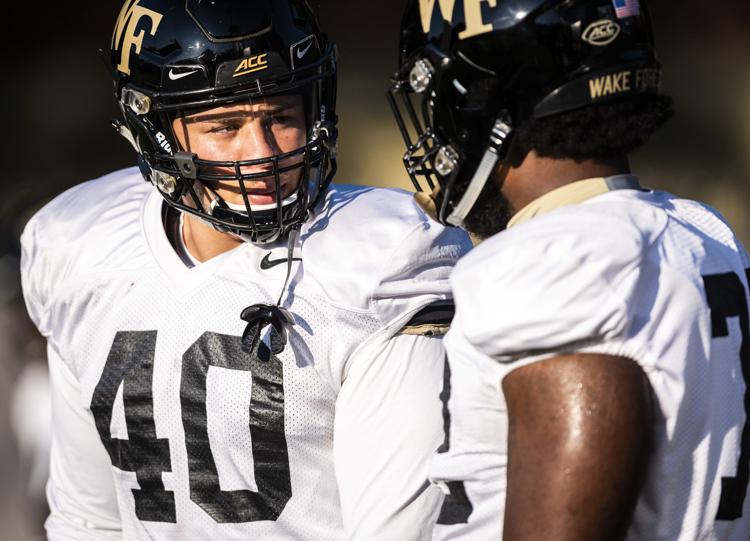 Replacing two fifth-year defensive tackles wasn't going to be easy, and neither was Bothroyd's move from end to tackle, which started in the spring.
But the redshirt freshman from Willington, Conn., has stood out in the first five games in a variety of ways — from creating pressure as an interior pass-rusher to hustle plays to clogging up the middle in run support. He has 16 tackles, 2½ tackles for loss and a fumble recovery.
Bothroyd's impact might lessen as Tyler Williams enters the rotation at defensive tackle, but at least through the first five games, Bothroyd has proven to be one of the top defensive linemen for the Deacons.
10. Kendall Hinton, slot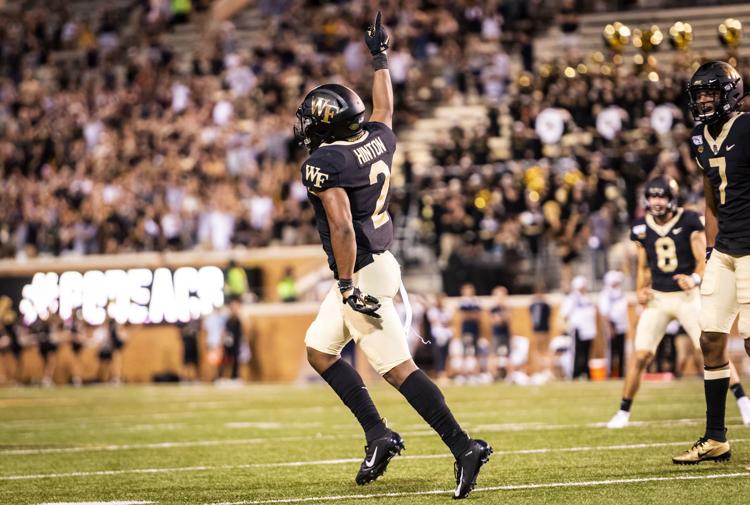 When you haul in the game-winning touchdown catch on fourth down in the season opener, you can make this list despite basically only playing in 2½ games.
Hinton's heroics against Utah State won't soon be forgotten, and even though a strained hamstring in the first half at Rice sidelined him and he missed games against North Carolina and Elon, he's third on the team with 17 catches for 177 yards.
The best news here is that Hinton wasn't 100% against Boston College and still had six catches for 67 yards — four of which resulted in first downs, three of those coming on third downs. With an extra week before the Deacons take the field again, Hinton could be in line for a big performance against Louisville.