My Take On Wake: 10 most-important players whose development was disrupted by COVID-19
By Conor O'Neill Winston-Salem Journal
Some elements of Wake Forest's football program will always have to be developmental, as has been discussed by Coach Dave Clawson and covered in writing last August.
That's one of the aspects, as the sports world shifts into some semblance of normal and out of COVID-19 shutdowns, that's under a microscope.
Wake Forest completed five of the allotted 15 spring practices — three of which saw the Deacons in pads. The spring game was among the cancellations, and now as we approach June, there still isn't a set date for Wake Forest to welcome student-athletes back to campus.
The NCAA has ruled that voluntary workouts can resume Monday, and it's up to schools to individually designate when student-athletes can return. As others around the ACC select those dates — Louisville and Clemson have announced plans to begin workouts June 8, among others — Wake Forest remains mum on specifics of when players can return to campus.
And that means Wake Forest and its developmental program model will be losing ground to other teams in the ACC.
So here are the 10 most important players whose development has been stunted by the abrupt ending to spring practices and delayed start of summer workouts:
1. Zach Tom | offensive lineman | redshirt junior | 6-4, 290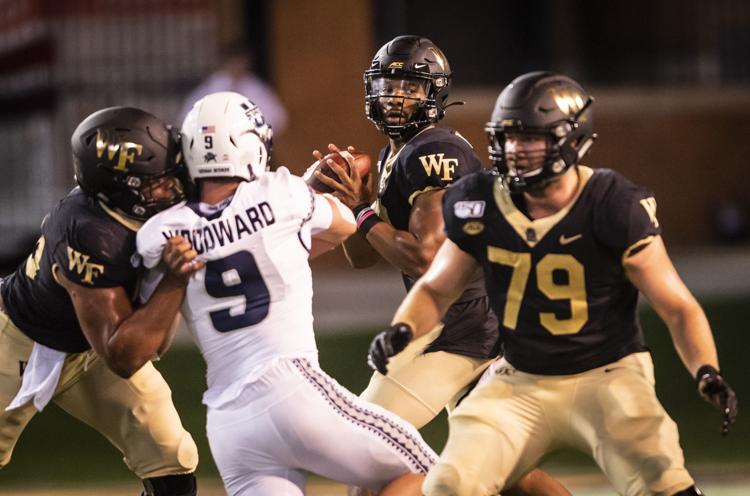 Really, the entire offensive line unit could have its own story on disrupted development as a whole, but that's perhaps a story when the season is closer.
Tom lands in the top spot not because he's an undeveloped player, but because of his position shift to left tackle. Justin Herron started a program-record 51 games, all at left tackle. Jake Benzinger started 12 in the 2018 season when Herron was injured. Now Herron and Benzinger are on NFL rosters, leaving Wake Forest without an experienced starter at tackle.
Those were the shoes Tom was stepping into, having started all 13 games at center last season and earning an honorable mention All-ACC nod. He played tackle in high school and cross-trained at the position in practices last season, but Tom missed valuable on-field development and reps at the position.
"My development at tackle has definitely been disrupted because of practices being canceled," Tom said in April. "But I've been trying to still get the work in. I do drill work with my brother (Cameron Tom, a center with the New Orleans Saints) to focus on techniques that I need to master at tackle.
"It's definitely been a disruption, but I think I'm making adjustments that'll help me out."
2. Jaquarii Roberson | slot receiver | redshirt junior | 6-1, 180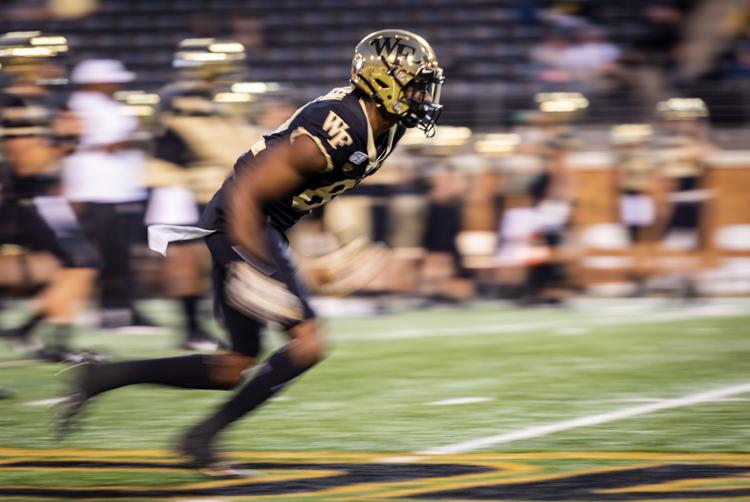 Wake Forest's slot position in the last three seasons has averaged 95.7 receptions, 1,233 yards and 9.7 touchdowns.
The bulk of that production came from Greg Dortch, Kendall Hinton and Tabari Hines — all of whom have been ahead of Roberson on the depth chart and none of whom are still at Wake Forest.
It's Roberson's position to make his own, and he's flashed the ability to do that in previous spring and fall camps. What he's missed and will continue missing are the invaluable timing- and chemistry-building reps with Sam Hartman, plus his chance to cement his spot as next-man-up in the slot.
3. Michael Jurgens | center | redshirt sophomore | 6-4, 290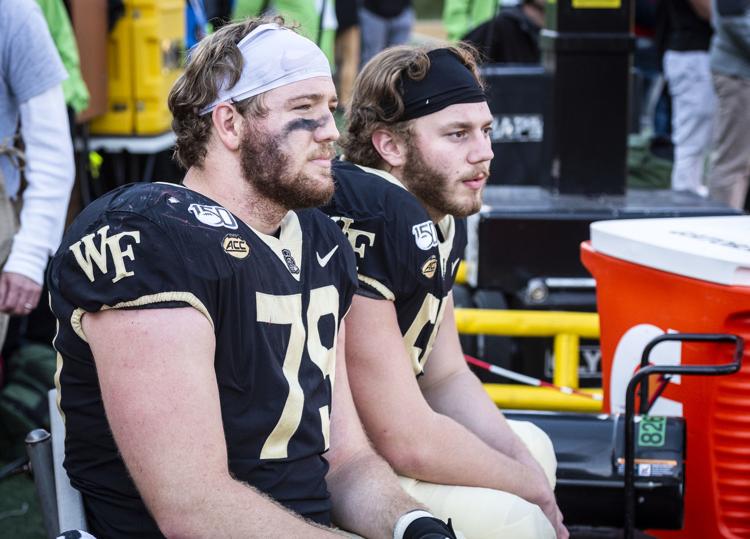 We never got to see Jurgens on the field for Wake Forest's five spring practices — he was recovering from an injury and was expected to return to the field after spring break.
Jurgens enrolled early in 2018 and has seemingly been on an upward trajectory ever since. He was Tom's primary backup last season and is poised to take on a starting spot.
Jurgens is the presumptive starter at center when healthy, and the spring would've been his first extended period of first-team reps.
Again: the entire Beef Boys unit is perhaps damaged more than any other position group because of the lost practice time in piecing together an optimal starting five. And it feels like Tom and Jurgens stood to benefit the most from adjusting to new roles in the spring.
4. JaCorey Johns | defensive end | redshirt sophomore | 6-4, 245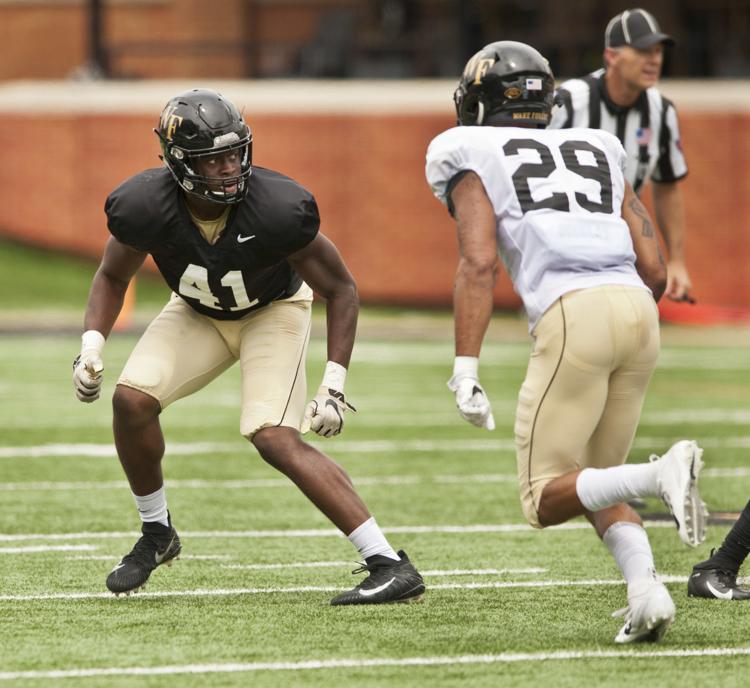 Johns went from not even taking the field as a freshman to starting 11 last season, and playing in all 13. He seemed to be growing more comfortable late in the season and finished with 53 tackles, 8.0 tackles for loss, 3.0 sacks and three QB hurries.
Carrying that momentum — Johns had eight tackles at Virginia Tech and five against Duke in the season's final month — through a full spring slate would've been instrumental in developing a complementary pass-rusher across from Boogie Basham.
5. Kenneth Dicks | cornerback | redshirt sophomore | 6-0, 200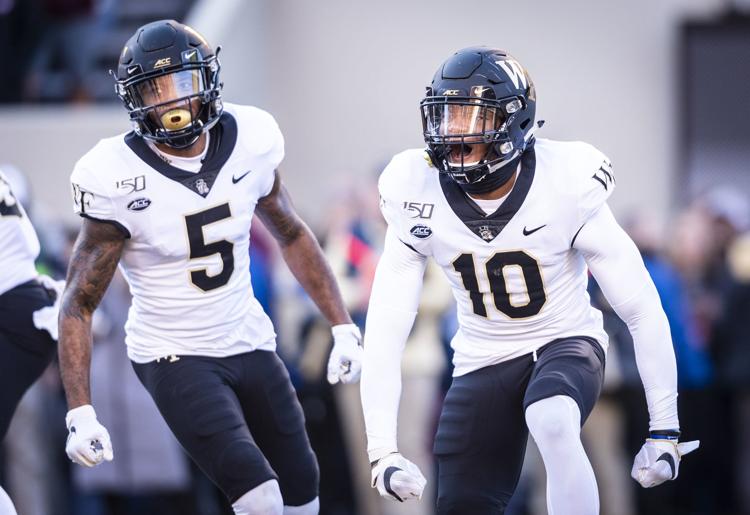 Mystery remains at cornerback for the Deacons — and probably won't subside until they play a few games next season.
But some of that mystery would've been clearer with a full spring, and Dicks was earning first-team reps at cornerback opposite of senior Ja'Sir Taylor. Though he has decent size for a cornerback, missing the majority of spring practices cost Dicks a chance to make an impact before the crop of freshmen cornerbacks arrives — Caelen Carson, Gavin Holmes and J.J. Roberts.
The other part of the equation at cornerback was lost on-field time with new cornerbacks coach Paul Williams, who seemed to be making an early impact.
6. Blake Whiteheart | tight end | redshirt sophomore | 6-4, 240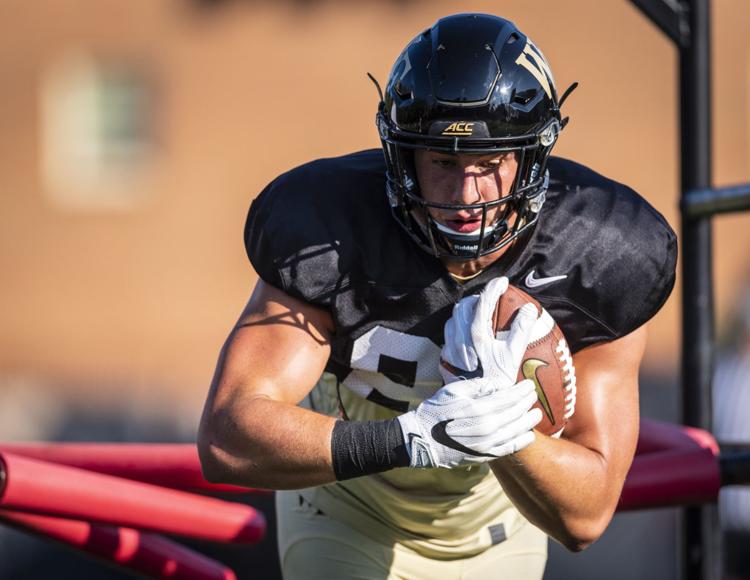 Wake Forest doesn't lack tight ends — there are nine on the roster (seven on scholarship).
What Wake Forest does lack in the tight end position room, though, is experience beyond redshirt senior Brandon Chapman.
That's where the spring would've been crucial to bring Whiteheart, a Mount Tabor product, up to speed.
"This is a big spring for Blake Whiteheart. I mean, he's got the talent. He's just gotta take that next step to be game-ready," Chapman said after a spring practice. "Because I've been talking to Coach (Wayne) Lineburg, redshirt sophomore year is always – it's been the year for Jack (Freudenthal), it's been the year for me and it's gotta be the year for Blake to step up."
The Deacons don't deviate much from 11-personnel — one running back, one tight end, three receivers — but when they did last season, two-tight-end packages helped convert short-yardage situations. For that versatility to be at offensive coordinator Warren Ruggiero's disposal again, Whiteheart — or perhaps Connor Hebbeler, Cameron Hite or Drelyn Ford — would have to be playable.
7. Justin Williams | defensive tackle | redshirt freshman | 6-2, 275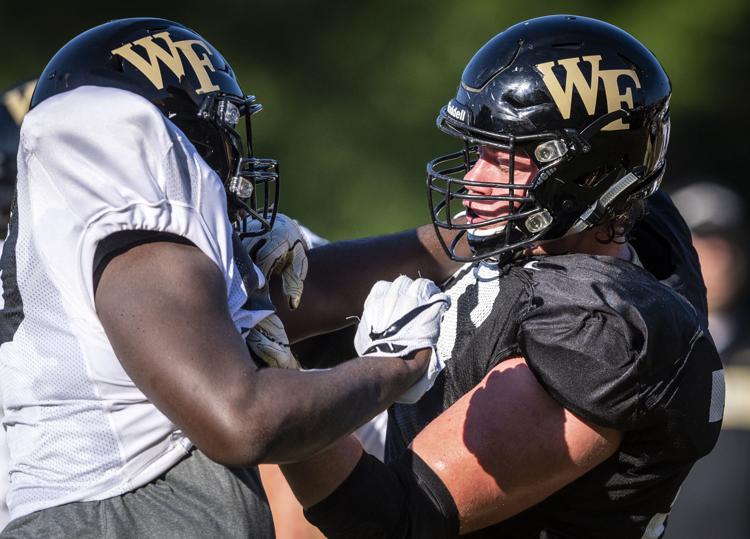 Williams might be the biggest what-if when considering what could have been for the rest of spring practices.
Defensive tackle isn't a position where Wake Forest necessarily needs younger players to step into crucial roles, with Tyler Williams, Sulaiman Kamara and Dion Bergan Jr. entrenched on the inside, and Rondell Bothroyd and Miles Fox coming off injuries and expected to be healthy by August.
That's what made Williams' emergence more encouraging in the abbreviated spring camp. The Seffner, Fla., native was earning first-team reps and pressing the issue that he could make the defensive line rotation an even deeper one for Dave Cohen.
8. Taylor Morin | slot receiver/returner | redshirt freshman | 5-10, 175
Morin was a pleasant surprise during last fall camp, but that never translated during the season.
He had a strong start to spring practices before they ended, appearing to have some immediate chemistry with early enrollee quarterback Mitch Griffis (they're both from northern Virginia).
With a full spring, Morin could have perhaps pushed Roberson for first-team reps in the slot, and his value is also tied to being a returner. Wake Forest had the 11th-best kick return average (19.3 yards) and eighth-best punt return average (8.1) in the ACC last season — Morin has the shiftiness and acceleration to help in those categories.
9. A.T. Perry | wide receiver | redshirt sophomore | 6-5, 190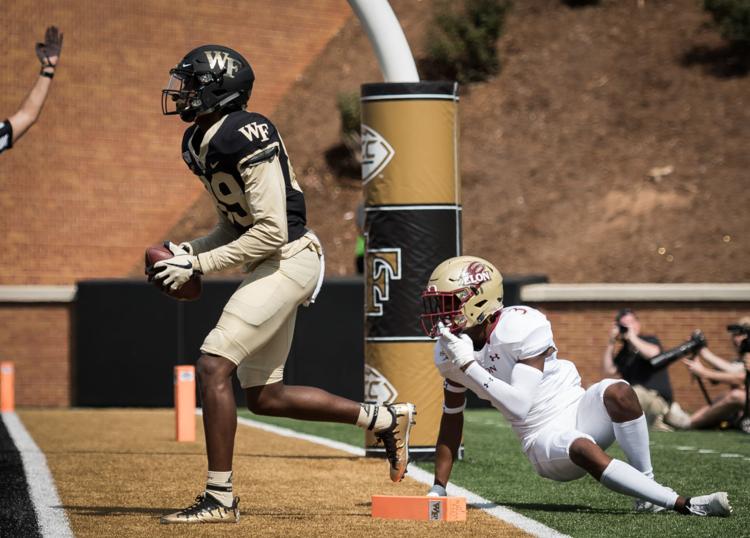 Get the sense that receiver is an important position to develop depth yet?
Perry has flashed the physical tools needed to be a starting-caliber ACC receiver, and had several moments in spring practices where it all looked to be coming together for him. His season-high in snaps was 37 in the Pinstripe Bowl, including a key 28-yard catch to convert a third-and-long.
The summer arrival of Stanford transfer Donald Stewart will boost depth on the outside. While it's unlikely Perry or Stewart will supplant Sage Surratt or Donavon Greene for a starting spot, Perry's continued development in the spring would've gone a long way in creating a rotation of wide receivers rather than needing to rely on two or three for roughly 80 snaps per game.
10. Shamar McCollum | defensive end | sophomore | 6-4, 235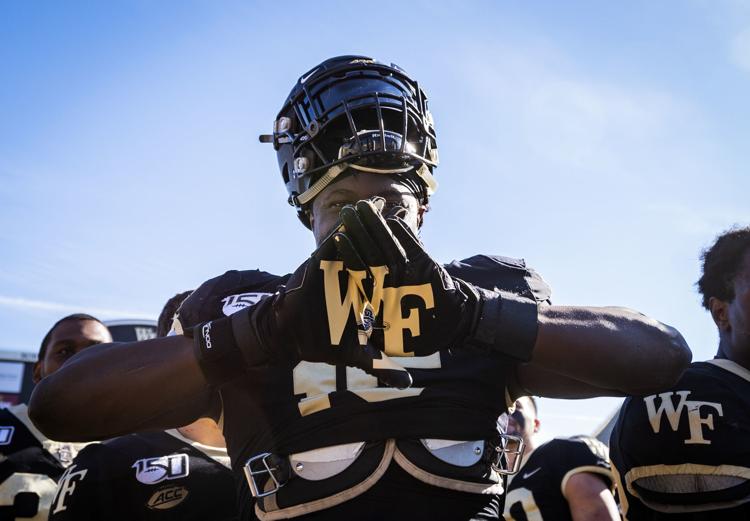 One of the biggest stories to emerge last spring was McCollum, who put on about 35 pounds in his first couple of months on campus and quickly established himself as a candidate to start when the season began.
Things in the season didn't come as easy for McCollum — he had 14 tackles, 4.5 tackles for loss and 2.0 sacks. He played 23.5% of his snaps on the season in the opener against Utah State, things seemingly accelerating for the freshman and never allowing him to catch up.
The spring would've been McCollum's chance to slow things down and regain his footing and some confidence.
Tags
Nominate your favorite businesses for a chance to win a $100 gift card!
Enter for a chance to win a VISA GIFT CARD to go towards your next backyard cook-out!