GREENSBORO — There's a new list compiled by three ESPN reporters making the rounds on social media today.
Myron Medcalf, Jeff Borzello and John Gasaway cover college basketball for the network that humbly dubbed itself "The Worldwide Leader in Sports."
UNCG's Wes Miller, the 37-year-old dean of Southern Conference coaches.
To which I'll add my expert analysis: Well, no duh.
Anyone surprised by that pick has either: 1. Not been paying attention; 2. Has a fan-, family- or alumni-based bias toward another guy; or 3. Chooses to ignore FBI wiretapped conversations.
ESPN's guys summed up their Miller pick in three sentences, and it's based on recent success.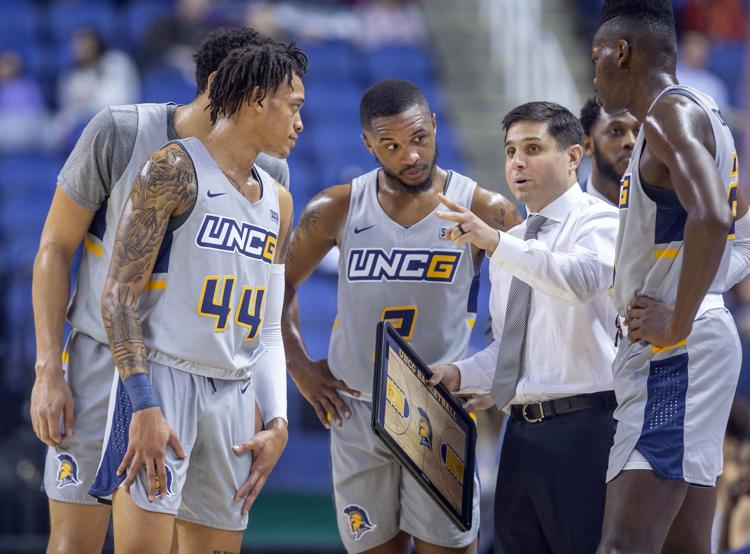 "Since the start of the 2016-17 season," Medcalf wrote, "Miller has amassed 104 wins in a stretch that includes the program's first NCAA tournament appearance in 17 years (in 2018)."
But that just scratches the surface.
And it ignores a key component of Miller's story: UNCG's patience.
Miller's bosses — particularly athletics director Kim Record and former Chancellor Linda Brady — allowed him to fail. They gave him the precious gift of time, and they waited through four straight losing seasons when the Spartans went 49-81.
Ask yourself: How many Power Five programs would've stuck with him? Heck, how many other mid-majors would've?
It's a question Miller has asked himself. Often.
We talked about it after the Spartans' first day of practice in a stifling hot Fleming Gym — the air conditioning was broken — last fall.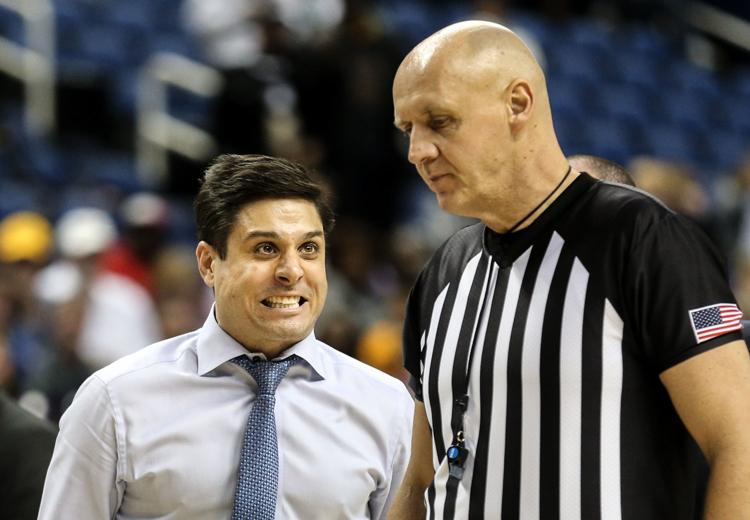 By then, Mike Young had left Wofford for Virginia Tech and the then 36-year-old Miller was entering his ninth season as the longest-tenured active coach in the SoCon.
"That says more about the other nine schools in the league than it does about me," Miller said. "Either guys haven't been given enough rope, like I have, or guys have moved on. I don't think I deserve to be the longest-tenured guy, but that's how it is. I'm fortunate. You hear that, and you realize how fortunate you are to have leadership that has stuck with you through good and bad."
He paused just a moment. It's a Miller trait. He invariably thinks before he speaks in interviews.
"I look at other coaches in this league who I've admired, and who haven't been given the same opportunity I had to figure it out," he said. "And they've deserved it. So you thank your lucky stars and count your blessings. It makes me think about Linda Brady, Frank Gilliam and Kim Record. I've been really fortunate the leaders here gave us an opportunity to keep going."
What those leaders saw was a young coach willing to adapt.
I was at Miller's introductory news conference when he took over the UNCG program in December 2011, a month shy of his 29th birthday. I've watched his teams from a seat on press row at the Greensboro Coliseum, close enough to hear the UNCG bench.
Miller started out teaching what he knew: man-to-man defense and an uptempo offense featuring North Carolina's secondary break.
That's a far cry from the last four seasons of sustained success, when Miller's defense-first teams were built on 1-2-2 zone pressure, changing defenses and rebounding.
Miller changed himself first, and then his program.
He began to consistently land recruits who play the game the way he did. His best players have all been team-first guys. Diante Baldwin and R.J. White. Jordy Kuiper and Marvin Smith. Francis Alonso and Demetrius Troy. James Dickey and Isaiah Miller.
They're not cookie-cutter players plugged into a system. Miller has adapted The G to their strengths each year. He's shown a rare ability to criticize, make his point, teach … and not anger or alienate the player in the process.
How many of us have seen a player get to college, play for three or four seasons, and leave as a bigger, stronger version of the same player he was as a freshman?
Not so with Miller's guys. They improve. It's the cornerstone of his program.
"We consume ourselves with trying to get better every day," Miller told me that hot day. "We want to be all about growth. We talk about that every day. The term we use around here is, 'work small.' We're going to have big dreams. That's natural, because we want to achieve great things. But to do that, we have to concern ourselves with working small and growing one day at a time. It sounds cliché, sounds like coach-speak, but that's going to give us the best chance to achieve those dreams."
It's why the No. 1 spot on that ESPN list is a no-brainer to me.
Top to bottom, it's an impressive list of 40 young head or assistant coaches. You're forgiven if you don't know all the names yet. You might, someday.
But this much is sure: Miller deserves his spot, and UNCG's patience helped him earn it.