GREENSBORO — UNCG is 1-0.
OK, the Spartans are really 7-2 and have won four straight, including an impressive road victory over Georgetown on Saturday.
But they're a different basketball team than who they were at the tipoff of that game against the Hoyas. They're 1-0 without Kaleb Hunter.
Isaiah Miller finished with 25 points on 12-for-21 shooting, five assists and four steals in the The G's 72-54 win over Kennesaw State at cozy Fleming Gym on Wednesday night.
Hunter, a 6-foot-4 sophomore wing in the midst of a breakout season, watched from the bench, his injured right ankle encased in a protective walking boot. UNCG's second-leading scorer and rebounder this year is out three to six weeks while the ankle heals.
"This was a big one for us, especially after losing Kaleb," Isaiah Miller said. "We beat Georgetown, but two years ago when we beat N.C. State we came out and lost the next game after that. So this was a big one for us to stay focused and not get too big-headed, to come out with the same mentality we had against Georgetown."
Same mentality. But different team.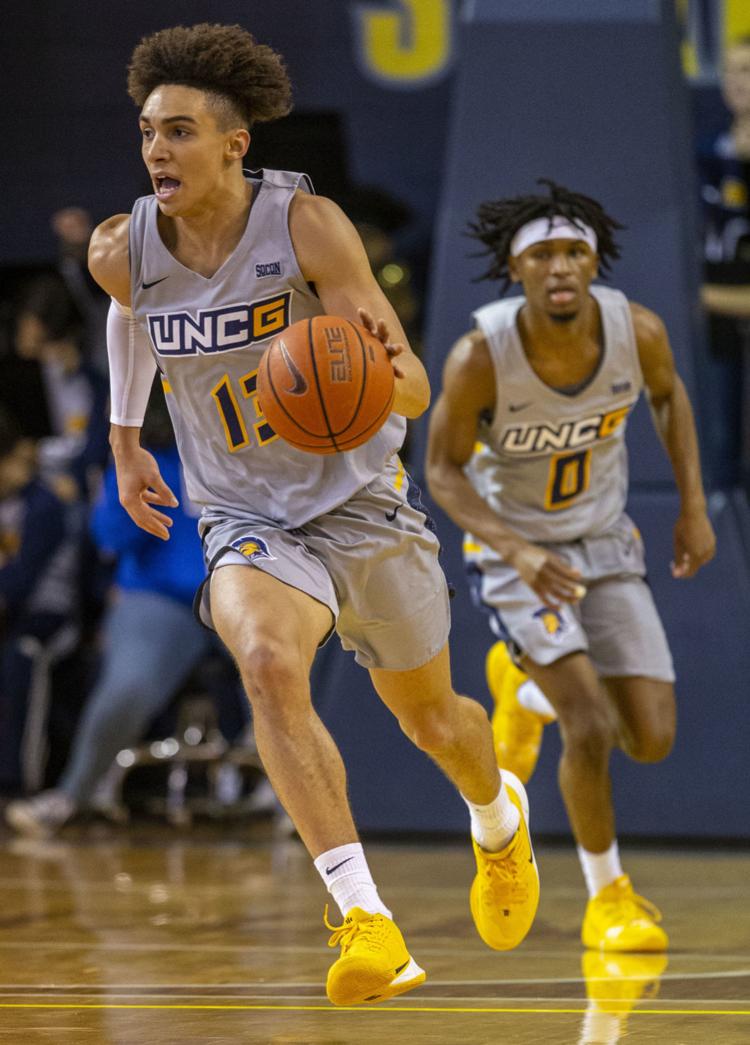 Hunter started the first eight games, and his emergence as another scoring option — both as a slasher and perimeter shooter — made UNCG's offense diverse.
"It changes our team significantly," UNCG coach Wes Miller said. "You saw that tonight. Up at Georgetown, we kind of just figured out how to find a way to win. But it wasn't pretty, and it wasn't pretty tonight because you're taking out one of the most important pieces on our team, offensively and defensively. …
"Listen, any time you lose a rotation player, it's going to change the dynamic of your team whether you're in the NBA or college or high school. When you lose a guy who's playing 28 minutes a game, a guy who's led you scoring and rebounds, it's going to drastically change the dynamic. But I'm a glass-half-full guy, and I think it gives other talented guys opportunities to grow into roles."
They'll have to grow quickly.
Kennesaw State (0-7) ranks last among all 350 Division I teams in scoring and was a soft spot on UNCG's schedule. The G's next four games are all tough ones.
UNCG goes to Radford (3-4) Saturday. The Highlanders went 22-11 last season and won a share of the Big South championship.
Next Sunday, the Spartans host N.C. State (6-2), which went 24-12 last season and lost to Lipscomb in the third round of the NIT.
Then come back-to-back games against NCAA Tournament teams: at senior-laden Vermont (6-4), which went 27-7, and home against Northern Kentucky (6-3), which went 26-9.
"It's going to show off our depth," Isaiah Miller said, "because we've got a lot of talent on this team. We've got a lot of depth at the guard spot. It's not going to be a burden on us. Kaleb is really going to be missed, but we've got some dudes who can step up and do what they have to until he gets back."
If Hunter's recovery stretches into the new year, The G could be without him for a key three-game conference stretch at Wofford, vs. East Tennessee State and at Furman Jan 4-11.
It's similar to last season, when UNCG lost 6-foot-10 center James Dickey for six games after a foot injury suffered at Kentucky.
"It feels very much like that," Wes Miller said. "Maybe not in the sense that we had to play small when James went out, and that changed how we were playing. We had to put in new offense because we weren't prepared for that. We don't have to change in that way because Kaleb is out. We're still able to play with the same types of players and lineups. But you take an experienced guy out who's emerged as a big-time wing in the Southern Conference, and now you're playing inexperienced guys."
Sophomore wing Angelo Allegri made his first career start in place of Hunter on Wednesday. Shooter Michael Hueitt and twins Keyshaun and Kobe Langley should all see their roles increase.
"What it does is give us a chance to let other guys develop and get opportunities," Wes Miller said. "That could help us when we get into league play in January and February. But make no mistake: We're going to miss Kaleb dearly every day until he can play again."