It's Wake Forest's ACC opener without it being the first ACC team that the Deacons have faced this season — if that makes sense.
Wake Forest heads up to Boston College for what Coach Dave Clawson said is always one of the most-physical games of the season. It's the first game for the Deacons that counts in the ACC standings, as the Sept. 13 win over North Carolina was a nonconference game. 
"Steve Addazio is a hard-nosed, tough football coach," Clawson said the Eagles' coach. "This team has, always, every single year — they reflect his personality. They are one of the most physical teams every single year that we play."
Here are five things to know about Boston College:
1. AJ Dillon (and next in line)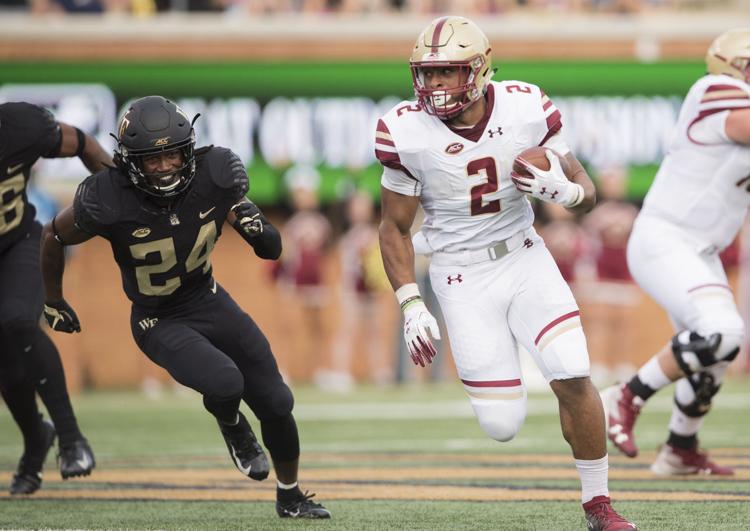 Boston College's star running back is a junior and likely is in his final season of college football. Dillon, 6-0, 250 pounds, is one of the most dynamic players in the ACC. He's already run for 468 yards and scored seven touchdowns — second in the conference to Florida State's Cam Akers (499 yards, eight touchdowns).
"He's a 250-pound, downhill load. He is tough to tackle, he can make you miss, he's got good speed," Clawson said of Dillon. "There's no doubt that he's a guy that's going to be playing on Sundays."
The problem the Eagles present now is that Dillon has an heir apparent in the backfield.
Sophomore David Bailey, a 6-1, 240-pounder, has run for 242 yards and caught three passes for 52 yards this season — giving him more total yards than he had last season while appearing in five games. Bailey can be used to spell Dillon, and the Eagles can maintain their power-running style while he's in the game.
2. Turning opponents over
Boston College has forced 10 turnovers and committed one this season, and that plus-nine margin is the best in the country.
"They've always been a little bit more of a man-free team, and they're playing a little more zone," Clawson said. "And what that allows you to do is you have more eyes on the quarterback and when the ball is thrown, there's more guys breaking on it."
The Eagles have seven interceptions, by seven players.
The key is obvious: In Boston College's three wins, it's forced a combined nine turnovers, and in the loss against Kansas, the Eagles forced only one turnover.
3. Anthony Brown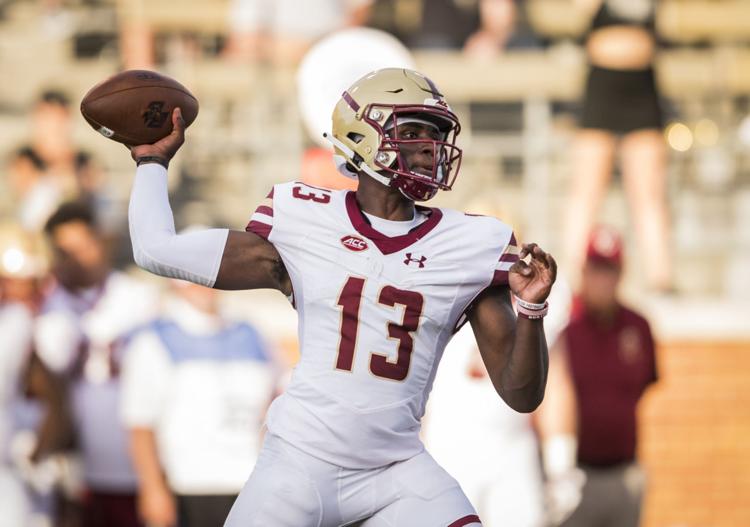 Boston College's quarterback has grown up in front of the Deacons, as Clawson pointed out.
Brown threw three interceptions against the Deacons in 2017 as a redshirt freshman, and then threw five touchdown passes against the Deacons in 2018. After Brown's explosion last season against Wake Forest, he threw eight touchdowns in the next eight games.
Wake Forest has clearly seen Brown at his worst (and youngest) and best — now they'll see what's in store for this meeting.
4. Sacks deficient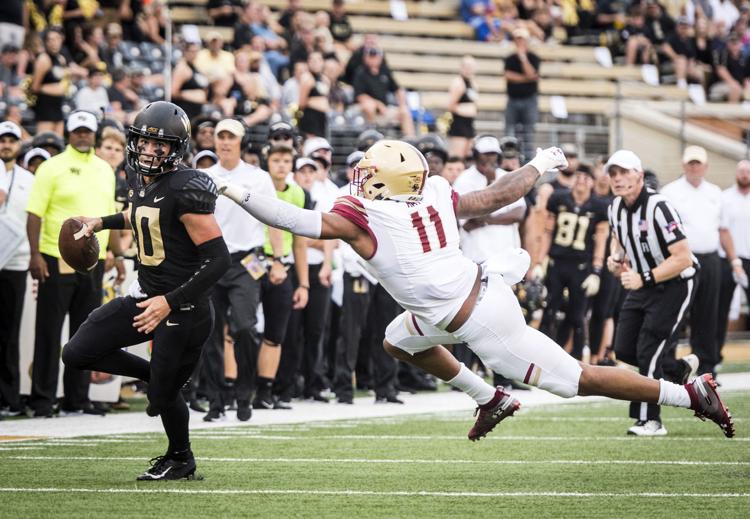 Wyatt Ray had four sacks against Wake Forest last season, and he's not the defensive end from Boston College who was the first pick of the third round and is a starter for the Arizona Cardinals — that's Zach Allen.
Boston College doesn't even have four sacks this season.
The Eagles seem to be young at defensive end, where they've produced Ray, Allen and Harold Landry in the past few seasons.
Boston College lists four possible starters for two defensive end spots: redshirt freshman Joey Luchetti or graduate student Richard Yeargin at one spot, and redshirt sophomore Marcus Valdez or redshirt junior Brandon Barlow at the other. Luchetti is the only one who has a sack this season, while Barlow has a half-sack.
5. Zay to go
The third-leading rusher and fifth-leading receiver is one who should be a focal point of the defensive game plan.
Boston College is picking and choosing its spots with freshman Zay Flowers, an electric 5-11, 170-pound receiver. The Fort Lauderdale, Fla., product has 10 carries for 135 yards and a touchdown, and six catches for 130 yards and another touchdown.
"They're going to find ways to get him the ball, whether it's speed sweeps, screens, just a very dynamic player," Clawson said of Flowers.