RALEIGH — Patrick Bailey smiled sheepishly on Wednesday, thanking members of the media for their birthday wishes.
Moments earlier, N.C. State baseball coach Elliott Avent had revealed that it was the sophomore catcher's birthday and said far more about him than the common observer might pick up from the understated Bailey.
Bailey hasn't posted eye-popping batting numbers nor does he have a massive, athletic frame that some casual fans might expect in an elite player.
And despite the fact that Bailey says he's had a "down year" at the plate — still hitting .291 with nine homers and 44 RBIs — and the typical ups and downs of a sophomore catcher behind it, there are plenty of reasons he's expected to be a top-10 pick in the 2020 Major League Baseball Draft, even if he won't say it.
That's no problem, because Avent did it himself in a text to Bailey, a first-team All-ACC selection, on Wednesday morning.
"I said, 'Patrick, happy birthday," Avent recounted. "'Your dedication to the game, your commitment to the game —your hard work — has taken you from a great player out of high school and made you one of the top prospects in the country. I'm proud of you, and you've got a great future ahead of you.'"
It was indeed a happy birthday as Bailey, a Greensboro native and Wesleyan Christian graduate, spent the week preparing for the Wolfpack's matchup with Campbell today, as both teams begin their NCAA Tournament journey in the Greenville Regional.
With several potential future big-leaguers on the field, scouts will be plentiful at Clark-LeClair Stadium all weekend. None will be more coveted than Bailey, who's strengths aren't always apparent to the common fan.
Eric Campbell, general manager of USA Baseball's national teams, was drafted by the Chicago White Sox as a pitcher and catcher before spending 13 years as a college coach. He's thrilled to have Bailey with him at USA Baseball for a third straight summer.
"We thought he was the right guy to lead the team from the catcher position," Campbell said. "He understands exactly what we're doing, and we know that. It's pretty turnkey … he's going to come in and instantly lead this team and help us."
Bailey quickly developed his reputation with USA Baseball during his time with the under-18 team for his understanding of the game and his pitchers.
Campbell gave Bailey's handling of pitchers a favorable comparison to Oregon State catcher Adley Rutschman, the favorite to go No. 1 overall in next week's draft. Baseball America recently named Rutschman the best prospect since Bryce Harper.
"Much like Rutschman, I think Patrick is a coach, he's a cheerleader, he's stern when he has to be — he's in command," said Campbell.
Both with USA Baseball and State, Bailey is in command, calling the game from behind the plate. The differences are subtle from when he became Wesleyan's youngest catcher to ever call pitches.
"It's changed a little, but at the core foundation of what I like to do is stick to the pitcher's strengths," he said. "I think that's the biggest thing I have to know, is to have really good relationships with the pitchers and the pitching staff and knowing what they throw best in different counts and which pitch is their 'out' pitch."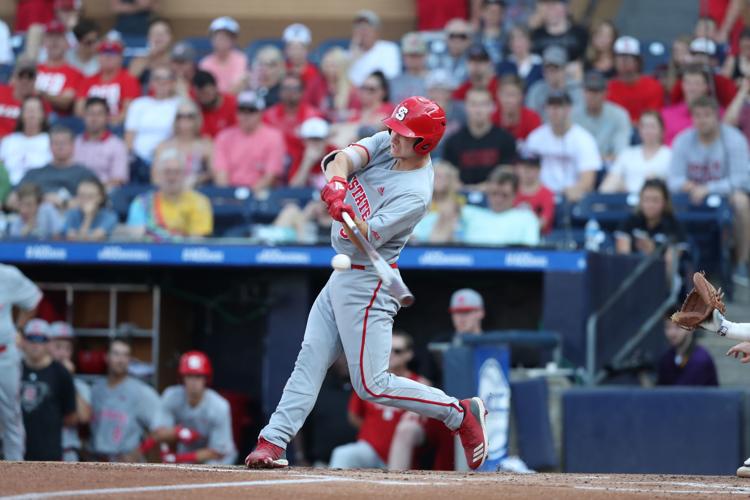 At the ACC level, that comes with a bigger time investment in scouting and understanding his own pitchers and opposing hitters. That changes game to game and sometimes at-bat to at-bat.
It doesn't hurt that Bailey is able to help his pitchers with a few close ones here and there, too.
Campbell explained the finer points of Bailey establishing himself at framing pitches. More accurately, doing his best possible job at making close pitches look like strikes.
"You can't go too far," said Campbell. "It's got to be really subtle."
Often, he said, catchers rely on snapping their wrists too much, either creating an obvious movement or putting themselves in poor position to throw runners out with downward motion.
Instead, elite defensive catchers such as Bailey consistently focus their body weight toward the center of the plate and receive pitches with an upward motion, creating positive momentum toward second base on throws.
"It's very, very quiet and he works from the ground up," said Campbell. "He works underneath the baseball."
Those are the kinds of details that Bailey has focused on throughout his development, just as he worked to become a switch-hitter at the age of 11 with his eyes toward reaching the majors as quickly as possible.
And they're definitely details that he takes pride in, understanding that even if his bat goes cold, there's always room for elite defensive catchers in pro baseball. With just five errors on 453 chances, Bailey certainly fits the bill there.
"In high school, I couldn't hit a lick," he said. "I'd go to tournaments and not get a hit all week but realize my value is behind the plate, defensively. I think that's really helped me as a player now, just understanding no matter how I'm doing at the plate, there's so much more value behind the plate at this level."
He'll quickly get a chance to showcase those skills in Greenville against a Campbell team that will run at every opportunity, ranking 27th nationally in stolen bases with 94 steals in 117 attempts.
"I'd rather have a good-throwing catcher and Campbell didn't like to steal bases, but he can throw it, now," Avent said. "He's one of the best in the country."
Bailey, who has thrown out 13 of 41 base-stealers this season, is looking forward to the challenge of slowing down the speedy Camels.
Naturally, not too excited, though.
"I think that's part of their game, and we'll see," he said. "It's fun; it keeps you locked in."