Jared Wilson has kept an altered schedule during the roughly monthlong stretch. His mother, Allie, puts up with abundance of broken items — more than usual — throughout her home as well.
The single mother to four boys has maintained a full house since the coronavirus pandemic prompted an executive order from Gov. Roy Cooper to close schools in North Carolina and, eventually, a statewide stay-at-home order issued in late March. Wilson, the 16-year-old junior offensive lineman at West Forsyth, gets roped into quite a few fights with his youngest brother, Jeremiah, 9 — "at each other's throats," as Allie jokingly described the scenes.
"It's always the first one and the fourth one. The middle two kind of stay out of it and watch," Allie said, laughing, of Marcus, 14, and P.J., 11. "But it's always those two. He teaches them things and — I don't even think they realize that they do it — but anything Jared does, they kind of follow behind him.
"Especially during this time, they've gotten even more close than they already were. There are days where I think I have to separate them, and they always find their way back to each other."
Wilson, rated a three-star prospect per 247Sports with 18 Division I scholarship offers, said in early April his home routine includes schoolwork — plenty of German, history, science and math. The 6-foot-4, 330-pound tackle uses a weight set, equipped with a bench, in his garage as well.
And, according to Allie, those days her son spent with his younger siblings during the stay-at-home order helped steer his search to find the right fit for a college football career. Wilson said he would play at North Carolina in a combined live-streamed announcement April 17 alongside Glenn linebacker Raneiria Dillworth, a rising senior and four-star prospect.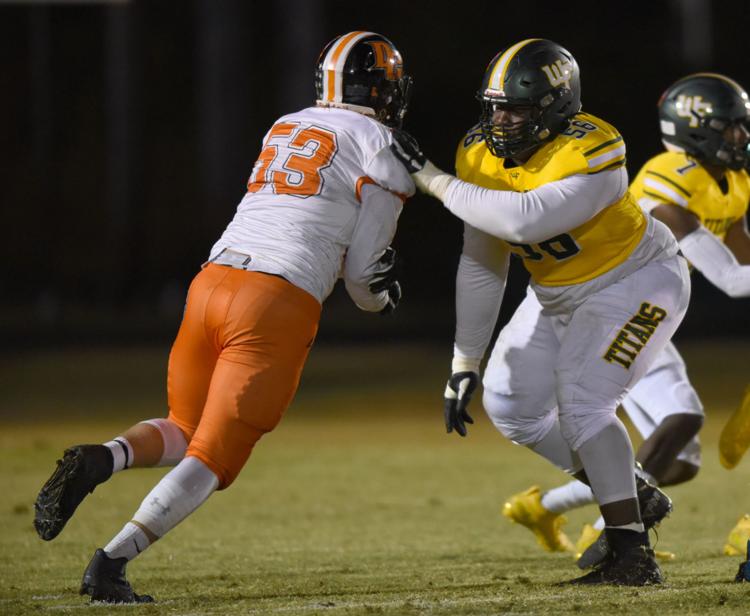 Wilson changed his mind about going to Georgia on Feb. 6, and he said eventually the new choice was between Carolina and the Bulldogs. Allie was happy her son decided to remain near home but was prepared for Wilson to "spread his wings" out of state.
"Ultimately, it was a decision based on my brothers," said Wilson, whose top eight programs announced March 22 were Clemson, LSU, Auburn, Florida State, Arkansas, Florida State, Georgia and Carolina. "Me and my brothers are real close — you know, we're like glue. They're coming up, and I want to be there to support them.
"I can do that four hours away. But it would be easier to do it an hour and 15 minutes away."
According to Wilson, that bond with his brothers is indescribable. Allie said she thought her son desired to further guide his younger siblings upon early enrollment in January 2021 at Carolina. Next year, Marcus — an all-around athlete, as Allie described — will attend West Forsyth as a freshman and likely play football during Wilson's final season.
And the roughly 6-foot-2 P.J. plays football and basketball. Jeremiah remains on the hunt for the right sport. Wilson, who has played two seasons within the Titans' varsity program, shows up to plenty of their sporting events.
Whenever he'd return from a Division I visit with Allie, Jeremiah wanted to see his brother's photos.
"That always just stuck out to me and it always, you know, got to me in an emotional way," Wilson said. "Because it shows the impact that I have on my little brothers, and how much they look up to me. But it might not seem like it — they might not say it.
"But I know I'm a role model for them and I have to keep a straight head and stay on the path."