While most things in the world of sports have been put on indefinite hold or canceled, the NFL is moving forward as scheduled with the NFL draft, which will take place April 23-25.
The Journal and News & Record are catching up with players from Wake Forest, Appalachian State and A&T for interviews about how each one is adjusting to the revamped pre-draft landscape.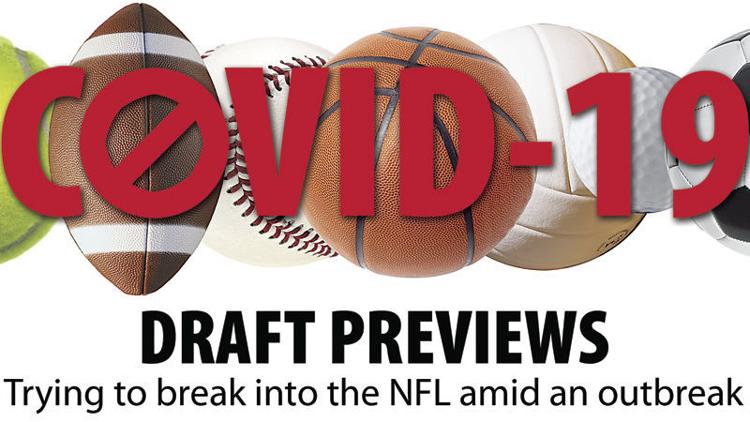 Jake Benzinger
Position: Offensive tackle
Career stats: 42 games, 40 starts; graded out at 88% with 12 knock-down blocks last season; three-year starter for Wake Forest's most-prolific offensive stretch in program history.
Question: What was the deal with the recent pro day?
Answer: Me and Nate (Gilliam) both trained at Chip Smith's in Atlanta, a pretty well-known, good trainer.
Obviously with the whole pro day thing being postponed and not really having an actual date where it would be postponed to, who knows if it'll actually be happening, my trainer and my agent both kind of coordinated the pro day.
How many guys were out there?
I think it was around 10 guys.
We kept our 6-feet social distance for most of it. And then we did some O-line drills with bags, so for that there was some contact. But it was good to get that on tape as well as the rest of the typical combine testing drills.
Were your numbers what you were looking for?
Yeah, they kind of reflected what — I didn't really do a ton better or a ton worse than what I trained at, so that's what I was kind of expecting.
I feel like … placing solid numbers gives me a chance.
What were the numbers?
My 40 was a 5.1, and then my shuttle was a 4.6. My L-drill (three-cone) was a 7.5. …
It was good to get those numbers, and we did broad jump and vertical. Then we finished it off with a bunch of O-line drills that we videotaped.
We tried to basically mimic all the drills that you would see in a typical pro day.
How much have you been working out lately?
I've been trying to work out a decent amount. It's been more of field work and staying in shape, and then lifting as of late because there aren't many gyms open, so I'm currently in the market for some equipment.
Are you shopping online?
Trying to find some old bench press somebody has in their garage, something like that.
It's unreal how things have gone, because I'm used to training at a world-class facility at Wake, and then Chip's was a great facility. But basically everything is closed now, so you've really gotta — it's tough to find stuff.
Are you back up in Massachusetts?
No, I'm actually in Winston.
I haven't made it all the way up there.
My plan is to be up there for the draft.
What have you been doing to stay sharp on the mental side of football?
So, throughout my training at Chip's in Atlanta, both me and Nate were working with a former NFL vet, John Stinchcomb, who played for the Saints, won a Super Bowl.
He had a 10-year career, good player, and he worked with us three days a week when we were in Atlanta. We were going through technique stuff and also we would get up on the board — we basically went through the entire Saints' playbook — not the entire thing, just a lot of the base plays.
We went through a lot of the base, west-coast style protections, and then some pro-style offense.
Both me and Nate were looking to expand our knowledge of schemes because obviously the spread scheme at Wake worked really well, but it's going to be very different from some of the pro styles that you see in the league.
Defensive guys at Wake had to learn a bunch of different systems, but that's not the case for offensive guys?
Yeah, it has been a blessing in our time at Wake that we didn't have to go through those transitions because we had a lot of stability there with (offensive coordinator Warren Ruggiero) and (offensive line) Coach (Nick) Tabacca.
But I would say that we evolved a little bit every year, so that has helped.
Any teams that have shown interest and met with you?
My agent is going to get the videotape and basically send it out to teams that have shown interest and will show interest over the coming weeks.
The Shrine Bowl in Tampa was kind of an indicator of what teams — I would say I talked to the majority of the teams with basic interviews and then different tests, going through a gauntlet of tests.
Were you surprised that the draft stayed on the dates?
No, actually I wasn't super surprised. I feel like the NFL can be pretty good at adapting to those things. And it's not entirely an event that needs to be — where thousands of people are in the room at the same time.
Were you concerned you wouldn't have a pro day or did the wheels start moving pretty quickly to get something done once Wake Forest's was postponed?
The wheels started moving pretty quick.
And the first one that we planned actually got postponed as well, the one with Chip. We were going to train at a facility and invite scouts and have it broadcast, but the NFL pulled scouts off the road, so we had to then call another audible.
I was concerned once the first Chip Smith-sponsored pro day got called off, but then we adapted and got the second one.