DURHAM — When you play up a division, there's no margin for error.
Even little mistakes get magnified in big, big ways. And then the game can get away in a hurry.
So it was for N.C. A&T in its 45-13 loss to Duke at Wallace Wade Stadium before an announced crowd of 38,313 Saturday on Employee Appreciation Night, when the Blue Devils scored 21 straight points in the final 3 minutes, 10 seconds before halftime.
It changed a competitive game into a rout.
"That was the whole ball game," A&T coach Sam Washington said. "That put everything in their possession. It gave them life. It gave them hope, and they capitalized on it, so give them credit for that. They did what you are supposed to do with that."
Duke quarterback Quentin Harris, a graduate student in his fifth year with the Blue Devils (1-1), carved up the Aggies defense. He and Duke's up-tempo, no-huddle offense got better, and better, and better still as the game wore on.
Harris finished with the best numbers of his career, completing 30-of-42 passes for 345 yards, four touchdowns and no interceptions. His quick feet hurt the Aggies (1-1), too, as Harris rushed for 83 yards and a touchdown on 13 carries.
"Quentin is so versatile," Duke coach David Cutcliffe said. "I've said it all along, you can see his arm. He can make every throw. He's going to look at (game video) and see he had probably three or four throws he would like to have back. That's again part of the whole process of consistency. Yes, he is getting a feel for the guys he's throwing to, and yes, he's getting a feel for the game. But we have to find out how good this Duke football team can be."
A&T, the No. 14 team in the FCS Coaches' Poll, had five sacks in its opening victory over Elon last week. They had none against the elusive Harris on Saturday night.
With no pressure from a pass rush, the Aggies wore down against Duke's no-huddle offense and couldn't stay close.
And it was close early. A&T came in expecting to win, chasing an upset victory over a higher-division FBS program for the fourth consecutive year.
The Aggies scored first and led 3-0 when Noel Ruiz kicked a 40-yard field goal to finish their second drive.
Then early in the second quarter, junior running back Jah-Maine Martin took a handoff, started right, saw an opening left, cut back and sprinted untouched 66 yards for a touchdown and a 10-7 A&T lead.
But Duke, which plays in the Power Five ACC, isn't the same sort of FBS team as Kent State or Charlotte or even East Carolina.
The Blue Devils answered with a nine-play 81-yard scoring drive to take the lead for good.
And when A&T's star receiver Elijah Bell fumbled after a 14-yard catch — the Aggies' first turnover of the season — Duke scored on the next play, as Harris hit Eli Pancol with a 39-yard touchdown pass.
The turnover changed the tone. In the instant Duke cornerback Leonard Johnson stripped the ball from Bell and safety Dylan Singleton recovered, the game swung.
In a span of 14 seconds on the game clock, A&T went from contenders clinging to a 10-7 lead to trailing by two scores.
"Leonard (Johnson) matched up with some pretty big guys in (A&T receivers) Zachary Leslie and Elijah Bell," Cutcliffe said. "… North Carolina A&T is not only extremely well-coached, but they are a really good football team. I see why they win championship after championship every year."
Harris scored on a 6-yard keeper with 34 seconds left in the half to finish the 21-point run, and the Aggies trailed 28-10, the upset bid effectively over.
The Aggies didn't believe it was over, at least not until Duke scored on a 12-play, 85-yard drive late in the third quarter to go ahead 38-13.
"One of the main factors is that these kids didn't quit, and they kept playing," Washington said. "You've got to understand that (Duke) is a Power Five football team, and we were in the game for a long time, and still in the second half. There is a lot to be said about these kids and where we are. There are things that we have to do better and more consistently."
Duke ran 90 plays for 574 yards of total offense, compared to A&T's 54 plays for 249. The Blue Devils were 3-for-4 on fourth-down conversions, all three of those in their own territory. And they scored on a fourth-and-goal run.
They played like an FBS team that's won three bowl games in the last four years. This was a game they were supposed to win, and they did.
And A&T? The Aggies simply wore down against a better team with 22 more full scholarships to award.
Now they play another road game next week, at Charleston Southern (0-2) of the Big South, a fellow FCS team that got clobbered 72-10 at FBS South Carolina on Saturday.
NOTES: A&T wide receiver Elijah Bell finished with two catches for 52 yards. The senior moved past Wallace Miles into second place on the Aggies' career receiving yardage list. Bell has 158 catches for 2,270 yards. The Aggies' all-time leader is Herbert Harbison (1983-86) with 172 catches for 2,301 yards. … Duke wide receiver Jalon Calhoun, a freshman, finished with eight catches for 105 yards and two touchdowns. … A&T quarterback Kylil Carter was under pressure often, but took just one sack and finished 8-of-22 passing for 111 yards. Carter also ran for 54 yards on nine carries. … A&T tailback Jah-Main Martin finished with 10 carries for 82 yards, 66 of them on the touchdown run. … Linebacker/safety Antoine Wilder made 11½ tackles to lead the A&T defense. Joe Stuckey had 11 tackles and a fumble recovery. … A&T won halftime, and that wasn't close, either. The Blue & Gold Marching Machine played a medley of songs including Bon Jovi's "Living on a Prayer," Nirvana's "Smells Like Teen Spirit" and Aerosmith's "Dream On," winning over the Duke crowd and earning a standing ovation.
N.C. A&T loses to Duke, 45-13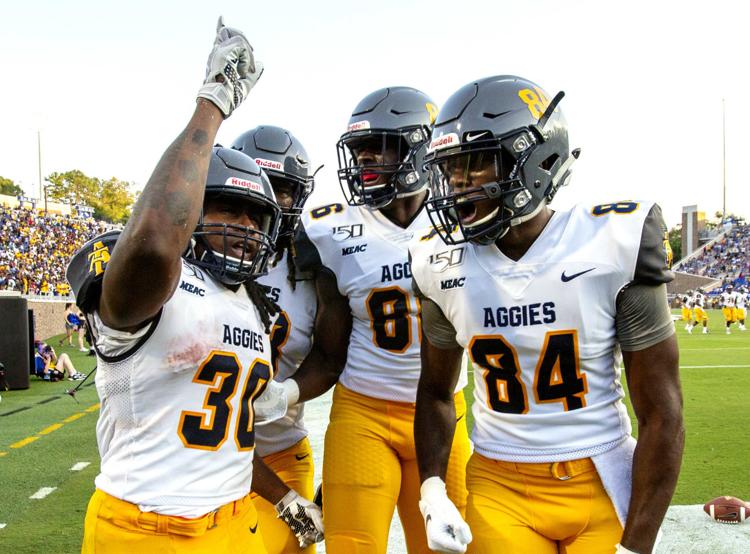 N.C. A&T loses to Duke, 45-13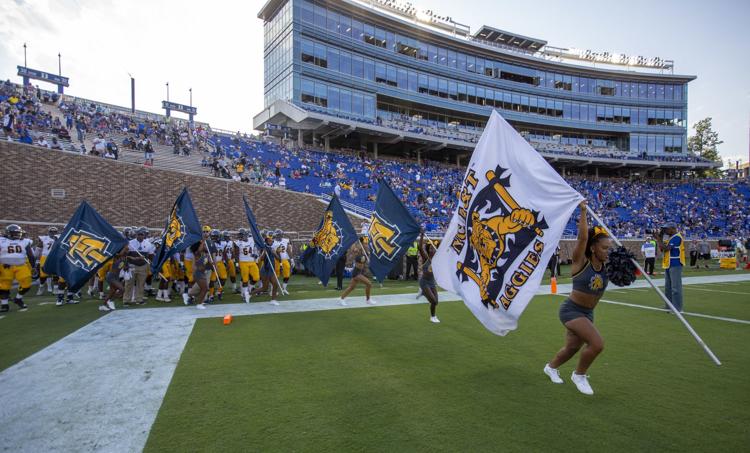 N.C. A&T loses to Duke, 45-13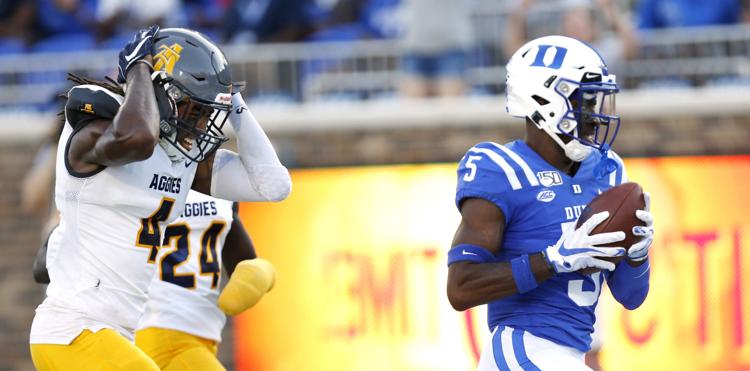 N.C. A&T loses to Duke, 45-13
N.C. A&T loses to Duke, 45-13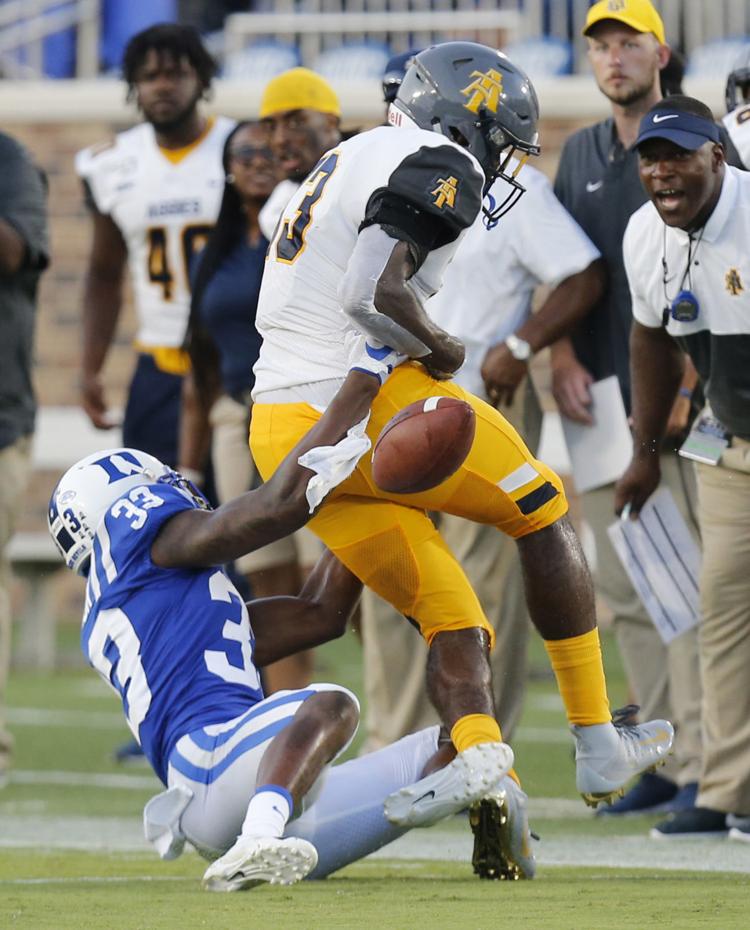 N.C. A&T loses to Duke, 45-13
N.C. A&T loses to Duke, 45-13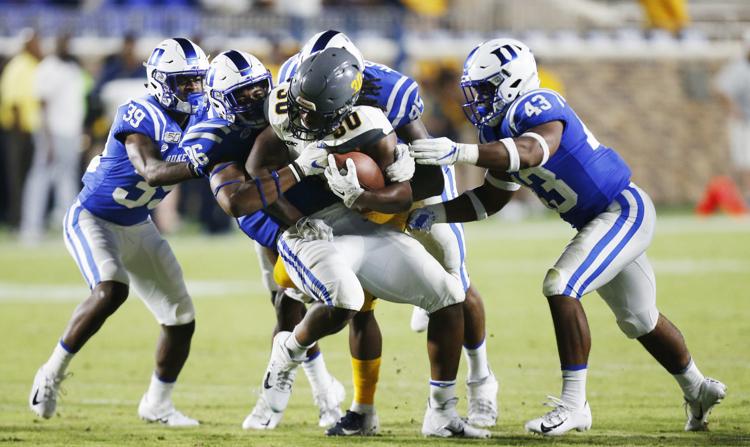 N.C. A&T loses to Duke, 45-13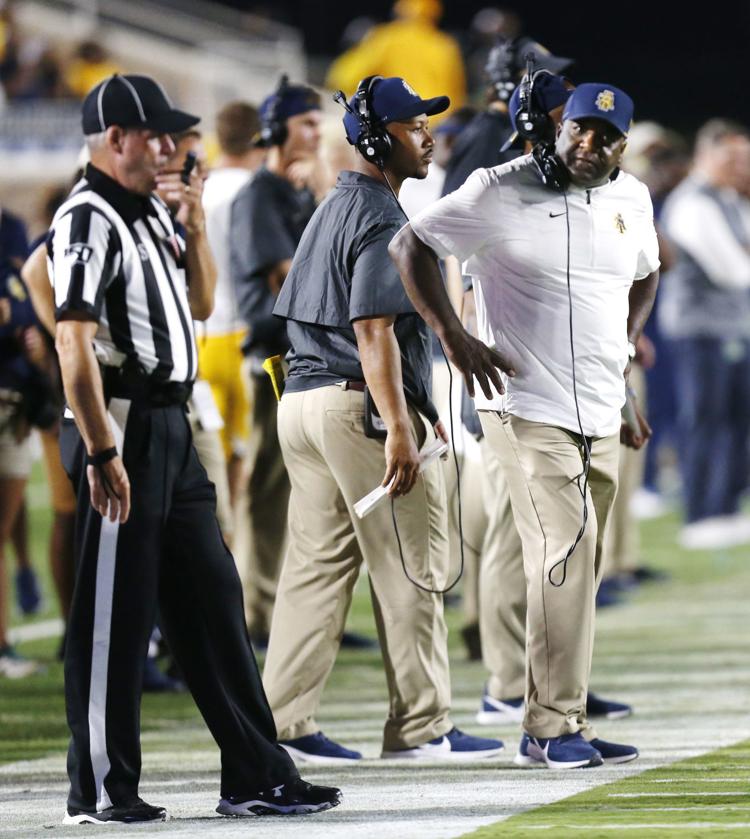 N.C. A&T loses to Duke, 45-13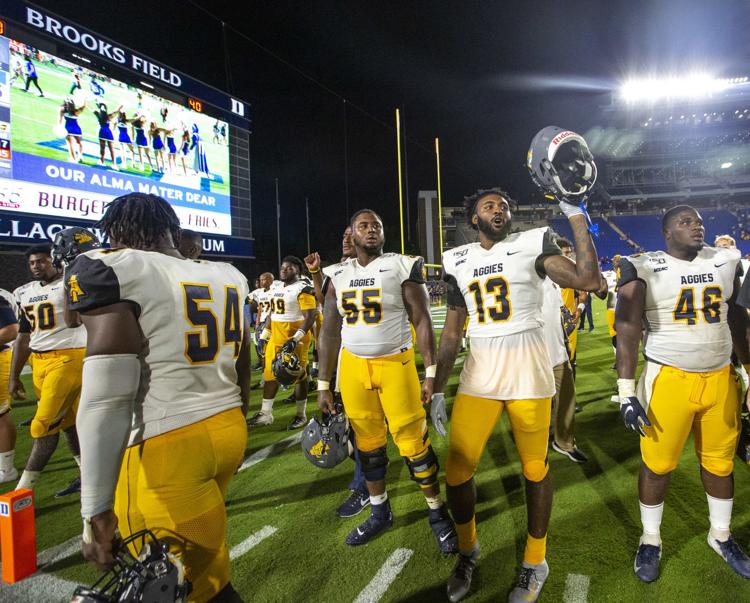 N.C. A&T loses to Duke, 45-13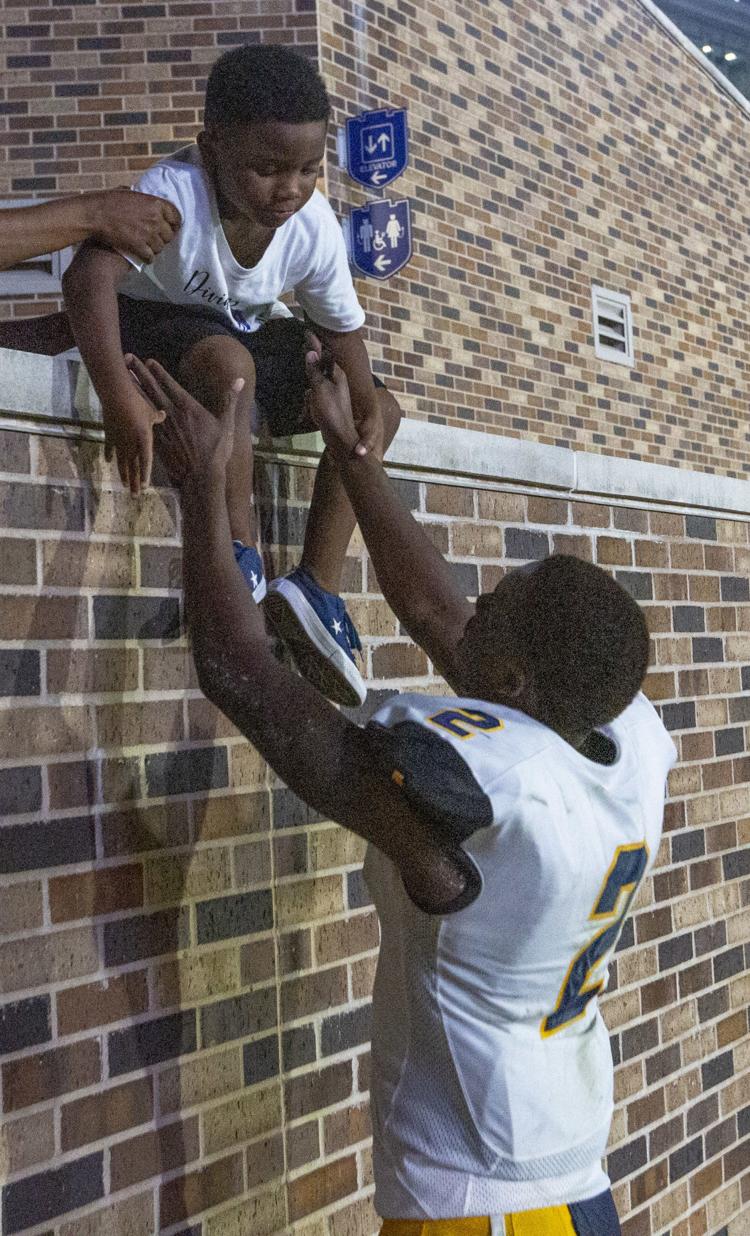 N.C. A&T loses to Duke, 45-13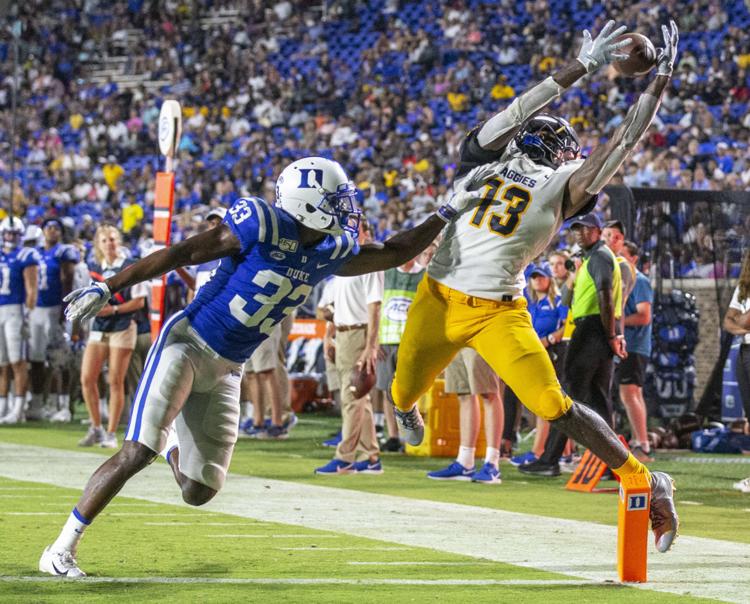 N.C. A&T loses to Duke, 45-13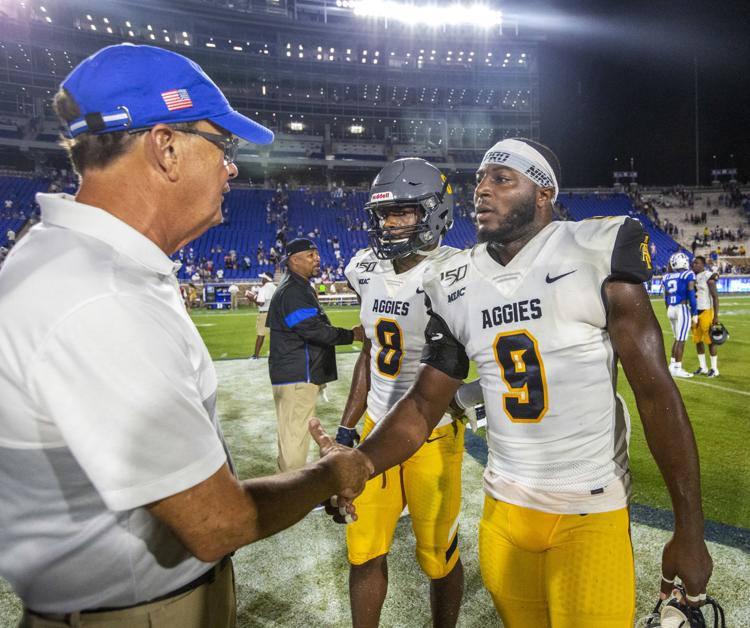 N.C. A&T loses to Duke, 45-13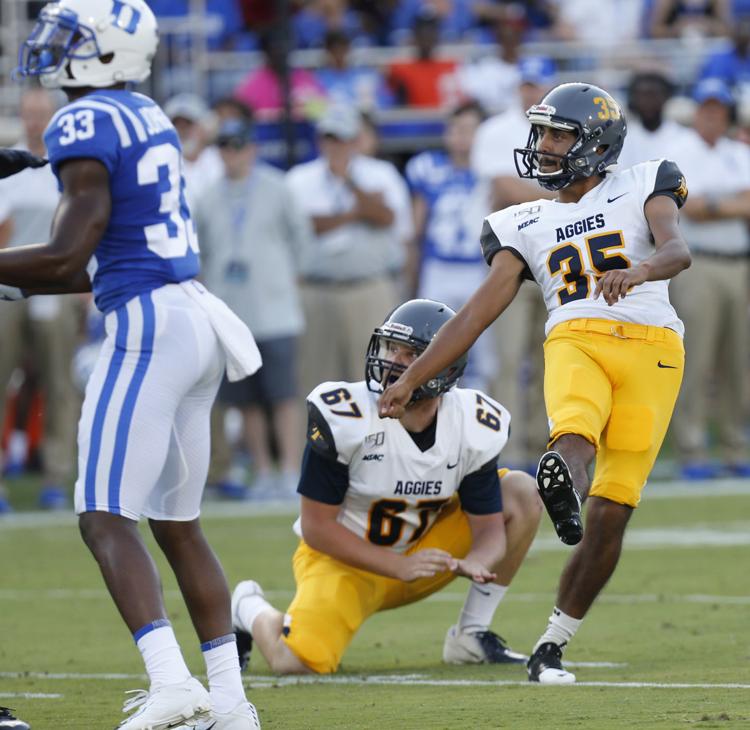 N.C. A&T loses to Duke, 45-13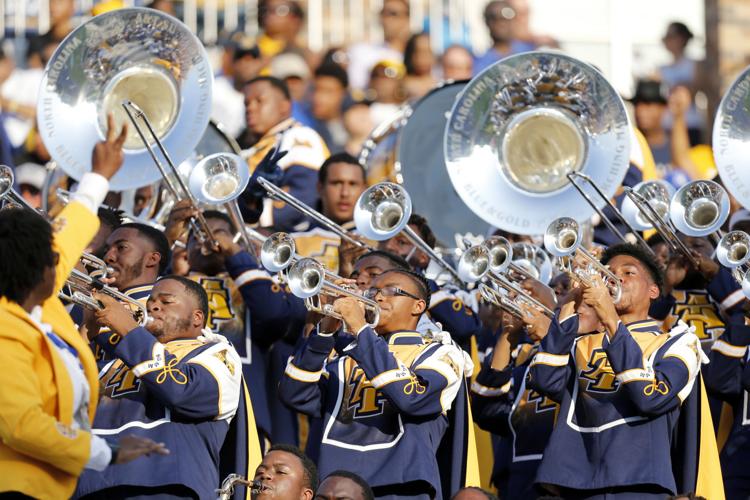 N.C. A&T loses to Duke, 45-13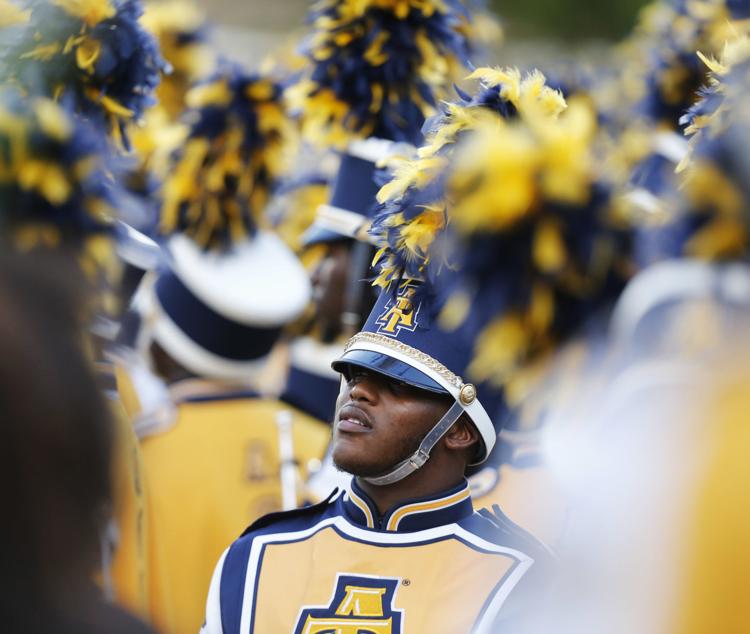 N.C. A&T loses to Duke, 45-13