Going camping: College football practice begins around the state
College football practices open training camp this week. A look at the Big Four, N.C. A&T, Appalachian State and East Carolina:
Appalachian State
Last season: 11-2 (7-1 Sun Belt)
First practice: Aug. 2
First game: East Tennessee State, 3:30 p.m. Aug. 31 (ESPN+)
Key returnees: QB Zac Thomas, RB Darrynton Evans, RB Camerun Peoples, WR Corey Sutton, WR Thomas Hennigan, OT Victor Johnson, C Noah Hannon, G Ryan Neuzil, G Baer Hunter, DE Chris Willis, DE Elijah Diarrassouba, LB Jordan Fehr, LB Akeem Davis-Gaither, LB Noel Cook, S Desmond Franklin, S Josh Thomas.
Key losses: RB Jalin Moore, OT Chandler Greer, C Tobias Edge-Campbell, DE Okon Godwin, DT MyQuon Godwin, LB Anthony Flory, CB Clifton Duck, CB Tae Hayes.
Camp question: After running away with the Sun Belt last season, the Mountaineers will be loaded again and expected to be among the top Group of Five teams. Can they live up to expectations in their first season under Coach Eliah Drinkwitz?
Duke
Last season: 8-5 (3-5 ACC)
First practice: Aug. 2
First game: vs. Alabama at Atlanta, 3:30 p.m. Aug. 31 (WXLV).
Key returnees: QB Quentin Harris, RB Deon Jackson, RB Brittain Brown, WR Aaron Young, TE Noah Gray, C Jack Wohlabaugh, OG Julian Santos, DT Trevon McSwain, DE Victor Dimukeje, DT Derrick Tangelo, LB Koby Quansah, CB Mark Gilbert, S Marquis Waters.
Key losses: QB Daniel Jones, WR T.J. Rahming, WR Jonathan Lloyd, WR Chris Taylor, TE Davis Koppenhaver, TE Daniel Helm OG Zach Harmon, OT Christian Harris, DT Axel Nyembwe, LB Joe Giles-Harris, LB Ben Humphreys, CB Brandon Feamster, S Jeremy McDuffie.
Camp question: Quentin Harris taking over at quarterback is the most glaring change for the Blue Devils, but there are also questions in the middle of a defense. Is Duke talented enough to surprise with a seamless transition this season?
East Carolina
Last season: 3-9 (1-7 American)
First practice: Aug. 1
First game: at N.C. State, Noon, Aug. 31.
Key returners: QB Holton Ahlers, RB Hussein Howe, RB Darrius Pinnix, WR Deondre Farrier, WR Blake Proehl, OT Cortez Herrin, OT D'Ante Smith, C John Spellacy, DT Alex Turner, DT Jalen Price, DE Kendall Futrell, LB Aaron Ramseur, LB Bruce Bivens, S Davondre Robinson, CB Colby Gore.
Key losses: RB Anthony Scott, WR Trevon Brown, WR Terrell Green, OT Garrett McGhin, DE Nate Harvey, DT Shaun James, LB Cannon Gibbs, LB Ray Tillman, S Devon Sutton, S Marcus Holton.
Camp question: The past three seasons have been a disaster in Greenville, but the cupboard isn't bare. Mike Houston has been a success at every stop — how quickly can he turn the Pirates talent into a winner?
North Carolina
Last season: 2-9 (1-7 ACC)
First practice: Aug. 2
First game: vs. South Carolina at Charlotte, 3:30 p.m. Aug. 31 (ESPN)
Key returnees: OT Charlie Heck, OG Nick Polino, RB Michael Carter, RB Antonio Williams, WR Dazz Newsome, S Myles Dorn, DT Jason Strowbridge, DE Tomon Fox, LB Dominique Ross, CB Patrice Rene, QB Cade Fortin, QB Jace Ruder.
Key losses: QB Nathan Elliott, OT William Sweet, WR Anthony Ratliff-Williams, WR Thomas Jackson, LB Cole Holcomb, DE Malik Carney, K Freeman Jones.
Camp question: The first order of business for Coach Mack Brown will be finding the right quarterback. Fortin and Ruder both showed promise in limited work last season, while freshman Sam Howell was one of the top prospects in the nation.
N.C. State
Last season: 9-4 (5-3 ACC)
First practice: Aug. 2
First game: vs. East Carolina, noon Aug. 31 (ACC)
Key returnees: QB Matthew McKay, QB Devin Leary, RB Ricky Person, WR Emeka Emezie, WR Thayer Thomas, OT Justin Witt, C OT Emanuel McGirt, DE James Smith-Williams, DT Larrell Murchison, LB Louis Acceus, LB Payton Wilson, CB Nick McCloud, S Jarius Morehead, S Stephen Griffin.
Key losses: QB Ryan Finley, RB Reggie Gallaspy, C Garrett Bradbury, OT Tyler Jones, OG Terronne Prescod, WR Kelvin Harmon, WR Jakobi Meyers, DE Darian Rosboro, DT Eurndraus Bryant, LB Germaine Pratt, S Dexter Wright.
Camp question: After winning 18 games over the past two seasons, this feels like the start of a new era for the Wolfpack. New leaders will have to step up, and that starts with quarterback, where McKay has the inside track to win the job.
N.C. A&T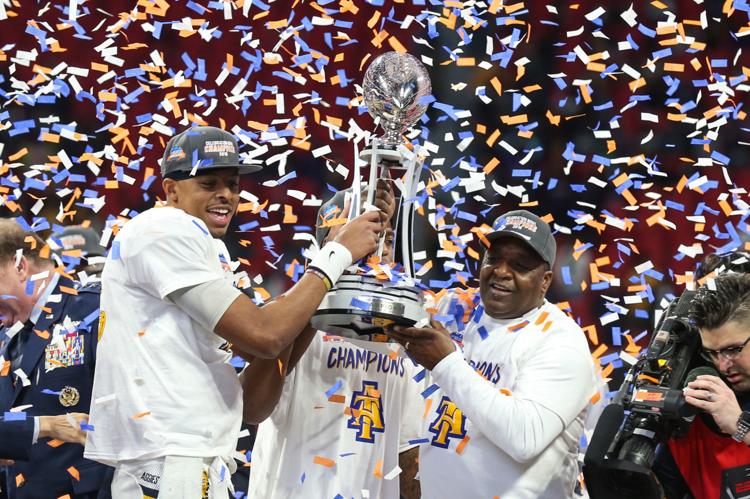 Last season: 10-2 (6-1 MEAC)
First practice: Aug. 2, 4 p.m. (Smith High School).
First game: vs. Elon, 6 p.m., Aug. 31.
Key returners: QB Kylil Carter, RB Jah-Maine Martin, WR Elijah Bell, WR Zachary Leslie, OT Marcus Pettiford, LB Antoine Wilder, S Richie Kittles, CB Mac McCain.
Key losses: QB Lamar Raynard, RB Marquell Cartwright, WR Malik Wilson, WR/KR Malik Wilson, TE Leroy Hill, OG Micah Shaw, DT Julian McKnight, DE Darryl Johnson, CB Timadre Abram.
Camp question: The Aggies lose 14 starters from last season, but still have plenty of talent on the roster. Will it be enough for a run at a fourth Celebration Bowl and black football national title in five seasons?
Wake Forest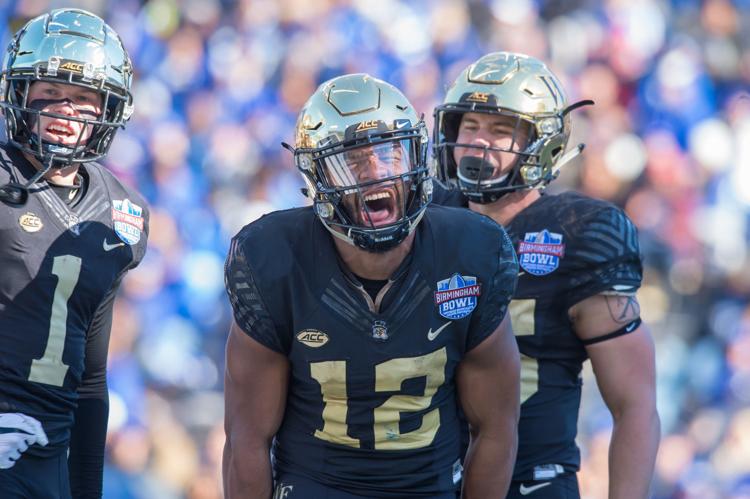 Last season: 7-6 (3-5 ACC)
First practice: Aug. 1
First game: Utah State, 8 p.m. Aug. 30 (ACC)
Key returners: QB Jamie Newman, QB Sam Hartman, RB Cade Carney, WR Sage Surratt, WR Scotty Washington, TE Jack Freudenthal, OT Justin Herron, OT Jake Benzinger, DE Boogie Basham, DT Sulaiman Kamara, LB Justin Strnad, CB Essang Bassey, S Justin Masterson.
Key losses: RB Matt Colburn, WR Greg Dortch, OG Phil Haynes, C Ryan Anderson, OG Patrick Osterhage, DT Willie Yarbary, DT Zeek Rodney, DE Chris Calhoun, S Cameron Glenn, S Chuck Wade.
Camp question: Who's the starting quarterback? Will it be Jamie Newman, who led the Deacons to three victories in four starts down the stretch? Or Sam Hartman, who impressed until an injury ended the freshman's season?