Five things to watch in the Wake Forest-Syracuse game Saturday night
By Conor O'Neill Winston-Salem Journal
It's another extended road trip for Wake Forest,
... which flew from Louisville, Ky., to Syracuse, N.Y., after Wednesday night's 86-76 loss to the Cardinals.
The Deacons play at Syracuse on Saturday night and hope to end this two-game trip better than the season's other multi-game trip. Between November and December, the Deacons played three games in Anaheim, Calif., and then played at Penn State — a 76-54 loss in the ACC-Big Ten Challenge.
Five things to watch on Saturday night:
1. Another strong start …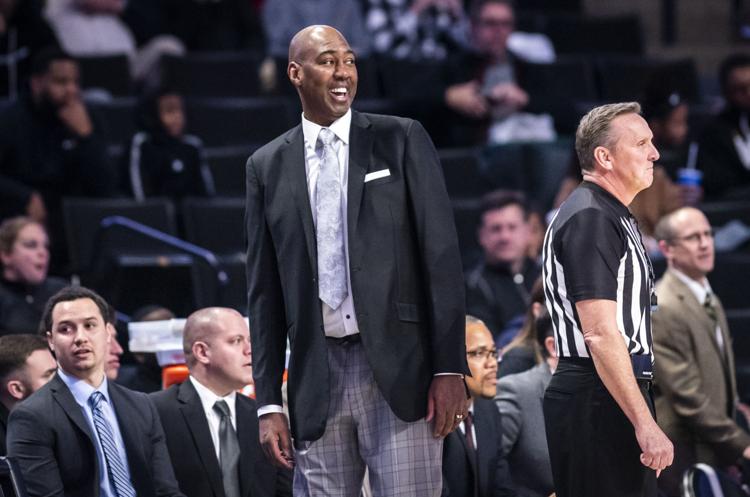 Wake Forest has held a halftime lead in five straight games, and the opening 20 minutes at Louisville saw the Deacons jump out to a 12-point lead on the fifth-ranked team in the country.
The biggest halftime lead of the season was accomplished by working the ball inside to Olivier Sarr, who had 16 points and by driving and kicking to shooters — Wake Forest's six 3-pointers in the first half were more than it's had total in nine games this season.
"We got off to a really good start offensively, especially from behind 3 … we shot the ball well," Coach Danny Manning said. "We did a really good job of getting the ball to the paint, below the free-throw line and making good decisions. We got guys ready to shoot it on the catch, and that gave us a chance to build our lead."
2. … another lacking second half
The problem for the Deacons was that after the first half, they didn't have much of an answer for Louisville's surge.
"We had a good punch to start, they weathered that punch pretty well and … they came out and hit a lot of shots to start the second half and we just never were able to recover," said senior guard Andrien White, who had a team-high 17 points.
Louisville outscored Wake Forest 52-30 in the second half, shooting at a clip above 60% until the last minute. The Deacons are 2-4 when entering the second half with a lead in ACC games.
3. Into the corners?
Wake Forest lost last season's only meeting against Syracuse 79-54 and committed a season-high 23 turnovers, with Manning saying part of the game plan was to enter the ball into the corner and draw double-teams.
"We also wanted to get it to the short corner because we knew they were going to trap us, and we thought if we could get a good pass out of that, we'd be able to attack," Manning said after that early-March loss. "That didn't work out as well as we wanted it to, or we hoped for it to."
It'll be interesting to watch how much the Deacons throw the ball into the corner against the Orange this time.
4. The Orange against triple-digit KenPom teams
Wake Forest entered Friday night's games ranked 101st in KenPom's overall rankings, and there seems to be a correlation between a triple-digit team and one inside 100 for Syracuse.
All nine of Syracuse's losses have been to teams in the top 100 of KenPom's overall ranking, while the Orange is 8-0 against teams outside the top 100. Syracuse was 1-7 against top-100 teams until a five-game winning streak in January, defeating Virginia (54), Boston College (158) Virginia Tech (93), Notre Dame (58) and Pittsburgh (82).
5. Top-scoring duo
Syracuse has two of the top-six players in the ACC in scoring: Elijah Hughes leads the league with 19.4 points per game, while Buddy Boeheim is sixth at 16.3.
They're also the ACC's top two 3-point shooters in the league in terms of made 3s per game — Boeheim at 3.5 and Hughes at 2.7. Both are listed at 6-6, though Hughes is a forward, Boeheim a guard.
They also rarely leave the court. Hughes is seventh nationally in percentage of minutes played (95.0%), while Boeheim is 36th nationally (89.5%). Two others for the Orange — Marek Dolezaj (83.8%) and Joseph Girard (78.8%) — also play a large chunk of minutes for limited-rotation Syracuse.