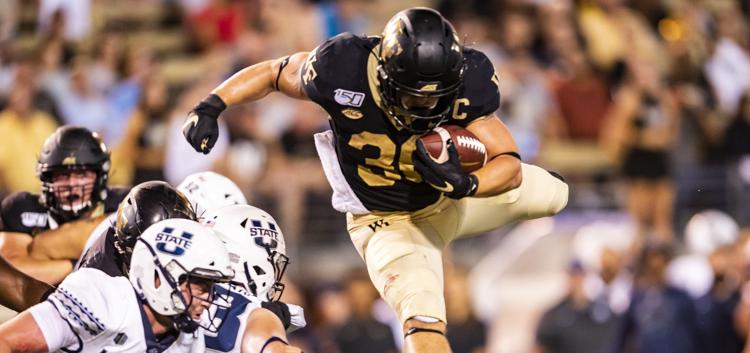 This is the game on Wake Forest's football schedule that Cade Carney would have played in July in Advance — if necessary.
"I'll play Carolina tomorrow in the backyard just to play them," Carney said at the ACC Kickoff in Charlotte.
The turf of BB&T Field on Friday night will do just fine for this strange, unique, historic meeting.
For the first time since 2015, Wake Forest and North Carolina will play football against each other and resume their 131-year-old rivalry. The first game between the Deacons and Tar Heels was in 1888, a 6-4 win by Wake Forest. The teams played every season from 1944 to 2004, before conference expansion placed them in separate ACC divisions.
This is the 107th meeting in series history, but only the sixth in the last 15 seasons. It's the first time since 1952 — the year before the ACC was founded — that these teams will play and it won't count in the league standings.
More Clawson: "We certainly would be in favor of some type of setup that we get to play Carolina, Duke and N.C. State every year. That would be our preference."

— Conor O'Neill (@ConorONeillWSJ) September 10, 2019
The only players on Wake Forest's roster who have played against North Carolina are sixth-year offensive lineman Justin Herron and redshirt senior receiver Kendall Hinton; the other Deacons who were on the roster in 2015 were redshirted that season.
"What's weird about it is just our lack of familiarity with them," Coach Dave Clawson said. "Because of conferences and things like that — traditionally, a rival you play every year. That's why it's a rivalry.
"We know more about Utah State and Rice and Notre Dame than we really know about Carolina. And it's just because we've played those teams more often."
Part of forming a game plan is conducting what Clawson termed as "a deep dive" on a team's roster. There are some players — senior tight end Carl Tucker from Concord is one — who Clawson and his staff are familiar with because of recruiting.
But this is an opponent that's an ACC team that the Deacons weren't all that familiar with before preparation began during the weekend.
It doesn't mean the meaning of this game is lost on them.
"When (donor and former football player) Bob McCreary came to talk to us, he was harping on the fact that this is one of the most important games for all alumni," redshirt senior offensive lineman Jake Benzinger said. "We hear it, and we're going to treat it like — I mean, if you're an elite Division I player, you should be treating every game like it's important and preparing your hardest.
"But this game really, it should give you a little extra juice to get out there to play. This one matters to a lot of people."
The nonconference home-and-home series will see Wake Forest travel to Chapel Hill for a game in 2021, and then when the teams play the following season in Winston-Salem, it'll finally count as an ACC game again.
There isn't another nonconference meeting on the schedule — but that's something that Clawson would welcome in the future.
"The game is huge and we know that, but it's just, it's a weird rivalry because your rivals, you should play them every year," Clawson said. "And we certainly would be in favor of some type of setup that we get to play Carolina, Duke and N.C. State every year. That would be our preference."
Wake Forest plays N.C. State every season because the Wolfpack is in the Atlantic Division with the Deacons, and it plays Duke every season because the Blue Devils are the Deacons' permanent crossover to the Coastal Division.
"It's crazy … you hear 'Beat State, Beat Duke,' but you hear even more, 'Beat Carolina,' which is wild, we haven't played them in so long," Benzinger said. "You keep hearing, 'Beat Carolina, beat Carolina. You guys play Carolina this year?'
"And in years past, we've said no, but we finally do this year."
Carney, a senior running back, has already had quite the full career for the Deacons. In his first three seasons, he's been to and won three bowl games. He's 69 yards away from becoming the 13th player in school history to run for at least 2,000 yards. If he gains 651 rushing yards over the course of the rest of the season, he'll finish fourth in program history for career rushing yards.
And yet, if not for this strange, unique situation, Carney would've gone his entire Wake Forest career without taking part in a game against Wake Forest's longest-running rival.
"Conference, not, I don't care. … It's a rival; we both get excited to play this game and like I said, I'd play them even if it didn't go on the record," Carney said. "It would've stunk not to play them. … When you talk to people in the area, they want to know if you played Carolina or how that went."
After Friday night, Carney will finally have an answer to that.