Jennifer Kupcho walked off the 10th green at Starmount Forest Country Club to a smattering of applause.
The senior from Wake Forest had come back from a big Monday morning deficit to get to 3-under in U.S. Women's Open qualifying to assure herself one of only two spots for what will be her first professional tournament May 30-June 2 in Charleston, S.C.
Kupcho's senior year at Wake has been a remarkable run, one of the greatest in school history, which is saying something.
But as she now prepares for the next chapter in her career, she faces something no Wake Forest golfer has ever faced, something few American golfers have ever faced, male or female.
Kupcho is the top-ranked women's amateur in the world. And though she walked off the final green to polite golf claps, she'll arrive at the U.S. Open as the very face of the coming wave of American golfers.
"There's definitely a lot of pressure," she said.
It was only three weeks ago when Kupcho stood on the first tee at Augusta National Golf Club where she was surrounded by a lot more people than were here at Starmount. Kupcho would make history twice, first by hitting the first shot in the inaugural Augusta National Women's Amateur and then cementing her name into the history of the game by making the last shot and winning the tournament.
It was more than a win. In the words of longtime USA Today sports columnist Christine Brennan, "hell has frozen over."
Kupcho's win was a victory for women's golf, a game-changing event that will have repercussions for years to come. She walked where no woman had walked before, and she won where no woman had won before, fighting migraines that stabbed her like the point of a bayonet.
She walked off the 18th green at Augusta as a national shrine and a hero to young girls all across the world. Especially in America.
"It was great to take that first step," Kupcho said after her rounds at Starmount, "and it's great to be able to influence the little girls."
Her win in Augusta was a pioneering moment, one that will define her for the rest of her life. Kupcho knows that, but she was also pretty proud to walk off her last green at Starmount, where women's golf history was made 72 years ago.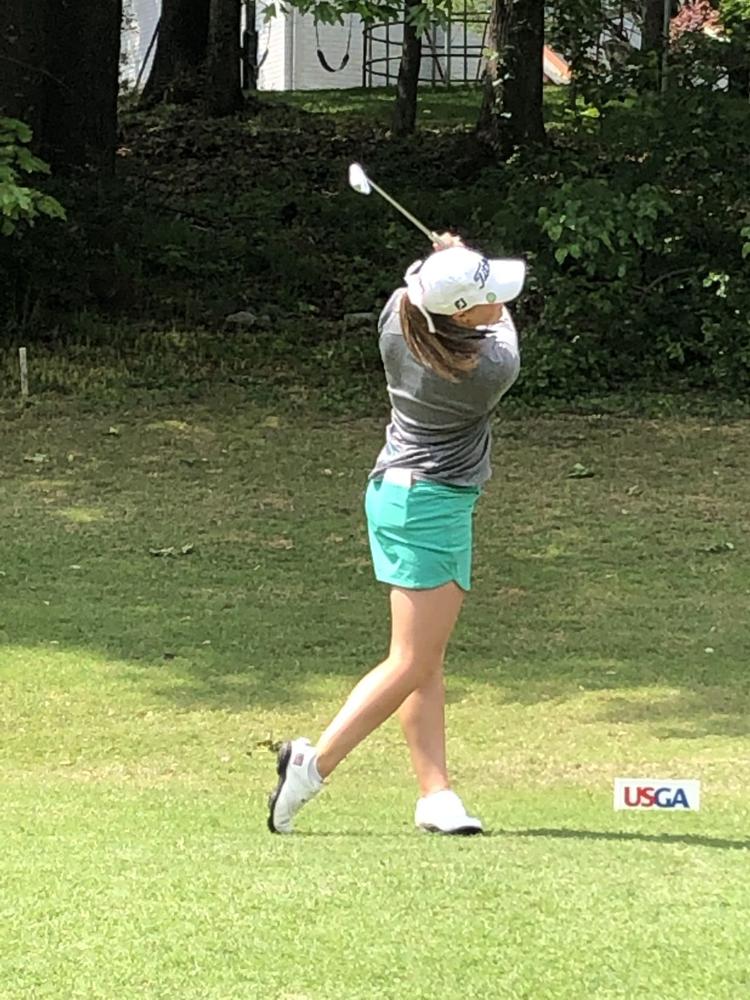 The 1947 U.S. Women's Open was the first medal-play event of what would become the crown jewel of the LPGA Tour. Betty Jameson held off a slew of amateurs to win the historic event.
When Kupcho arrives on the LPGA Tour, days after her Wake Forest career ends following the NCAA Tournament, she'll bring a slew of women with her, all from college, all out to change the way the world sees women golfers, particularly Americans.
Kupcho said people don't understand why so many young foreigners dominate the LPGA Tour for brief periods, most of them not able to sustain the momentum or the pressure.
"Americans just have a hard start at it honestly," she said. "A lot of the foreign countries, they start at a really young age and they do that for basically a job, and they go to school on the side. Here's it's more school. And that's a big thing because Americans really do have a good education, and they know what's going on. It's going to start to show with my class coming up. We'll start to show that going to college is really necessary."
Bold talk from the best amateur in the world.
Her name is Jennifer Kupcho. And she's going to the U.S. Women's Open not as the top-ranked amateur in the world and not as the defending NCAA champion. She's going as a pioneer. She's going as an American pro.
And she's taking her friends.