The North Carolina soccer program is trying to secure its 28th Women's College Cup appearance, and a freshman forward from Greensboro has played a major role and is earning major praise from her legendary coach.
Isabel Cox, who graduated from Grimsley and played for the Whirlies, scored two goals in Carolina's 4-0 win over Michigan in the third round to help the Tar Heels (22-1-1) advance to the quarterfinals of the NCAA Tournament against Southern California (17-4-1) on Friday.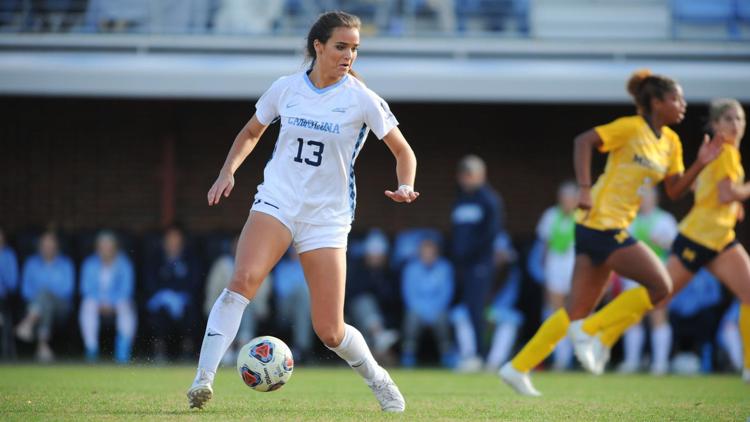 "It meant a lot (to score in an NCAA Tournament game)," said Cox, who was the News & Record's HSXtra.com Player of the Year for high school girls soccer in 2017 and 2018. "It's something I've always dreamed about, being a little kid playing soccer. I've always wanted to win a national championship, and I was just so happy to score two goals to contribute and help us move on."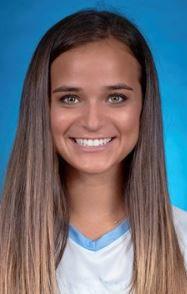 As gifted and talented as Cox is, she wasn't sure how she would work her way onto the pitch in Coach Anson Dorrance's program. Dorrance, whose teams have won 22 national championships and who has coached 59 U.S. national team players, wasn't exactly sure what Cox's path to playing time would look like, either.
"This was almost a coming-out party for Izzy Cox," Dorrance told GoHeels.com after the Michigan game. "She's a girl with huge potential. Her pace is so good. The only piece that she's trying to add right now is the finishing piece. Well, she showed that she has the potential to do that with her two goals. Very proud of her."
Cox has played in all 24 games, starting 21 of them. She scored single goals against Portland, UNLV and N.C. State, and then in her second NCAA tournament appearance, she notched her first multi-goal game. Cox also has registered six assists.
"(Isabel) works herself to death," Dorrance said. "She's very coachable. She's very good at facing pressure, which is one of the hardest things to do as a front-runner. And obviously, she's 5-11 and she runs like the wind."
Her high school coach, Mark Johnston, knew Cox was extraordinary and would make an impact in college.
"In looking back on her time at Grimsley, I have to say I'm not surprised," Johnston said. "We saw that athleticism, her incredible playmaking and one-on-one ability. There were moments where my assistants and I would just look at each other and scratch our heads asking, 'How did she do that?'
"We knew she would be a phenomenal player. She is going to have the attention of national team coaches; the sky is the limit for her."
Take it from her high school coach. And take it from Dorrance.
"She is going to be a significant player at the highest level one day, and I'm just thankful I have the privilege of helping her on her way," Dorrance said. "She is an absolute diamond in the rough, and I'm so glad she selected the University of North Carolina."
A year ago, the Tar Heels came up just short of winning their 22nd NCAA national championship, falling to Florida State 1-0 in Cary. The game has served as motivation for Cox to help Carolina change the narrative and win a title in San Jose, Calif., on Dec. 8.
"Last year I went to the national championship game," Cox said. "I remember looking at my dad (David) and seeing how sad the team was. My dad said to me, 'Next year is your time to go win one.' I just remember thinking at the time that next year we need to win one."