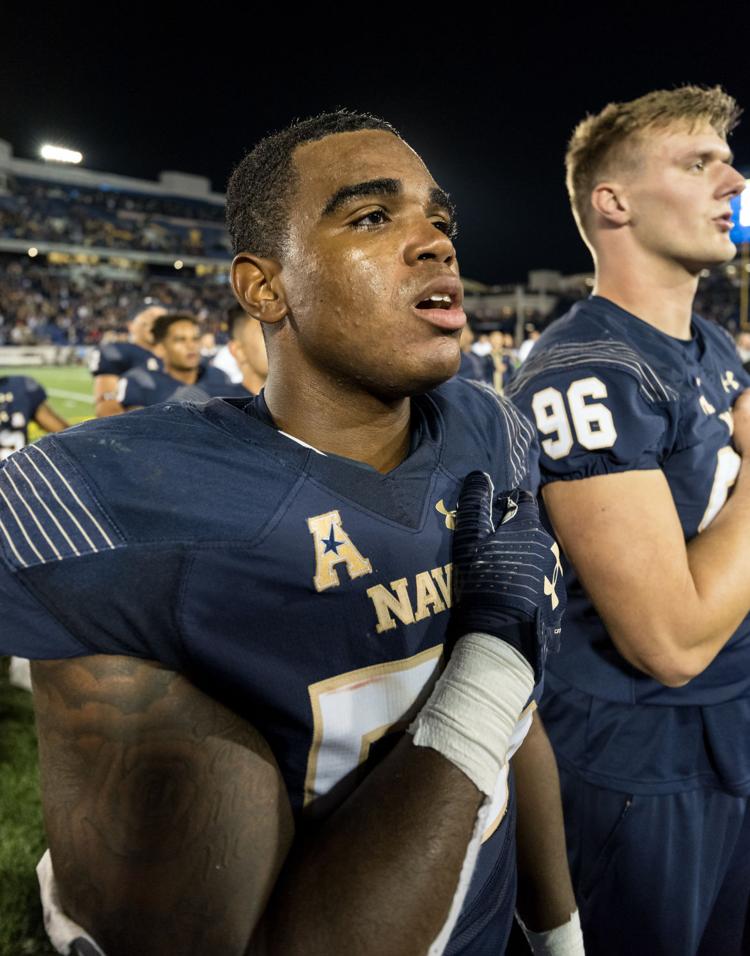 ANNAPOLIS, Md. — Nizaire Cromartie's cell phone kept vibrating. And vibrating. And vibrating.
Frustration was setting in for the U.S. Naval Academy football player from Greensboro, as the unread text messages in his inbox multiplied. Cromartie had just come out of LASIK surgery to correct his eyesight, but his vision hadn't cleared yet.
Then, in the blink of an eye, Cromartie's life would change forever. "Cro," as his teammates and coaches affectionately call him, finally was able to read the texts. He'd been voted one of four captains of the 2019 Navy football team, which will take on Army on Saturday in one of the greatest and most storied rivalries in college football.
The U.S. Naval Academy enrolls some of the greatest young leaders this country produces. And Cromartie, a 2015 Dudley graduate, was chosen to lead those leaders because of the examples he sets on and off the football field.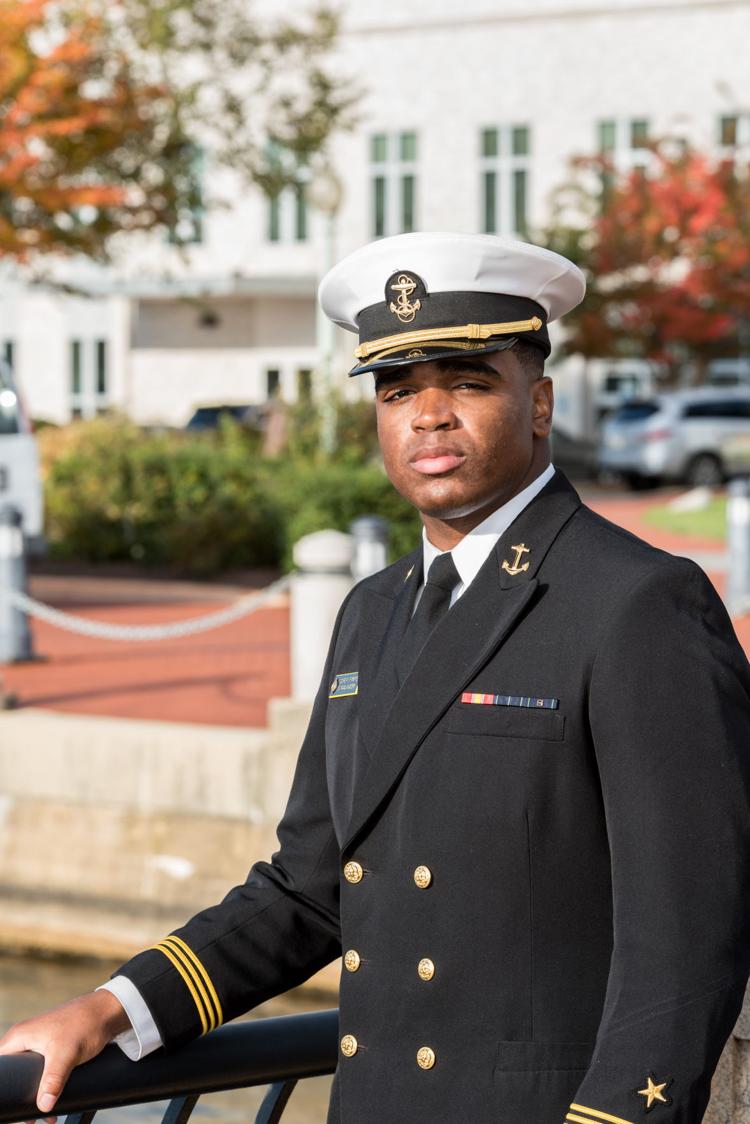 "He's one of the best leaders I've been around, and I've been around here for a long time," says Ken Niumatalolo, who is in his 13th season as head coach in Annapolis. "For our team, that's doing really well, we have four captains, and in my mind, he's the leader of the captains. He's a guy who carries a lot of weight with our players. He's the alpha male on our team and … he's led the way I've always wanted our team captains to lead — by just pure work and effort. By loving his teammates, leading that way and not from a standpoint of authority or power but by love and leadership he's been awesome."
Just being a captain for a Division I football program was a little bit "crazy" to Cromartie, but being named a captain of the Naval Academy's football team was overwhelming and humbling.
"To think that out of all the players who've been through here who have been selected as captains … in history I will be known as a captain for who knows how long," he says. "It will be written somewhere at the school, on a wall, somewhere. … It's that not only did I represent myself well, the team felt that I could represent them well."
'Be a leader, not a follower'
Nizaire Cromartie learned leadership at an early age from his parents, Renee and Darrell. A cardiac monitoring technician at Moses Cone Hospital, Darrell said he told his children "to get it into their minds to be a leader, not a follower."
"I know that when you follow other kids you can get into some bad situations," he says. "I want them to be able to stand up for themselves and say, 'This is not right. This is not what we're about and how we were raised.' I want them to make the right decisions."
As a student at Erwin Montessori and the Academy at Lincoln, "sometimes he was average" academically because he lacked focus, his father says. "But once he moved to the high school he started to really grasp the academic piece. He graduated with honors, A-B honor roll in college prep courses, National Honor Society."
Cromartie's football coaches at Dudley saw the academic growth, as well as the leadership qualities that he has developed further at Navy.
"I always preach that actions speak louder than words," says head coach Steven Davis, who has guided the Panthers to three state championships in 16 seasons, "and that's exactly what he gave us from being on the field to being in the classroom to being in the weight room."
The weight room is where former assistant coach Curtis McMillan molded Dudley players to excel on and off the field.
"You have to have a level of self-discipline to succeed in the weight room," says the man still known as "Coach Mac." "You can have the best coaches in the world, but you have to go in that room and fight against the weights to improve. He was always there, never complained and always wanted to do more. He was a big influence on everybody around him with his work ethic in that room. ... I had a rule about not sitting down in there, and I never caught him sitting down. He always set that example.
"Even you weren't around him, in the weight room — in class, when school was out — you knew that young man was doing the right thing. ... He always strived to learn more. He was just so hungry about a lot of different things, not just football."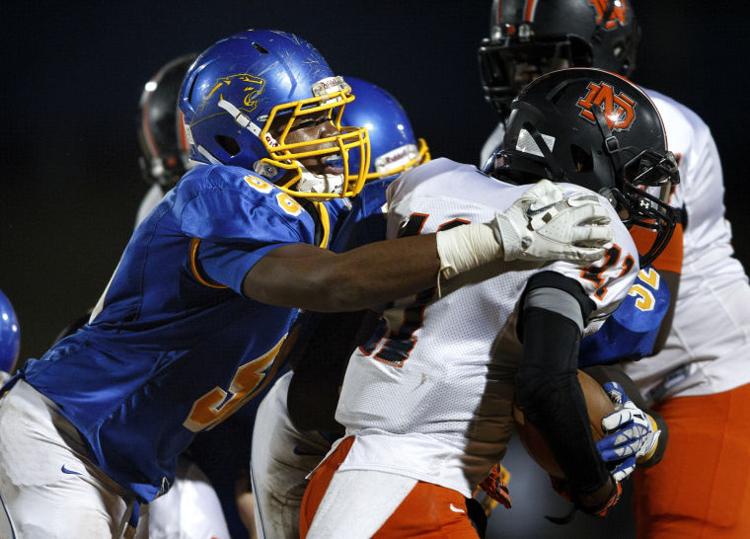 But it was on the football field that Cromartie's hunger really manifested itself. He led the state with 18 sacks during an unbeaten 2014 regular season, although Dudley was disqualified from the playoffs that year.
"He was relentless," Davis says. "I go back to the state championship game in 2013. He was a junior, and we had Albert McLean on that line, and they were doubling Albert. I didn't know until I watched the film that Nizaire had such a great game. He was disrupting everything in the backfield. We watched the film and were like, 'Whoa!' "
Cromartie appreciates the discipline and structure that his coaches at Dudley provided.
"Coach Mac and Coach Davis did their best to implement a system that may not be known as a military system, but is very structured in a way that the ideas and goals and morals that they want are implemented …" he says. "There is no other way to make a team great, as Dudley High School is and was when I was playing, other than by setting standards and making sure things are done the right way."
As a senior, Cromartie assumed the mantle of leadership from Dudley standouts such as all-state nose tackle McLean, future Clemson defensive end Chris Register and future Tennessee and San Francisco 49ers cornerback Emmanuel Moseley.
"You tend to want to follow that guy," Davis says of Cromartie. "If I'm going to follow someone, I'm going to follow the best."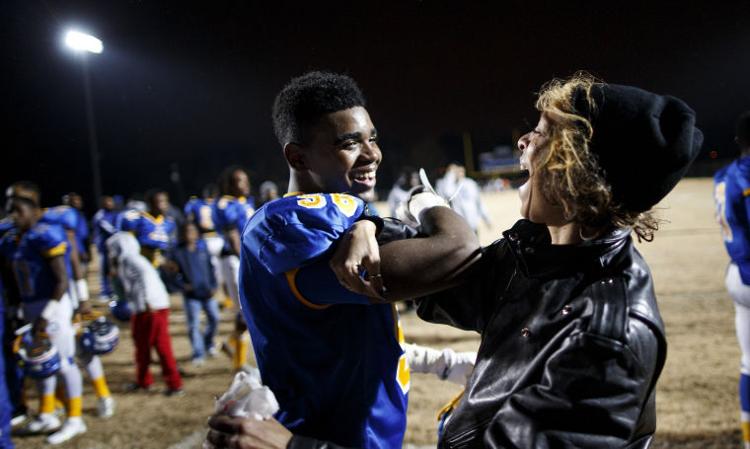 'A humbling phase of my life'
During his senior year at Dudley, Cromartie considered playing football as a preferred walk-on at N.C. State before committing to Army. But after a Navy assistant coach visited Dudley and made his pitch, Cromartie chose to become a Midshipman.
Nizaire's father was a self-described "Army brat," but after going through ROTC at N.C. A&T he declined a commission as an officer and received an honorable discharge. Despite his Army background, Darrell wasn't upset when Nizaire decided on Annapolis.
"Actually, I was happy because it was a lot closer than upstate New York," he says.
Before heading to Annapolis, though, Nizaire would spend a year at the Naval Academy Prep School in Newport, R.I., to solidify his academics and to prepare for the rigors of military life.
NAPS, as those who are connected with the school call it, "was a humbling phase of my life," Cromartie says. "It definitely was one of those situations where you call home and have a couple tears in your eyes, especially the first couple of times, because I'd never been that far away from my parents."
Life at NAPS starts with Induction Day, or I-Day, when new students are introduced to the demands of the school as they begin a three-week boot camp.
"It's not a fun time," Cromartie says, frowning. "On I-Day it's straight to business, especially when they tell you that you have 45 seconds left to speak to your parents. Then you go into this building and things start to happen. Nothing physical or anything like that, but the mental aspect. They try to break you down and build you back up. For me that was a different experience."
Darrell Cromartie has a picture of his son on I-Day that reminds him of how far Nizaire has come.
"He's got on his NAPS gear, got his head shaved and he didn't look happy," the elder Cromartie says of the photo. "I guess it was dawning on him at that point, 'What have I gotten myself into?' "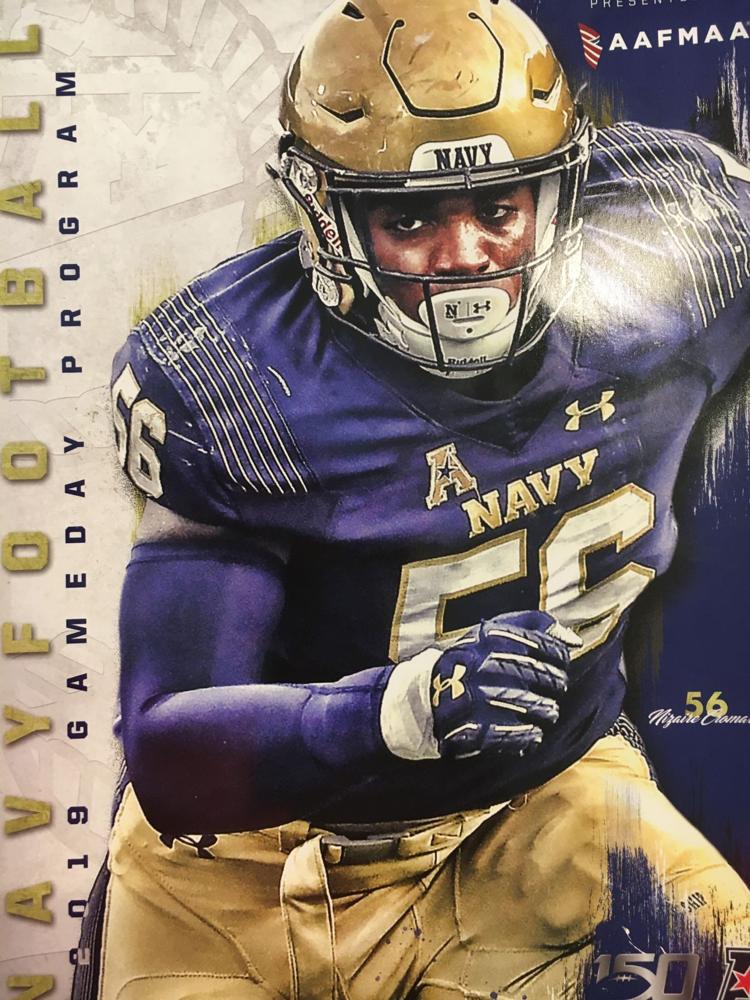 Once the shock wore off for Nizaire, the reality of the academic and military demands of NAPS set in.
"School was challenging — I'm not going to lie," he says. "It definitely helped me be successful here and taught me how to study and taught me time management. That's serious when it comes to the Academy, because you have to learn concepts. You can't skip over things and hope it works. ... That was an adjustment for me, sitting down and taking time out of my day to go over course curriculum, understanding it and repping it. Slowly but surely throughout the second trimester I picked it up and there was a great change in my academics."
One person who saw that change first-hand was Prof. Mary Jane Gesmondi, who taught his pre-calculus class.
"He struggled with my class at the beginning," Gesmondi says. "The course was not easy for him, but he took time out of his sports period and the coaches were very happy that he wanted to take that time to meet with me for extra instruction and make sure he understood the work. He was adamant about making it to the Academy."
Despite his football background and conditioning, Cromartie also had to overcome physical fatigue.
"When you're getting up every morning at 4 o'clock for the military part of it and then you have to go to school, he just couldn't stay awake," his father says. "I told him that since you can bring a bottle to class, put Mountain Dew in your water bottle or something else that has caffeine it. That was the simple fix, and then he got on track."
Cromartie also demonstrated the kind of leadership that had set him apart at Dudley and would again at the Academy.
"He had this aura about him that students really gravitated toward him," Gesmondi says. "If he would say to other students, 'Come on, let's stay behind for extra help because we have a test coming up, and we could really use the extra help,' they would listen to him and they would follow. Students even then looked up to him as a leader."
Cromartie also had to become more vocal as a leader when the NAPS football team struggled that season, his father said. Fellow Navy senior Jackson Pittman, a starter on the defensive line, was a teammate and classmate of Cromartie at NAPS. They spoke throughout the summer between prep school and enrolling at the Academy about making the travel team as freshmen, and it was something they both achieved.
"He puts his mind to what he wants to do and when he wants to get stuff done, he's going to get it done," Pittman says. "But he's also a caring person, makes sure they're all right. He puts others before himself. Just an overall great guy, someone you can really lean on during tough times and count on in tough times because he's going to pull through. He's one of those guys I'm lucky enough to know in college."
'The first thing I think of is the standard'
With NAPS behind him and an appointment to the Naval Academy from the prep school's commanding officer in hand, Cromartie went through a six-week boot camp before classes started in Annapolis. He was better prepared this time, but life in 6th Battalion, 26th Company was far from easy.
"It was watching others hit that freak-out phase that I had that first week at NAPS," he says. "For football, because we have time constraints we don't do the entire six weeks. It falls at about 4½ and then you head over to football and handle your business there."
Cromartie handled his business on the football field well enough that he was one of only four freshmen, or plebes, to make the travel squad for a Navy team that went 9-5. He was already on his way to being a team captain, his father says, although he didn't realize it.
"Even his freshman year when he was playing — a year when most freshmen don't travel — upperclassmen would tell me, 'This guy, he gets it,' " says Darrell Cromartie. "These were senior teammates talking to me about a freshman."
But there is much more to being a Navy football player than football. There are the academic demands and military demands of being a Midshipman.
"The first thing I think of is the standard that we have to uphold when it comes to a lot of things," Nizaire says. "When it comes to going out in town it means not so much being modest but being very responsible, acting as adults, especially the football team. Just like there's a culture in the hall, there's a culture in the football team that we're held to a higher standard because eyes are on us at all times."
Cromartie began his academic career at the Academy as a Quantitative Economics major, but switched to English. He still has to take a full load of math and science courses toward the bachelor of science and math degree that every Midshipman receives upon graduation.
"For me, it was kind of an ego thing where I really didn't want to switch my major," he says. "I just wanted to keep trying and trying and trying with Quantitative Economics, but for me it didn't work out. At one point, I was taking Calc 3 with Physics 2 and adding on two more math classes with Quantitative Economics and another class. I was just getting in over my head and couldn't focus enough energy on football. Not that football was the most important, but I wanted to be able to give 100 percent in every side of the Academy.
"When I made that major switch to English, it wasn't taking the hard classes away. They were still present, but it added some classes that I could enjoy and talk out readings. It's a critical piece and a skill that you need to have to be able to read and write."
On the field, Cromartie became a starter in 2018 at the outside linebacker spot known as Raider in the Midshipmen's defensive scheme. He led the team with 3½ sacks and made 58 tackles, including five for losses, but Navy finished 3-10. The Midshipmen are 9-2 this season.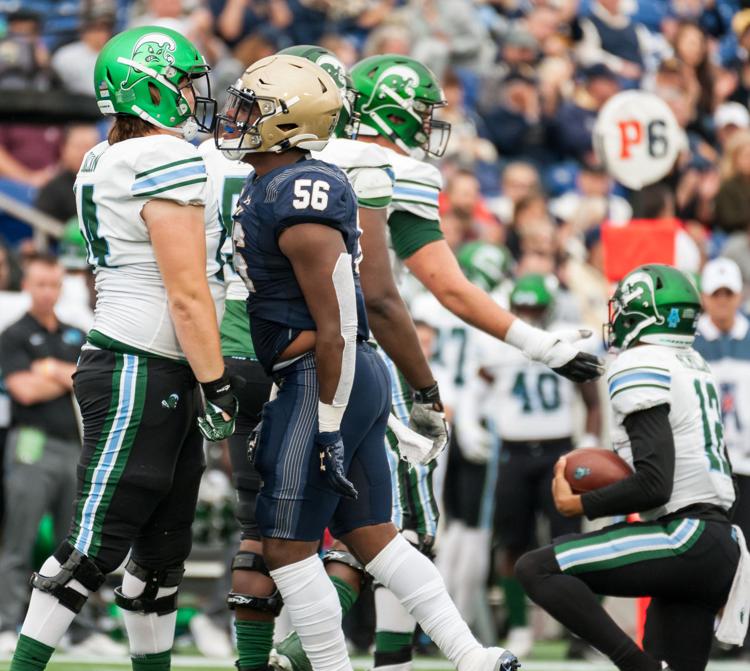 Along the way he earned the respect of his coaches and the teammates who would elect him as a captain. Another former Dudley defensive lineman, Joshua Jones, who graduated from the Naval Academy in 2013 and recently completed his five-year military commitment, remembers the team captains when he was a Midshipman.
"They were just … different," says Jones, who was a captain at Dudley as a junior and as a senior. "They were the guys you're going to see on the flyers, the posters. They're not always the star athletes, but they're the leaders and the ones the coaches can depend on to be an example. When I think of them, I think of hard workers, not just on the field but in the classroom as students. … With those guys you couldn't really make excuses because when you looked at those captains you thought, if they can do it, I can do it, too. They were the examples, but they were also some of the nicest guys."
Those captains also were unselfish, and that's a tradition the 6-foot-2, 243-pound senior upholds. The numbers are down a bit this season (31 tackles, 3 sacks) for the player Niumatalolo says is the Midshipmen's best pass rusher, but Navy has a chance to match the school record of 11 wins with a victory over Army on Saturday in Philadelphia and a win in a bowl game to be determined. That's what matters most to Cromartie, even though his father says the NFL "has always been a dream of his," and some scouts looked at Nizaire during preseason practice.
"He and I were talking and he said, 'Dad, my sack numbers are not where they should be to get that kind of a look right now,' " Darrell Cromartie says. "They have him playing a role where he sometimes drops back into coverage or sets the edge and he's not rushing the quarterback. I told him he could talk to his position coach about it, but he said, 'Dad, I don't really want to do that.' … He said he wanted the team to keep doing what it's doing, to maintain the chemistry."
That's what captains and leaders do.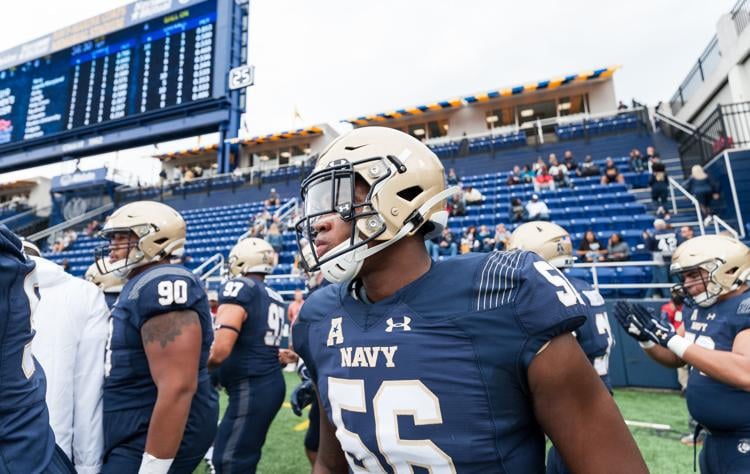 'It will be amazing'
The final milestone in Nizaire Cromartie's career at the U.S. Naval Academy will come May 22, 2020, when he graduates and is commissioned as an ensign. It will be an emotional moment, not just for Nizaire but for his family.
"I'll be so full of pride, it will be amazing," his father says. "I don't shed tears often, but that day might cause one to drop."
Cromartie and the other 258 future Surface Warfare Officers among the senior class will choose their assignments during the academy's annual Ship Selection Night on Jan. 30, 2020. He's hoping for sunny San Diego, but if he doesn't get that assignment, a port on the East Coast would be close to family.
Jones has been there and says Cromartie will face plenty of challenges, but the rewards are great.
"You'll be leading sailors from all walks of life and with different experiences," says Jones, who is a facilities manager in Tampa, Fla. "Some have college degrees and are brilliant, and others are just out of high school. He'll learn to lean on them to help him grow. That's what it's about."
Wherever Cromartie goes, he will be leading men and women who could be placed in harm's way while defending our country. It's a daunting responsibility, but one for which he says he's prepared.
The Academy "gives you that confidence, especially seeing the people before you," he says. "I've basically gone through four classes I've looked up to, and they're out there doing what they need to do and handling their business. It doesn't seem like it's an impossible thing. It makes it very attainable to see and know people who've been in your shoes and are now at that next level when it comes to leading people."