Mike Krzyzewski left no doubt about how he felt Saturday after Duke's basketball loss to St. John's. But how does he really feel?
Krzyzewski fumed after the 81-77 loss to the worst team in the Big East, questioning his players' performance and calling it "not worthy of the program."
"It was disgusting really," he said.
This wasn't just any post-game assessment of his team. This was something we've never heard from Krzyzewski in public. And it's worth questioning, at least, whether the veteran Duke coach is becoming frustrated with coaching what it essentially a team of high school all-stars, the best player in essence playing his senior high school season for the Blue Devils.
Duke will play North Carolina on Thursday, and this isn't the first time Krzyzewski has challenged his team in the days leading up to the biggest game of the season. But he rarely rips into his players the way he did after the game in Madison Square Garden.
This wasn't about North Carolina. This was about a 70-year-old man questioning his teenagers' ability to listen and respond. This was the first sign that just maybe Krzyzewski is frustrated coaching teenagers.
John Feinstein, the author and Washington Post reporter, suggested Sunday that the underlying issue behind Krzyzewski's post-game comments was the one-and-done makeup of his roster in recent seasons.
"You know he's fed up," Feinstein, a Duke graduate, wrote on Twitter. "I wonder how much longer he's going to want to coach one-and-dones who pretty much care only about their draft position."
There's likely something to that, though the frustration Krzyzewski feels is probably more because he has no choice. Krzyzewski isn't not going to recruit the best players in the country, and right now those players all want to come to Duke.
The frustration is in knowing that he now has one year to teach basketball to an AAU team before watching it leave for the NBA, only to be replaced by another AAU team. This year's class of teenagers will give way to next year's class of teenagers, and he'll find himself with similar frustrations and issues.
"Every team is different," Krzyzewski said today on the ACC teleconference. "Every year, we're working through issues. Issues are there all the time. That's part of your season. Issues don't necessarily mean everybody's horrible or nobody likes each other."
Duke's issues are myriad right now, but Krzyzewski is particularly concerned that the makeup of this roster has made it hard for him to teach the one thing he requires more than anything else: Defense.
"No matter what defense you play, the longer your kids play it, the better," he said. "When you have experienced players in whatever defense you're in, that helps. This is a different type of team in that four of our top seven guys are bigger guys."
That essentially means Duke can't play full-court pressure the way past Duke teams have. His frustration Saturday was that the Blue Devils didn't put in the work to make the halfcourt defense be effective.
"If you don't work, nothing works," Krzyzewski said. "We didn't work Saturday."
He also said his team didn't listen, and that's what had him so disgusted. Deep down, he's far more worried about what it takes to keep these players' attention for one season than he's worried that the one-and-done model is flawed.
At least, that's what he's suggesting now. It's only February, and there's time. But since Duke has gone to the new philosophy of chasing the very best high school players every single season, the Blue Devils have gone to one Final Four.
And his frustration isn't just with the youngsters. Krzyzewski needs Grayson Allen, and right now Allen is nowhere to be found.
Duke won its previous national titles with experienced players running Krzyzewski's intricate system of pressure defense and cold-blooded efficiency on offense. Even in 2015, the only year the one-and-done model has really worked at Duke, the contributions of center Marshall Plumlee and senior point guard Quinn Cook were instrumental in bringing the freshmen along.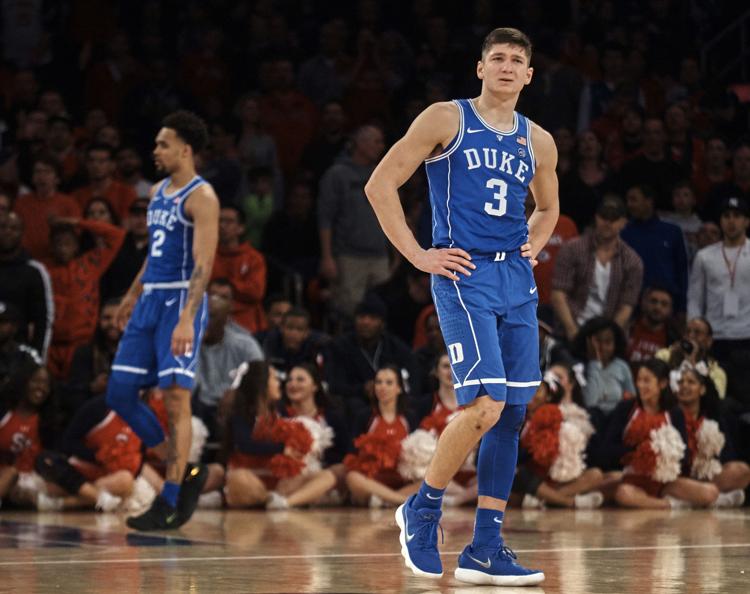 Ironically, one of the key freshmen in the 2015 championship game was Allen. For whatever reason, as a senior, Allen is not the same player. Krzyzewski is worried now that Allen has stepped away to allow the new kids to flourish and learn on their own.
"We're not trying to change Grayson's role," Krzyzewski said. "I want him to shoot. I want him to be aggressive."
Krzyzewski needs Allen to be his coach on the floor now more than ever. Part of what's going on with this young team is that the one old guy has relinquished his leadership role to the young guys.
"You have to be careful not to lose some of you," Krzyzewski said.
Krzyzewski has to be careful not to lose some of himself now that he's all in on one-and-dones. This is the way it is, and the frustration is starting to show.
He was forceful in his disgust of how Duke played Saturday. We'd never seen that side of Krzyzewski. We'd never seen him call out his players quite like that. But there's more to it than losing to a bad Big East team. This goes deep, and deep down he knows it.
Krzyzewski talked wistfully of his 1992 team today. He said that team had issues, too.
But that was another time and place. And no matter how much he'd like to get back to those days, he suspects he never will.
That's probably what Saturday was all about.